2017 Hebron Hawks Homecoming
September 30th – October 7th, 2017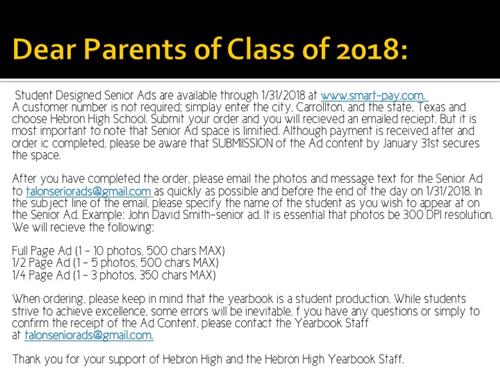 Hebron Hawks vs. LD Bell Blue Raiders
Theme: American Road Trip
Slogan: "Hebron Homecoming 2017: full tank, clear roads, chasing wins to state!"
Homecoming Week-
Hall Decorating: September 30th, 2017 @ 9:00 a.m. - 10 p.m. (all HHS students are encourage to participate)
Parade/ Community Pep- Rally: Wednesday, October 4th, 2017 @ 6:30 p.m.
Friday's Homecoming Pep Rally: Friday, October 6th, 2017 @ 2:45 p.m. (HC King is crowned)
Dance Decorating: October 7th, 2017 @ 10:00 a.m. - 2:00 p.m.
Homecoming Dance: October 7th, 2017 @ 8:00- 11:00 p.m.

Dress Up Days: All Dress- Up Days need to be school appropriate.
Monday - "California Love vs. Empire State of Mind"- Cali vs. NYC- Students will show their love for either California spirit or New York style
Tuesday - "HoCo like you mean it!"- Orlando, FL- Students will either show their Disney park love or Universal Studio love.
Wednesday - "The Hawk House"- Washington, D.C. – Students will dress in red, white, and blue or as a former president.
Wednesday Parade - "What a time to go for a Drive: HoCo 2017" Decorate your float based on America's favorite cities!
Thursday - "Boston Strong vs. Heart of Country"- Boston vs. Nashville- Students will show their love for Beantown yachting club or Grand Ol' Opry country.
Friday - "Hebron Homecoming 2017: full tank, clear roads, chasing wins to state!"- Hebron, Texas- Students will wear Hebron Homecoming shirts and spirit wear.
---
Homecoming Tickets and T- Shirts sales- CASH ONLY
Homecoming Dance- October 7th, 2017
Time 8 p.m. - 11 p.m.
Hebron's Main Campus Cafeteria
In order to buy a homecoming ticket, students must provide a valid name of their date, proof of ID (Student ID, Driver's License, or any picture ID), and must not be on the fine list. Tickets may only be purchased during BLOCK LUNCH. Each person may only purchase two tickets. There are a limited amount of tickets, so first come first serve on schedule class dates. Students will only be allowed into the dance with their student ID.

No individual attending a Middle/ Junior High School or 21 years and older may attend this dance.
*Students must not be on the fine list in order to buy homecoming tickets. Homecoming shirts and tickets may only be purchased WITH CASH*
September 27th- 29th, 2017 All Students can buy for $20.00 per tickets/ $10.00 per shirt
October 2nd- 4th, 2017 All Students can buy for $25.00 per tickets/ $15.00 per shirt
October 5th – 6th, 2017 All Students can buy for $30 per ticket/ $15.00 per shirt
October 7th, 2017 (HC Dance)- $40.00 per ticket
---