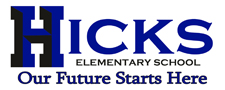 Dear Parents, Colleagues, and Students:
Welcome to Hicks Elementary! I am truly honored to be part of an exemplary school with a strong tradition of excellence.
At Hicks, we have purposefully designed a 21st-century learning organization that teaches students to think globally in the digital age. We aspire to engage every student every day to create and learn authentically. We understand that today's digital natives cannot be taught utilizing only lectures, textbooks, chalkboards, and worksheets; rather, students must be challenged through the use of technology to think, plan, create, and collaborate. We embrace and implement cutting edge brain-based research practices such as Spanish Immersion and the Action Based Learning Lab. Through these activities, we have established ourselves as a leader in the education community.
We have implemented the Spanish Immersion Program in Kindergarten through 5th grade. This year our strategic goals are to continue Spanish Immersion in fifth grade, focus the Action Based Learning Lab on science concepts, refine the "Exceptional Reader" program in kindergarten through 3rd grade, and continue our Academic Medal Plan where students complete activities to earn their academic medal. We are very excited to continue our growth as we design a school that will enable our students to thrive in a future they create.
We also know that education is a function of the home and community as well as the school. To partner with our parents, we have established multiple means of communication. We provide up to date information weekly through call blasts, e-mail blasts, Facebook, Twitter, and our website. The combination of these and teacher websites are your best sources for information regarding activities at school.
We truly believe "Our Future Starts Here." The elementary years are the foundation for a lifetime of learning. The future of our students, our community, and even our country depends on our success. Together, we will find every child's hidden talents and enable every student to be the best scholar, artist, and person they can be.
It is an honor to be able to serve your child as Principal of Hicks Elementary. We are here to serve the students, families, and community when you need us. Please do not hesitate to contact us for any reason. At Hicks, we truly believe "Our Future Starts Here."
Sincerely,
Misty Bevill-Nelson
Principal