ELM FORK CHAPTER of
TEXAS MASTER NATURALISTS
PROJECT CHAIRPERSON Deborah Estes
THANK YOU to you and your current team - Beverly, Hilton, & Harley and to all of the previous volunteers!
Logged in Over 1000 hours work and priceless expertise!
The amazing LISDOLA trails and creative interpretive features are the result of COUNTLESS hours over MANY YEARS that these dedicated VOLUNTEERS have contributed to Lewisville ISD!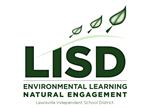 Follow the excitement Twitter @LISDEnvirmntlEd