Meet our school counselor..............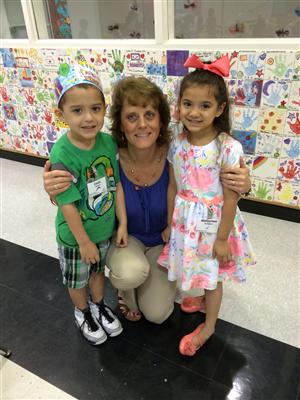 Hello!!
As the counselor at Lillie J. Jackson, a Pre-K only school, some might wonder what I do. I tell the students that I am a helper—for them, the teachers, and their parents. These are some of the things I do to accomplish that role:
A great deal of my time is spent providing guidance curriculum to the students. This means I go into classrooms and present interactive lessons on following the rules, friendship, conflict resolution, feelings, decision-making, responsible behavior, cross cultural effectiveness, and interpersonal communication. I use stories, videos, technology, games, puppets, and activities in my guidance lessons. I visit every classroom once every three weeks for 20-30 minutes.
I am a member of several different teams on our campus. I am part of the school's Leadership Team, the RtI Committee, and the 504 Committee. As a member of these teams, I contribute ideas and efforts toward planning many functions of our school and its staff, and I assist with planning strategies and accommodations for students who may have challenges that make it necessary for them to have a little extra help in the classroom. I also spend some time each week working with students in groups of 2-4 children, to assist them with challenges they may be having either in the classroom or outside of the classroom in their lives.
I also spend time doing what is referred to as "system support", which is time used to indirectly benefit students' success and enrichment. This includes consultations with teachers, program development and management, counselor staff development, parent education and consultation, and community relations efforts. I coordinate the Lewisville High School "Farmer Friend" student mentors who come to our school to assist our students, I am our school's liaison for the Chin Community Ministry, and the Coordinator of our WATCH D.O.G.S. (Dads Of Great Students) program. I am a resource for families in need of services that may be found outside of our school within the community, and I am happy to help in this capacity whenever I can.
Please let me know if I can help you or your student in any way! Thank you for taking the time to learn about me and what I do!
Counselor : Debra Saul
E-Mail: sauld@lisd.net
Ph: 469-713-5986
Fax: 972-350-9113