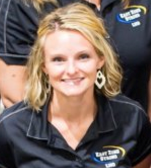 Mrs. Renee M Marts, Principal

I am absolutely thrilled and humbled to have the opportunity to serve as the new Hebron Valley Elementary Principal. You all have given so much to create a flexible learning organization that provides our children with a safe and nurturing environment that not only embraces our diverse community, but utilizes its resources to provide engaging and inclusive experiences for all learners.
A Little Bit About Me:
For the past year I have been honored to be the Principal of HVE. 3 years prior I have served as the Assistant Principal for Hebron Valley Elementary. I previously had 2 years experience as an LISD Secondary Science Teacher on Special Assignment under the Learning and Teaching Department. Prior to becoming a TOSA, I was a Data Coach/Testing Coordinator Assistant at Killian Middle School for 3 years and taught 7th and 8th grade science at Durham Middle School for 5 years. Before teaching I received my Bachelor's Degree in Marine Biology from Texas State University and was an Azle Hornet in my high school days!
I am excited to lead this exceptional organization in a way that continues to promote a positive climate and culture that results in profound learning for all school members.
Martsr@lisd.net
---

Mrs. Laura J Zamora, Assistant Principal
I am excited to see all the beautiful smiles and engagement at Hebron Valley. The students, faculty and parents are what make the HVE family great. I look forward to continue to support all teachers, students and our community.
A little bit about me: This is my 13th year in LISD. I have two children, and they are both Hebron Valley Huskies!
Zamoral@lisd.net