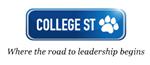 Welcome back students. I hope you had a great summer. I look forward to the 2016-17 school year. I'm starting my 20th year here at College Street (13th as the PE teacher). In PE class, students will be participating in activities that require running/jumping and many other movements. It is very important that they come dressed appropriately for these activities. Please have you child ready by wearing TENNIS SHOES on their PE days. Student safety may be at risk if students wear flip flops, sandals, crocs, or boots! Also, please have your child wear comfortable non-restrictive clothing (no skirts or dresses). If students forget their tennis shoes or wear clothing that isn't appropriate for PE, they will bring an OOPS sheet home for you to sign and return. This will inform you that they were not prepared for PE on that day. Your child's PE grade can be affected if they have more than one of these in a 9wk grading period. Thank you for your assistance in having your child ready for PE.
Coach Melton.
Specials Schedule
7:55-8:45 - 5th Grade
8:50-9:40 - 4th Grade
10:05-10:55 - 3rd Grade
11:30-12:20 - Kinder
12:25-1:15 - 1st Grade
1:20-2:10 - 2nd Grade
* Specials rotates on a RED, YELLOW, BLUE day schedule.
Important PE Dates
Nov. 7-18: Fitness Gram Testing
Feb. 1-3: Jump Rope for Heart
April 13: Field Day at LHS