Return to Headlines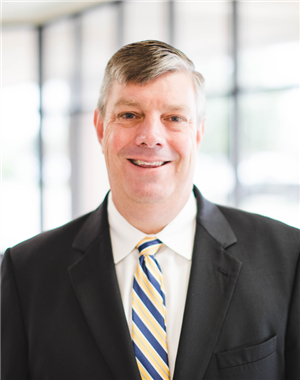 Serving all high schools, AcDec, Career Center East, Dale Jackson Career Center, and Night High School.
Andy Plunkett is a Lewisville ISD (LISD) Chief of Schools, a title he assumed in February of 2020. He is responsible for providing support and leadership to 13 high school campuses in addition to advising school operations and leadership development
Plunkett began his teaching career in 1990 at Slaton High School in Slaton ISD, and then later moved to LISD to teach at Lewisville High School. In 1997, he was named Assistant Principal at LHS and later became Principal of the brand new LHS North Campus (now LHS Killough 9th and 10th Grade Campus). In 2011, he became the first Principal at LHS Harmon 9th and 10th Grade Campus. In 2015, he was named LISD Central Zone Leader. In 2017, he was named LISD Assistant Chief of Schools.
In 2008, Plunkett was named LISD Principal of The Year and in 2001, he was honored as a finalist for Assistant Principal of the Year.
Some of Plunkett's other accomplishments from his principalships include being named by Texas Monthly Magazine as the 2005 No. 1 Rated High School Campus in Texas for closing the Achievement Gap. His school also won a Texas Business and Education Coalition Honor Roll Rating six years in a row from the "Just For Kids Coalition" for academic gains from 2005-2010. This rating is only awarded to schools that perform in the Top 3 percent of the state.
Plunkett received his Bachelor of Science degree, Masters of Education Administration and Mid-Management Administrator Certification all from Texas Tech University.
He and his wife, Holly, who is a teacher at LISD's McAuliffe Elementary, reside in the district community. They have two sons who graduated from LISD.
---
Lewisville ISD Administration Center | 1565 W. Main Street #209, Lewisville TX 75067
K. Kaye Nyquist, Administrative Assistant