Return to Headlines
Put on Your Thinking Caps with Independence Elementary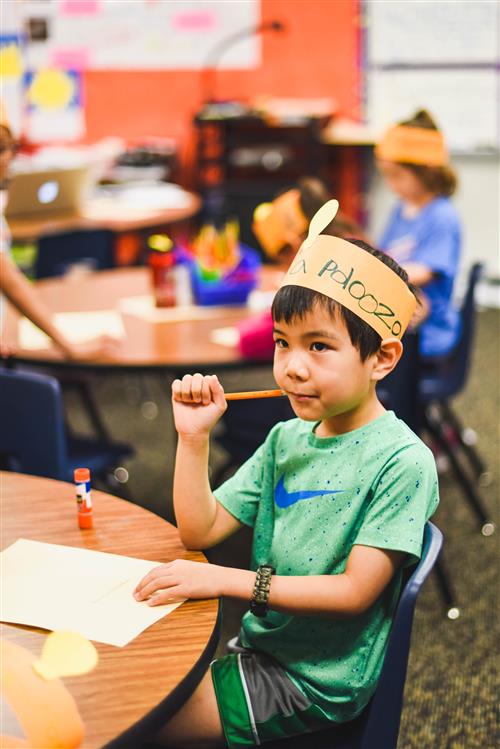 Think-a-polooza gives students the opportunity to learn outside the box.
May 2, 2018 — Fun hats and exciting activities all over campus: It must be time for Think-a-polooza at Independence Elementary.
Each year, this special day allows for students in all grades to experience challenging projects to really get the brain thinking.
"All day long students use the left part of their brain, so this is a way to get them using their right side and their creativity," Gifted and Talented teacher Teresa Herman said. "A lot of it is also about cooperative group work. Students working together to accomplish a goal."
To make sure those "thinking caps" were ready to go before the big day, many classes created special hats together. Bright colors and fun accessories (with a little glitter here and there) were worn by students and teachers alike.
For Think-a-polooza, each classroom has a unique activity, challenge or project. Once the designated time is up, students move on to their next scheduled room.
Many students agree that it's exciting to meet and get to know new teachers that they may not have had in class before.
Throughout each room, a number of different activities can be seen. From carefully creating trails with dominoes to teams building a chair from cardboard paper towel rolls and construction paper, students never know what each new challenge will bring. Some of the most-loved activities of the day included "A Chair for Baby Bear," the "Index Card Tower," "Drippy Monsters," and the "High Top Hats Challenge."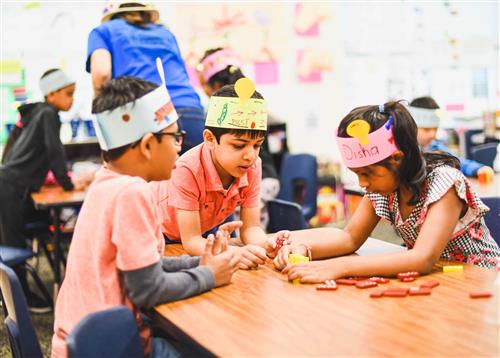 "My favorite part of Think-a-polooza was when we got two pieces of paper with different shapes. We had to put them together and make something. We had to use our imaginations," third-grader Siyona Mehta said.
"I like Think-a-polooza because I like creating stuff. I like drawing the most because I can draw whatever I want," added classmate Sienna Peterson.
Whatever their favorite activity, every student walks away from Think-a-polooza with new skills, bonds with their classmates, a lot of fun memories and excitement for the next year.
---
See more photos from the 2018 Think-a-polooza on Independence Elementary's Facebook page.