Return to Headlines
Camey Elementary Club Day Takeover
Students in all grade levels explore interests through clubs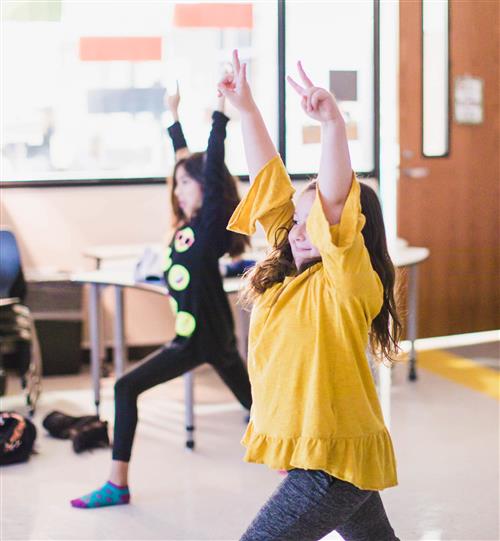 April 11, 2018 —Every nine weeks, through the classrooms and hallways of Camey Elementary, there are towers being built, choreography being memorized, robots being programmed and artworks being crafted. You may find roars of laughter in one room and silent concentration in the next. How can all those different environments be a part of the same school-wide effort?
Welcome to Camey Club Days.
Camey Club Days are special mornings dedicated to giving students a chance to try something new, explore different interests and, of course, have a lot of fun.
"We wanted to let the kids have an opportunity to expand their experiences and explore things they may not get to do outside of school like art, music, technology and dancing," Camey Principal Angela Cortez said. "The teachers also wanted the chance to work with other kids who are not in their grade level and they wouldn't normally see."
More than 20 different clubs are available for students to choose from every nine weeks and are each facilitated by two Camey staff members. Before Club Day arrives, these club leaders put together a small description and advertisement for students to see and make their club choice selections.
Each club is open to students across multiple grade levels and allows them to connect with others beyond their everyday classrooms. Club levels are divided into two major groups: third through fifth grade and Kindergarten through second grade. Pre-K students have several club options of their own as well.
"My favorite part is when I get to make new friends because I don't know everybody in the school," second-grader, Colton Baker said.
While it all may seem like fun and games, these clubs have strong roots in educating and academically challenging students. Just ask second-grade teacher, Sarah Dunham, who has hosted Trick Shot Club.
"It was so great to see students get creative by placing their baskets on top of doors, end of stairways and across chairs to make a trick shot," Dunham said. "While, in reality, they were testing force, motion and energy to complete their shots. Students were so engaged and determined."
GT Facilitator Stephanie Campbell hosts Robotics Club alongside STEM teacher Lindsay Swahn.
"We continue to have positive feedback and returning students sign up each time," Campbell said. "We enjoy being able to give the students the material they need and watch them design and create using EV3 robots, Spheroes and other various materials."
"This club is open to all students who want a chance to explore robots, challenge themselves, or who just want try something new," Swahn added. "We follow Thomas Edison's mentality in Robotics Club. We don't fail. We learn what doesn't work, and we go from there."
Along with academics, other clubs may teach students the importance of empathy and caring for others.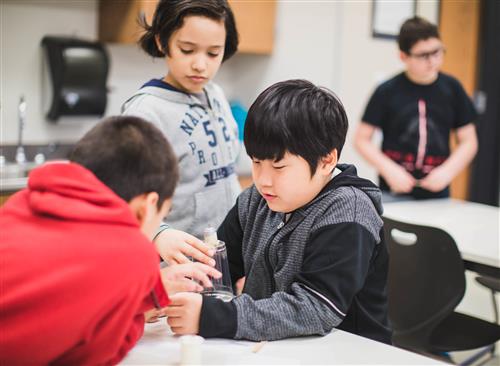 "I co-facilitated a Kindness Club where students created items to be shared with local organizations," second-grade teacher Valerie Kaulsky said. "Around Thanksgiving, students created notes, cards and snack bags for the elderly and in January they created Valentines for other kids at local hospitals. I chose this club because service learning is an important concept to instill in young people and to support a culture of kindness at Camey."
When each Camey Club Day comes to an end, the countdown is sure to be on for the next one, as the variety of clubs offered to students are ever-changing.
"What I enjoy most about clubs is, it made me have a hard decision of what to choose because every club is so good," adds second-grader Matthew Finley.
---
See more pictures from a recent Camey Club Day on Camey Elementary's Facebook Page.