Return to Headlines
VIDEO: Old Settlers Elementary Gets Neighborly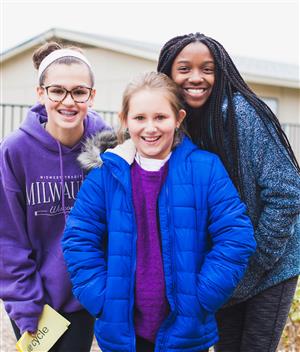 Science students learn with the middle school next door.
Jan. 9, 2018 – It all started with two Lewisville ISD science teachers from different campuses meeting and devising a plan of collaboration. Old Settlers Elementary (OSE) science discovery teacher Lisa Clark invited nearby McKamy Middle School (MMS) seventh-grade science teacher Shelly Duermeyer across the campuses shared parking lot to visit OSE's new outdoor learning classroom and garden.
"While we met, we compared our Science TEKS (Texas Essential Knowledge and Skills) for the year and tried to find a common topic to collaborate on to use in the garden," Clark said. "Our goal was to give the opportunity for seventh-graders to share with fourth- and fifth-graders what they were learning about plant life."
On the day of the big meetup, students from both campuses were split into groups with equal numbers of both middle school and elementary students. MMS seventh-graders dissected a flower, while teaching each part of the plant. For their part, the younger students took their older counterparts on a tour around the garden, discussing photosynthesis and the carbon dioxide cycle.
"I hope the students realize that science is a big broad thing," Duermeyer said. "You learn the basics in elementary school, then expand on that knowledge as you continue into middle and high school. You are never "done," and there is always more to learn."
Having this project gave the middle school students an opportunity to teach and learn from younger students, while giving the OSE students a preview of what they'll be studying when they get into seventh grade. Both groups, interacting and learning something new from their next door campus peers.
See the fun collaboration in the video below,
then visit Old Settler's Elementary's Facebook page for pictures of the meetup.