Return to Headlines
VIDEO: Killian Middle School's Spring Fling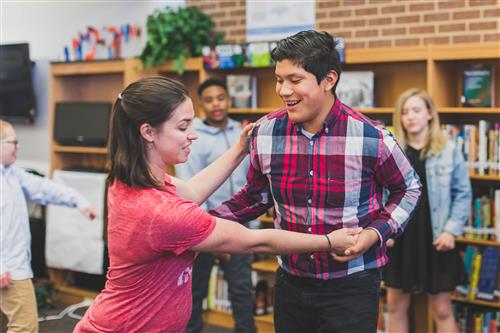 School's Circle of Friends class goes formal.
April 11, 2018 — At some point in life, most will attend a formal event like a wedding, ceremony or reception. It's safe to assume that those who are attending one for the first time may experience a little anticipation. "What should I wear?", "Where do I sit?" and "Who do I talk to?" are a few questions that may cross one's mind leading up to the big event.
Well, for students in Miranda Marrott's Circle of Friends Class at Killian Middle School, these potential questions have been answered.
For the last three years, Marrott has worked diligently to ensure her students experience opportunities to use life-skills by hosting various etiquette training events throughout the school year. The most recent — a Spring Fling to focus on what to expect at formal events.

"Our etiquette training gives students more exposure and context to build skills for a variety of events," Marrott said. "Because the adaptive behavior piece may be difficult for some and it is important to know how to adapt and be around others in different situations."

This year, the Spring Fling featured a delicious buffet donated by Maggiano's, beautiful floral centerpieces and tables set for a formal affair, followed by a fun jitterbug dance lesson led by community volunteer Allison Mills, who loves not only teaching dance, but sharing a little bit of history.

"I just love seeing their laughs and their smiles and getting the whole group dancing," Mills said. "It's just fun watching them get excited about a historical dance like the jitterbug and being able to take that forward and feel comfortable, especially when they dance at other social events in their lives."
In addition to planning the event, students also get to help with setting and cleaning up the room.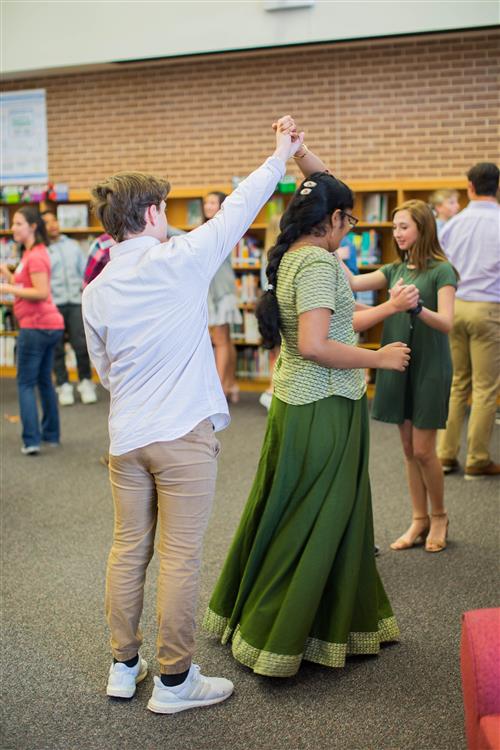 "It's building vocational skills and instilling work ethic," Marrott said. "Not everyone loves to create floral pieces or roll silverware, but these are valuable paid jobs out there in our community."
Thanks to the provided conversation starter cards on each table, and campus teachers and administrators who attended as special guests, it helped break the ice and make for a lively event.

Seventh-grader Aissa Quinonez Baca added, "It was really fun to setup the tables and put the dinner plates down. We also had fun with the conversation cards to get to know one another and talk to our guests."
Students like eighth-grader Andie Hayduk considered the event to be a rewarding opportunity.
"We had a three-week etiquette training and we learned about the differences between informal and formal dinners and events," Hayduk said. "And today we got to practice it hands-on, which was a reward for our learning and hard work."
And eighth-grade Gage Kirkwood knows taking Marrott's class will benefit him for many years to come.
"The Circle of Friends class has been really fun and I've learned so much stuff about communication, things to do in different social situations and I think it has benefited me a lot," Kirkwood said. "And I've made some great friends along the way."
Proceeds raised from "Pony Express" help fund all of the etiquette trainings. Pony Express is the class business where students make and sell snacks and lunches and deliver them to campus administrators, teachers and staff.
"I've had students come back to be mentors and parents have mentioned that this class has change their child's whole experience with middle school," Marrott said. "It ups their game in other classes, because they are learning self-advocacy, responsibility and trying to see other things from different perspectives."
---

See photos from this year's Spring Fling on Killian Middle School's Facebook page.