Return to Headlines
VIDEO: Creek Valley Middle School Celebrates Diversity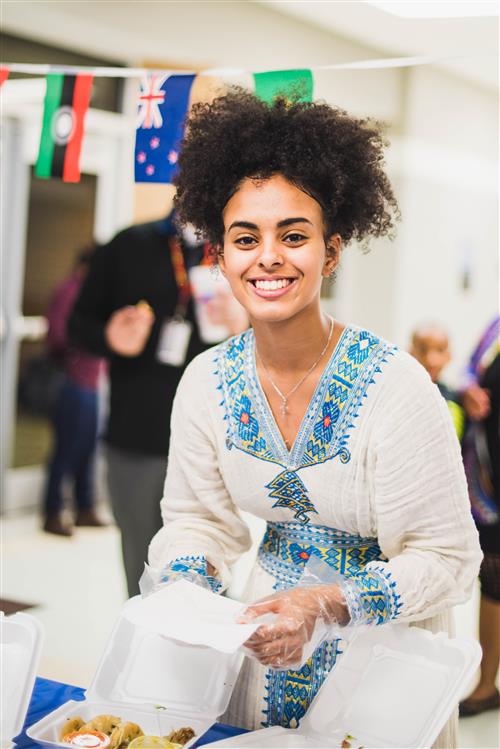 Middle school students share traditions with community.
Feb. 6, 2018 — Creek Valley Middle School (CVMS) continues its tradition of celebrating the students and families that make up its population by hosting CVMS Multicultural Night.
"CVMS is an extremely diverse campus. This is what makes our campus unique," CVMS principal Steffanie Webb said. "Multicultural Night is a celebration of everything that makes our students, school, and community special. By celebrating each other, we come together and become a stronger and more united community."
Filling the cafeteria with different booths, students wore traditional clothing, decorated tables and served some of their family's favorite cultural dishes.
"Our students played the biggest role in Multicultural Night," CVMS seventh-grade teacher Leena John said. "They made the event so special because they committed to unite the entire community with incredible food, beautiful festivities and most of all, fun."
To kick off the evening, students presented musical numbers, dance routines and spoken word to a large audience of CVMS families. Along with the middle school acts, students in Latino Club from neighboring Lewisville High School stopped by to perform several Ballet Folklórico dances.
With the response and success of this event each year, the tradition is sure to continue for the CVMS community.
"I saw a lot of smiles and laughter, and I think everyone left with a full belly," John said. "We have been hosting Multicultural Night for a few years now and our students look forward to it every year. It's really a colorful and amazing night."
To see all the photos from the night, visit the Creek Valley Middle School Facebook page.
See the celebration in action in the video below.