Return to Headlines
LISD March 9 Board Meeting Recap
PLEDGE OF ALLEGIANCE
Students from Lewisville Elementary led the meeting in the Pledge of Allegiance and the Texas Pledge.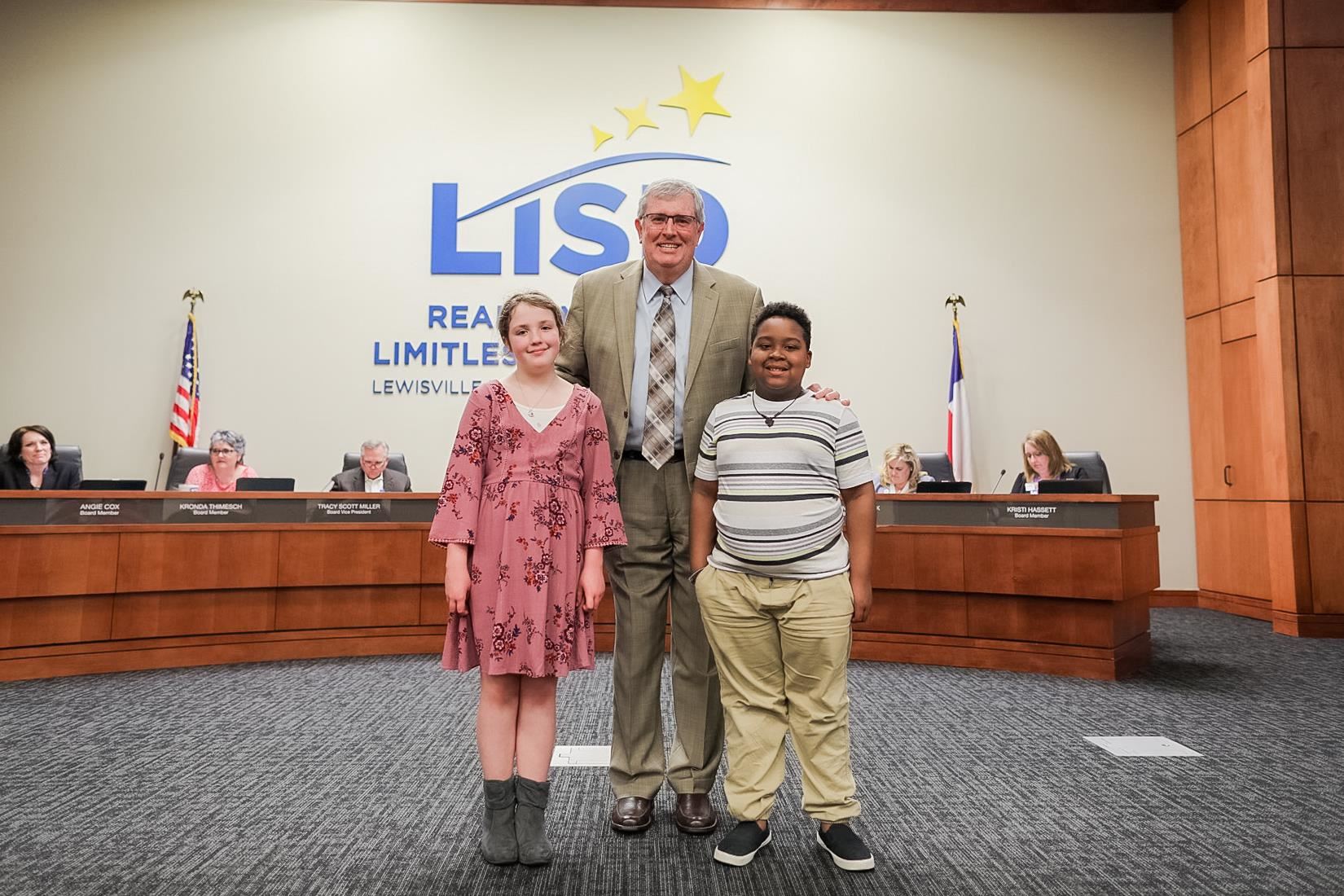 AWARDS & RECOGNITIONS

Forest Vista Elementary and Marcus High School Percussion Ensemble were both recognized for being selected to be a TMEA Honor Performance at the 2020 TMEA Convention.
Students from Flower Mound, Hebron, Lewisville, Marcus and The Colony high schools were recognized for being named to the 2020 TMEA All-State Roster.

Texas School Counselor Association named Garden Ridge Elementary counselor Emily Mennsfield the 2019-2020 Elementary School Counselor of the Year; Garden Ridge Assistant Principal Lee Worden as the 2019-2020 Counselor Advocate of the Year, and LISD Director of Guidance and Counseling Monya Crow the 2019-2020 Counseling Supervisor of the Year.
Coyote Ridge, Degan, Donald, Garden Ridge, Hebron Valley, Highland Village, Indian Creek, Lewisville, McAuliffe, Morningside, Prairie Trail, Hicks, Wellington, Downing, Griffin, Huffines, Killian, Lamar, FMHS, Hebron 9, HHS, LHS, Harmon, Killough, MHS and TCHS were recognized for being named the Texas School Counselor Association's 2019 Counselors Reinforcing Excellence in Texas - CREST Award Recipients.

Watch the LISD Board Recognition March 2020 Highlight Video here. See recognition photos on Lewisville ISD's Facebook page.

COMMUNITY INPUT

Three community members participated in the community input portion of the meeting.
CONSENT AGENDA

The Board approved the consent agenda. See the agenda HERE.

INFORMATION ITEMS

LISD Learning and Teaching Department presented information regarding the progress submission from February for Lewisville Elementary, Rockbrook Elementary, Durham Middle and Huffines Middle Schools. Details

LISD Learning and Teaching Department presented the District's Professional Learning update. Details

LISD Learning and Teaching Department presented the District's Partnerships update. Details

LISD Education Foundation presented the LEF Update. Details

LISD Employee Services Department presented District staff summer hours. Details
DISCUSSION ITEMS
LISD Superintendent Dr. Kevin Rogers presented the district's monthly financial, Bond and investment report. DETAILS
LISD Learning and Teaching Department presented the district's instructional materials for language arts adoption. Details
ACTION ITEMS

Approved the District's Employee Referral Incentive. Details
Approved the accepting certification of unopposed candidates, adopting order of cancellation of the election, and declaring candidates elected.
Details