Return to Headlines
The Colony Chamber Awards | May 2022
LISD STEM Academy at Memorial Elementary student Sino Joseph and teacher Kaiya Evans were recognized by The Colony Chamber of Commerce and DATCU at the chamber's May Leadership Luncheon held at Galaxay Theatres in The Colony, Texas.

STUDENT OF THE MONTH | SINO JOSEPH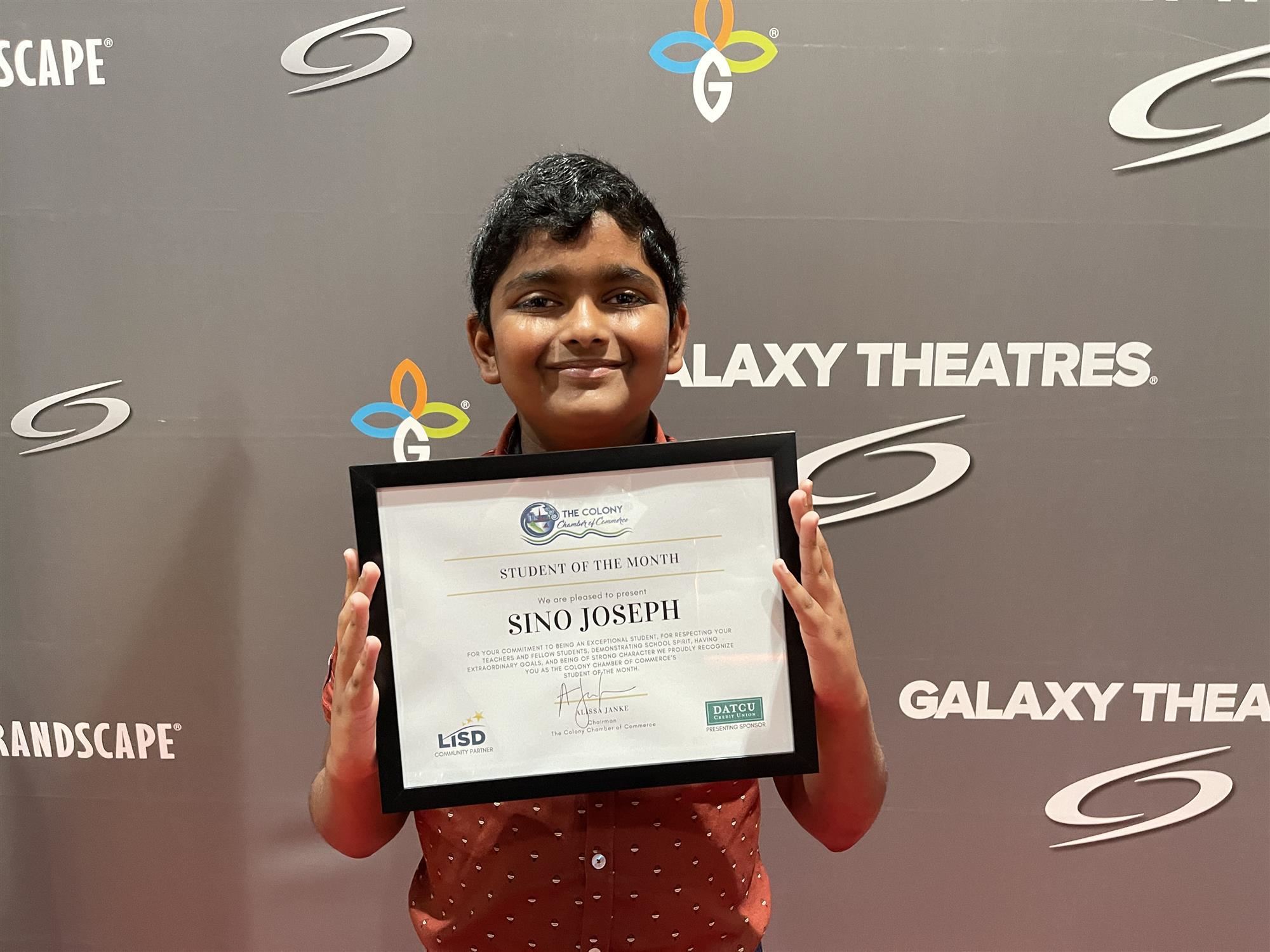 LISD STEM Academy at Memorial Elementary 5th grade student Sino Joseph was named The Colony Chamber May Student of the Month. According to his teachers, Sino is a student who is always kind to his peers and teachers. Sino is always willing to help someone in need, works hard every day and always does the right thing even when nobody's looking or asking. Though Sino is quiet and reserved, he stands out as a positive role model for his classmates. He is a member of the Memorial Flag Patrol where he helps to ensure that both the American and Texas flags fly proudly at school each day. His teachers describe him as a fun kid to have in class and that he's always eager to engage in lessons and activities.

During his free time, he loves to go fishing with his dad and play soccer with his older sister. His favorite subject in school is engineering. He loves having the opportunity to build and create things, and he also loves to draw and paint. His school is special to him because he enjoys all of the fun projects, as well as learning about science, engineering, and social studies. Sino's 4th grade teacher, Tyler Swain, has affected him the most. He appreciated how he built relationships with the students while learning virtually. Sino looks up to his 5th grade teacher, Miss Leslie Baker, because she has helped to further his love of engineering and science thanks to a lot of hands-on learning by creating models and doing experiments in science.

MAY TEACHER OF THE MONTH | KAIYA EVANS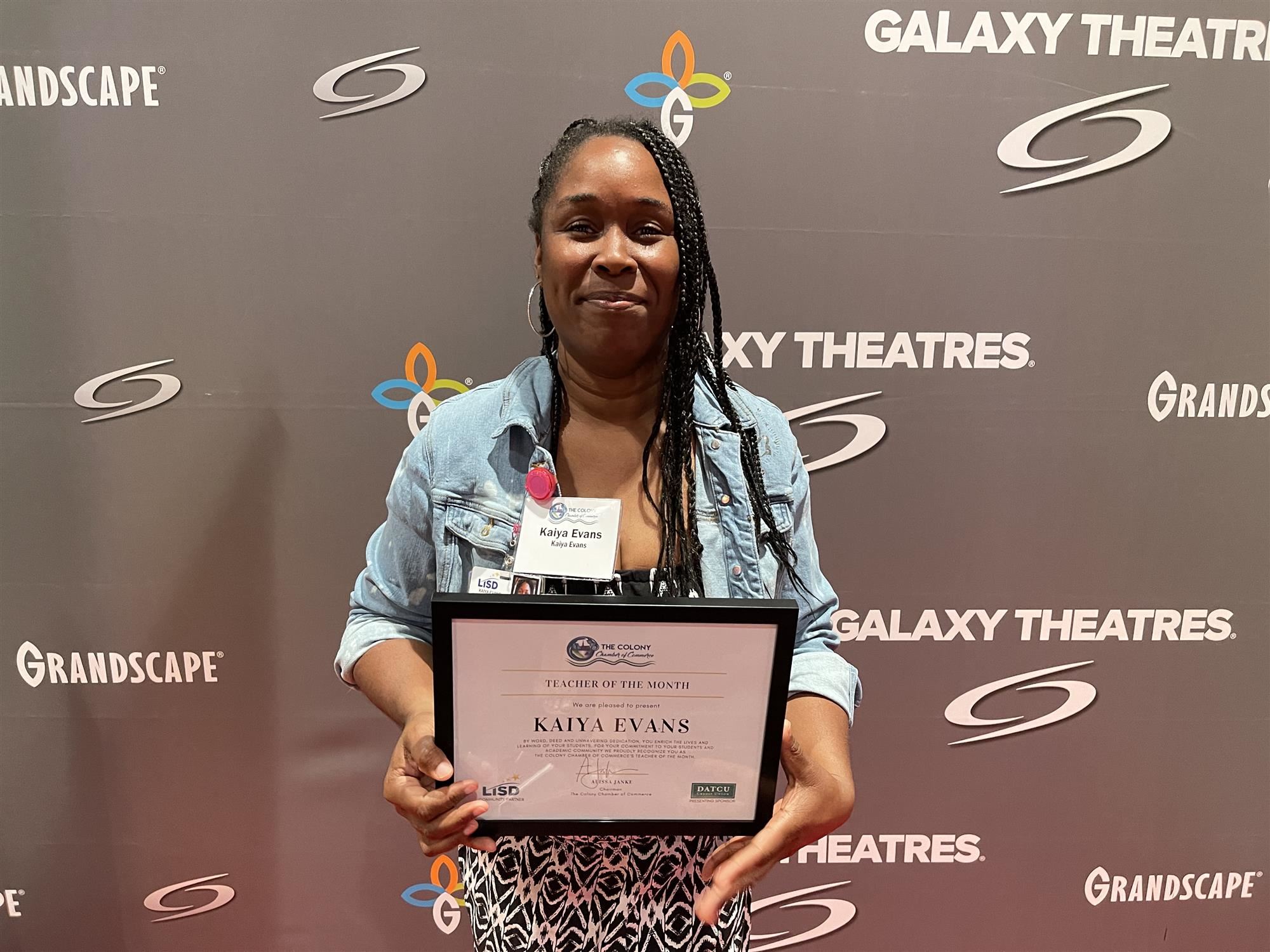 LISD STEM Academy at Memorial Elementary teacher Kaiya Evans was named The Colony Chamber's May Teacher of the Month. According to Memorial Elementary Principal Staphanie Lawson, Mrs. Evans is a charismatic and creative educator. She has an amazing rapport among her students, families, team, and colleagues at Memorial. This year was filled with many challenges, but Mrs. Evans met each challenge with an attitude of determination and perseverance. She is a stellar example of lifelong learning and seeks out opportunities to collaborate with others to enhance student learning in her class. Her students have shown tremendous growth this year and that is due to her ability to meet individual needs and her willingness to try anything to help her students achieve. Mrs. Evans is committed to the betterment of our entire campus and works tirelessly to ensure that Memorial is the place to be.

What inspired you to become a teacher?
Mrs. Evans began as a substitute teacher. She loved serving at different schools and different grade levels. During this time she was able to build skills to add to her toolkit as a future teacher. While serving as a substitute, Mrs. Evans was enrolled in college to become an educator. She shared that while subbing, she enjoyed the challenge that was presented each day. She loved that no day was the same and that she was able to work with a variety of children.

What is your most cherished moment in the classroom?
Mrs. Evans has lived in Lewisville for many years. In fact, both of her children attend school in our district. She shared that her most cherished moment was receiving the phone call Coyote Ridge Principal, Padgett Cervantes, welcoming her to LISD. Mrs. Evans had been hoping to come to LISD for many years, but due to enrollment, Mrs. Evans was sent to Memorial the first week of school. Though her beginning in LISD didn't go as planned, she stated that she has loved every minute of helping build Memorial brick by brick. She is honored to be able to help create memories for her students and a legacy for her school.

What do you hope your students or colleagues would say about you?
When asked this question, Mrs. Evans read a card that was sent to her by a former colleague. In the card, the teacher thanked her for the invaluable support and encouragement that was provided to her during her first year of teaching. The young teacher also thanked her for making work a fun place to be and for developing a love of learning in her students. Mrs. Evans stated that this is how she hopes anyone who works with her would describe her.


---
LISD STEM Academy at Memorial Elementary is a Lewisville, Texas elementary school serving Kindergarten through 5th-grade students with a unique STEM education experience in the Lewisville Independent School District. Memorial feeds into the Hebron High School and The Colony High School attendance zones. Follow Memorial on Facebook, Twitter and Instagram to see more student experiences throughout the school year. Join the Lewisville ISD family by enrolling today, or visit Best Schools in Texas to learn more.