Return to Headlines
Current and Future Hawks Connect with Art
Art students in elementary and secondary schools from across the Hebron High School (HHS) feeder pattern recently experienced their very own art show. Family, friends and community members were invited to admire the special artwork throughout the HHS cafeteria-turned-gallery.
The effort is a part of Lewisville ISD (LISD) Fine Arts' Theatre/Art Project Initiative, where all schools are inspired to create vertically-aligned feeder projects dedicated to promoting student growth, as well as theatre and art awareness within the community.
For the HHS feeder, the Art Advocacy Committee had the idea to get all schools together in one place for a big art show of their own, called "Hawk Trail."
"We are a very large group of elementary and secondary schools spread over many miles and we believe it is important to bring students, teachers, and parents together to celebrate our achievements," Castle Hills Elementary art teacher Elizabeth Stroud said.
To tie all these works of art together, especially from so many different grade-levels, the artists and their projects kept to one theme: literature. This cross-curriculum project helped intertwine the art show with the literacy program, Hebron Hawks Read. The pieces for the art show were inspired by books from many genres and coordinated with a particular element of art, like color, shape, space, line and value.
On the big day, artists from HHS, Hebron 9th Grade Campus, Arbor Creek Middle School, Creek Valley Middle School, Killian Middle School, Castle Hills Elementary, Coyote Ridge Elementary, Hebron Valley Elementary, Hicks Elementary, Homestead Elementary, Independence Elementary, Indian Creek Elementary and Polser Elementary experienced the first-ever Hawk Trail art show together.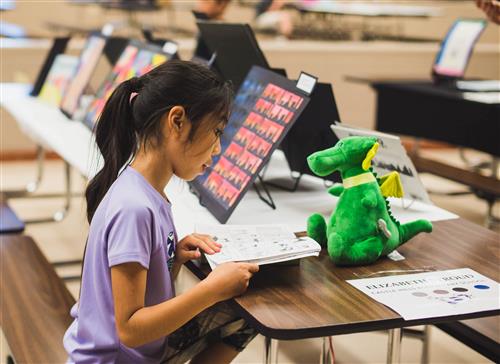 "We did this event for many reasons," HHS art teacher Jennifer Russell said. "We wanted to show our students' talent and we wanted the younger students to get excited about what is to come in the higher grade-levels."
It's not every day a first-grader can see their hard work right alongside an artist that will be graduating high school soon.
"We learn about many accomplished artists in our curriculum, but something extremely significant took place as my little ones explored the older students' work in awe," Stroud added. "They saw the possibility of their own future as an artist and gained understanding about the ways in which a secondary student expresses themselves through their artwork."
This inaugural event helped form strong bonds between current and future Hawks: connected through art.
"Our hope is that this gives our feeder a chance to get to know each other and to remind everyone that our visual arts program is alive and thriving," Russell added.


---
See more photos from the event on Hebron High School's Facebook Page and check out moments from the show in the video, below: