Return to Headlines
Bluebonnet Elementary 5th graders Experience Education in Action Discover Texas Field Trip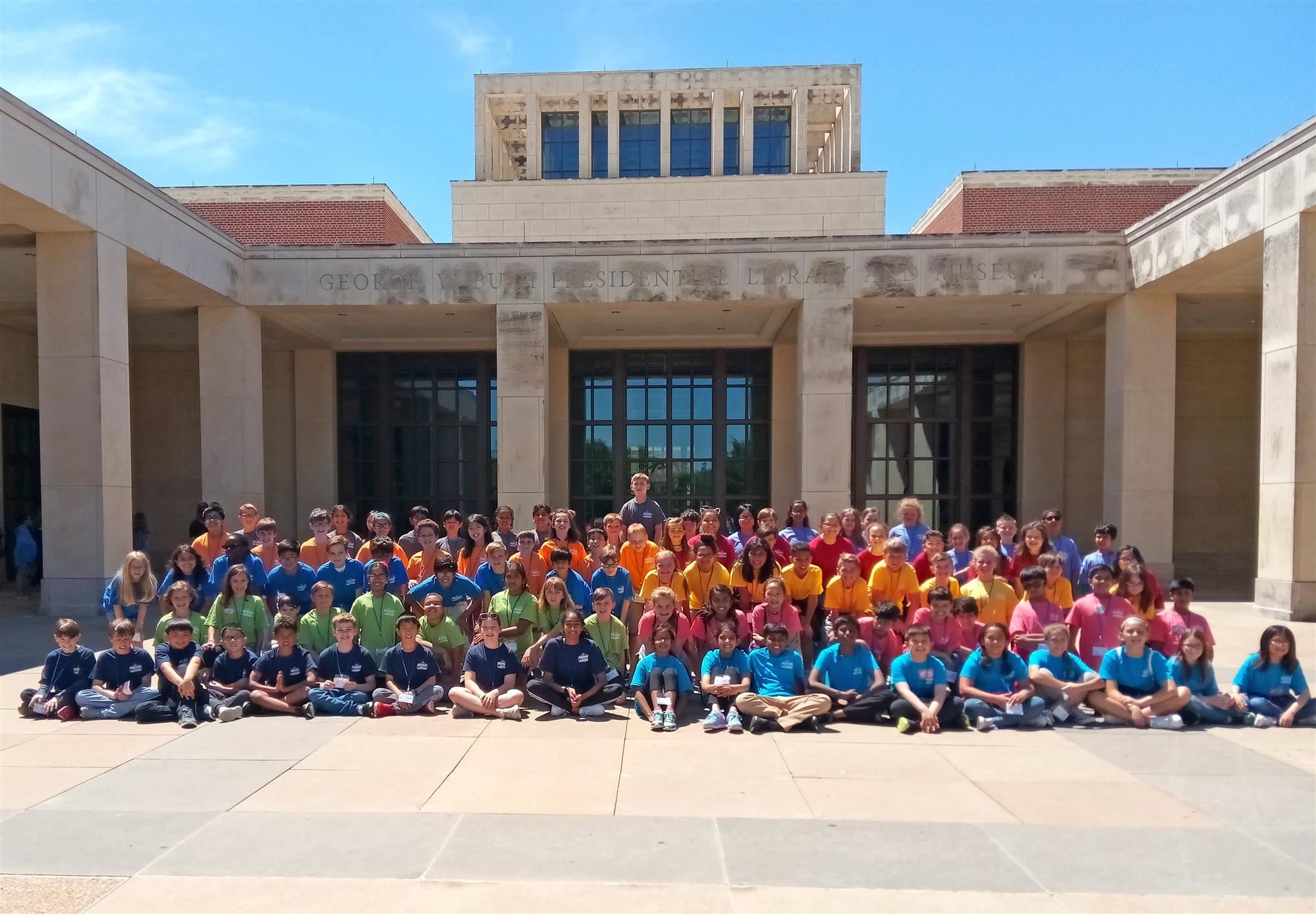 Fifth graders from Lewisville ISD's Bluebonnet Elementary traveled to Fort Worth and Dallas on an Education in Action Discover Texas Field Trip April 25, 2019. The students visited the United States Bureau of Engraving and Printing, the Sixth Floor Museum at Dealey Plaza, and the George W. Bush Presidential Library and Museum to experience what they are learning in social studies about our United States government and the free enterprise system.
At the Bureau of Engraving and Printing, students saw where paper currency is made, learned about the history of money and discussed the effects of supply and demand. Next students traveled to the Sixth Floor Museum at Dealey Plaza where they learned about the Executive Branch of government and the issues John F. Kennedy faced as the nation's 35th President. At the George W. Bush Presidential Library and Museum students learned about the Presidency and American history, and visited a full-size replica of the White House Oval Office. Throughout the day students compared and contrasted the three branches of government and identified the reasons for the United States Constitution's system of checks and balances.
"Education in Action's Discover Texas Field Trips are based on the understanding that the most effective way for students to learn is through experience," stated Lacey Phillips, Discover Texas Field Trips Director. "Student activities during this Discover Texas Field Trip reinforce and supplement fifth grade Texas Essential Knowledge and Skills (TEKS) learning objectives with a focus on our democratic form of government."
Education in Action's Discover Texas Field Trips make it easy for teachers to take their 3rd, 4th, or 5th grade classrooms on organized, fun, and educational site-based learning experiences. Discover Texas Field Trip staff members handle all details, including round-trip charter bus transportation, reservations, and TEKS-based program curriculum, so participating teachers can focus on their students and making connections between the experience and what students are learning in the classroom.
In addition to Discover Texas Field Trips to Abilene, Austin, San Antonio, Waco/Georgetown, Dallas, and Fort Worth, Education in Action also offers summer Lone Star Leadership Academy camps for outstanding 4th-8th graders. During the weeklong, overnight camps, participants experience significant Texas sites in Dallas/Fort Worth, Austin/San Antonio, or Houston/Galveston with Texas educators and a focus on leadership.
Discover Texas Field Trips are presented by Education in Action, a 501(c)(3) non-profit organization dedicated to fostering educated and involved young people. For more information about Education in Action visit www.educationinaction.org andwww.facebook.com/educationinaction.