Return to Headlines
Thank You for Saying Thank You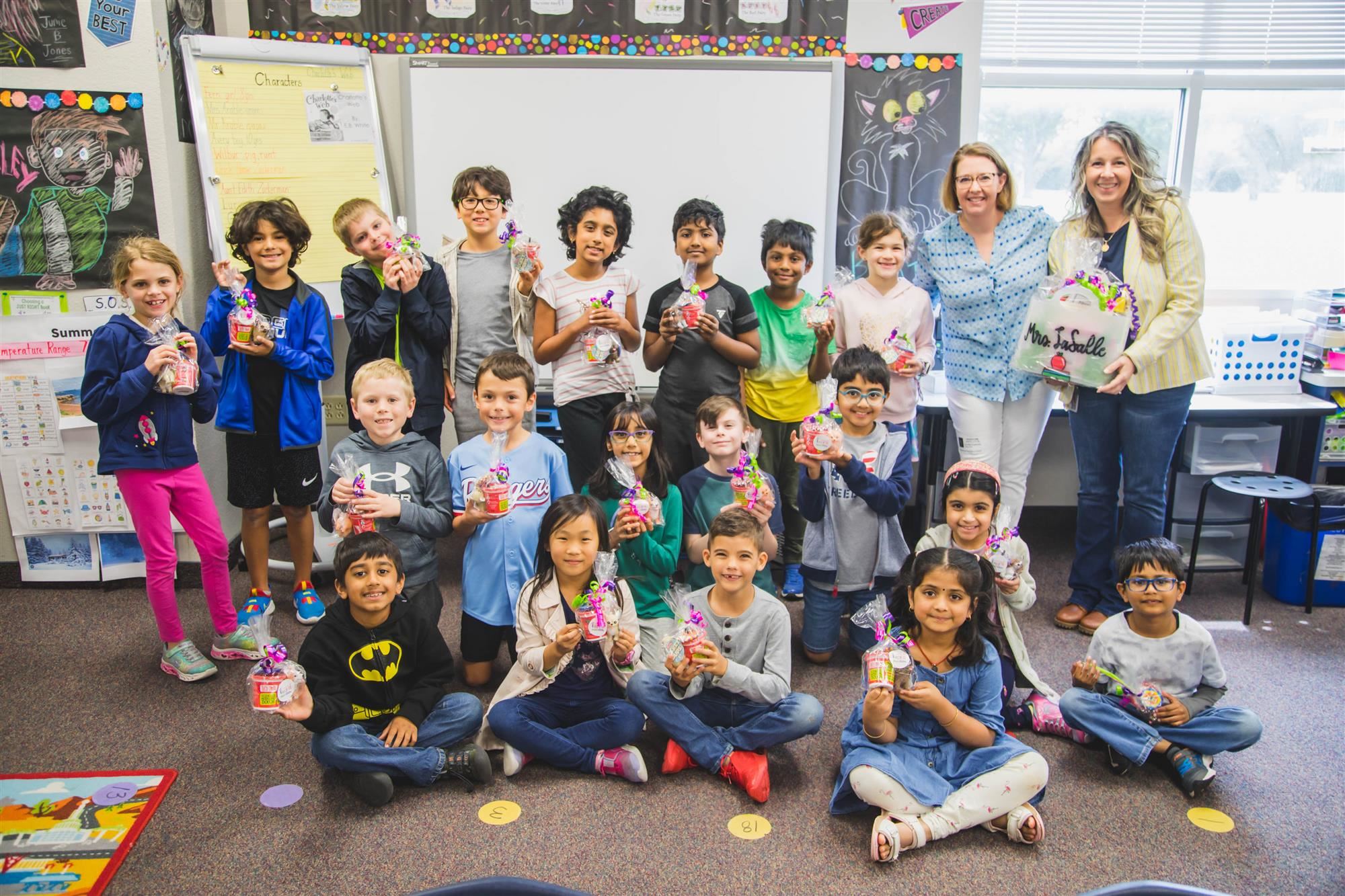 If you drive by Learning Express in Highland Village, you might notice some handwritten thank you notes proudly displayed in the storefront windows.
The owner of Learning Express, Jen Kaplinsky, regularly donates gift baskets to classrooms and when Mrs. LaSalle's second grade class at Bluebonnet Elementary received one of their own, they decided to give to others and donated the basket for auction at the school's annual Bear Bash.
Not only did the students donate the gift basket full of fun games to raise money for the Bluebonnet campus, but the students also took the time to write personalized, handwritten thank you notes to Jen and Learning Express to show their appreciation. In all the years of donating gift baskets to classrooms, Jen said Mrs. LaSalle's classroom was the first to thank her with a note.
"I could not believe it," Jen said to the class. "It was the first time in two years that anyone wrote me a thank you card. It was so special to me and my staff that I took all of the thank you cards and taped them to the storefront window so everyone that walked by could read them. What made it special was I didn't just get one letter from the entire class; I got one from each of the students. I think that also says a lot about what kind of special teacher and person Mrs. LaSalle is too."
The thank you notes were more than just saying thank you. They were in depth and sincere. One of the students' notes read: "Dear Mrs. Kaplinsky, thank you for the donation for our Bear Bash basket. I hope someone who likes games will win it. We love your donations."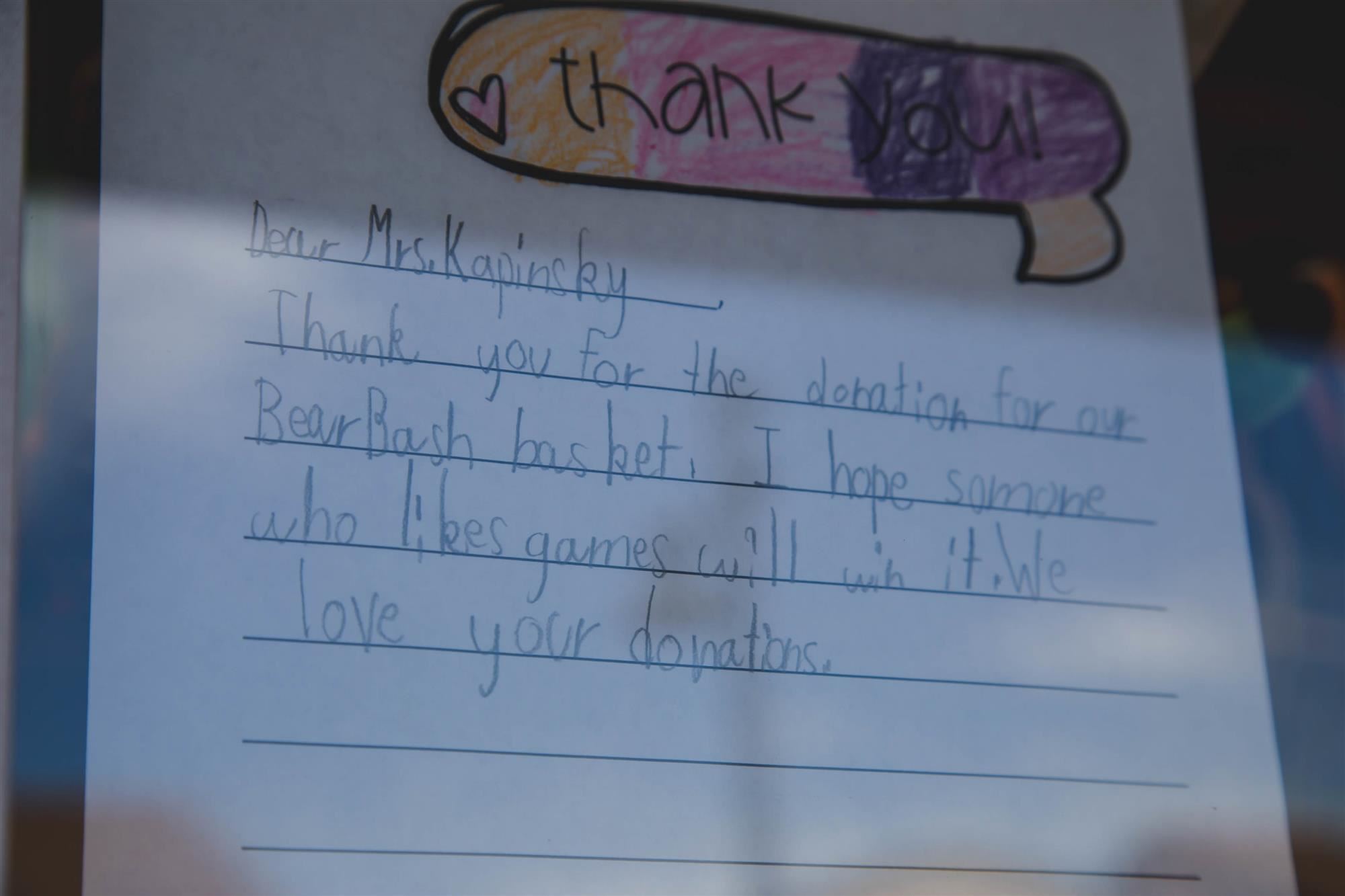 The students have been learning to write in length this year and to improve their handwriting. Mrs. LaSalle also teaches her students the importance of being grateful and giving back, so this was the perfect chance to combine all of the learning opportunities into one.
Second grader Emma and her dad personally delivered the thank you notes to Jen at Learning Express. When Jen received the cards and learned the students also donated the gift basket to help others, she wanted to do something even more special for the class. Jenn returned the favor by giving each student an individual gift and an extra special gift basket of things for the classroom to Mrs. LaSalle. As Jen said to the class, it was a "thank you for saying thank you."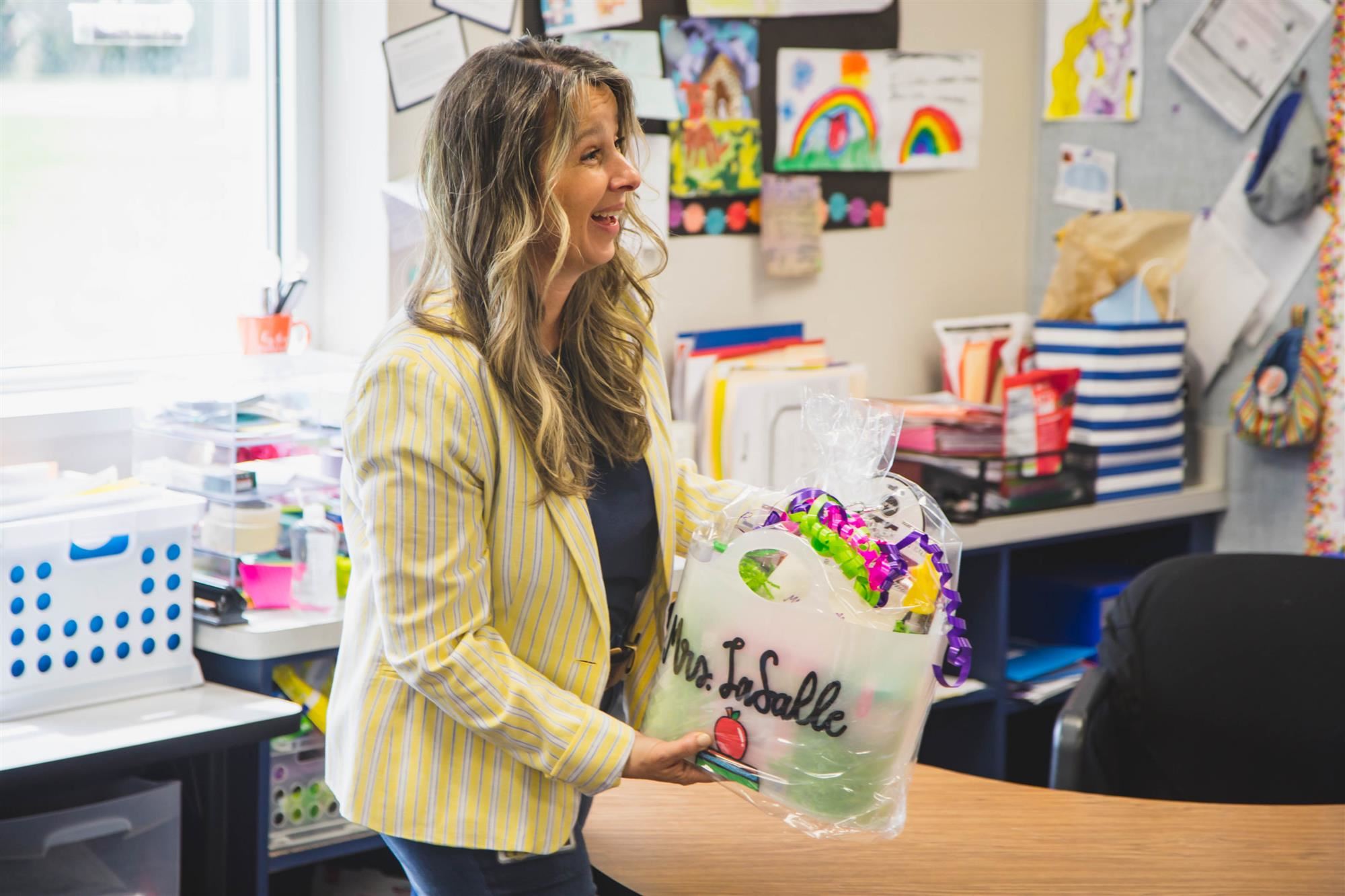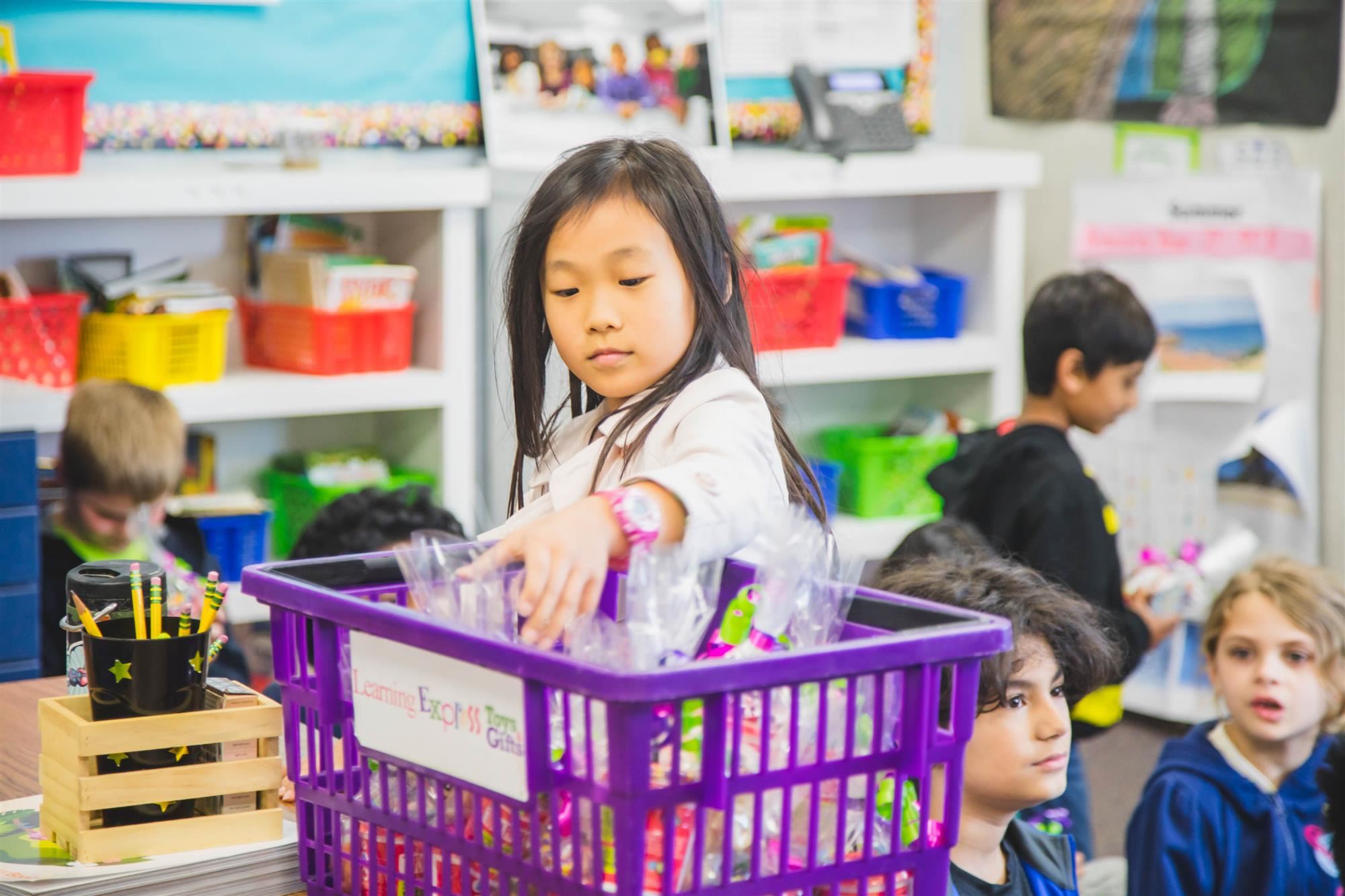 "We've been learning how important it is to tell people thank you when they do something kind for us," Mrs. LaSalle said. "We've been working really hard on our handwriting. The fact that they took their time and cared to do a good job without expecting anything in return is huge. None of us knew this would happen and they did it out of the kindness of their hearts. This is a pretty awesome group of kids."
When Emma and her dad delivered the cards, she said it made her feel good to do a nice thing for someone. Emma also learned "that it's nice to help other people and do kind things."
Bluebonnet principal Lana Fisher couldn't be prouder of what her second graders are learning and how they represent the school in the community. "Our kids are learning to be grateful, to be kind to one another and to think of others," Fisher said. "It's so important for them to be involved in an act of kindness like this. I'm so proud of Mrs. LaSalle and all of her students."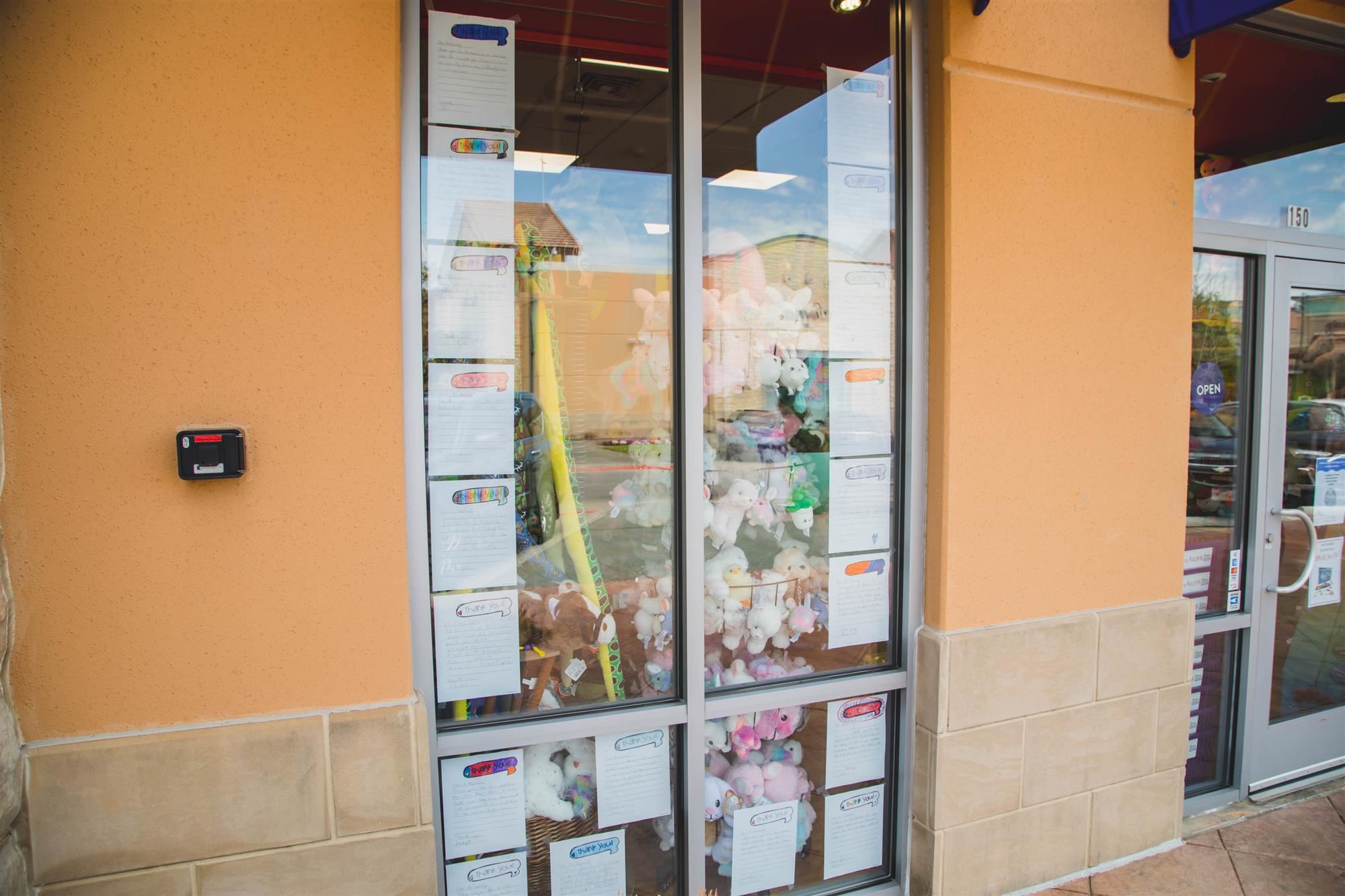 ---
Bluebonnet Elementary is a Flower Mound, Texas elementary school serving Kindergarten through 5th grade with future-ready learning experiences in the Lewisville Independent School District. Bluebonnet feeds into the Flower Mound High School attendance zone. Follow Bluebonnet on Facebook and Twitter to see more student experiences throughout the school year. Join the Lewisville ISD family by enrolling today, or visit Best Schools in Texas to learn more.