Return to Headlines
Flower Mound Chamber Awards | May 2021
STUDENT OF THE MONTH | KATELYNN CHAPMAN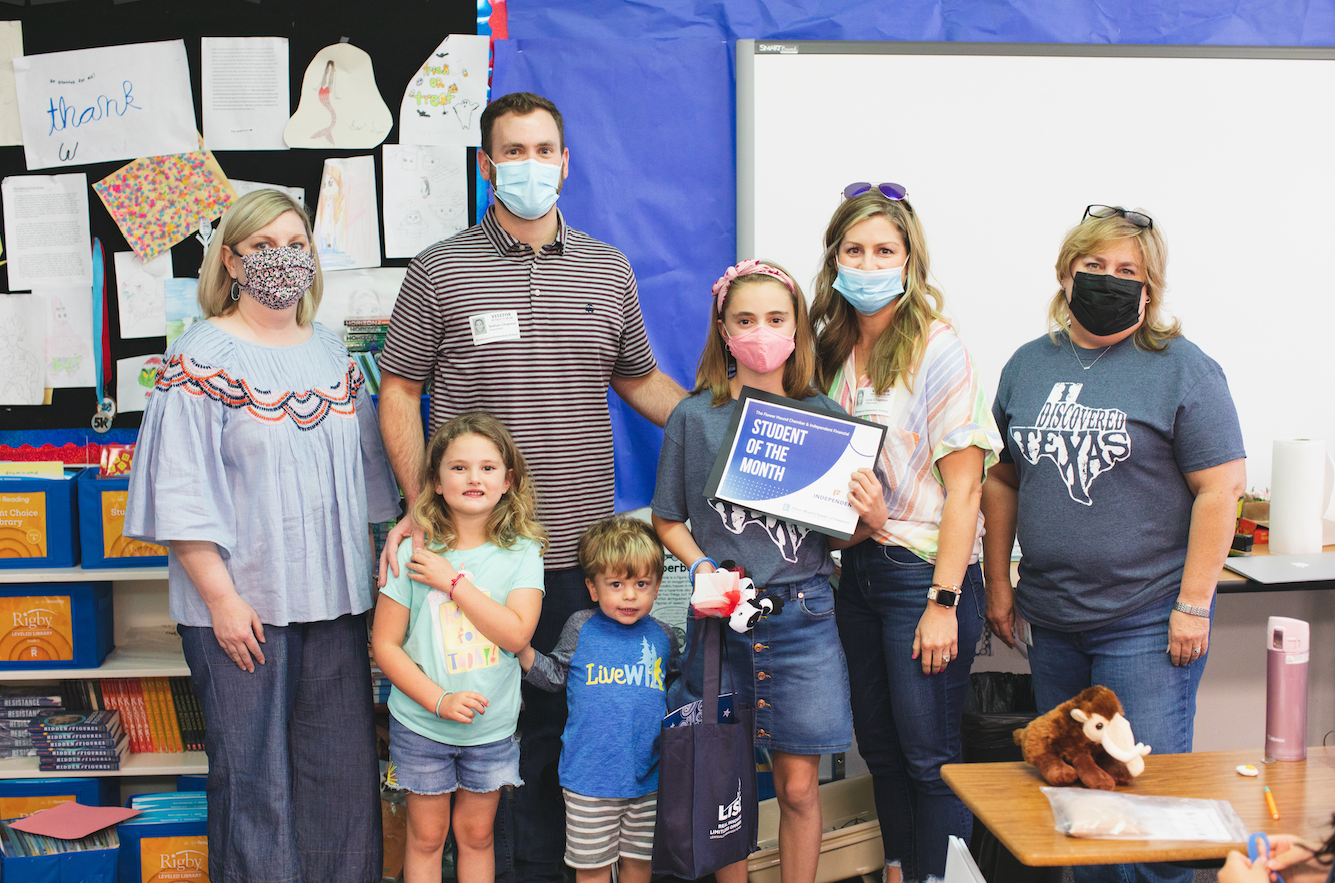 Katelynn poses with her family, Bluebonnet Elementary Principal Lana D. Fisher, and teacher Mary Davis.
Bluebonnet Elementary 5th-Grader Katelynn Chapman was recognized as the Flower Mound Chamber/Independent Financial May Student of the Month. According to Katelynn's teachers, words cannot express how much they enjoy having Katelynn at Bluebonnet Elementary. She is dedicated and works diligently every day. She walks in each morning ready to tackle any challenge that may come her way. Her creativity and effort shine in each project she completes. Katelynn has a big heart and will welcome anyone to be her partner. Katelynn's teachers are certain she will accomplish amazing things in middle school.

To get to know Katelynn a little better, we asked her the following questions:
What are your hobbies and/or do you like to do in your free time?
Gymnastics, art, and playing with friends.
What is your favorite subject in school and why?
Language Arts because I love reading and writing. I like all subjects though.
What do you love most about your school and why?
I like that you can see all your teachers from the previous school years and that there is Kid with Character to make students happy.
What are you looking forward to in middle school next year?
I am looking forward to having electives, being able to change classes, and be with new people in every class.
Who do you look up to and why?
I look up to women who have made a difference in the world, like Susan B. Anthony, Marie Curie, Harriet Tubman, etc. Also, my favorite gymnast is Simone Biles.
TEACHER OF THE MONTH | LEANNE SANDEFER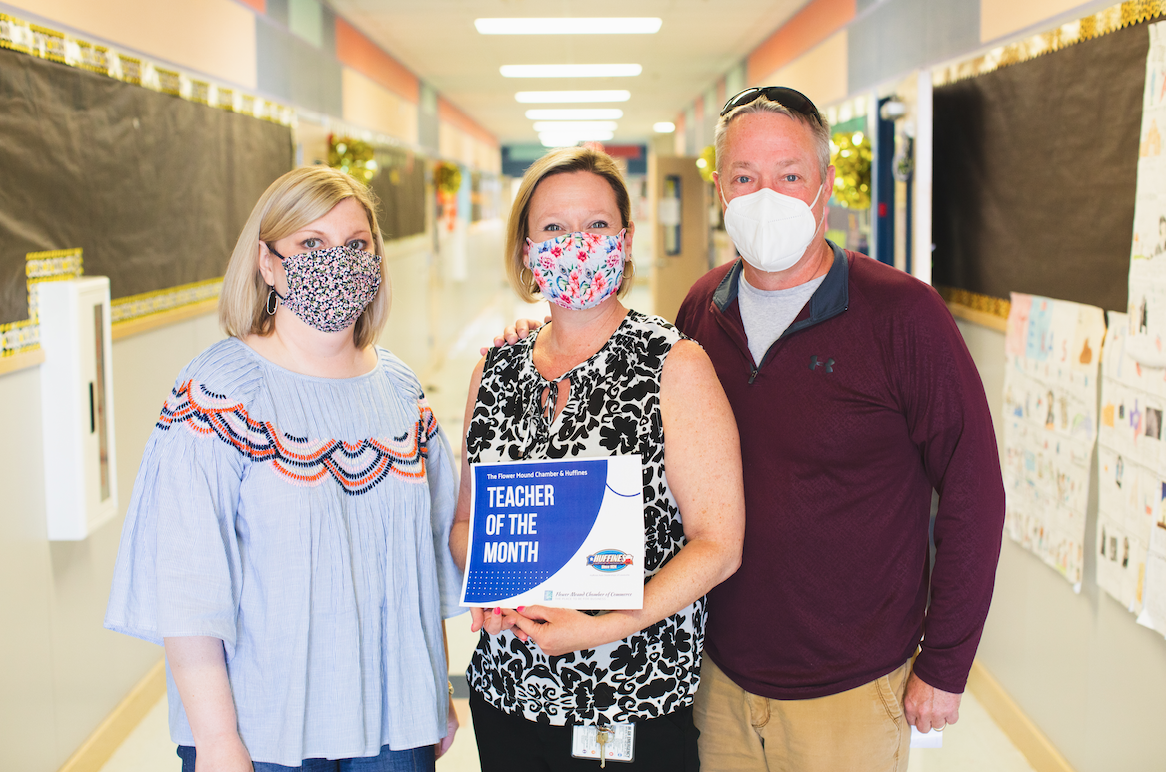 Mrs. Sandefer poses with her husband Paul Sandefer and Bluebonnet Elementary Principal Lana D. Fisher.

Bluebonnet Elementary virtual teacher LeAnne Sandefer was recognized as the Flower Mound Chamber/Huffines May Teacher of the Month. According to Bluebonnet's administration, LeAnne is insightful, sensitive, and self-driven. She uses remarkable teaching skills to fuel the minds of her students. LeAnne has the mental fortitude and emotional tolerance to adapt to situations, which is an immensely commendable asset. She exhibited this when teaching 4th-grade virtually then changing to 1st-grade virtual for the second and third nine weeks and ending the school year as a 4th-grade, in-person teacher. Rarely you will find someone who can switch roles and responsibilities, effortlessly do so with a smile. She connects with her families and works in partnership to support the different needs of her classroom. LeAnne helps her students grow as a person, keeping a close eye on their "light bulb" moments. She recognizes that socio-emotional learning is key to academic growth and personal well-being. LeAnne leads her students by example and is determined to have a positive impact on their lives.


SCHOOL OF THE MONTH | BLUEBONNET ELEMENTARY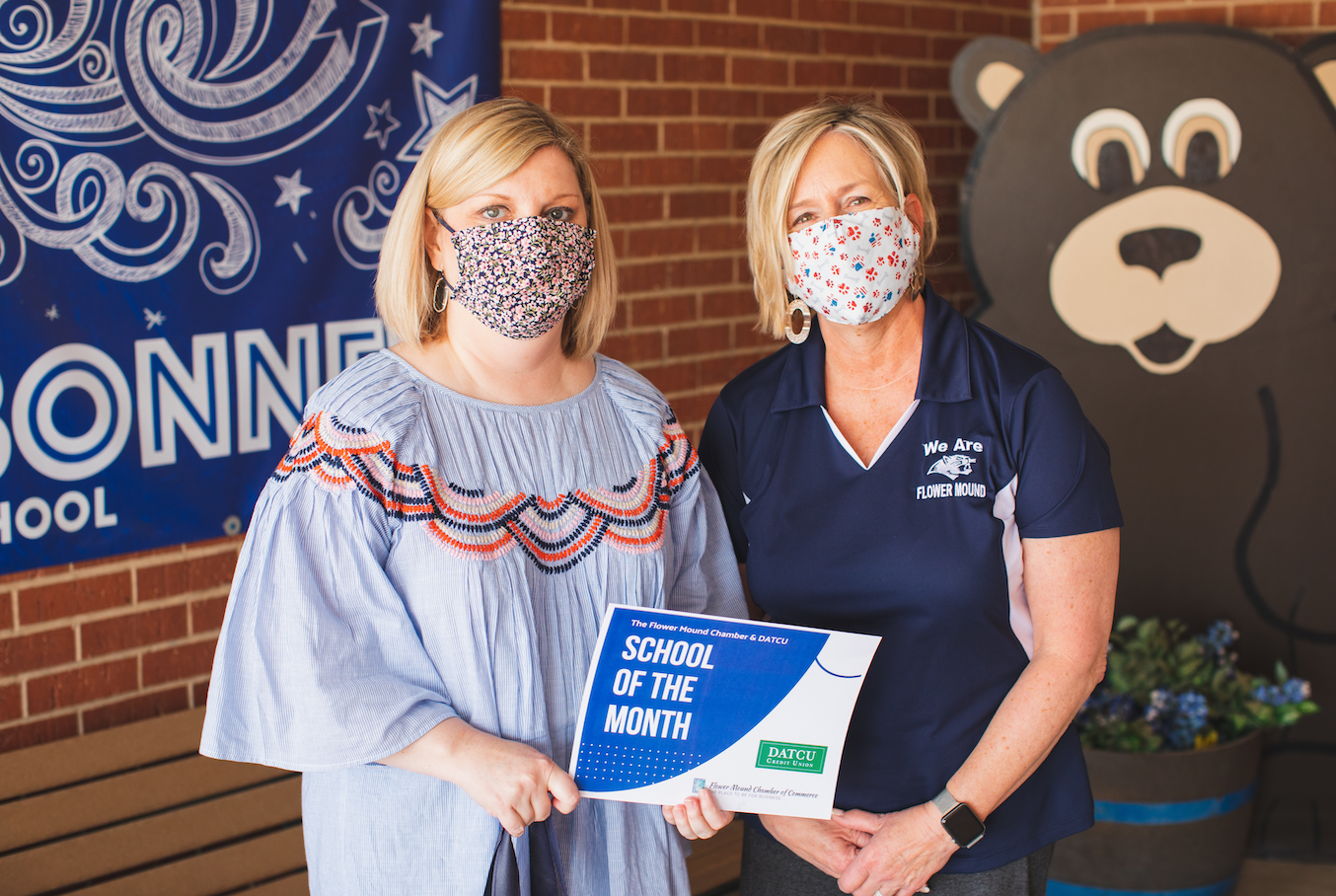 Bluebonnet Elementary was recognized as the Flower Mound Chamber/DATCU May School of the Month. Bluebonnet's passion for excellence has been the driving force behind 20 successful years. Its focus is creating empowered learners while providing rich educational experiences.
Bluebonnet fosters a growth mindset. The teachers and staff have created a positive culture of collaboration and shared responsibility for all its students and families.
Bluebonnet's partnership with its community provides opportunities for students to explore and nurture their talents. Parents and families are invited to volunteer at school and be a part of the students' learning. Bluebonnet has a successful PTA. The Bluebonnet PTA received the National PTA School of Excellence award for 2018-2020 and the Golden Apple Award for 2019-2020 and 2020-2021.
Bluebonnet is One School, Many Cultures. For two school years now, Bluebonnet has hosted its One School, Many Cultures event, to highlight the many cultures represented at Bluebonnet. The Bluebonnet community buzzes in delight and enthusiasm for all the many cultures the students and families represent.
Bluebonnet's mission is to create a respectful, safe, and welcoming environment for all its students and families.


---
| | | |
| --- | --- | --- |
| May | School | Bluebonnet Elementary |
| | Teacher | LeAnne Sandefer |
| | Student | Katelynn Chapman |
| April | School | Marcus High School |
| | Teacher | Dr. Dominic Pollone |
| | Student | Allie Herrera |
| March | School | Garden Ridge Elementary |
| | Teacher | Melanie Stetzer |
| | Student | Lynh Dam |
| February | School | Flower Mound 9th Grade Campus |
| | Teacher | Chimene Tingue |
| | Student | Jordan Holt |
| January | School | LISD STEM Academy at Bridlewood Elementary |
| | Teacher | Joyce Kirk |
| | Student | Caden Burrows |
| November | School | Forest Vista ES |
| | Teacher | Forest Vista ES |
| | Student | Gracie Shaw |
| October | School | Heritage ES |
| | Teacher | Kelsi Kunz |
| | Student | Jackson Sasser |
| September | School | McKamy MS |
| | Teacher | Brilliance Crayton |
| | Student | Mia Kline |
---

Bluebonnet Elementary is a Flower Mound, Texas elementary school serving kindergarten through 5th grade in the Lewisville Independent School District. Follow Bluebonnet on Facebook and Twitter, to see more student experiences throughout the school year or visit Best Schools in Texas for more information about joining the Lewisville ISD family.