Return to Headlines
Adoptions Now Available for 16th Annual LISD Angel Tree 
Lewisville High School-led program helps provide for less fortunate children during holiday season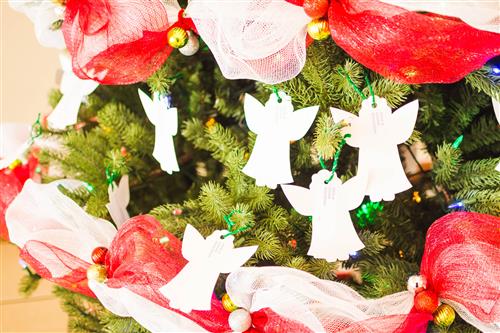 Nov. 16, 2018 – The Lewisville High School Student Council has organized its 16th annual Lewisville ISD Angel Tree, a gift donation campaign created to provide a wonderful holiday experience for less fortunate children – newborns through 19-year-olds – across district schools.
Angels are nominated by LISD school counselors and Communities In Schools of North Texas social workers, who compile a list of each child's "needs" and "wants." All district schools were invited to nominate angels. The adoption list has topped 1,300 children – and it continues to grow by the day. Last year's list included approximately 1,000 angels.
"The LISD Angel Tree is truly an amazing program," LISD Assistant Chief of Schools Andy Plunkett said. "Students, staff and community members rally together to provide gifts for children in need, which in turn brings joy to so many families in our district during the holidays."
Added LHS Student Activities Director Allison Stamey: "Knowing that each student on the LISD Angel Tree will have gifts during the holiday season does my heart good! So does watching my Student Council officers put their life on hold for so long because they want to make others happy. I'm so proud of them."
The LHS students spearheading the campaign are Student Body Community Service Officer Yesenia Regalado, Student Body President Braeden Kajs, Student Body Treasurer Matthew Jimenez, Student Body Historian Jackie Hernández, Student Body LISD Liaison Madison Jaegers, Junior Class Member Maritoni Songco, Junior Class Community Service Officer Bennett Mainini and Junior Class President Kayla Rios.
"During the holidays, many students in our district go home to no presents," Regalado said. "The Lewisville High School Student Council's goal is that every student comes back from the winter break with a smile. That's why the LISD Angel Tree so important to us."
The program also involves the Student Councils from Flower Mound High School, Hebron High School, Marcus High School and The Colony High School. Student leaders from all five LISD groups gather together to participate in the wrapping of presents.
"We appreciate the Student Councils of each LISD high school volunteering and being a part of the experience," Stamey said. "It is so rewarding for everyone involved."
The LISD Angel Tree now has a new website, bit.ly/LISDangeltree, to help streamline the adoption process and answer FAQs.
The deadline to adopt an angel is Nov. 30. If you are unable to adopt but would like to help, gift cards, wrapping paper and tape may be donated. Checks can be made payable to "LHS ABC."
Labeled, unwrapped gifts can be dropped at either LHS (1098 W. Main Street in Lewisville) or Career Center East (2553 FM 544 in Lewisville). Gifts must be received by Dec. 5 at LHS or Dec. 6 at CCE.
Before the district lets out for winter break in Dec. 21, the LHS Student Council will transport all presents to the school of each angel. If needed, Stamey and LHS staff members will deliver gifts to the homes of families who are not able to make it to their child's school for pick-up. By the morning of Dec. 22, all presented will be in the angels' homes.
To see the angels available and adopt, click here. For any questions, contact Stamey at stameya@lisd.net or 469.948.3120.