Return to Headlines
2017 Veterans Day Celebrations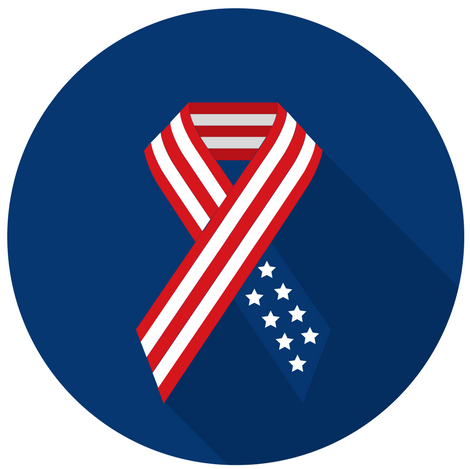 Each Veterans Day, schools across Lewisville ISD proudly recognize the men and women who bravely served our country in the United States Armed Forces. This year many LISD campuses are opening their doors and welcoming veterans at their Veterans Day ceremonies.
"Veterans and active duty military personnel are part of the fabric of our country, and play a critical role in what makes our country great," LISD Superintendent of Schools Dr. Kevin Rogers said. "I am proud that our campuses take the opportunity to teach our students about patriotism by honoring and recognizing our brave soldiers."
While all LISD campuses observe Veterans Day in some way, many campuses are holding public events and want to extend an invitation for veterans to attend. Below is a complete list of LISD campuses set to host community Veterans Day celebrations either Nov. 9 or 10. Please RSVP by Monday, Nov. 6 to 469-948-8056 or email: communications@lisd.net.


Only the campuses listed are holding public events. Other campuses may recognize family and staff members who are veterans at events that are not open to the public.

Celebrations are listed by the city our campuses are located:

4207 Plano Parkway, Carrollton, TX 75010
8:30 a.m. Breakfast in the Library
10 a.m. Ceremony at Hawk Stadium
Arbor Creek Middle School | Nov. 10, 2017
2109 Arbor Creek Drive, Carrollton, TX 75010
3:15 p.m. Ceremony in Gym

2810 Morriss Road, Flower Mound, TX 75028
9:30 a.m. Ceremony in Main Gym
Sign in at front office.
Shadow Ridge Middle School | Nov. 10, 2017
2050 Aberdeen Road, Flower Mound, TX 75028
9:45 a.m. Ceremony in Gym
Bluebonnet Elementary | Nov. 10, 2017
2000 Spinks Road, Flower Mound, TX 75028
8:30 a.m. Ceremony in the Gym
Flower Mound Elementary | Nov. 10, 2017
4101 Churchill, Flower Mound, TX 75028
8 a.m. Ceremony in Cafeteria
Garden Ridge Elementary | Nov. 10, 2017
2220 S. Garden Ridge Blvd., Flower Mound, TX 75028
8:30 a.m. Ceremony in Gym
Liberty Elementary | Nov. 10, 2017
4600 Quail Run Road, Flower Mound, TX 75022
9 a.m. Ceremony in Gym
Old Settlers Elementary | Nov. 10, 2017
2525 Old Settlers Road, Flower Mound, TX 75022
7:15 a.m. Breakfast
8:15 a.m. Ceremony in Gym­



3651 Compass Drive, Frisco, TX 75034
8 a.m. Ceremony in Gym

2300 Briarhill Blvd., Highland Village, TX 75077
7:30 a.m. Breakfast
8:15 a.m. Ceremony in Cafeteria
Heritage Elementary | Nov. 10, 2017
100 Barnett Blvd. Highland Village, TX 75077
7:30 a.m. Breakfast
8:15 a.m. Ceremony in Gym
Highland Village Elementary | Nov. 10, 2017
301 Brazos Blvd. Highland Village, TX 75077
8:15 a.m. Ceremony and Breakfast in Cafeteria

1098 W. Main Street, Lewisville, TX 75067
7:30 a.m. Ceremony in the Auditorium
2075 Edmonds Lane, Lewisville, TX 75067
9:45 a.m. Check in front office
Huffines Middle School | Nov. 10, 2017
1440 N. Valley Parkway, Lewisville, TX 75077
3:30 p.m. Ceremony in Gym
College Street Elementary | Nov. 9, 2017
350 W. College Street, Lewisville, TX 75057
7 p.m. Program in Cafeteria
Lakeland Elementary | Nov. 10, 2017
800 Fox Ave. Lewisville, TX 75067
9:30 a.m. Ceremony in Gym
Lewisville Elementary | Nov. 10, 2017
285 W. Country Ridge Road Lewisville, TX 75067
8 a.m. Breakfast and Ceremony

Parkway Elementary | Nov. 10, 2017
2100 S. Valley Parkway, Lewisville, TX 75067
8 a.m. Ceremony Outside
Valley Ridge Elementary | Nov. 10, 2017
1604 N. Garden Ridge Blvd., Lewisville, TX 75077
8:30 a.m. Ceremony in Gym
Vickery Elementary | Nov. 10, 2017
3301 Wager Road Flower Mound, TX 75028
8:15 a.m. Ceremony in Cafeteria

4301 Blair Oaks, The Colony, TX 75056
10 a.m. Ceremony in the Competition Gym
B.B. Owen Elementary | Nov. 10, 2017
5640 Squires, The Colony, TX 75056
8:15 a.m. Ceremony in Cafeteria
Brunch to Follow in Library
Camey Elementary | Nov. 10, 2017
4949 Arbor Glen Road, The Colony, TX 75056
8 a.m. Breakfast & Ceremony in Cafeteria
6001 Ethridge Drive, The Colony, TX 75056

8 a.m. Ceremony in Cafeteria
5105 N Colony Blvd, The Colony TX 75056
9:15 a.m. Ceremony in Gym