Return to Headlines
Lewisville FFA: Best in Show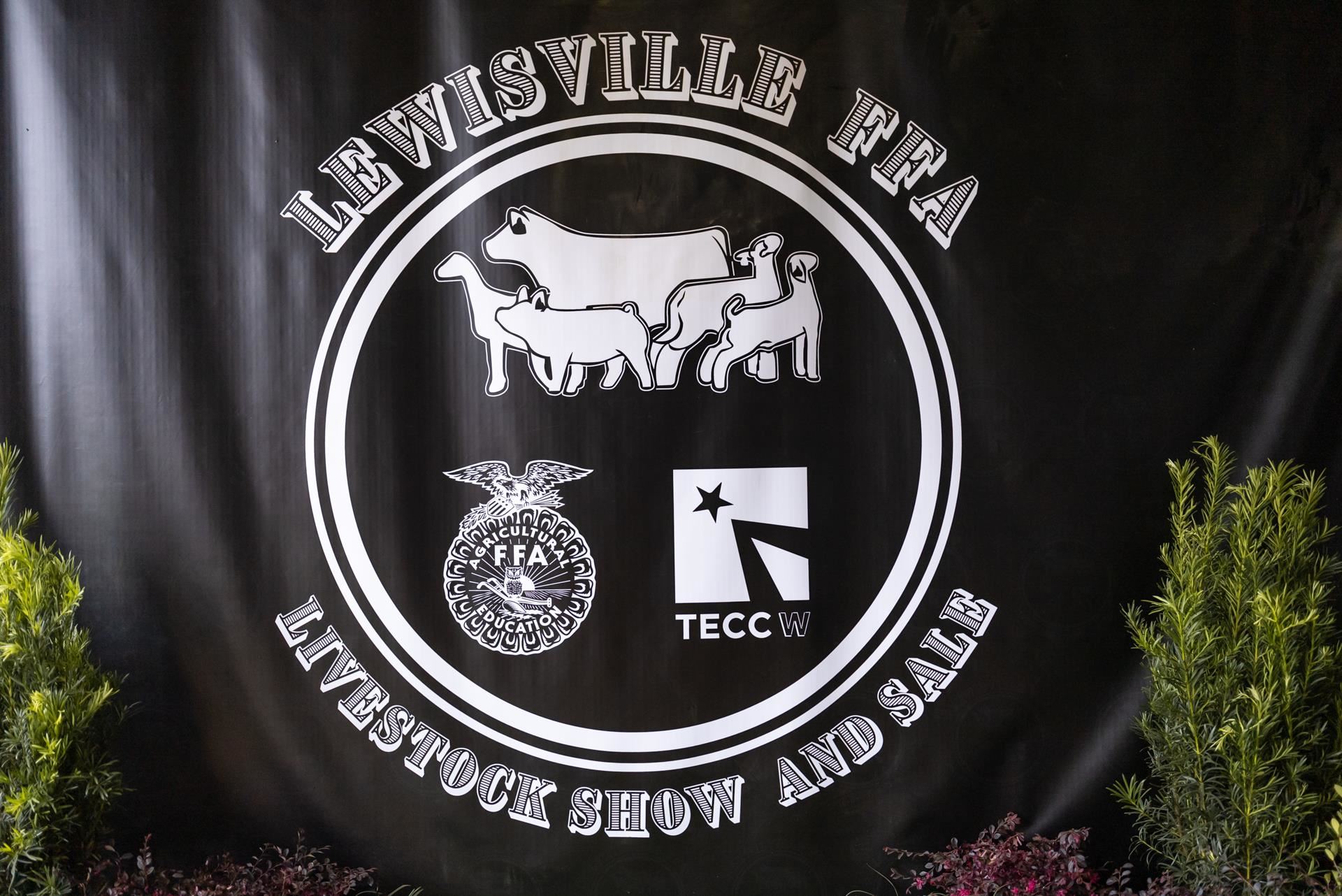 "Learning to do, doing to learn, earning to live, living to serve."
The motto of the Future Farmers of America (FFA) creates a foundation for members to live by and build upon as they develop their potential for leadership, personal growth and career success.
Members of the Lewisville FFA chapter are taking this motto and mission to new heights through the district's annual livestock and sale. This event, which took place on Saturday, February 25 at the Chester Boyd Agricultural Center, saw nearly 30 students show their rabbits, lambs, swine, goats and cattle to be judged. Last year's event marked the return of the premium sale portion of the show, which was expanded upon this year and raised $22,000 that will directly benefit Lewisville FFA students.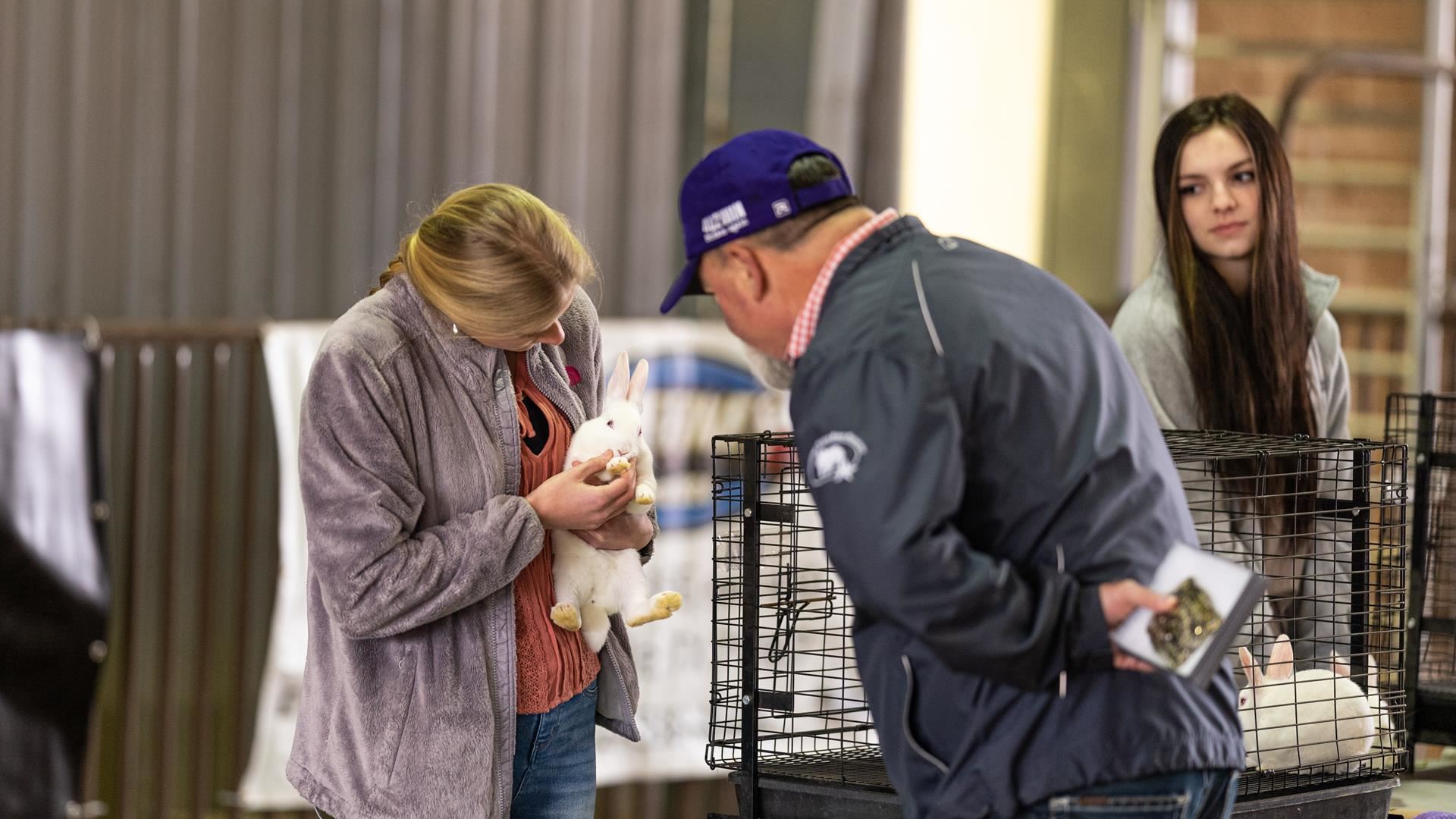 This year's show also featured a floral arrangement contest between LISD floral design students, lunch prepared and provided by TECC-West culinary students and a hair extension and temporary tattoo station featuring TECC-West cosmetology students. Additional support and exhibits were provided by the TECC-West horticulture and home economics programs, as well as TECC-West's audio/visual production team and Starfish Creations.
Ashley Davoli, one of LISD's FFA advisors and head of TECC-West's floral design program explained that the growth and success of the sale correlates with the growth of the program.
"I think that last year we saw a great success and a lot of excitement about us bringing the sale back and we've seen a lot of people this year that want to get involved and see what the organization is about."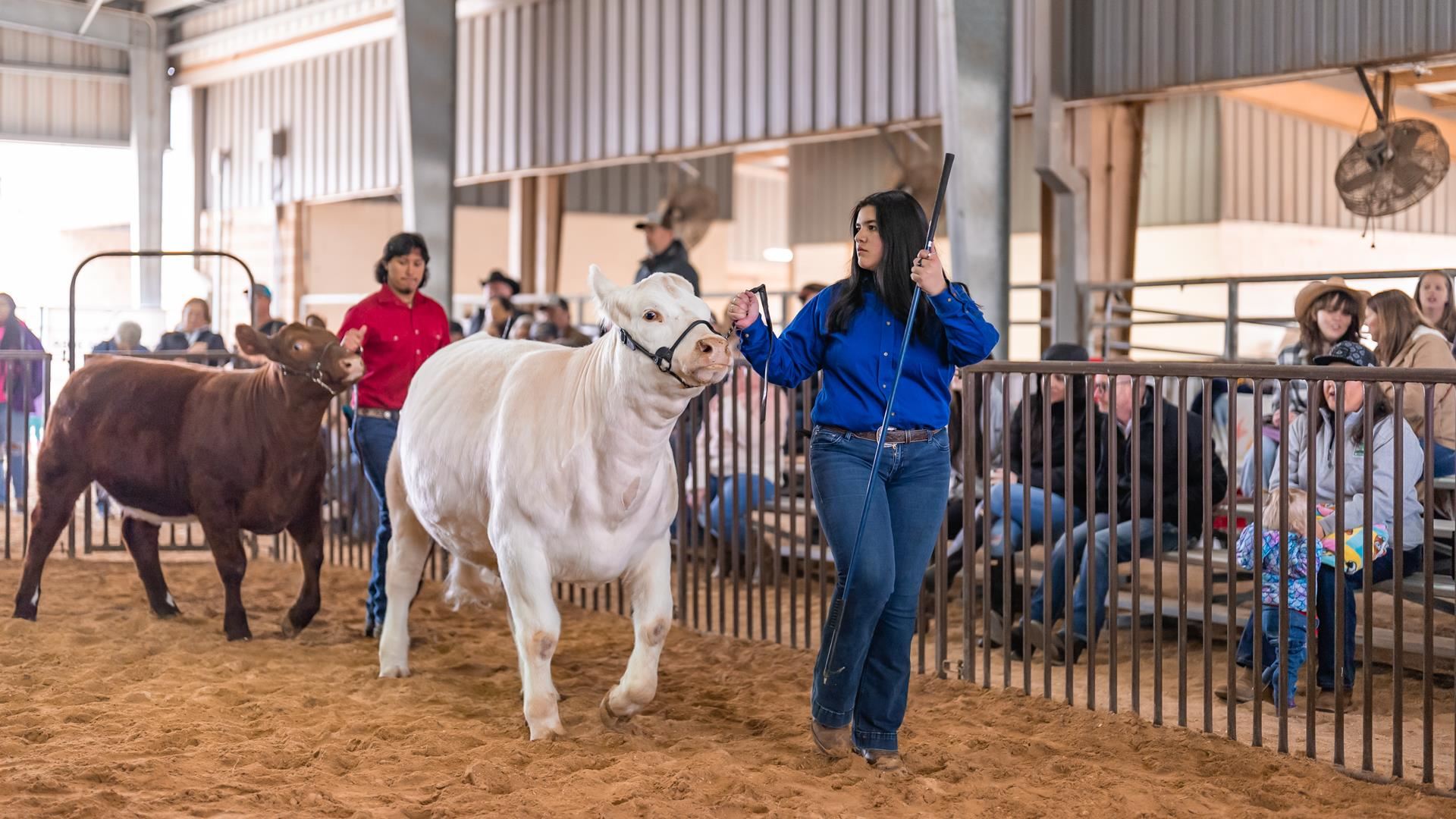 For LISD's most active FFA students, the show and sale serves as a culmination of the time and dedication that they pour into raising their animals.
"The time commitment is very high," said Davoli. "The students come out twice a day to take care of their animals – it's not just a "come and dump" feed and leave. When they're here they're walking, they're working, they're exercising them, bathing them, so I would say that they're spending a few hours a day out here with their animals."
But for these students, this labor of love has become second nature.
"I'm out at the barn at least an hour and a half to three hours every day," said Marcus High School junior Landon Barnett. "I also play baseball, pretty much as soon as I get done playing baseball I go home, change and come here."
Barnett comes from a family of Lewisville FFA members. The nine-year veteran of the program explained that both his brother and father (who proudly watched on as his son navigated the event) were both longtime members and LISD alumni.
Lewisville High School senior Madison Atkins also credits family for drawing her towards FFA.
"It was mostly my grandfather – he sparked my love for agriculture and animals. He was the one that introduced me to what FFA is and when I found out that we had a program I decided to join."
Like Barnett, Atkins also manages to find time to pursue other passions when not at the ag barn, exploring creative outlets such as singing and painting.
"I have thought about doing a painting of my goat" Atkins laughed when asked if she had ever considered bridging the gap between art and animal care.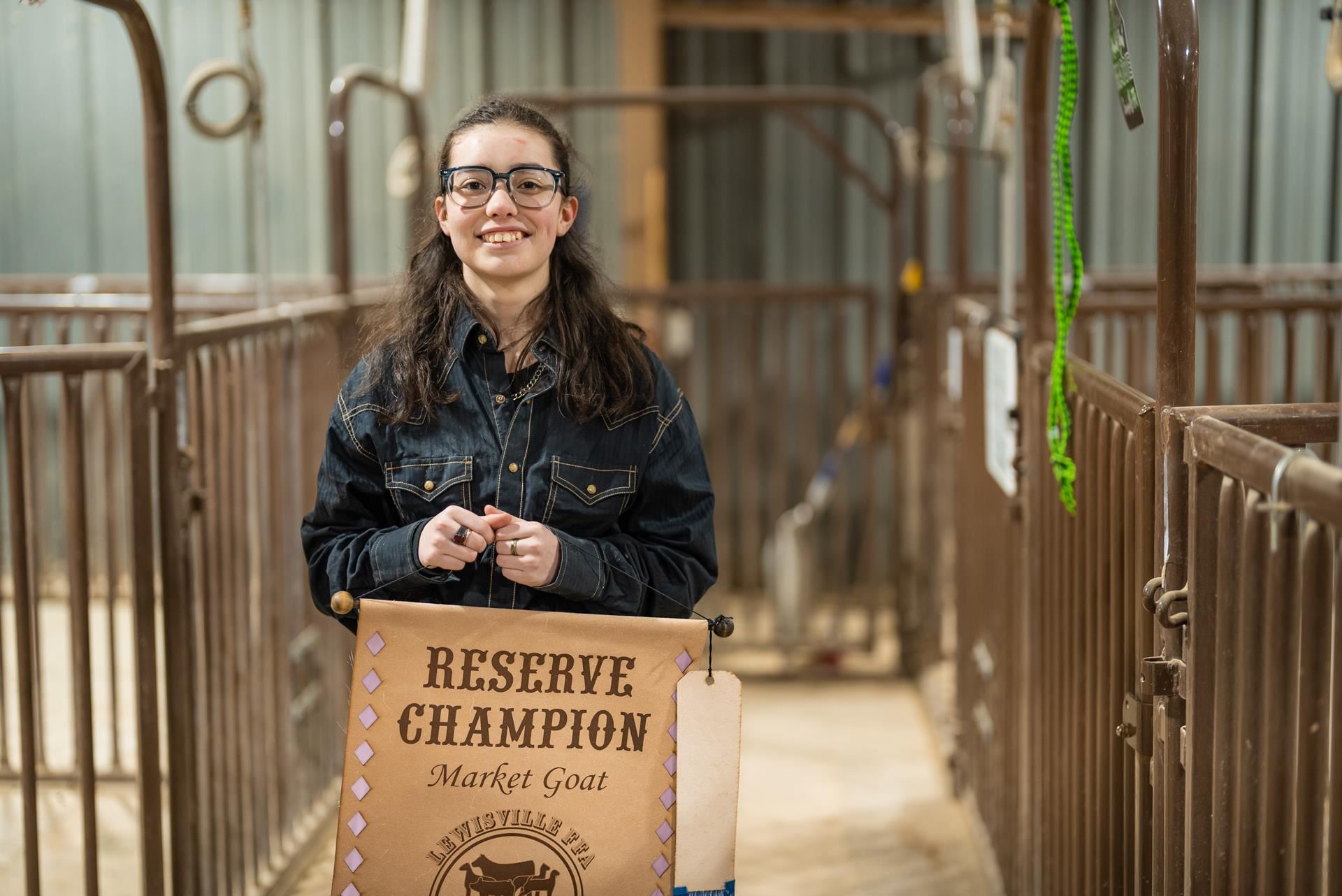 Davoli credits the diverse interests of Lewisville FFA students with creating a strong culture of hard workers and dependable teammates.
"A lot of our students just jump completely in and they're working, they're involved in choir, they're involved in whatever other organization as well as [FFA] on top of it. I think it just takes a kid that's really dedicated and just loves what they do and has a passion for it. They really try to team up and work together so that they have the opportunity to come out here and get done everything that they need to get done."
This culture has made the organization accessible to newcomers like Prairie Trail Elementary fourth grader Skyler Rivera.
"So my mom did this before -- but not a pig, she did cattle -- so I wanted to try it out and it sounded really fun," she explained excitedly.
In her first year with Lewisville FFA, Rivera and her Poland China Pig Pearl took third place in the breeding swine division of the show. She is already looking ahead to future years within the organization.
"I probably want to try [raising] one more pig and then try raising other animals if I want to."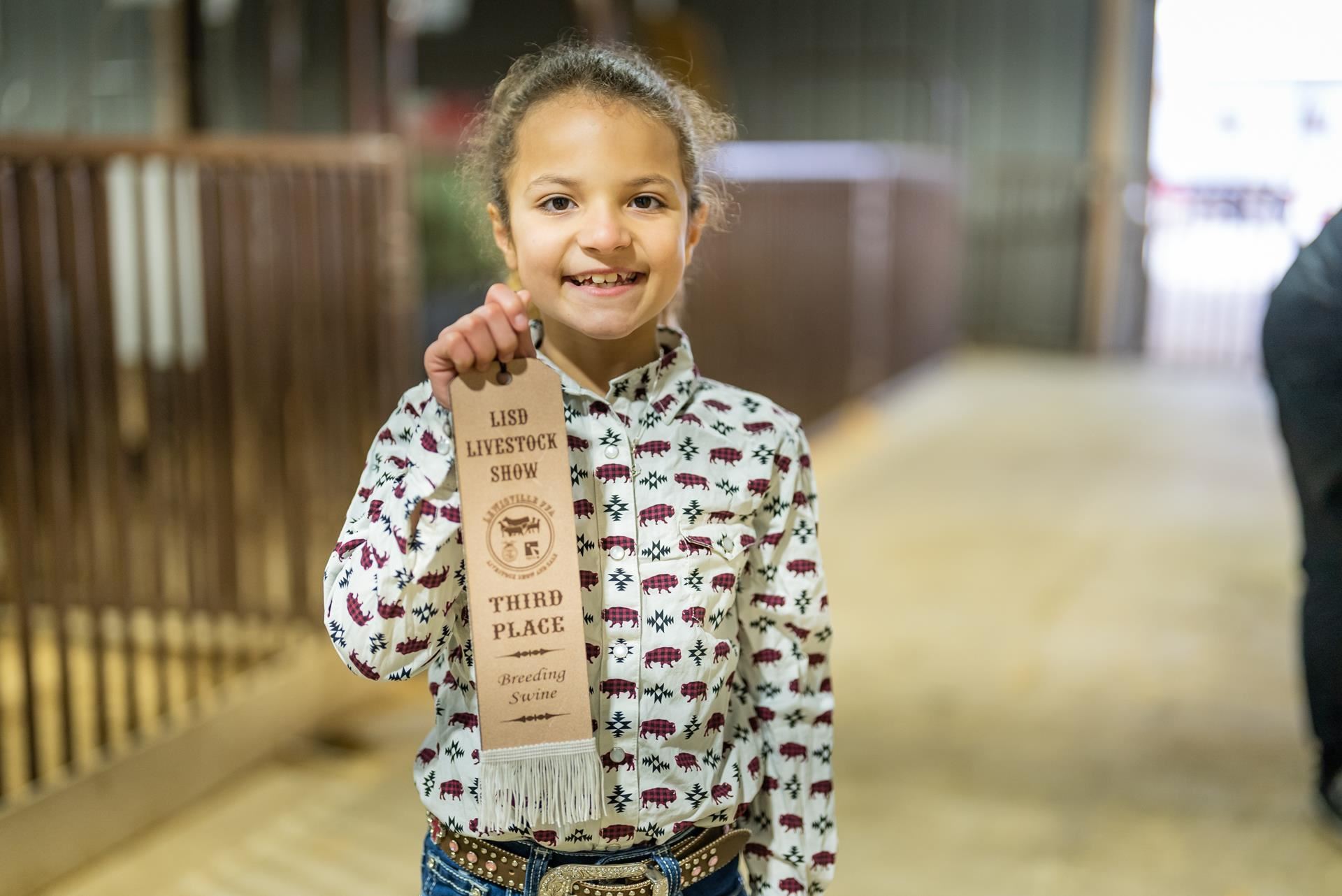 As Rivera looks forward, Atkins and Barnett are beginning to look back on their time with Lewisville FFA.
Atkins, who plans on attending the University of Colorado – Colorado Springs to study health science and pursue a career as a veterinarian, spoke on what FFA has done for her and others.
"It has opened up a lot of opportunities for students. I mostly grew up in the suburbs so to get to be around livestock animals full time, it means a lot and it keeps that love for animals going."
Barnett, recounting the hours spent raising and showing his livestock, has nothing but praise for Lewisville FFA as he approaches his final year with the district.
"It is one thousand percent worth it."
---
Lewisville ISD and Lewisville FFA would like to thank all of this year's event sponsors, including Huffines Auto, Southwest Wholesale Nursery, Pet Suites of Lewisville, Andy & Holly Plunkett, David & Andy Moore, Johnson Feed and TX Standard General Contracting for their continued support of LISD students and the Livestock Show and Sale.