Return to Headlines
Italian Chef Lorenzo Polegri Teaches TECC-West Culinary Students a New Dish
Some of the best Italian food in the area wasn't from a nearby restaurant, but in the kitchen at Lewisville ISD's Technology, Exploration & Career Center West (TECC-W).
Over 50 Culinary Art students at TECC-W were in for a real treat on Friday, Dec. 10 when Italian Chef Lorenzo Polegri, a restaurant and culinary school owner, flew in from his home in Orvieto, Italy to cook with the students and provide them with an opportunity of a lifetime.
The Culinary Arts and Event Management course at TECC-W is a two-year sequence of double-block, college-level and career-preparation classes designed for upperclassmen to gain real-world and professional experience in the culinary lab.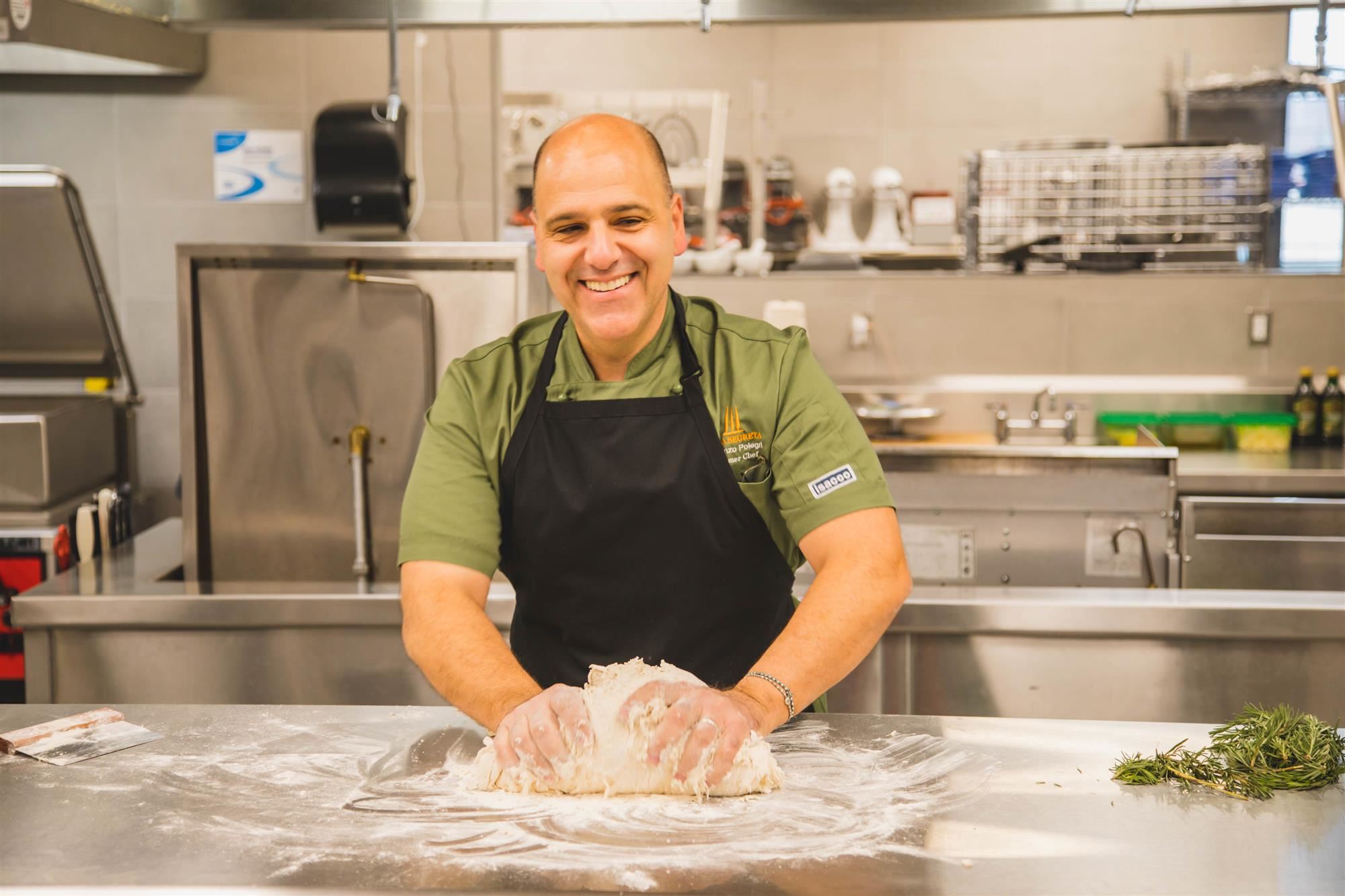 Polegri has traveled the world cooking as a guest farmer-chef at Harvard University, Le Cordon Bleu, The Culinary Institutes of America, the James Beard Foundation gala dinner in New York, and he was even a guest chef at The White House for President Obama in 2010. Polegri offered TECC-W students the chance to travel to Italy and attend a two-week internship with him next summer where they can experience the best of culinary and farming in Italy.
"High school students are the source of future chefs," Polegri said. "They're so authentic and genuine and it's inspiring for me to see students their age with a passion for cooking, because I was about their age when I began to cook myself.
"The TECC-W kitchen is beautiful and the students have so many resources. The positive energy these kids have here is something I've never seen before. Of all the schools I've seen in the area, TECC-West stands out among the best. We don't have anything like this in Italy for students to learn and get this kind of experience."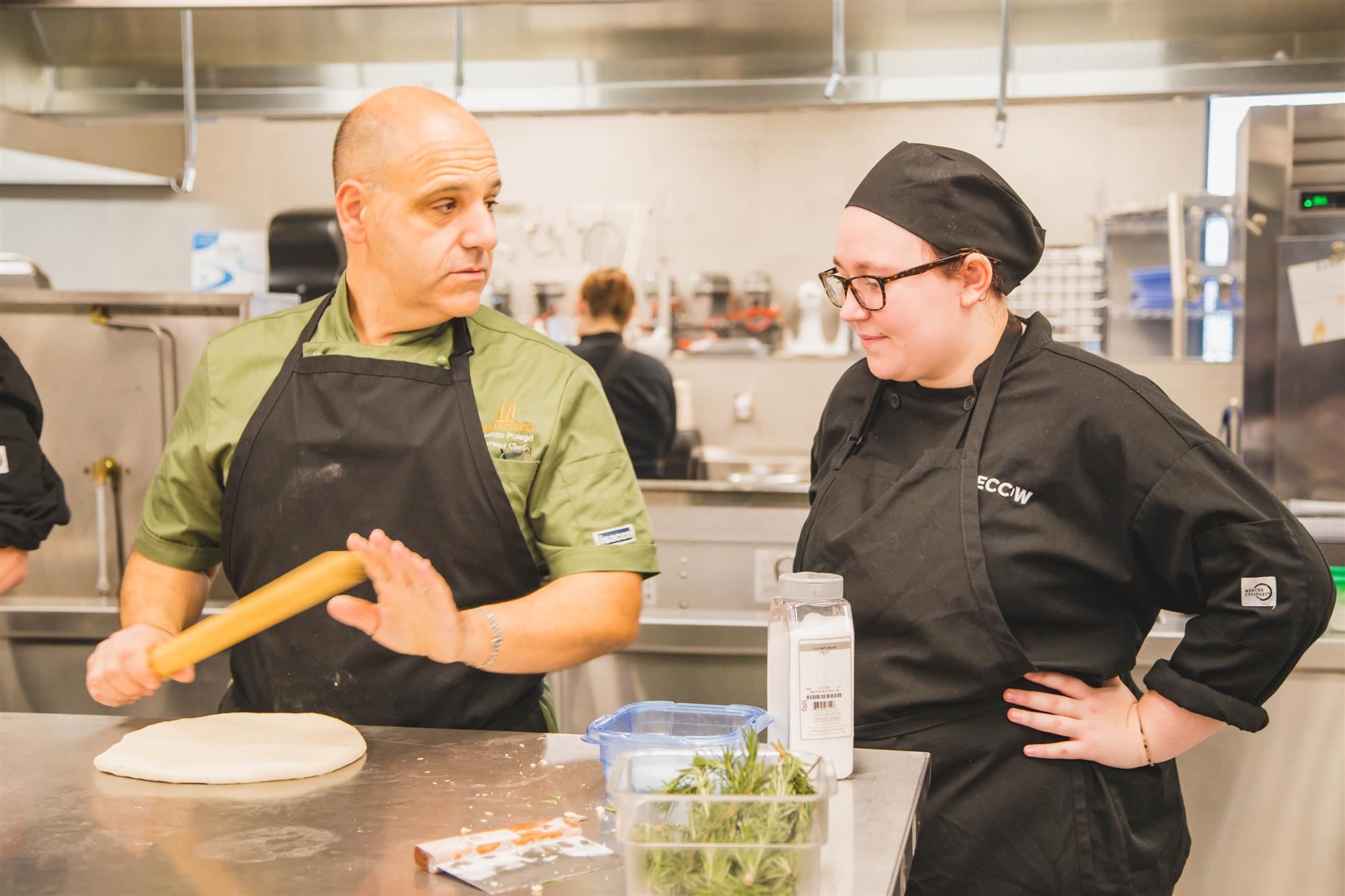 During the presentation, Polegri and the TECC-W students cooked up a pair of Italian dishes from scratch – Risotto and Focaccia. Polegri went over food preparation techniques and methods for Italian cuisine that students got the chance to learn about.
The students took extensive notes and prepared everything for the afternoon lunch, including making and rolling dough, chopping vegetables, seasoning, and putting the meal in and out of the oven. All the ingredients were provided at TECC-W and the students went to work at the instruction of Polegri.
Vanessa Ricci, a senior at Flower Mound, said learning from Chef Polegri will only enhance her skills and knowledge in her pursuit of becoming a culinary teacher herself.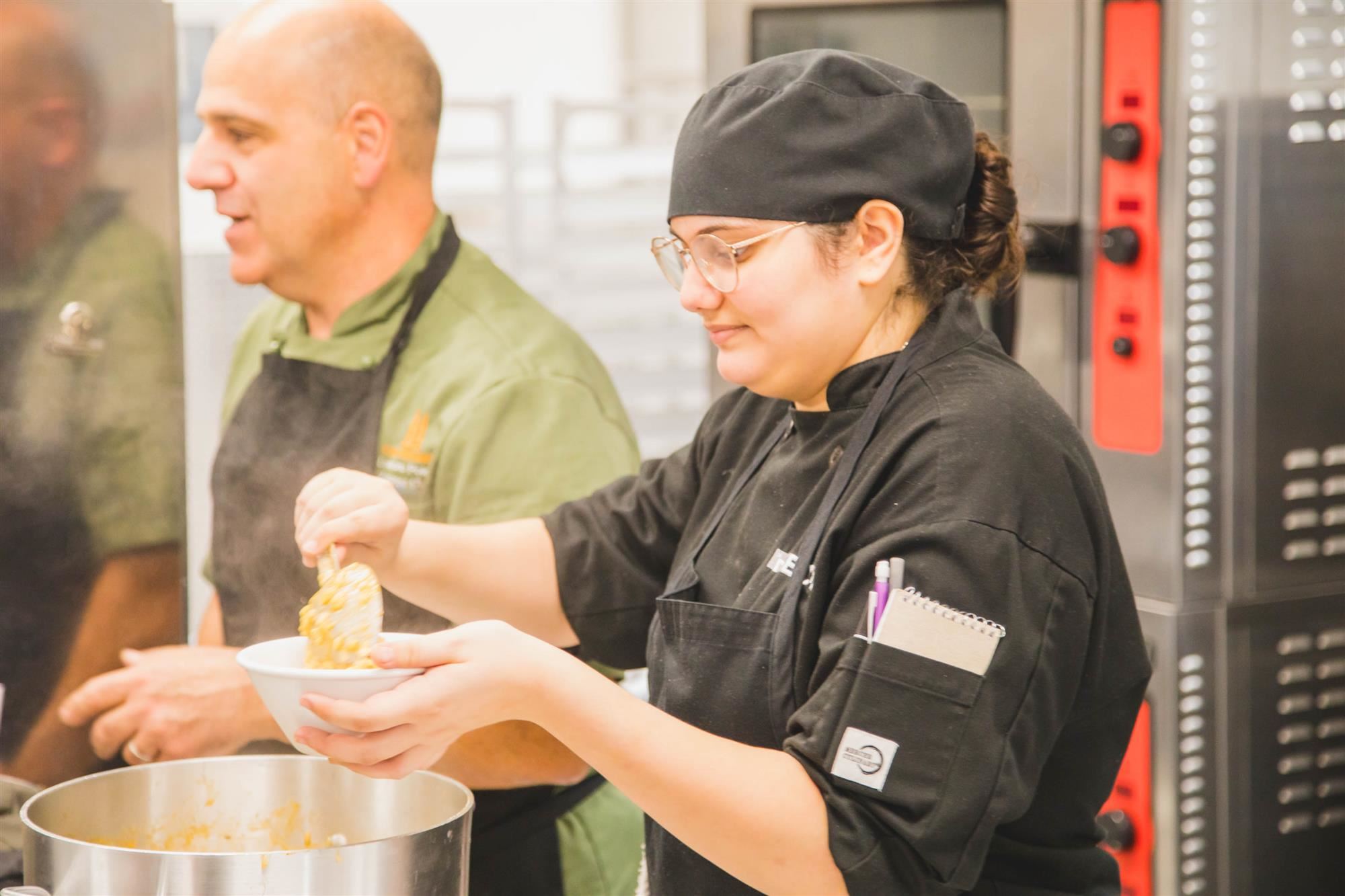 "I learned new techniques on how to make risotto and focaccia," Ricci said. "I'm really excited about the new methods for cooking focaccia because I enjoy making different types of bread. It was interesting to see how he made it compared to Chef [Darron] DeRosa, even though you can't go wrong with either one. It was a great experience."
Another senior, Younghwa Lee, from Hebron, had a similar experience as Ricci and loved the hands-on opportunity to learn from another established chef.
"He showed us that you can have fun when cooking and was so playful with everything and everyone around him," Lee said. "He kept us engaged with his teaching and humor and showed us new methods that will really help us."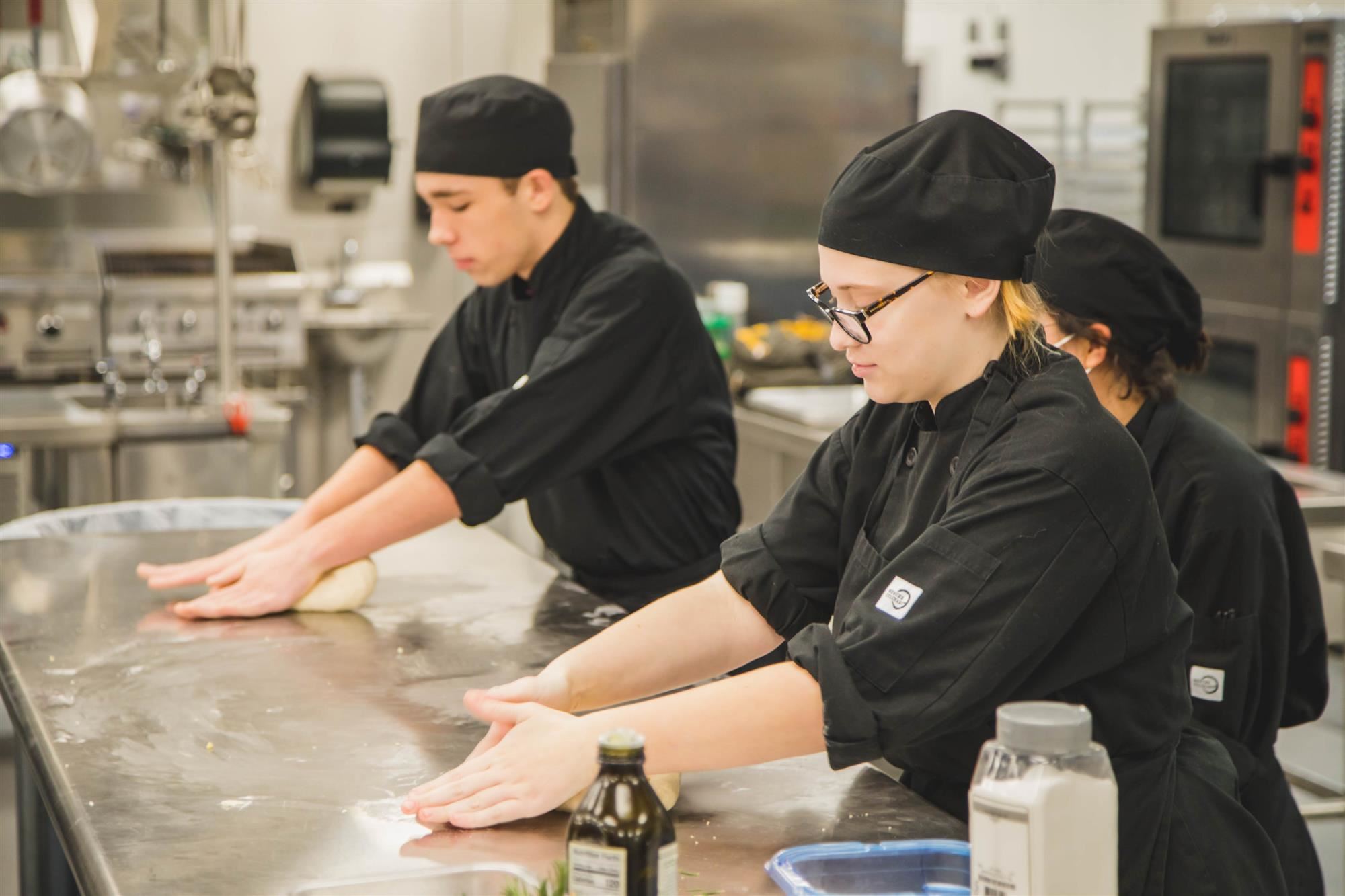 After over an hour of meal prepping and cooking, students got to taste the end result of their hard work. The results were quite obvious too since there wasn't any leftover food after each student got a bowl of risotto and focaccia for lunch.
TECC-W Executive Chef Darron DeRosa, who has traveled the world and cooked for celebrities and Presidents himself during his 43-year career, helped coordinate and bring in Polegri after knowing each other from their days at Le Cordon Bleu to give his students the chance to learn from a different voice with similar cooking methods.
"Having a chef like Lorenzo come in really validates what we've been working on and teaching all year," DeRosa said. "They see a chef like him come in doing exactly what we do daily and it really drives it home to them and makes it a little more concrete to see his methods. It is an honor and we are so thankful for someone like Chef Polegri to choose to present at our program here at TECC-West."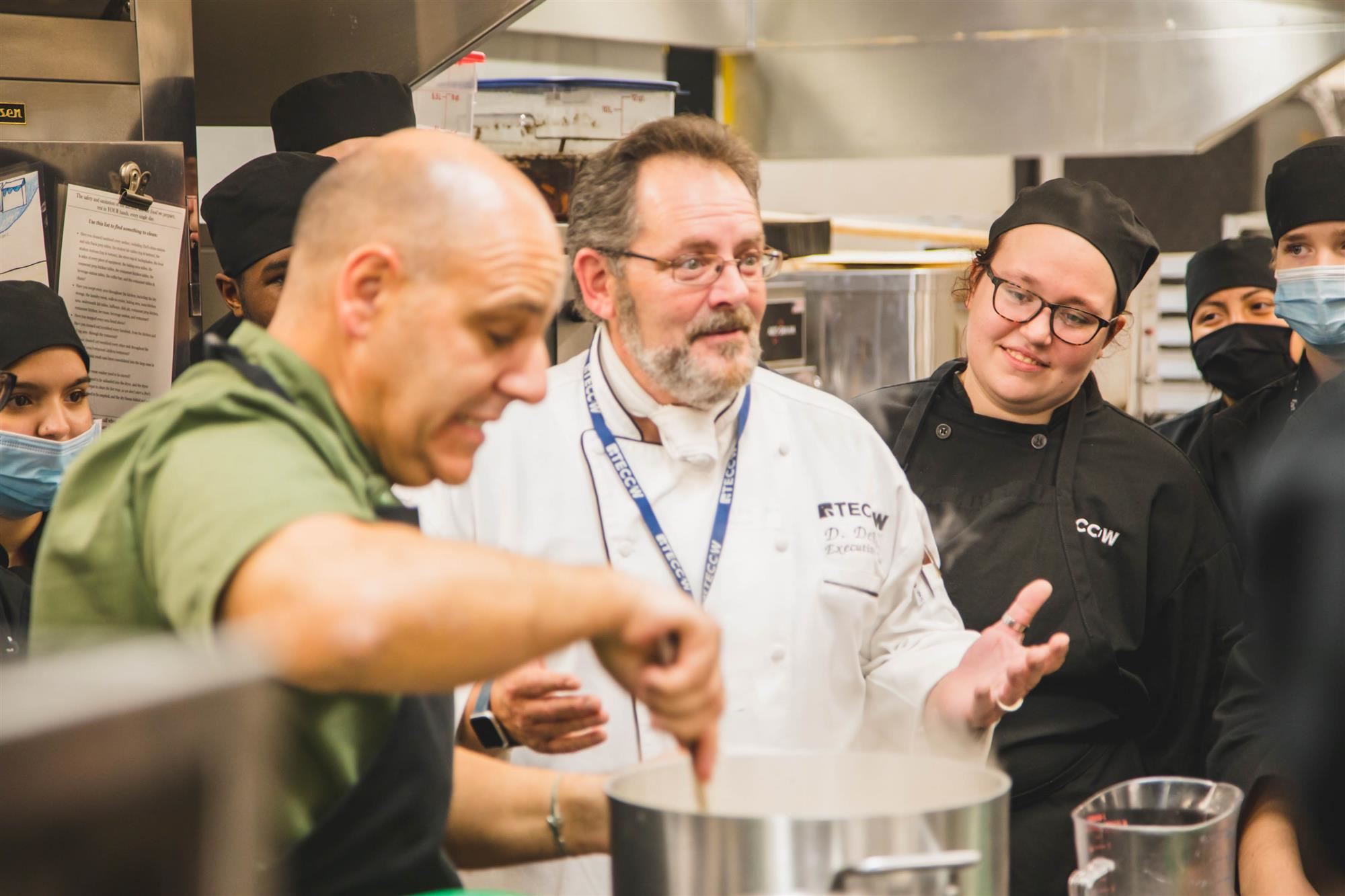 The timing of Chef Polegri's visit to Lewisville ISD was perfect since the culinary students at TECC-W are gearing up for their final exam next week where they have to prepare a dish for their test. That dish on the exam just so happens to be the dish they made today with Polegri, where the students will be tasked with making risotto. With today being a fun and educational way of having a final exam review, Ricci said she and her classmates now feel they are prepared to ace the exam.
"Of course, I'm a little nervous since it's our final exam, but I have a feeling we are going to do a great job next week after learning from Chef Polegri."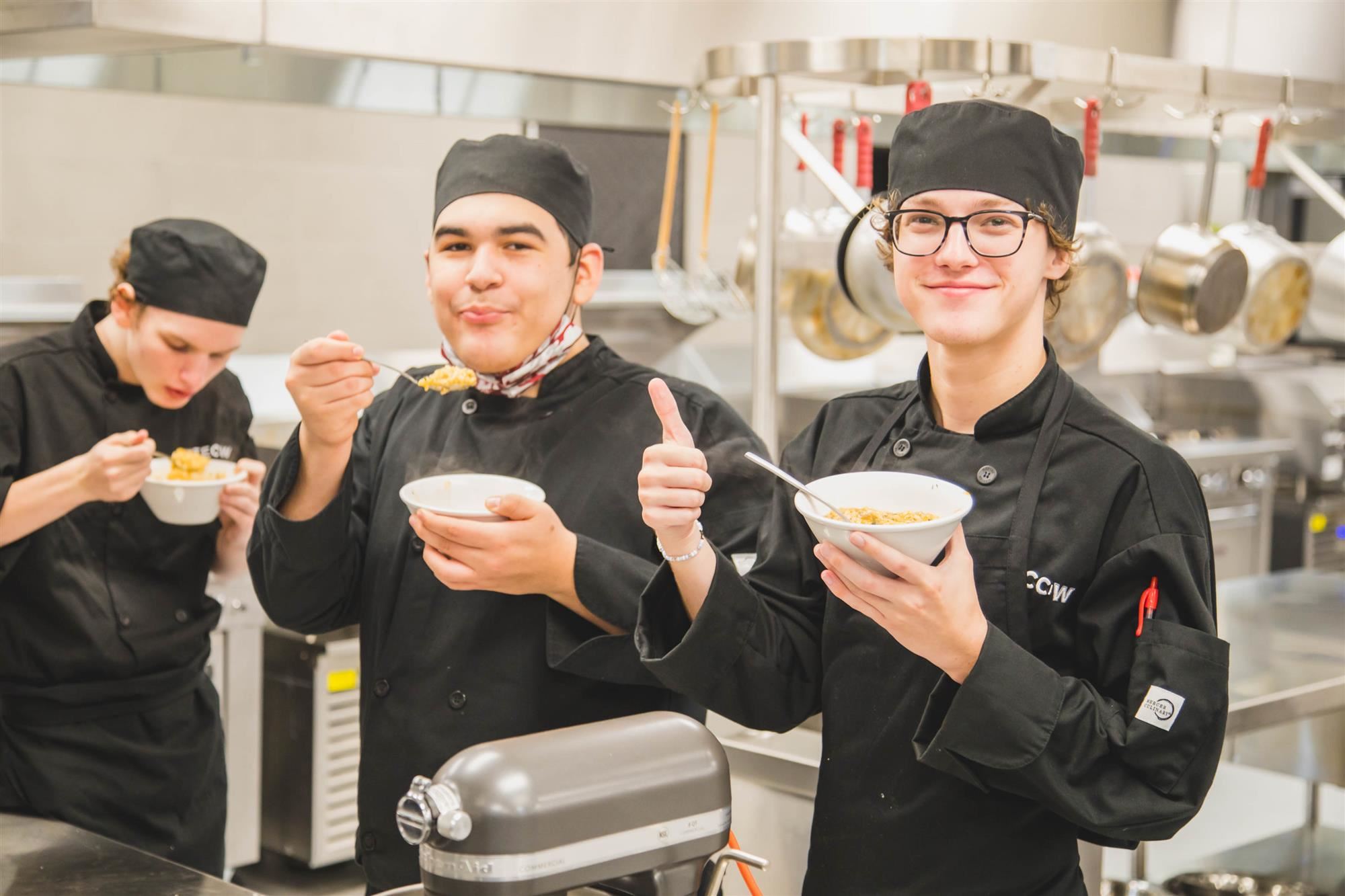 ---
The mission of the Career and Technical Education (CTE) department in the Lewisville Independent School District is to provide a quality educational program that enables all individuals to achieve their fullest potential in the pursuit of high-skill employment and advanced education. Check out the CTE website or visit Best Schools in Texas for more information about joining the Lewisville ISD family.