Return to Headlines
The Loop Feature: New Veterinary Program Launches in LISD
There is a new program in Lewisville ISD, and it's one that has captured the attention of many high school students across the district. Housed at LISD's new, premier career and technical education facility —Technology, Exploration and Career Center-West (TECC-W)—the Veterinary Science program, also known as Veterinary Tech, provides hands-on experience for students interested in animal healthcare.
"Vet Tech programs are gaining popularity around the state," TECC-W Director Justin Gilbreath said. "This program is rigorous and part of the coursework counts as a fourth-year science. Students are required to earn a total of 500 clock hours, 300 of which are internship hours at local veterinarian clinics. It allows for our students to pursue their interests in animals and prepares them for success in the field of veterinary science."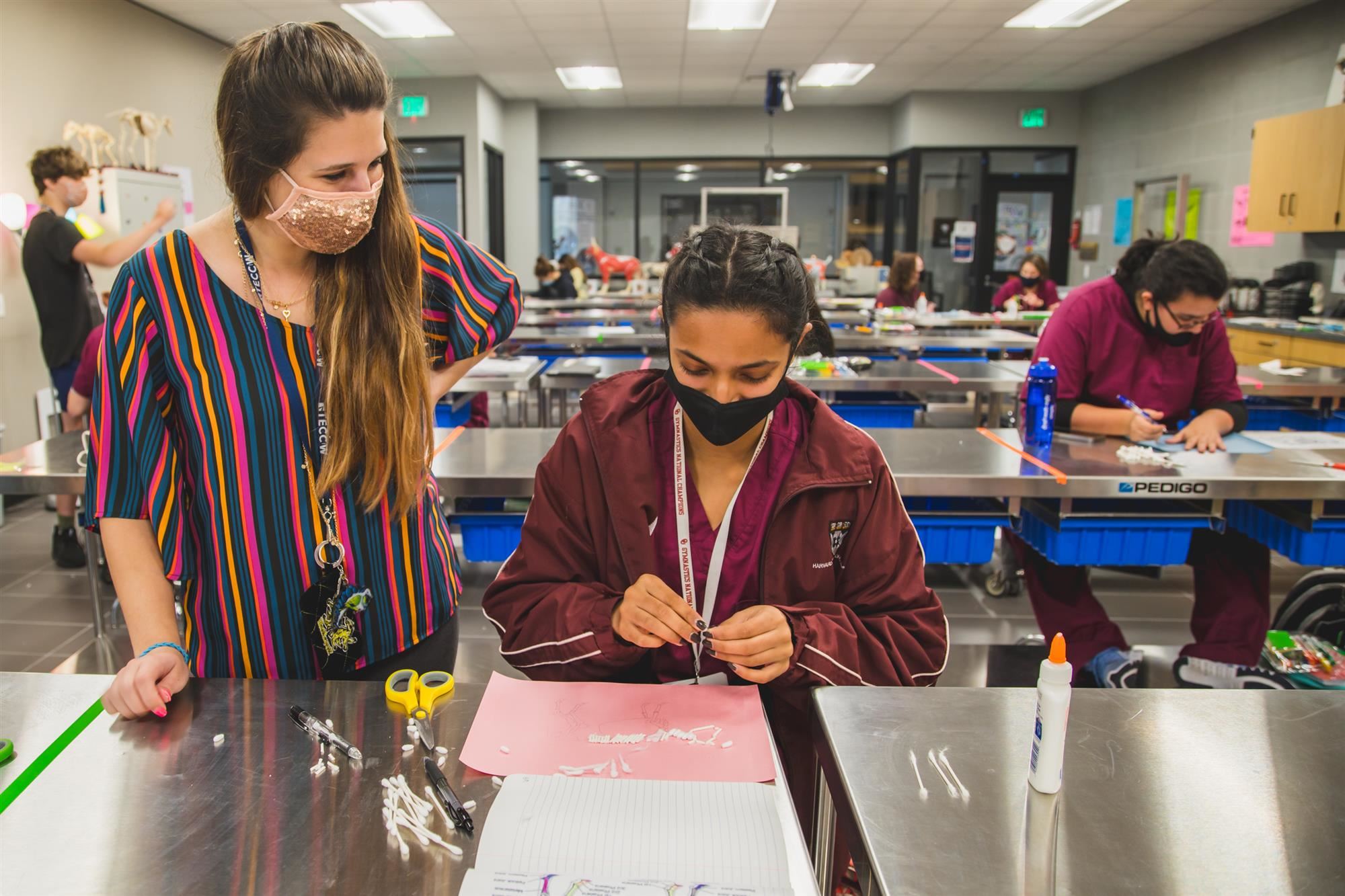 Leading the program is Denisa Espinosa, who joined the LISD family over the summer from Houston-area's Cypress-Fairbanks ISD, where she led a similar program. She is the kind of teacher Gilbreath was looking for as Espinosa's background includes clinical experience.
"I am very excited to bring the veterinary science program to the district," Espinosa said. "I participated in a similar program during my time in high school and have seen first-hand how beneficial this program and its experiences will be to students wishing to pursue careers in animal science."
Throughout the two-year program, students will participate in dissections to familiarize themselves with animal body systems and anatomy, develop clinical skills performed in a veterinary setting, learn industry tools and equipment, and practice working with a variety of livestock and companion animals.
"Giving students the opportunities to develop and practice clinical skills in the classroom, and then apply those skills during their internship at a local veterinary clinic allows our students to earn their Level 1 Certified Veterinary Assistant certification at the completion of our program," Espinosa said. "This certification distinguishes students as they pursue careers in the veterinary industry or enroll in continued education after high school."
Students in the program take courses in Livestock Production, Advanced Animal Science, Veterinary Medical Applications and Practicum in Vet Med. Gilbreath recommends students with limited background or knowledge in animal science to take the introductory Principles of Agriculture, Small Animal Management and Equine Science courses.
"This will prepare students to understand the basic knowledge they will need to know down the road and help them transition into the program prepared," Gilbreath said.
Under Espinosa's instruction, students are learning a plethora of skills and knowledge that will benefit their future careers.
"I teach my students leadership, professional communication, and career readiness in addition to practical skills they will encounter in clinical settings such as proper animal restraint, grooming, taking vitals, bandaging and injection techniques, identification and use of veterinary tools and equipment, identification of common parasites, collection and analysis of urine, fecal and blood samples and much more," Espinosa said. "Record keeping, dosage calculations, medical terminology, safety and sanitation standards are also some key skills students learn in our pathway."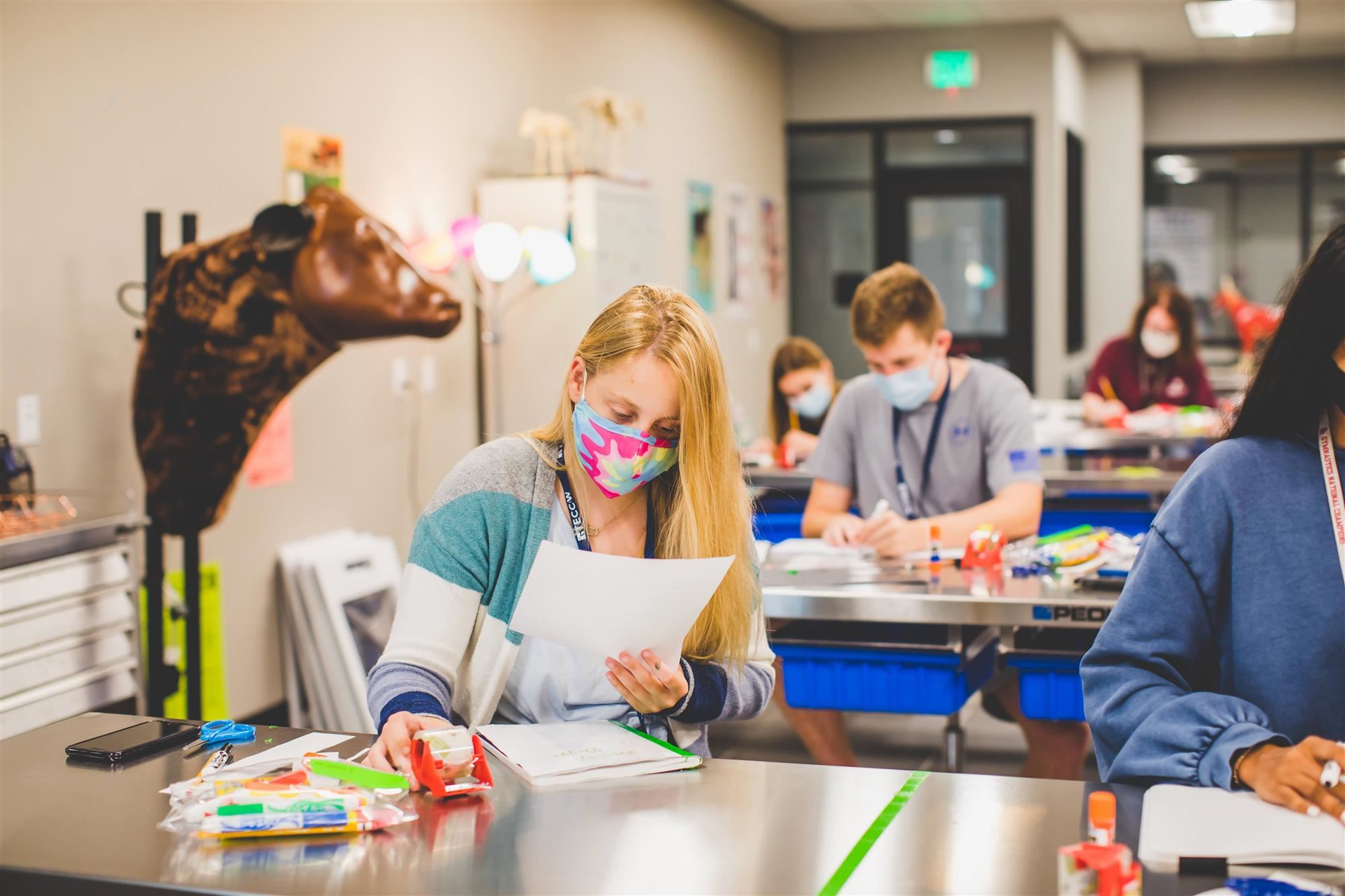 Beyond the curriculum and hands-on experience, there are other factors that set the program apart from those offered at fellow districts. However, perhaps the most prominent and distinguishing factor is the TECC-W campus. The facility was included in a 2017 bond package LISD voters approved to replace an aging Dale Jackson Career Center.
"We are fortunate to have the benefit of state-of-the-art equipment and tools to provide our students with realistic, hands-on training in the classroom prior to their internships and graduation," she said. "The new facility has allowed us to consolidate the agriculture science programs from Lewisville, Marcus, and The Colony high schools."
She added, "We now have the entire agriculture program on the TECC-W campus with five ag teachers from across various agriculture disciplines, offering the program to students at all five high schools in the district."
Another unique aspect of the program is that students are also members of the LISD FFA chapter.
"This provides our students with opportunities to participate in competitive leadership and career development events related to various aspects of the agriculture industry through FFA," Espinosa said. "Additionally, some of our students choose to raise livestock or create horticulture and ag mechanics projects that they exhibit at major livestock shows around the state, as well as the Denton County Youth Fair."
The program, which officially launched in August, is going well so far, even though the school year didn't have the most traditional start due to the ongoing pandemic.
"It is inspiring to witness the excitement of my students as they experience the benefits of the TECC-W campus for the first time and as many new students begin their journey through the veterinary science pathway," Espinosa said. "It is such a strange school year, but our students are resilient and are so excited to be in the classroom learning."
Aarthi Lokram, a senior at Marcus High School wants to pursue a career as a veterinarian and thought the LISD program would be a great way to gain experience and knowledge for a career in the field.
"The part I enjoy the most is all of the hands-on labs and projects," Lokram, whose career goal is to work as a veterinarian at a rescue zoo, said. "For example, learning how to actually halter livestock and tie knots while in our livestock restraint unit was a really fun way to learn."
She added, "Having resources and equipment in the classroom specific for veterinary science is very exciting. I also love the smaller class size because it allows for more one-on-one work with the teacher and classmates."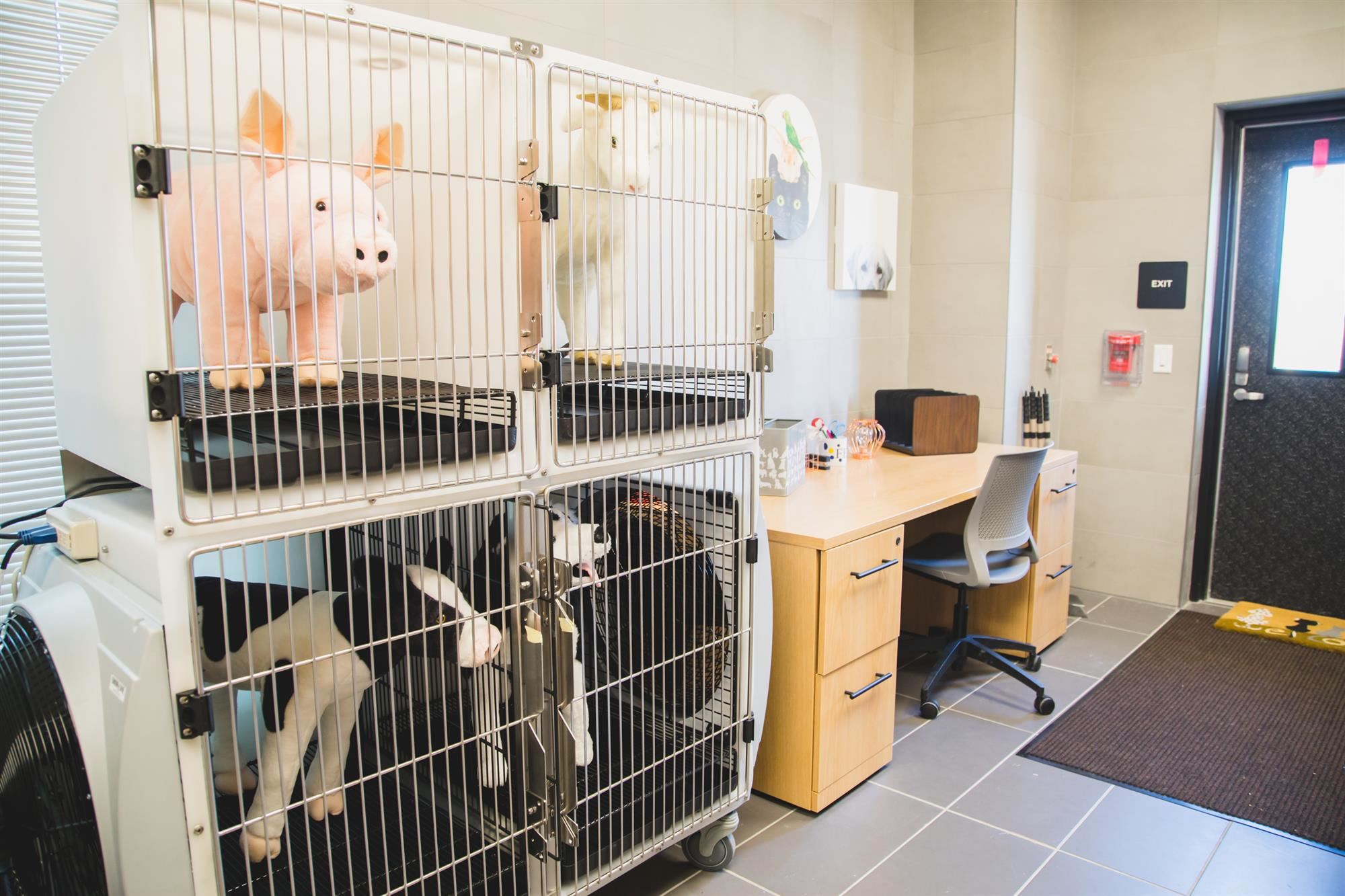 Flower Mound High School student Jenna Watson also aspires to have a career as a veterinarian. The junior hopes to one day open her own small animal veterinary practice and no-kill animal shelter and said the LISD program is the perfect platform to pursue the dream she has had since she was six years old.
"I am so grateful to be in this very special program because it has given me many amazing opportunities and newfound knowledge of animals before I go off to college," Watson said. "I greatly enjoy everything that we do and learn in class."
Next year, students like Watson, will be the first to take part in the practicum course.
"Practicum in Vet Med will require students to participate in an internship at a local veterinary clinic where they will complete at least 300 hours of clinical experience and complete a practical skills checklist under the supervision of a veterinarian," Espinosa said, noting students can also earn the Hills Veterinary Nutrition Advocate and 10-hour OSHA certifications during the program.
So what does the future of the Veterinary Science program look like?
"The program is extremely popular with our students and has had a high interest from the beginning," Gilbreath said. " I am excited about the future of the program and the number of partnerships within the community that will be developed."
For her part, Espinosa is thrilled for the opportunity to lead LISD's newest program.
"I am very passionate about agriculture and animal science, and greatly enjoy sharing that passion with my students and watching them gain knowledge and confidence in their skills that will aid them in their future careers," she said.
Between the introductory animal science courses and the upper level courses, there are nearly 100 students across the district participating in the Veterinary Science program this school year. Those interested in learning more about the program, or other Career and Technical Education programs in LISD, are encouraged to visit lisd.net/cte.


---
From the beginning, LISD has committed to ensuring all students—your children—have the resources they need and want to ultimately thrive in a future they create. Follow LISD on Facebook, Instagram and Twitter to see more student experiences throughout the school year or visit Best Schools in Texas for more information about joining the Lewisville ISD family.