Return to Headlines
Career Center East's Automotive Technology Program Thriving
Partnership with Park Place Dealerships generating media buzz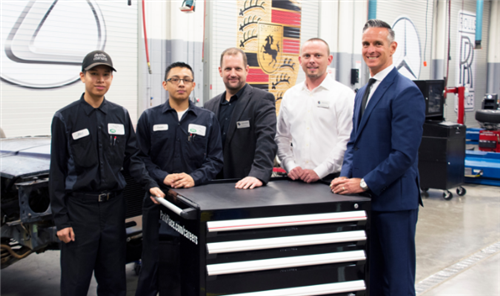 Career Center East's Automotive Technology program is generating a wealth of positive attention due to its excelling partnership with Park Place Dealerships.
The Lewisville ISD program, led by teachers Doug Emery and Travis Sutton, provides students with nonstop career-connected learning. Following internships, numerous students have gone on to land full-time employment with Park Place Dealerships immediately following their high school graduation.
"The Automotive Technology program has become a cornerstone of excellence on our campus," CCE Principal Jeff Wagley said. "The partnership formed with Park Place Dealerships has become a model for all career tech programs at Career Center East."
The CCE-Park Place partnership has been highlighted by numerous media outlets and automotive-centered websites, including this piece published by Park Place:

Park Place Brings Real-World Experience into Lewisville ISD Classroom
Automotive programs in high schools have come a long way in the past 30 years. Think back to dimly lit, unorganized, dirty shops where students were challenged by outdated technology and insufficient tools.
Thanks to a unique public-private partnership, Lewisville ISD has a team of teaching professionals who engage students daily and work with companies like Park Place Dealerships, an auto industry leader, to prepare students for real-world applications.
"The community engagement with Park Place gives us access to current technology and information so we are teaching our students the most up to date material," LISD Career Center East Automotive Technology teacher Doug Emery said. "We want to make sure our students are familiar with the systems, technology and equipment that dealerships are using to ensure our students are successful in the marketplace."
Park Place is continually looking to develop the highest quality technicians for its 17 full-service dealerships located across Dallas-Fort Worth, while LISD is always seeking career opportunities for students. This innovative public-private partnership between Park Place and LISD provides access to master technicians, general managers, human resources, talent acquisition, service managers, and leadership from the 2000-member company.
There are tangible benefits to the students. Park Place hired seven 2018 graduates of the program as technicians at its Jaguar/Land Rover, Mercedes-Benz and Lexus dealerships in Grapevine.
"The program really helped me choose a path," said Raul Martinez, who is one of the 2018 graduates currently working at Park Place Jaguar/Land Rover Grapevine. "Before, I wasn't really sure what I wanted to do. I was sort of lost. When we started working on cars I realized this was something I really enjoyed doing."
Park Place also brings experts from different areas of the industry into the classroom as mentors.
"As we grow, we are continually looking for individuals that can be successful in our industry," Park Place Vice President of Operations Tony Carimi said. "Our industry is quickly evolving so we want to expose students to the latest technology and advances in a real-world environment that focuses on personal attention and strong mentorships."
Working with the teachers, Park Place is fully engaged with interviewing students, branding the shop with graphics of high-end manufacturers' logos, connecting with parents and district representatives and speaking at events.
"Park Place technicians who have been in the field a long time have come into our classroom," CCE Automotive Technology teacher Travis Sutton said. "They bring first-hand knowledge of what our students can expect, how things work and what they'll experience in the shop. Park Place upper management comes into the classroom to tell our students they can have more than a job – they can have a career. It shows the students that what they're learning on campus transfers directly out there."
Students are fully engaged with Park Place and many have been hired to full-time positions after graduation.
"We're always looking to the future," Carimi said. "The auto industry is evolving at a more rapid pace than ever before in its 100-plus-year history. With alternative energy sources, computerized systems and autonomous vehicles, the need for a highly educated and well-trained workforce is more important than ever. Park Place is determined to remain the leaders within our industry."
Ken Schnitzer founded Park Place Dealerships in 1987 with a single Mercedes-Benz dealership. Today, Park Place Dealerships employs more than 2,000 people and represents luxury brands including Lexus, Mercedes-Benz, Porsche, Volvo, Jaguar, Lotus, Land Rover, Rolls-Royce, Bentley, Bugatti, McLaren, and Maserati. For more info, click here.

To stay up-to-date with the CCE Automotive Technology program, visit their website and follow @AutoTech_LISD on Twitter. To learn more about LISD partnerships, click here.


---
Career Center East is a Lewisville, Texas Career and Technical Education campus, serving high school students in the Lewisville Independent School District. Follow CCE on Facebook and Twitter to see more student opportunities throughout the school year or visit LISD.net for more information about our district.