Return to Headlines
Lewisville High School Senior Heads to the Newsroom
April 12, 2017
Student earns The Dallas Morning News' coveted high school internship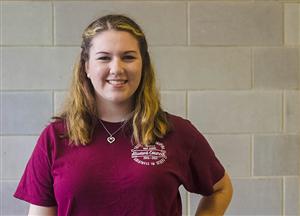 Journalism advisers and professors often teach their students the following lesson: no one will remember who broke a story first, but rather who got it right and who got it wrong.
This summer, Lewisville High School (LHS) senior Abby Shaw will experience firsthand the "breaking news" side of the media as an intern for The Dallas Morning News. Shaw was one of only five students selected for The News' competitive high school internship program, which is open to juniors and seniors.
"I knew a lot of people apply every year," said Shaw, who is also an editor for LHS' student newspaper, Farmers' Harvest. "There was only a small chance I would even get an interview, but despite that, it was worth a shot."
The phone call with good news came while Shaw ate lunch in her journalism adviser's classroom. Elizabeth Boyle, her adviser, said Shaw remained quiet for much of the phone conversation.
"Judging her reaction, I actually didn't think she received the internship," Boyle said. "She kept giving quiet and short answers. As she got off the phone, she goes, 'I got the internship.' Turns out, she was just overwhelmed with emotion and didn't quite know how to react. I'm proud of her."
Boyle added, "I'm always excited for students whenever they receive any award. I think Abby receiving The Dallas Morning News internship shows what these kids are capable of. I hope her receiving the internship makes other students realize that here at LHS, they can have the same success if they put their minds to it – and I don't just mean in journalism, but whatever it is they find enjoyable."
According to Boyle, the paid internship will last 10 weeks and Shaw will be expected to work at least 32 hours a week.
"She'll be covering breaking news primarily," Boyle said, "so she'll constantly be working to meet deadlines."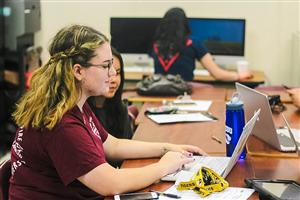 As a breaking news intern, Shaw will work with the news desk and produce content predominantly for the organization's website, dallasnews.com. She will also produce content for the print edition. Although Shaw's role will focus on reporting and writing, she will have the opportunity to dabble in video, photos, graphics, social media and other multimedia platforms.
"The expectations they've given focus on being able to react quickly and efficiently under pressure as well as being accurate without sacrificing time," Shaw said. "The past four years of my work at the Farmers' Harvest has definitely prepared me for that."
LHS Principal Jeffrey Kajs said Shaw receiving the internship displays the strength of LHS' journalism program and gives credit to Boyle as the program's adviser.
"Abby's selection shows she has the drive, passion and understanding of what it takes to be a journalist," Kajs said. "It also shows the program is producing students for the career they want to pursue. Ms. Boyle has done a wonderful job of helping our journalism students be successful, and the student publication Farmers' Harvest is known around the state because of students like Abby and advisers like Ms. Boyle. LHS is about providing opportunities for students."
This fall, Shaw will attend the University of Missouri, which houses the highly-regarded and nation's oldest journalism school. She plans to major in journalism with a focus in convergence (multimedia) and hopes to work for a news organization after college. Currently, she said her dream is to be a member of the White House press corps.
"Journalism is often called a 'dying industry' because of the emergence of social media," Shaw said, "but with all of the lies being spread now, the press is more important than ever. Journalism is a field that will only die when the people have nothing new to be told. There will always be something else to uncover, a new official to investigate, a new law to explain and a new story to tell."
Read highlights from The Dallas Morning News' 26th annual High School Journalism Day & Competition here.