Return to Headlines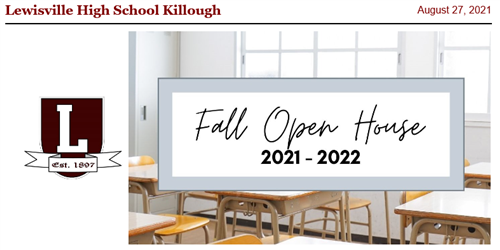 Good afternoon Farmer Family,
We are so excited to have the opportunity to have our Fall Open House in person on Tuesday, August 31st from 6:30 p.m.-7:45 p.m. We will begin promptly at 6:30 in the cafeteria with a brief welcome from myself, and then parents will have the opportunity to walk their child's schedule starting at 6:45 p.m. The first session, which will be your child's first period class will begin at 6:50. Sessions will be ten minutes in length, with five minute passing periods in between sessions. You will get to meet your child's teacher, hear classroom expectations, and schedule conferences if needed. We will also have our In N Out Burger for those who have purchased tickets beginning at 5:00. Feel free to come up early and enjoy a meal with your family in our cafeteria. We will also have Kona Ice here for those who would like to support our campus with this fundraiser. We will also have our computer lab open if you need to complete back to school forms or pay fees. If you are unable to attend, we are attaching some helpful documents for you. Please feel free to view/complete as soon as possible. As a precaution to ensure the most of our time, we are asking that you limit the amount of family members attending to the student and parent(s) or guardian(s). We thank you in advance for your support of our staff, students, and campus. We can't wait to see you all on Tuesday! Go Farmers!
Fall Open House Save The Date 21.jpeg
Click the links below for some helpful resources for the upcoming school year.
Thank you,
Dr. Kyndra Tyler
Principal