Return to Headlines
Lewisville Chamber Awards | January 2022
LHS Killough students Zain Dominguez and Kye Jones, teacher Adam Cooper and school, were all recognized by the Lewisville Chamber of Commerce at their monthly luncheon.

JANUARY TEACHER OF THE MONTH | ADAM COOPER | LHS KILLOUGH


LHS Killough teacher Adam Cooper was recognized at the Lewisville Chamber and Huffines Auto January Teacher of the Month. According to LHS Killough administrators, Mr. Cooper is a master of his craft and a champion of Lewisville's future leaders. He sees students as individuals and uses his relationships with them to curate an interesting and unique learning experience for each class. By connecting curriculum standards to real world experiences and student interests, he engages students in a way that encourages them to tackle any challenge he throws their way. Mr. Cooper puts relationships first. Students know that they can speak openly and honestly with Mr. Cooper because he builds a welcoming space where students aren't afraid of failing in front of each other. If you were to spend a day with Mr. Cooper's classroom, you would hear students absorbed in conversations about music, sharing their thoughts and questions on philosophy, excitedly discussing the new text they are reading, and see a true example of how love and passion can motivate authentic engagement. Through AVID and English Language Arts, he works with students to build character, grow professional skills, and foster a love of literature as well as life-long learning. Lewisville is a greater community because of his commitment to nurturing the citizens of our future.

JANUARY STUDENT OF THE MONTH | ZAIN DOMINGUEZ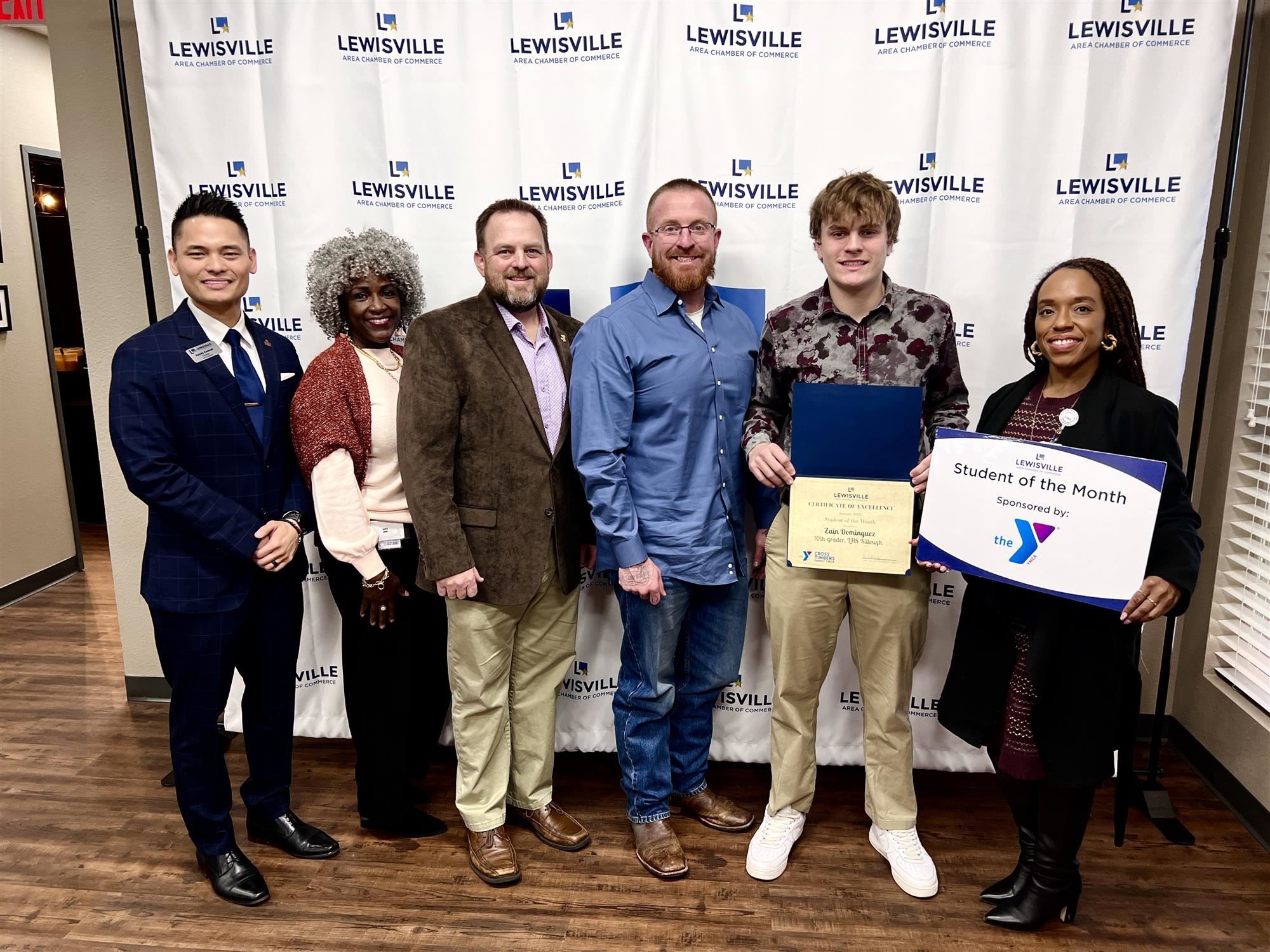 LHS Killough 10th-grader Zain Dominguez was recognized as the Lewisville Chamber and Cross Timbers YMCA January Student of the Month. According to his teachers, Zain is one of those students who lights up the room like no other. His humor can make one laugh even when they're having a tough day. Zain is truly refreshing to be around and brings out the good in all those he comes in contact with. He is a great student and athlete, and is very proud to be a Fighting Farmer.
During his free time, he works, plays football and video games.
His favorite subject in school is History, because he likes to know what is going on around the world.
He loves his school, because he gets to hang out with his friends and staff members every day.
He looks up to his dad, because he showed him what a good work ethic looks like.
JANUARY EXCEPTIONAL STUDENT OF THE MONTH | KYE JONES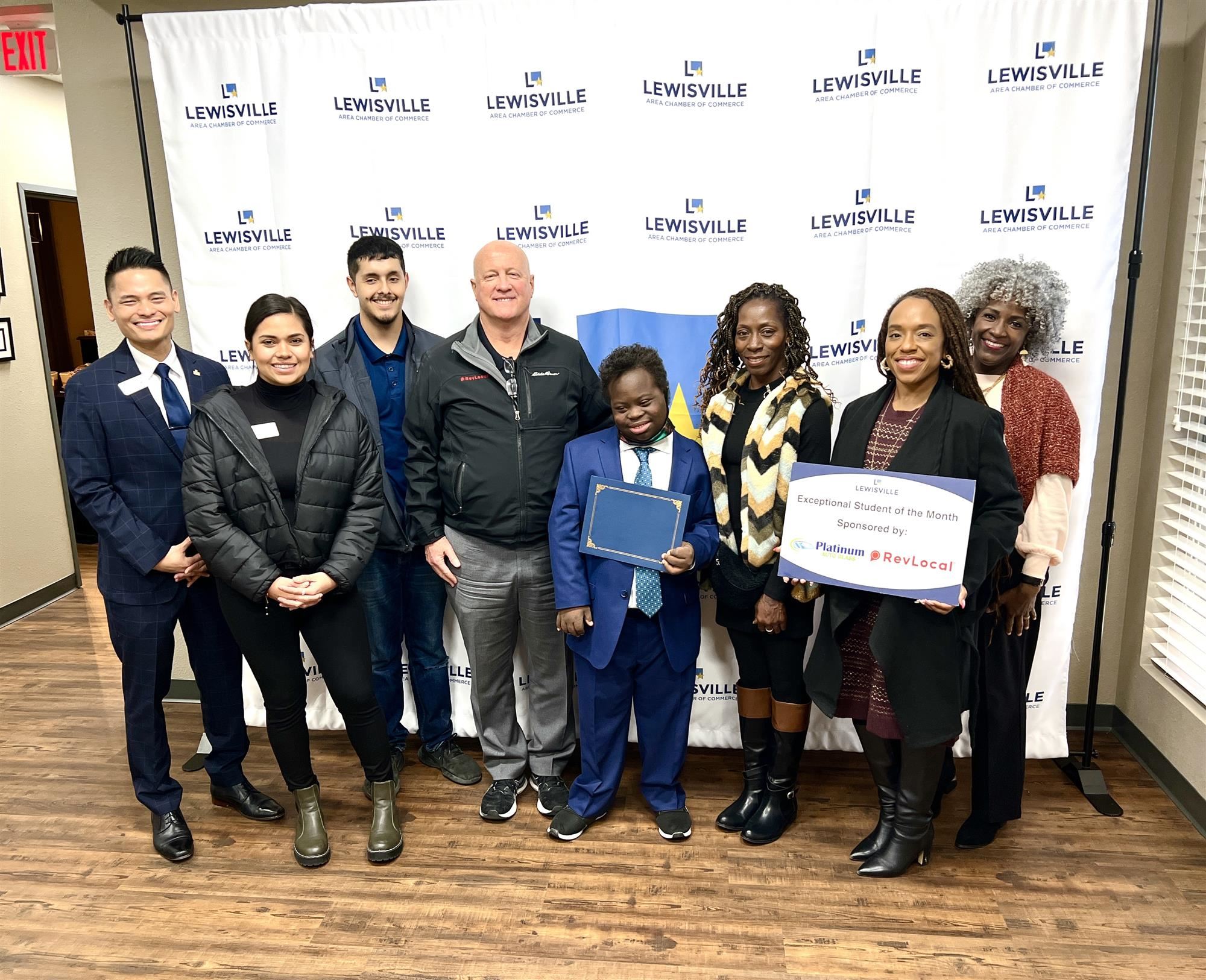 LHS Killough 9th-grader Kye Jones was recognized as the Lewisville Chamber, Platinum Auto Glass and RevLocal January Exceptional Student of the Month. According to his teachers and school administrators, Kye makes his presence known with his personality and super bright smile. Every morning, Dr. Tyler, the counselors and several other office staff members await his arrival for the day. He comes in each morning with the best attitude and he usually has something funny to say just about every day. Kye is the student who gets along with everyone, and he's the life of the party, especially if there is any music involved.
During his free time, he likes to play on his iPad and watch PBS or YouTube Kids.
His favorite subject in school is Math, because he loves counting money.
He loves his school, because it is awesome and amazing. He loves Ms. Wilson, Mr. Taylor and Ms. Brown.
He looks up to all of his teachers at school.
JANUARY SCHOOL OF THE MONTH | LHS KILLOUGH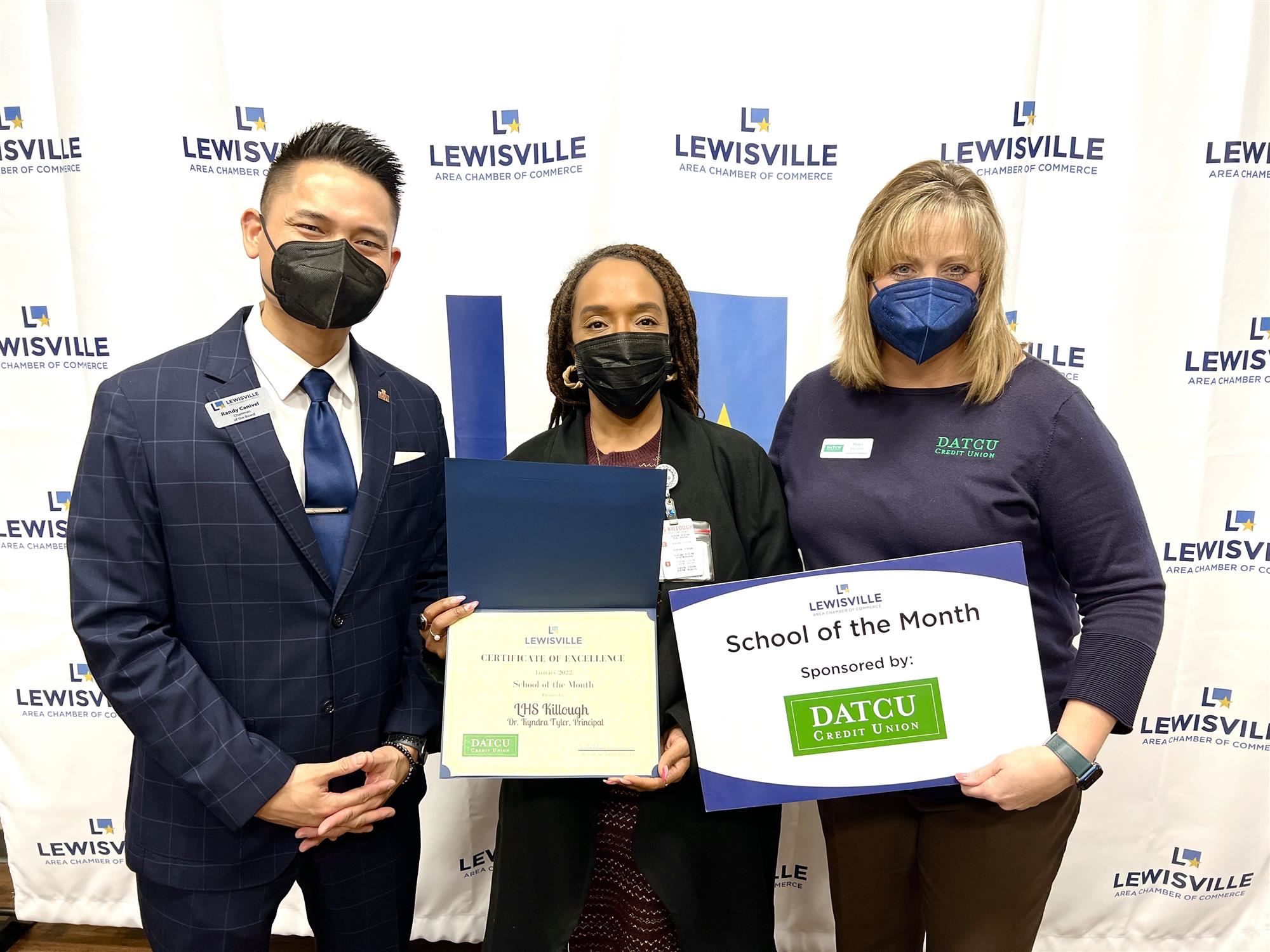 LHS Killough was recognized as the Lewisville Chamber and DATCU January School of the Month.The three best highlights of LHS Killough are Farmer Pride, Relationships, Support.
Farmer Pride - They start each year with grade-level assemblies for students to know what it means to be a Farmer and have Farmer Pride. Hire staff who specifically love working with 9th and 10th graders, and are focused on meeting the needs of students to ensure that they understand the traditions and pride of the Long Maroon Line.
Relationships - Continuously, the number one reason students love LHS Killough is the teachers. One of the core values of the leadership team is that every student has at least one person with whom they are connected to on the campus, from administration to custodial or cafeteria staff.

Support - They focus on the importance of grades and attendance; getting students college and career ready; and have students meeting with trained college acceptance personnel who work with them on aptitude tests, resumé building, and college research.

---
LHS Killough is a Lewisville Independent School District 9th and 10th-grade high school in Lewisville, Texas, serving all Farmers with engaging educational experiences, strong traditions, storied extracurriculars and future-ready opportunities. Follow LHS on Facebook and Twitter to see more throughout the school year. Join the Lewisville ISD family by enrolling today, or visit Best Schools in Texas to learn more.