Return to Headlines
The Loop Feature: Katherine Omo-Osagie goes from tragedy to triumph
Katherine Omo-Osagie's story is as unique as the person she is. A story about overcoming grief and challenges while finding ways to create her own path to success. Omo-Osagie isn't afraid to tell her story either. In fact, she uses her past to help others along the way.
Omo-Osagie moved to The Colony and joined Lewisville ISD in 2012 with her mother, Stephanie Bond, and three older brothers as they began to rebuild their lives from what they left behind in Champagne, Illinois.
On February 27, 2010, Omo-Osagie was witness to a family tragedy centered around depression and domestic violence — an incident that changed her family's life forever. One cold, winter Saturday evening, a domestic dispute, triggered by her father's depression and mental illness, broke out in their home resulting in her father taking his own life after severely injuring her mother. At just six years old, Omo-Osagie grabbed her mother's cell phone to give to her to call for help. By doing so, she saved her life.
Omo-Osagie has spent her entire youth and young adult life telling her story and helping others who deal with domestic violence issues while also creating her own path for the future.
"I feel like I've been given so many different obstacles in my life and I used to wonder why these things keep happening but I've learned from it all," Omo-Osagie said. "That's what really motivates me is to keep talking and being open about my story because all I want to do is try to help other people go through the things I've already been through."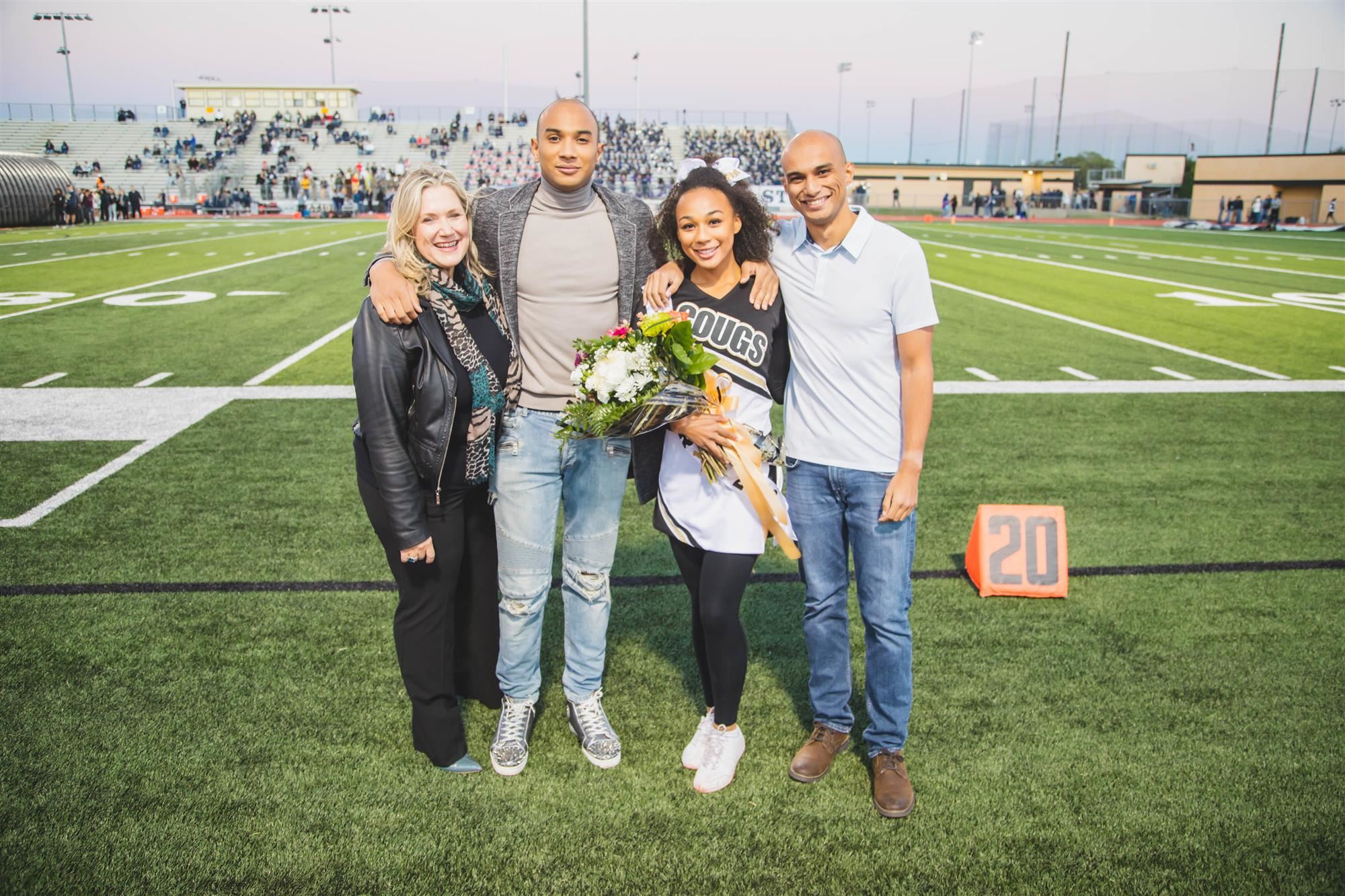 When the family settled into their new home in The Colony two years after the tragedy, Omo-Osagie started to excel in school and create an identity for herself. She enrolled in LISD and started her academic career at Tom Hicks Elementary and later Killian Middle School. As a mother of four children who have suffered through the unthinkable, Bond rarely had to worry about Katherine and at an early age she started to see some of the gifts that her daughter possessed begin to shine through.
"I think Katherine's drive came from the trauma," Bond said. "Her work ethic became her escape. When she focused on athletics and school, she didn't have to worry and became laser focused on her grades."
After the tragedy, the family initially faced financial struggles. Wanting to be able to help provide a stable future for her family, Omo-Osagie knew an excellent education would play a critical role in the dreams she had.
"When I was little, my mom and I would drive around Highland Park and look at the multi-million-dollar homes and we would talk about what these people do and about how they're highly educated people and I knew I wanted to be one of those people," Omo-Osagie said. "So that motivated me to really keep my head down and focus on school, get my work done and get straight A's.
"I've always been a studious kid. I've had a college spreadsheet list that has 50 colleges with the tuition, required GPA and SAT scores since I was in seventh grade. I've always been motivated to make sure I set myself up for what I want my future to look like."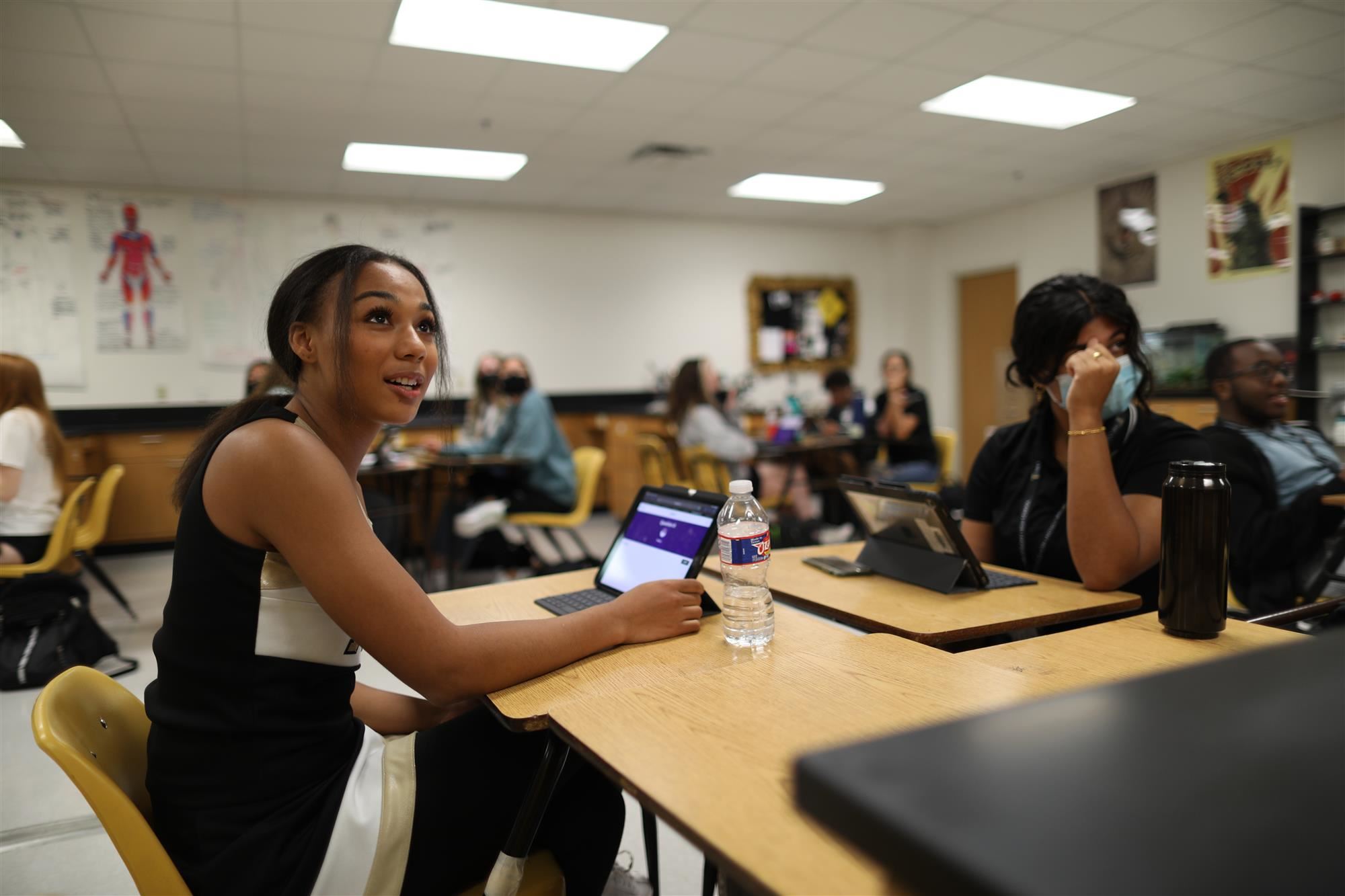 In eighth grade, Omo-Osagie took the PSAT and TSI tests and scored well enough to be accepted into The Colony High School's Collegiate Academy, an opportunity for LISD students to earn an associate's degree or up to 60 hours of dual credit during their high school career. She began taking college courses during her freshman year and is now on track to graduate with an associate's degree and a 3.8 GPA by the time she finishes high school. Starting college courses early was important to Omo-Osagie because when her dad passed, one of the things she lost was her college fund and she wanted to take that burden of paying for college off of her mom.
"The Colony and LISD have been amazing," Omo-Osagie said. "When I say my life has been changed going here, that's an understatement. The Collegiate Academy is an amazing program. It's really nice to have professors that are caring and understanding and want you to succeed."
As a senior at The Colony High School, Omo-Osagie is gifted and smart with a personality that shines bigger than life itself. When she walks the halls of TCHS, she exudes kindness, compassion and charm. Not only is she varsity cheer captain and part of numerous extracurricular activities, including National Honor Society, but she is also a concurrent student on the Dean's List at Collin College. She's also a certified USA Gymnastics judge as a former competitive gymnast and two-time National Trampoline Champion.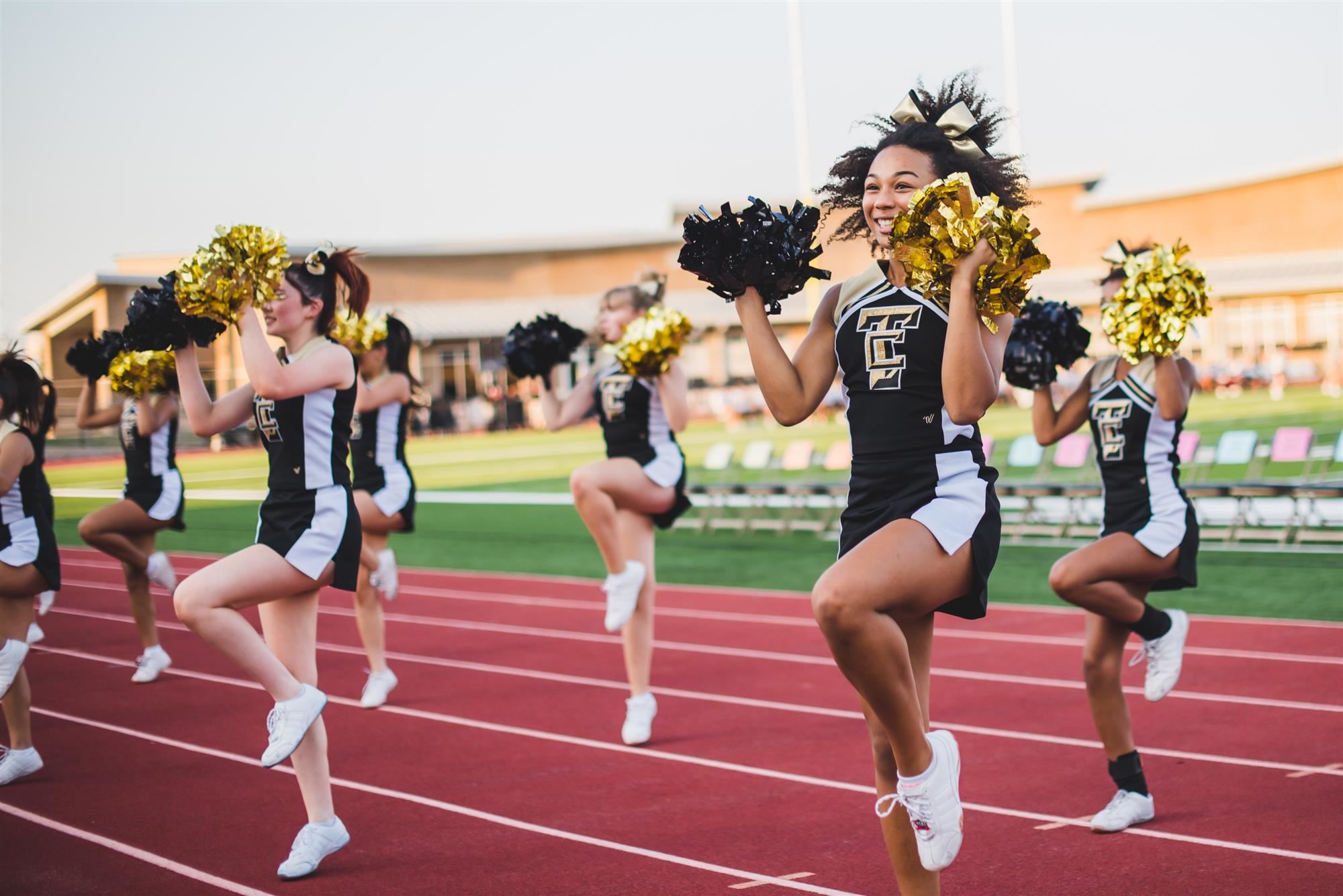 With all the organizations Omo-Osagie is involved in, she excels at time management and maintaining her grades while still managing to be involved socially at school. Since she started college classes as a freshman through the Collegiate Academy, Omo-Osagie has already mastered a skill at an early age that new college students can often struggle with.
"Her time management skills are just amazing and I think the Collegiate Academy contributed to that greatly," Bond said.
Another on-campus organization Omo-Osagie is involved in at The Colony is PALs (Peer Assistant and Leadership), an organization that works with at-risk students for mentoring opportunities.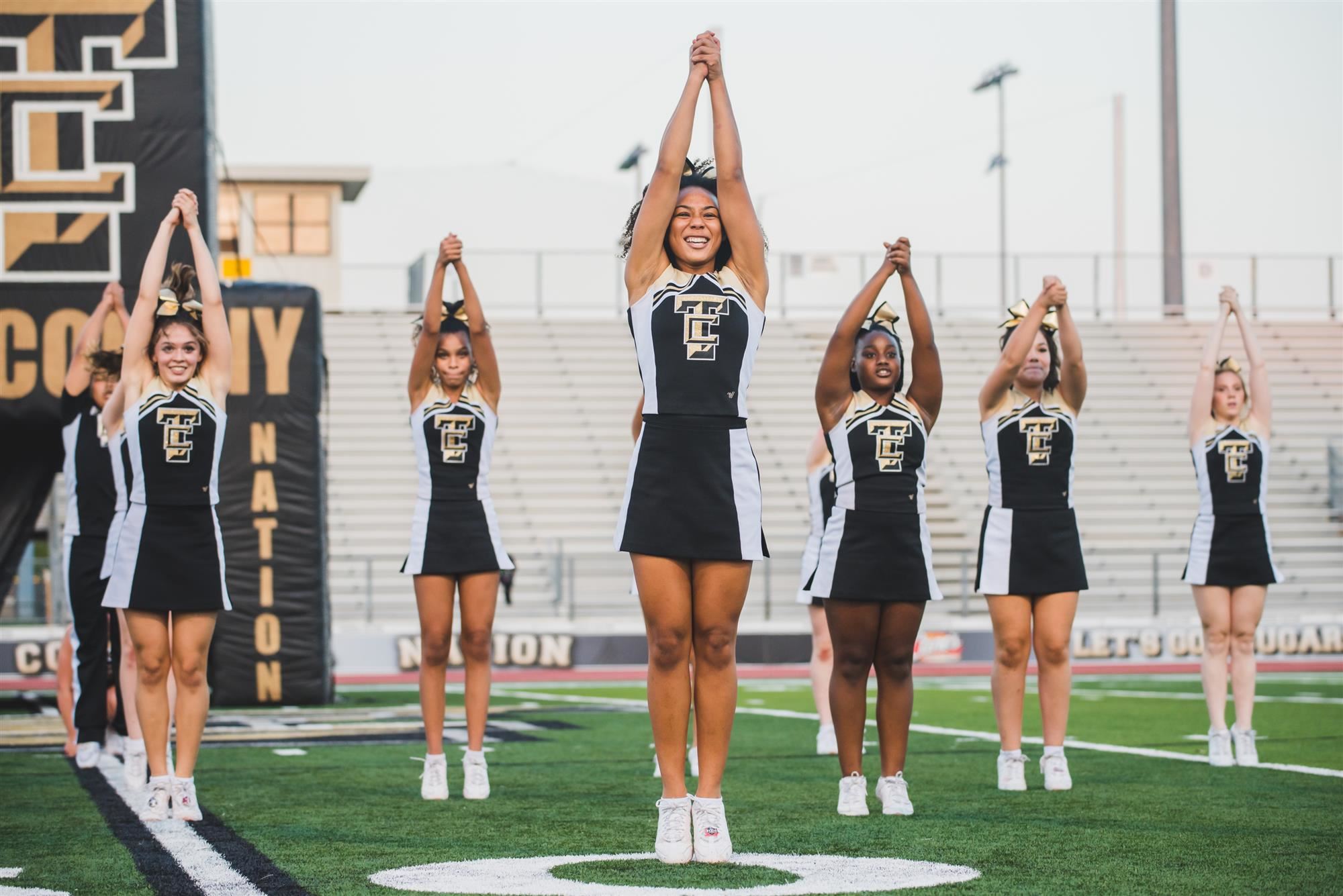 "I was actually recommended to PALs and I thought, 'Oh my gosh, yes, this is what I want to do,'" Omo-Osagie said. "I have three elementary kids I mentor and they are so sweet. Hearing some of the things they've experienced, it melts my heart. Being a mentor to these kids is really special to me.
"I really believe that the way I grew up makes me want to help people so they don't have to feel alone like I did. If I would have had a PAL in elementary school, that would have been life-changing. Even if it's just one kid I can make an impact on, I've done my job."
Omo-Osagie's mentor and teacher through PALs, Jamie McCarty, has a close bond with Omo-Osagie and knows she's not only a blessing to the students in PALs but also her as a teacher.
"Katherine has become quite the leader in PALs," McCarty said. "She has natural leading abilities and steps up and leads while supporting her peers. She's exactly what a PAL should be.
"When you look at her, she's beautiful. But behind all the smiles is a very genuine heart and she cares about others. It's not about the glitz and the glamour and the attention that she gets, she honestly does want to do something special."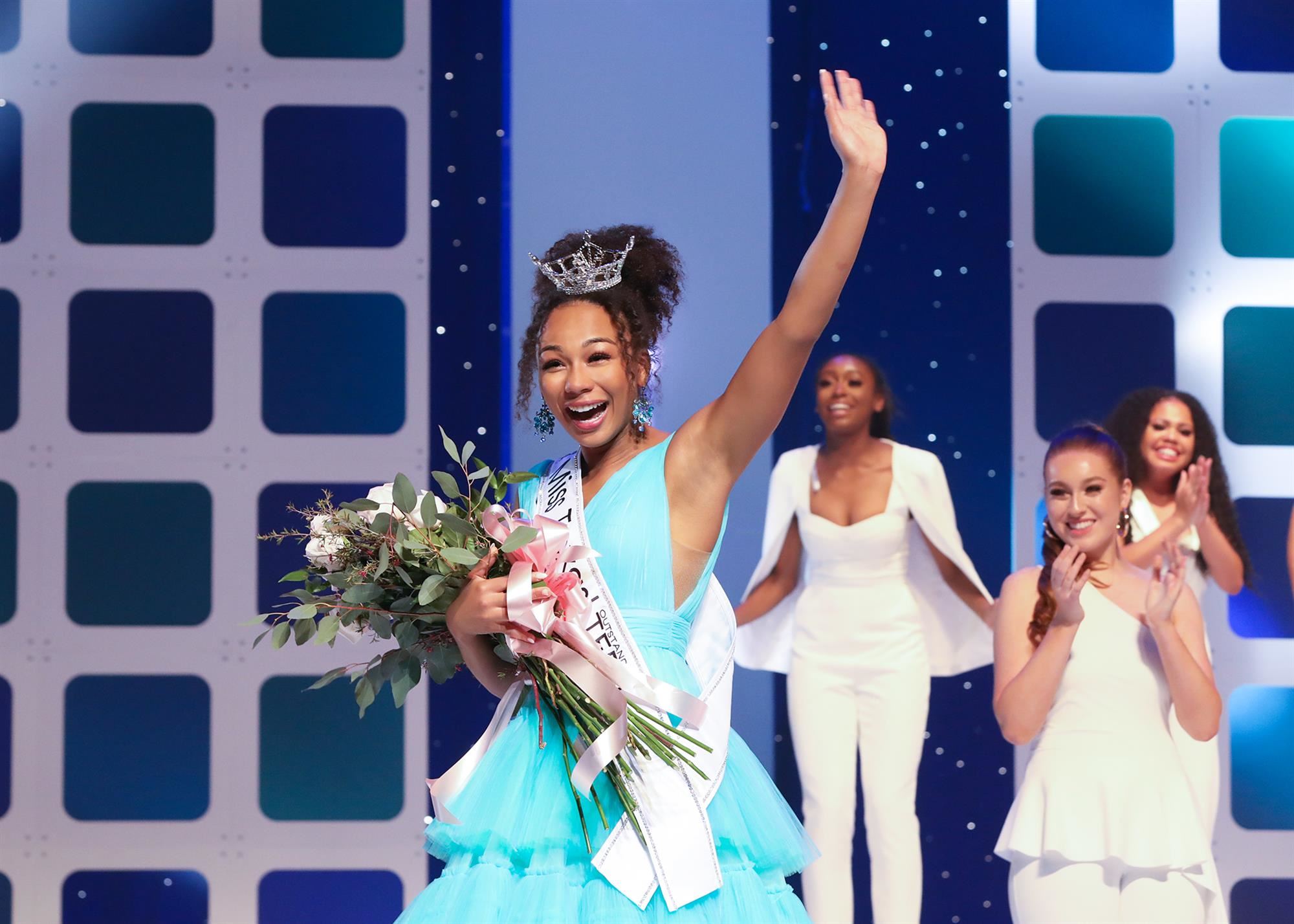 Omo-Osagie isn't afraid to step out of her comfort zone either. After a friend suggested she would fit perfectly into the pageant world, she tried out for Miss Texas' Outstanding Teen, something Omo-Osagie had never considered doing before. Miss Texas' Outstanding Teen is a preliminary to the Miss America Scholarship Competition. The competition provides young women with the opportunity to promote platforms of community service, share their talents, intelligence, and positive values while serving as role models in their communities, all with the support of dedicated volunteers assisting them in their pursuit of academic excellence, service and lifelong success.
In her first attempt at Miss Texas' Outstanding Teen, much to her surprise, Omo-Osagie won the Texas competition to advance to Miss America's Outstanding Teen where she was named second runner-up in Orlando, Florida. In total, Omo-Osagie earned more than $12,000 in college scholarships through the competition.
"I never would've entered Miss Texas if I didn't go to The Colony," Omo-Osagie said. "A girl who used to go here was in the Miss Texas organization and she told me I should try it. I didn't think I would win because no one has ever come through and won on their first try, but I did! It's all been really cool because The Colony and the Collegiate Academy have definitely set my path on a different angle to succeed."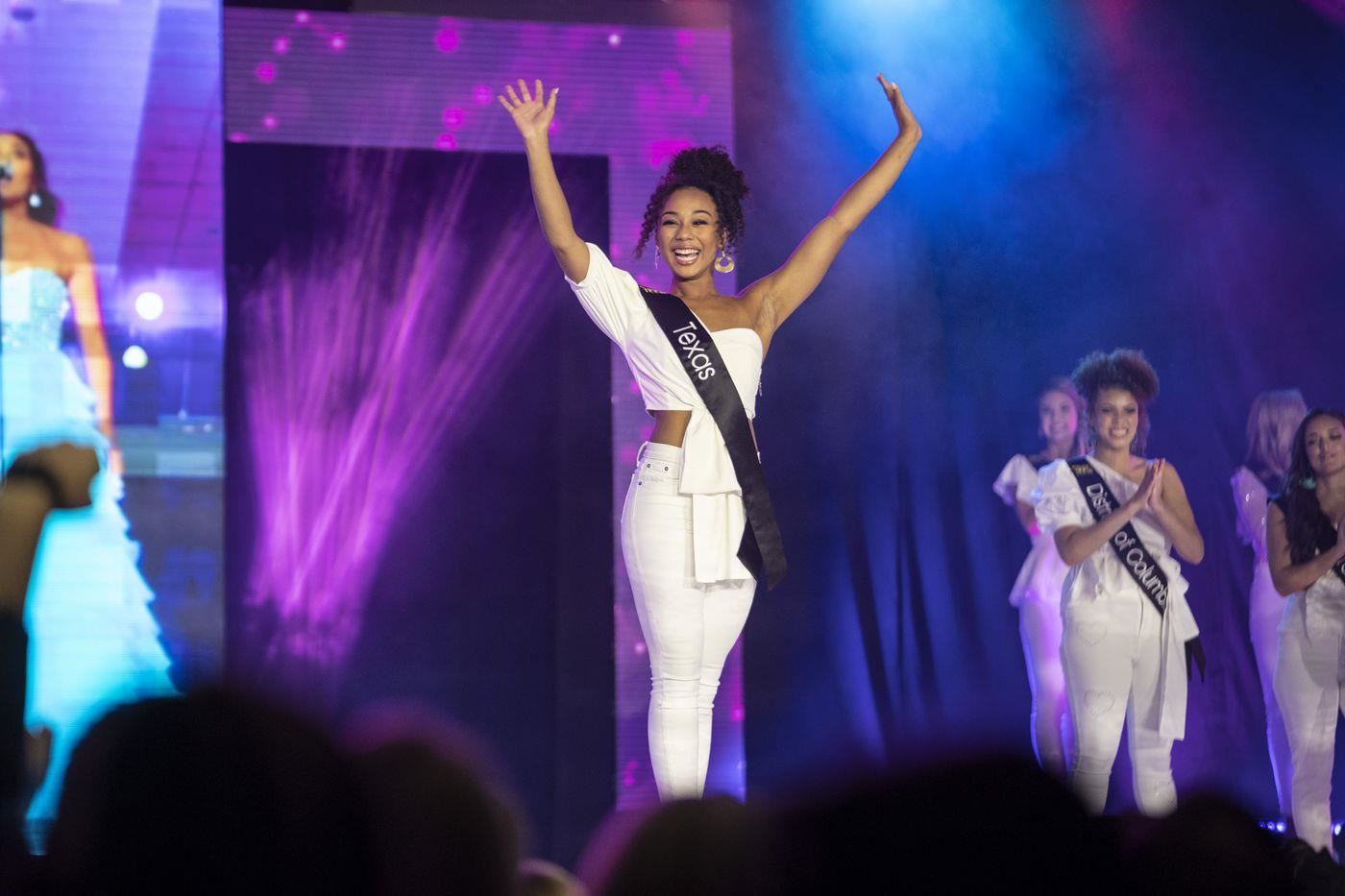 With college right around the corner, Omo-Osagie has set herself up for the future she has created with the help of the Collegiate Academy. She has full-ride scholarships to several universities, including Alabama and Auburn with hopes of getting into a pre-med program and going to medical school to become an Orthopedic Surgeon.
No matter what path she takes from here, Omo-Osaige's mother knows she will be successful because of how she has overcome all the obstacles thrown her direction.
"She's just an amazing young woman and I'm so incredibly proud of her and I know her brothers are proud of her," Bond said. "I can't wait to see where this girl ends up. I have no idea what her future is going to look like but it's going to be pretty amazing."