Return to Headlines
Degan Elementary's Journey as a No Excuses University School
April 4, 2017
Since becoming an NEU school in 2015, the Eagles are soaring
How it all started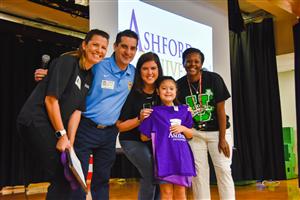 If you walk the halls of Degan Elementary, or stop by for the
Eagle Shuffle
on Friday mornings, words that might come to mind include: committed, courageous, collaborative, creative, character-centered and college and career crazy. Those words are also the "Six C's" that No Excuses University (NEU) expects its network of schools to follow and exemplify – practices Principal Vanessa Stuart began implementing before she heard of NEU.
Degan's journey to NEU membership began three years ago when Stuart received a $10,000 grant from Learning Forward, a professional learning association. She was tasked with researching a problem of practice, specifically, "How does intentional instruction of grit and growth mindset impact students who come from an impoverished background?"
"Since my tenure began at Degan, we had seen some tremendous strides, but were still struggling to make a difference with our students from disadvantaged backgrounds," Stuart said. "The funds from that grant were to help me lead professional learning to help address this area of need."
As Stuart and her staff began employing innovative practices at Degan to better reach their students from disadvantaged backgrounds, Lewisville ISD (LISD) was participating in the North Texas Consortium walks. One campus visitor asked Stuart if Degan was an NEU school.
"I said, 'No, I don't even know what you're talking about,'" Stuart said. "The visitor insisted we must be an NEU school because we were doing all the 'stuff.'"
The visitor's comments about Degan and NEU piqued Stuart's interest, so she began her research into NEU. She discovered that NEU believes students can be proficient or advanced in reading, writing and math if adults do not "make excuses" for why the students cannot succeed. That research prompted Stuart to use some of her grant funds to take six staff members to visit an NEU institute in Feb. 2015.
"NEU is based on six pillars," Stuart said. "Universal achievement for all, standards, collaboration, assessment, data analysis and intervention. These are all the things we had been addressing, and NEU gave us the encouragement that we were on the right path, as well as access to other schools working on the same things."
While on their visit, Stuart shared her teachers said, "These are our people. They think like we do."
"What we found was that we were doing the practices NEU believes in," Stuart said. "These teachers insisted that we needed to be a part of NEU."
Upon their return, Stuart and her staff immediately began working on their NEU application. The application was submitted in May 2015, and the next month, Degan learned it was admitted and was announced as the first NEU school in Denton County.
"NEU is not a program," Founder Damen Lopez said. "It's a mindset and a way to do business. We have so many students, especially those living in poverty, who deserve better than they are receiving in many of their schools across this country. NEU simplifies our work as staffs and allows us to make academic success for all a reality. Schools who are accepted into the network are those who have success stories in the making and great ideas to share with the other 253 schools across the nation."
According to Lopez, the NEU Network of Schools is comprised of more than 150,000 students and 9,000 teachers in 19 states. Per its website, NEU's core belief is that every child deserves the opportunity to be educated in a way that prepares them for college.
Stuart said when she became principal in 2013, she wanted Degan to leave its mark.
"When we became an NEU school," Stuart said, "we were on the map."
Seeing change
In the two years since becoming a part of the NEU Network, Stuart said she's seen a significant shift at Degan in both the environment and academic achievement. According to Stuart, the school went from 70 percent of students performing in the Tier III range to more than 70 percent of students performing at Tier I (on grade level).
"This has been a result of revamping our instructional approach and instilling belief and hope in our students," Stuart said. "When you are told you are special, you tend to act as if you are. It made a difference."
Recently, one of Degan's teachers was awarded the NEU Teacher Scholarship to Ashford University, an NEU partner. Out of the 10 finalists, Degan Kindergarten teacher Cara Nickels was the unanimous selection by the scholarship committee.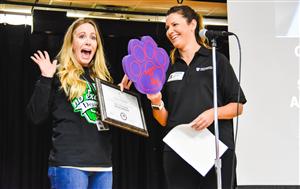 "Ms. Nickels was selected as the number one pick; we were all touched by Ms. Nickels' life story and the obvious dedication she has to her students and her job," Dr. Allison Rief, a College of Education faculty member at Ashford, said. "She mentioned how she recently went through some personal hardships, but she did not dwell on her situation and instead deferred to the experiences her students go through on a daily basis."
Nickels wrote about her students own personal hardships and included the following in her scholarship application, "My students have more strength and courage than I could ever dream of. They taught me that the most important life skill to overcome life's challenges, regardless of your age or economic status, is GRIT."
"I think it's amazing that while Ms. Nickels is the teacher, she is still learning from her students," Rief said. "At Ashford, and more specifically within the College of Education, we really value grit and a growth mindset. We believe that everyone should be given the opportunity to better their own life situation through education."
NEU and Ashford University, which formed a partnership in 2014, teamed up to surprise Nickels with her scholarship award. Rief and Lopez announced Nickels as the scholarship winner during the Eagle Shuffle, a student rally, on March 24.
"I was shocked," Nickels said. "The scholarship application and website stated they would announce the winner at the end of February, so when February came and went, I assumed I didn't hear anything because I wasn't the winner. So, this caught me completely by surprise."
The scholarship is a full-ride for a graduate degree program at the university. Nickels can select from three programs: a Masters in Education, a Masters in Special Education or a Masters in Teaching and Learning with Technology – Nickels has elected to pursue a Masters in Special Education.
"Ms. Nickels is an amazing educator who exemplifies doing what is best for students," Stuart said. "She recently experienced some personal trauma, but has used her own experiences to understand her students better and relate to some of their hardships without judgment. This award also continues to send that message to our students that college is important and there are always ways to make that happen if you seek them out and work hard."
Looking to the future
Nickels, who was one of the teachers Stuart took on that initial NEU institute trip, said teaching at an NEU school has been a fruitful experience.
"Our school is teaching children at an early age that college is an expectation," Nickels said. "Degan has created a culture of universal achievement where our students document their short and long-term growth on personalized data folders; know and openly discuss their goals with each other; and discuss the importance of learning from our mistakes. We have daily conversations about growth mindset and grit. I have grown tremendously as an educator while working at Degan, especially since we have transformed into a NEU campus."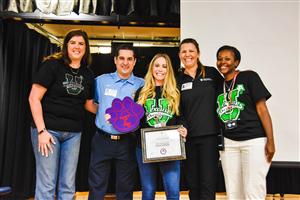 The school's dedication and enthusiasm hasn't gone unnoticed.
"Degan is an amazing place for kids," Lopez said. "Their passion for student success is as impressive as any school in our network."
With focus on the present and future, Stuart said her goal is for students to continue to achieve at high levels.
"My vision for Degan is that we are a learning organization that helps students own their education through engaging them in relevant, meaningful 21st-century work," Stuart said. "NEU continues to be a banner that helps students feel special, chosen and believe they can do anything they set their minds to."
Degan is no longer the lone NEU school in LISD. Southridge Elementary also recently achieved membership into the NEU Network of Schools.
"I've had the chance to work with many of the staff members at Southridge, and I'm excited about the story that is developing on their campus," Lopez said. "LISD as a whole has so many terrific things happening throughout the district, and I'm honored to be partnering with many of its schools."
Lopez added, "My hope is that this work spreads from our elementary schools and into our middle and high schools throughout districts like LISD, as to provide consistency to all students. When we are all on the same page, incredible things can happen. That's exactly what you're seeing at Degan."