Return to Headlines
Lewisville High School Cheer Wins Back-to-Back National Title
Feb. 15, 2017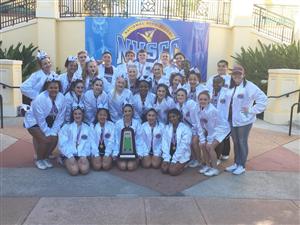 For the second year in a row, the Lewisville High School (LHS) cheerleaders have brought home a national title.
The Farmers competed in the Universal Cheerleaders Association (UCA)'s National High School Cheerleading Championship (NHSCC) Feb. 11-12 at Walt Disney World Resort in Orlando, Fla.
Coming fresh off their University Interscholastic League (UIL) state title win, the Farmers topped Archbishop Rummel High School (La.) and Azle High School (Texas) to win their back-to-back Large Varsity Coed Game Day national championship.
"It's a feeling like no other," senior Matt Finney said. "The moment they announced Lewisville High School for first place, it sent chills down my whole body knowing we're the best in the nation."
Finney, who was also a member of last year's squad, said the win is a moment he will always remember. "All the hard work and endless hours in practice finally paid off," he said.
Added LHS Head Cheerleading Coach Jill Van Klink: "This was my first year, so I wanted to ensure we were prepared and ready to go head-to-head with the best in the nation. It feels good as a coach to know our squad did it and could experience this feeling – some for the first time and for others, as back-to-back national champions."
The Farmers placed fifth in the overall Large Varsity Coed division. For a full list of results, please click here.
Congratulations LHS cheer!