Return to Headlines
Lewisville Chamber Awards | December 2020
DECEMBER STUDENT OF THE MONTH | CARLOS PLAZOLA CASTILLO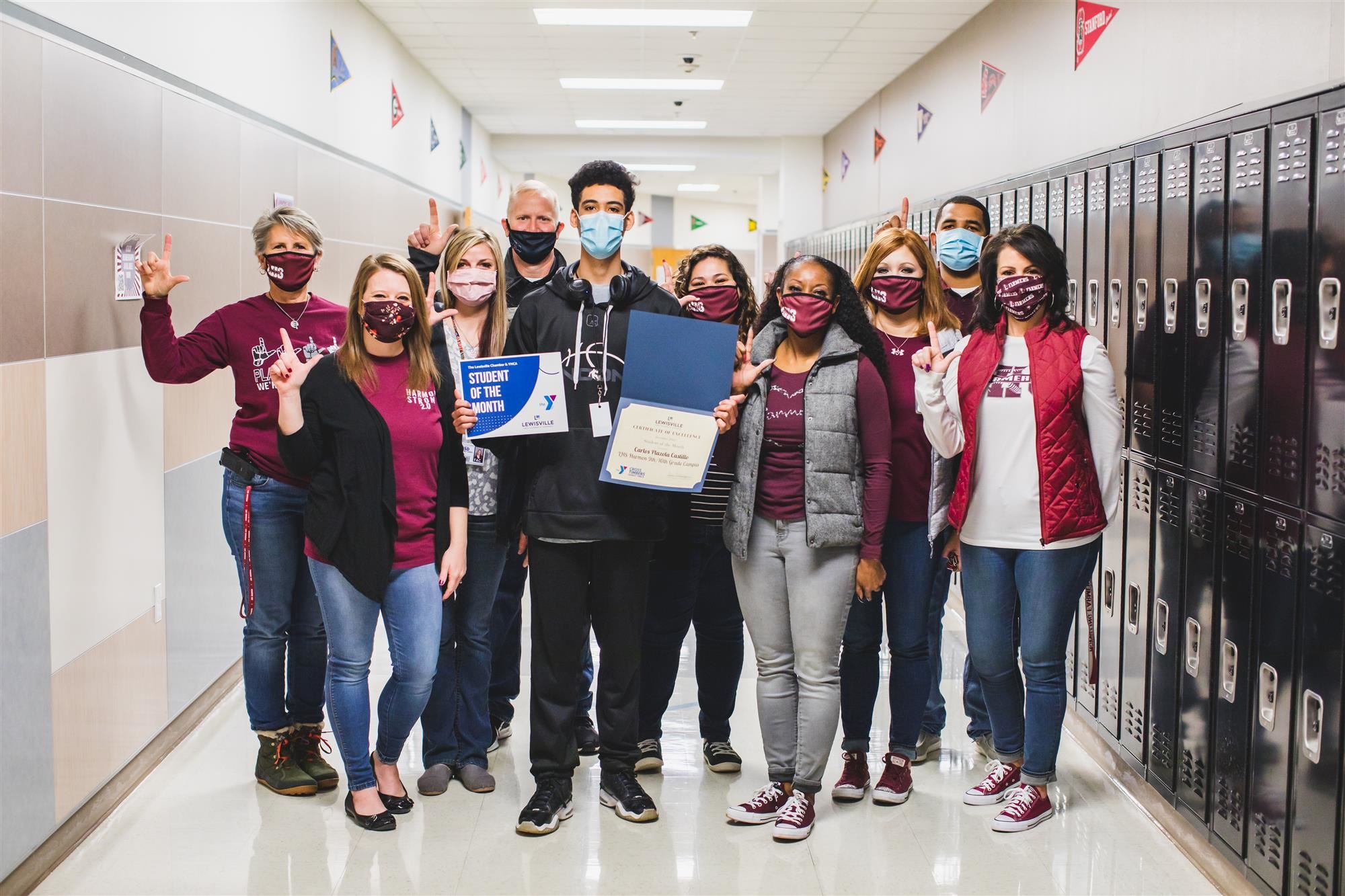 LHS Harmon 10th-Grader Carlos Plazola Castillo was recognized as the Lewisville Chamber/Cross Timbers Family YMCA December Student of the Month. According to his teachers, Carlos is a student who goes beyond the ordinary in everyday life. He works hard at his studies, translating most of it into Spanish and then back into English in order to turn in quality work. He is very conscientious and stays on top of his school work. He balances his schooling with huge responsibilities at home, often stepping in to be the caregiver for his younger sibling. One of the nicest qualities Carlos has is his positive, kind, and pleasant manner. Every day he comes into class with a smile on his face and a big hello for everyone. He encourages his classmates and is eager to do whatever is necessary to be successful despite any challenge. Carlos has talent in Theatre as well. He works hard to give his best efforts in every assignment and presentation. He doesn't do things halfway, he conquers his responsibilities. He is respectful and kind to boot. These advantages make him a wonderful student to teach.
To learn more about Carlos, we asked him the following questions:
What's your favorite subject in school? Algebra I
What do you like to do in your free time? Drive, play video games, listen to music, help my family, homework, and assignments.
What do you look forward to attending LHS main campus next school year? I'm looking forward to the atmosphere, new environment, new classes, teachers, cultures, and languages.
Who do you look up to and why? My mom and dad. They work very hard to provide for the family.


DECEMBER TEACHER OF THE MONTH | COACH JON ANN ROPER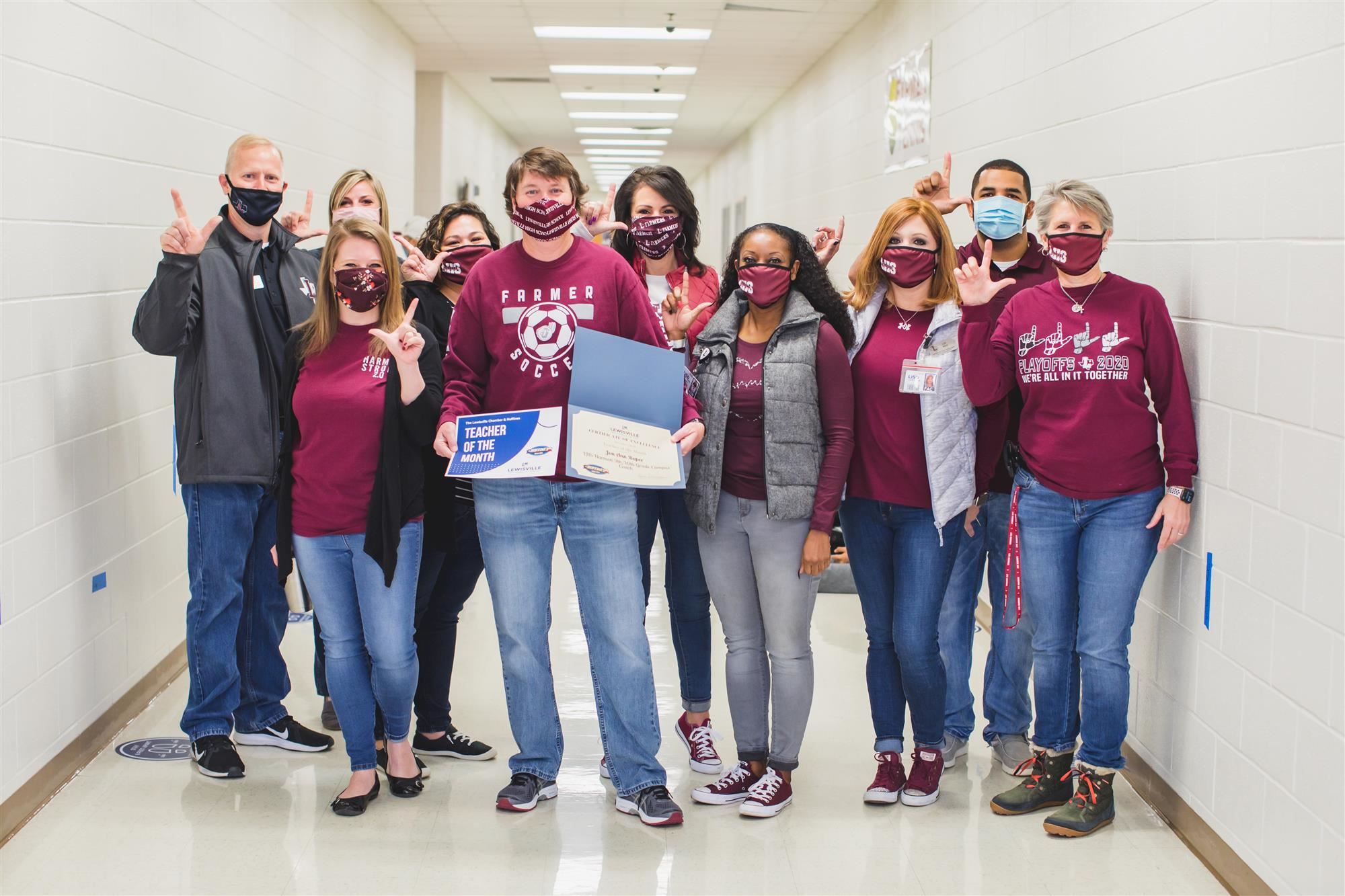 LHS Harmon Coach Jon Ann Roper was recognized as the Lewisville Chamber/Huffines Auto Dealership December Teacher of the Month. Coach Roper has been a teacher at LHS Harmon since it opened 10 years ago and has been in Lewisville ISD for 18 years. She is dedicated and loyal to the campus and staff in every way. Coach Roper ensures she makes special and lasting connections with students on a daily basis. Her genuine concern for students is ever-present in her communication with them and their families. She is eager to learn new ways to engage students and looks for opportunities to create a positive learning environment for her students in the virtual classroom and with students on campus. Coach Roper is a leader on campus and is always available to work on new initiatives or offer her input and assistance to do anything necessary for the school to shine. Her commitment to excellence is unwavering. During these challenging months of COVID, she has made it a point to be a positive source of comfort for her colleagues and acts as a resource in navigating the complexities of virtual learning, following safety protocols, and modeling professionalism every step of the way.

DECEMBER SCHOOL OF THE MONTH | LHS HARMON 9TH & 10TH GRADE CAMPUS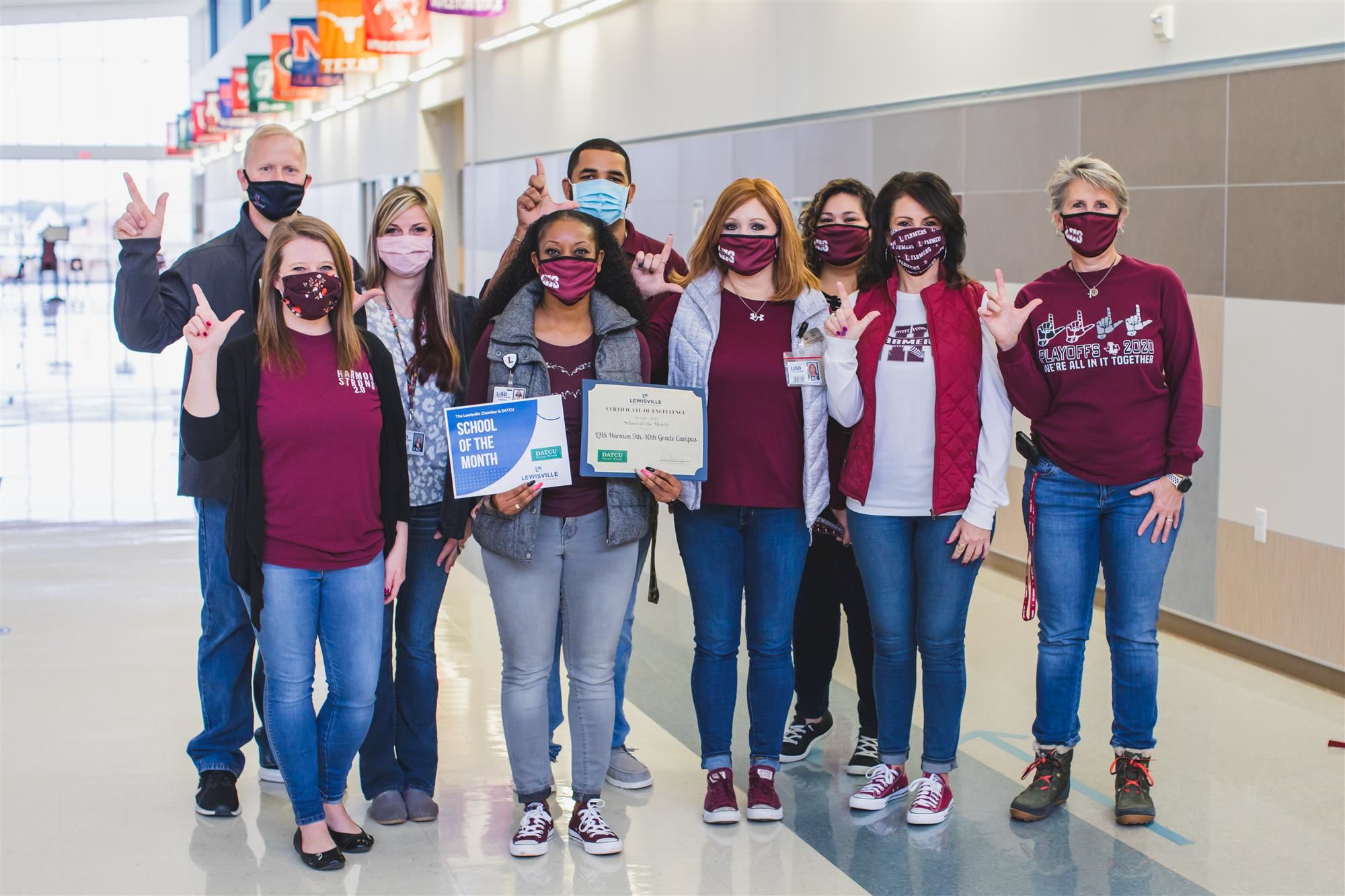 LHS Harmon 9th/10th Grade Campus was recognized as the Lewisville Chamber/DATCU December School of the Month. The Harmon staff are determined to have a "Mission Possible" school year to ensure all students and families have an opportunity to create and experience a positive learning environment. This school year, Harmon kicked off its "Harmon Heroes" program with the help of community partner Overhead Doors. Each month, the Harmon Heroes program honors students, teachers, and community leaders or organizations that have demonstrated great character, perseverance, and strong work ethic. The partnership has also allowed Harmon to expand its student-tutoring program "Harmon Help," which provides academic assistance to 250 students each week. To welcome virtual students this year, Harmon hosted a Virtual Student Appreciation Drive-Thru Parade where students were able to pick up their school IDs, take a socially distanced picture with Big John the mascot, and be showered with support from teachers and staff. To add to the great things happening at Harmon, the campus celebrated its 10-year anniversary with a special, socially-distanced celebration on its football field. Special guests included the school's namesake Ben Harmon and as well as first-ever principal and current LISD Chief of High Schools Andy Plunkett.
---
| | | |
| --- | --- | --- |
| December | School | LHS Harmon 9th & 10th Grade Campus |
| | Teacher | Coach Jon Ann Roper |
| | Student | Carlos Plazola Castillo, Sophomore |
| October | School | Lakeland ES |
| | Teacher | Kim Nguyen, Language Acquisition Specialist |
| | Student | Henoc Castelan, 5th Grade |
| September | School | TECC-West |
| | Teacher | Cindy Porter, Cosmetology Instructor |
| | Student | Caylie Cummings, Senior |