Return to Headlines
LHS Harmon's Pedrazine Named Lewisville Area Chamber of Commerce Educator of the Year
Lewisville High School Harmon 9th and 10th Grade Campus' Carolyn Pedrazine was named 2019 Educator of the Year by the Lewisville Area Chamber of Commerce during its "Lone Star Luau" Awards Gala on Feb. 7 at Hilton Garden Inn Lewisville.
Pedrazine, who teaches English as a Second Language (ESL), was selected as the winner by Chamber representatives. The prestigious award, which is in its sixth year and sponsored by CoServ, honors a teacher who consistently goes above and beyond regular duties to truly make an impact on their school, Lewisville ISD (LISD) and the community.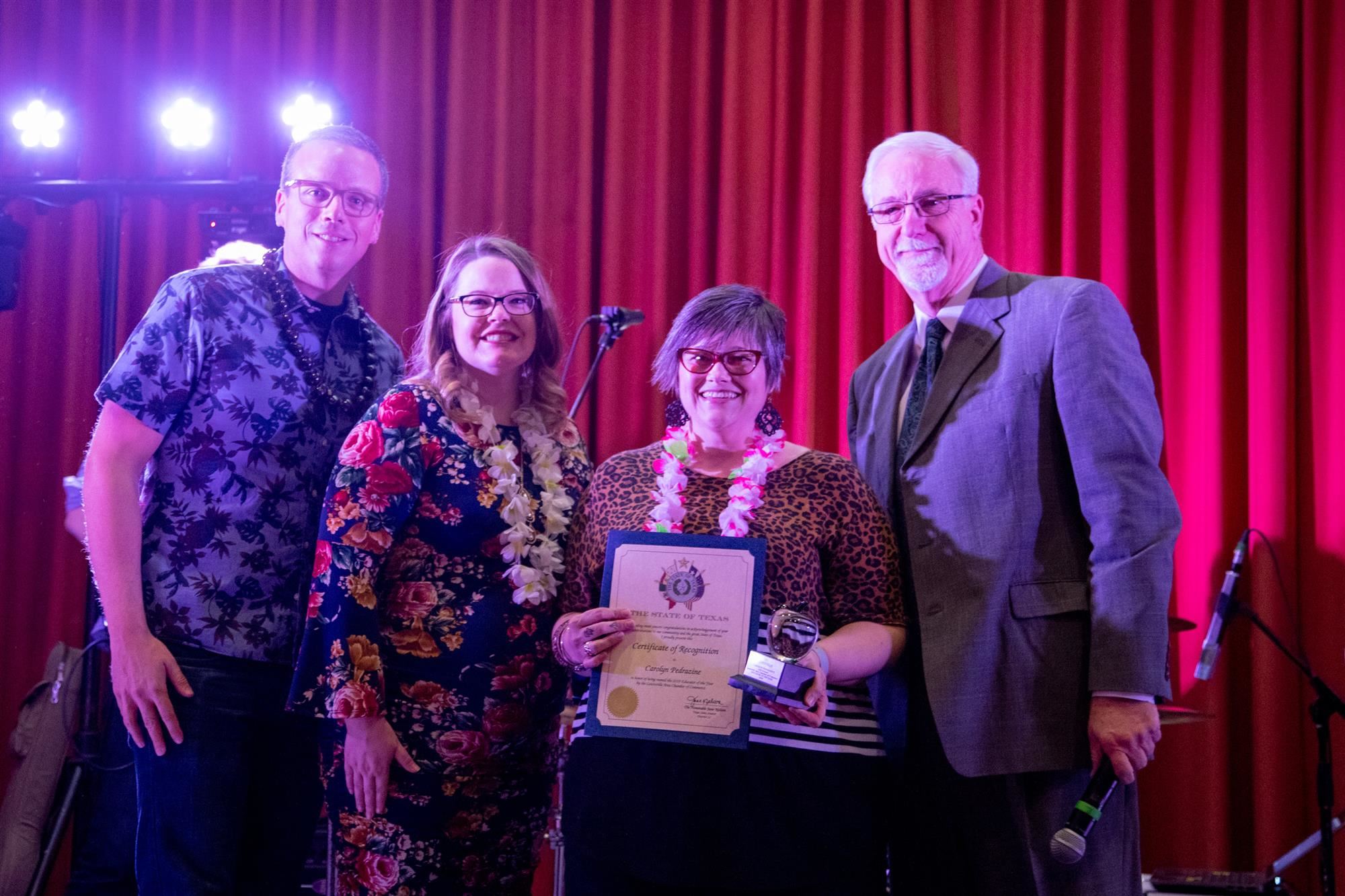 CoServ CEO Donnie Clary made the formal announcement along with Chamber Board Chair Ann Pape and Emcee/City of Lewisville Councilmember T.J. Gilmore. Pedrazine was presented with a commemorative glass apple. She was originally notified of her award on Jan. 29 as Chamber and CoServ representatives surprised her in her classroom.
"It is an honor to receive the Educator of the Year Award," Pedrazine said. "Truthfully, every day I get to teach my students is the greatest honor. They make my job enjoyable, and I truly look forward to teaching them every day."
Pedrazine, who is bilingual, has been teaching at LHS Harmon since 2012 and has worked in LISD for 14 years. Before LHS Harmon, she was a Secondary Title III ESL Coordinator in the district office (2010-2012) and an ESL and English Language Arts teacher at Durham Middle School (DMS). She has also had teaching stops in the Texas towns of Clyde, Bridgeport and Wilson. Pedrazine also taught American missionary children for two years in Venezuela.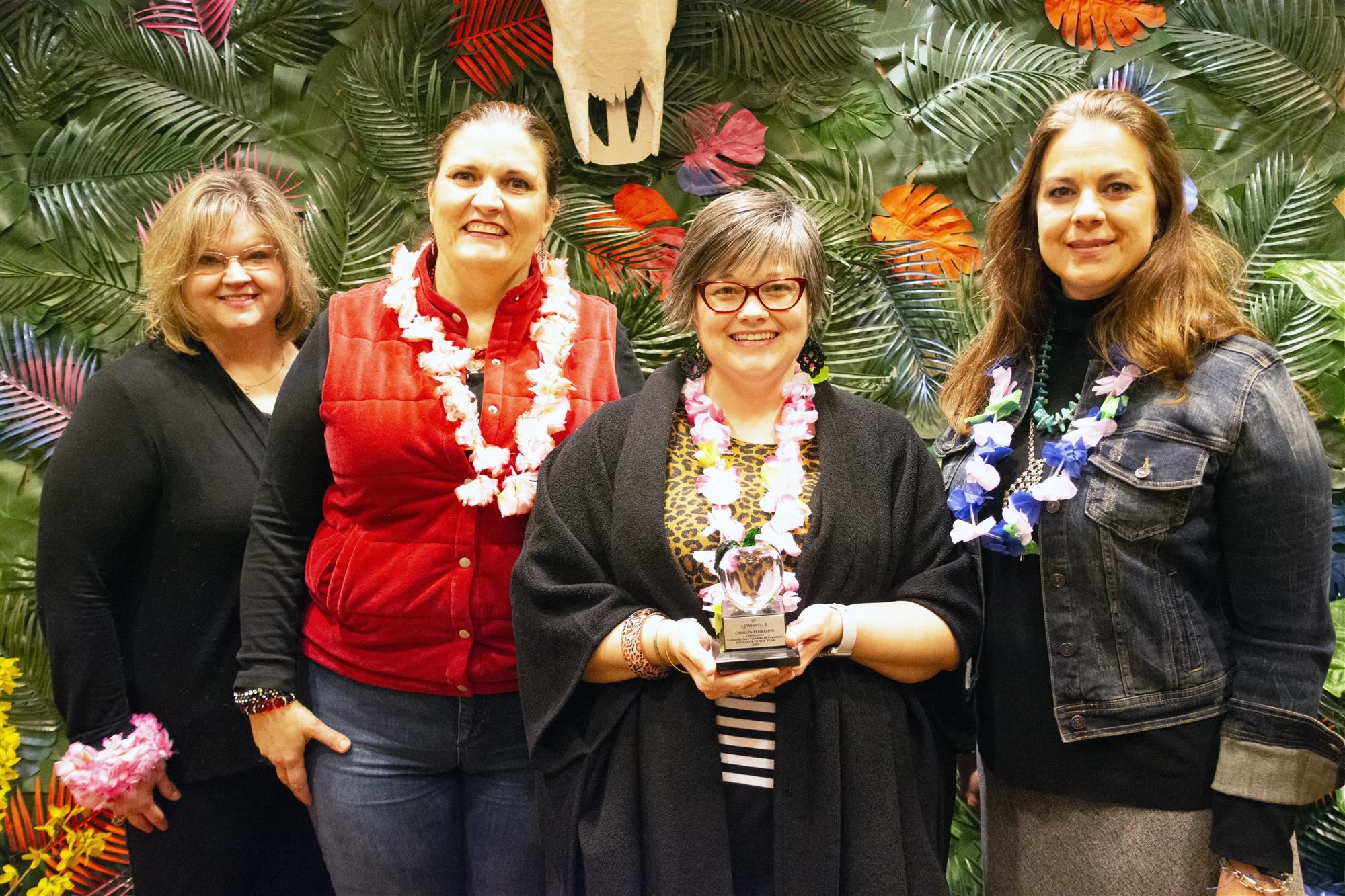 Pedrazine is known for her caring personality, ability to relate to all of her newcomer students and being solution oriented. She teaches students from multiple countries – many of whom have never spoken English or just arrived in the United States. She works tirelessly to ensure there are no excuses for her students not to be successful. She also makes it a priority to get all her students fully integrated with technology.
"Ms. Pedrazine is unquestionably deserving of this recognition," LHS Principal Tony Fontana said. "She is flawless with her instruction, has a great attitude every day and is a team player. She is one of the best teachers I've seen in my 20-plus years of education."
Pedrazine is LHS Harmon's current Teacher of the Year, and will compete for LISD's Secondary Teacher of the Year honor, which will be announced in April.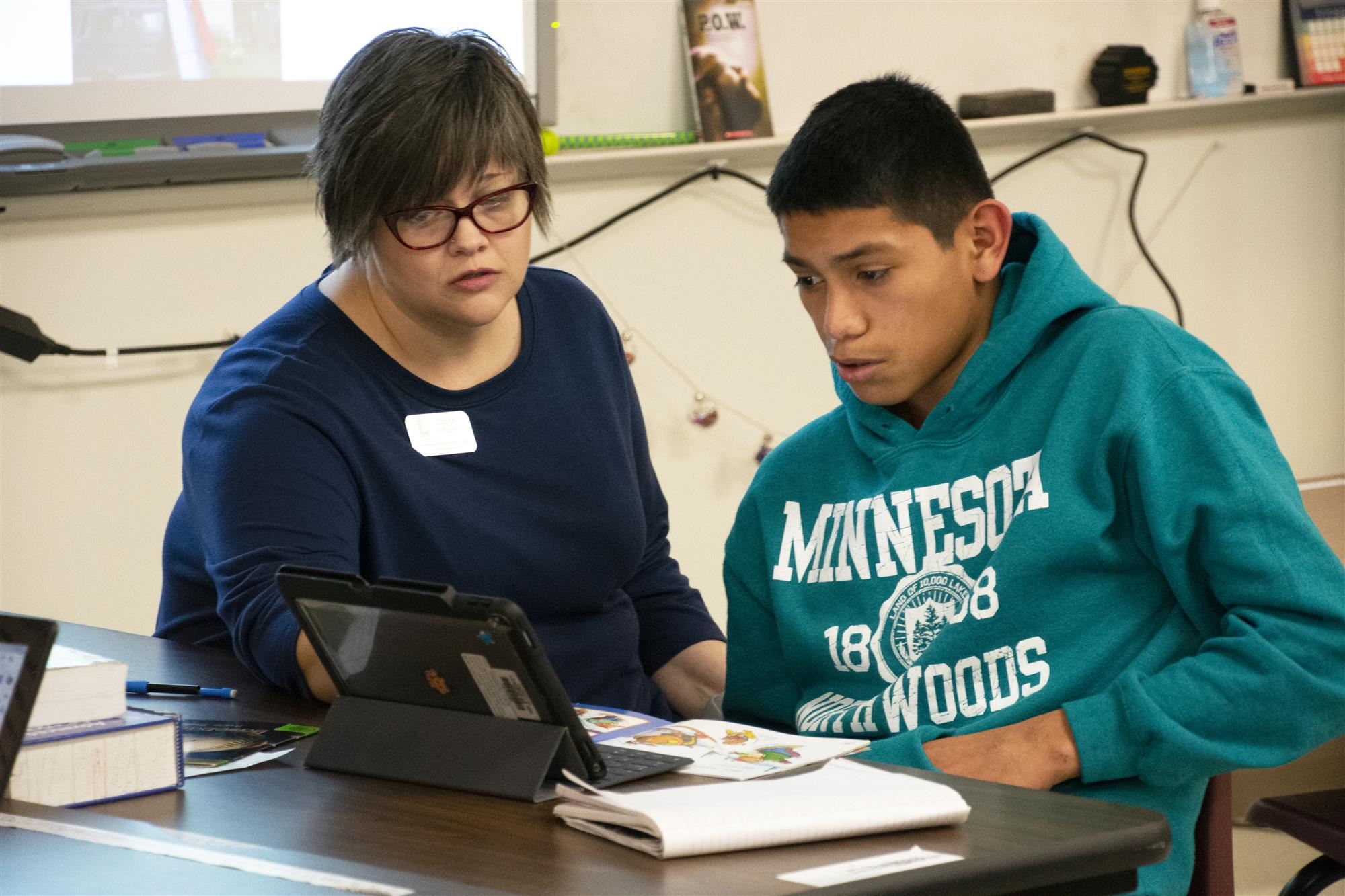 Pedrazine earned her Master of Education in Curriculum and Instruction from Concordia University Texas and her Bachelor of Arts in English from Texas Tech University. She is a native of Clyde, Texas.
Pedrazine was accompanied at the 57th annual awards gala by LHS Harmon Assistant Principal Melvin Owens; LISD employees Holly Phillips, Julie Waid and Vanessa Zavar; LISD Assistant Chief Schools Andy Plunkett; and several LISD Board of Trustees members.
Pedrazine joins Degan Elementary's Ami Malvo (2018), Technology, Exploration and Career Center-East's Stan Feighny (2017), Lewisville High School's Grant Wilhite (2016), DMS' Karen Bradford (2015) and Central Elementary's Ale Babino (2014) as winners of the Chamber's top educator award.

All-Time Lewisville Area Chamber of Commerce Educator of the Year Award Winners
2019 Carolyn Pedrazine, Lewisville High School Harmon 9th and 10th Grade Campus
2018 Ami Malvo, Degan Elementary
2017 Stan Feighny, Technology, Exploration and Career Center-East
2016 Grant Wilhite, Lewisville High School
2015 Karen Bradford, Durham Middle School
2014 Ale Babino, Central Elementary