Return to Headlines
Hebron 9 Library Media Specialist Builds on Dream
When students and staff returned to Hebron 9th Grade Campus earlier this fall, school looked a little different, from classroom set ups to hallway directions. One of the biggest changes on campus, however, is the library. But that was an intentional transformation, a vision by Library Media Specialist and longtime Hawk, Shannon Whiteley.
The road to the role of Library Media Specialist has been a long time coming for Whiteley. Whiteley and her family joined the Hebron community when the main campus opened its doors in 1999. Her husband was hired as the head athletic trainer and soon the Whiteley family became ingrained in everything black, silver and blue.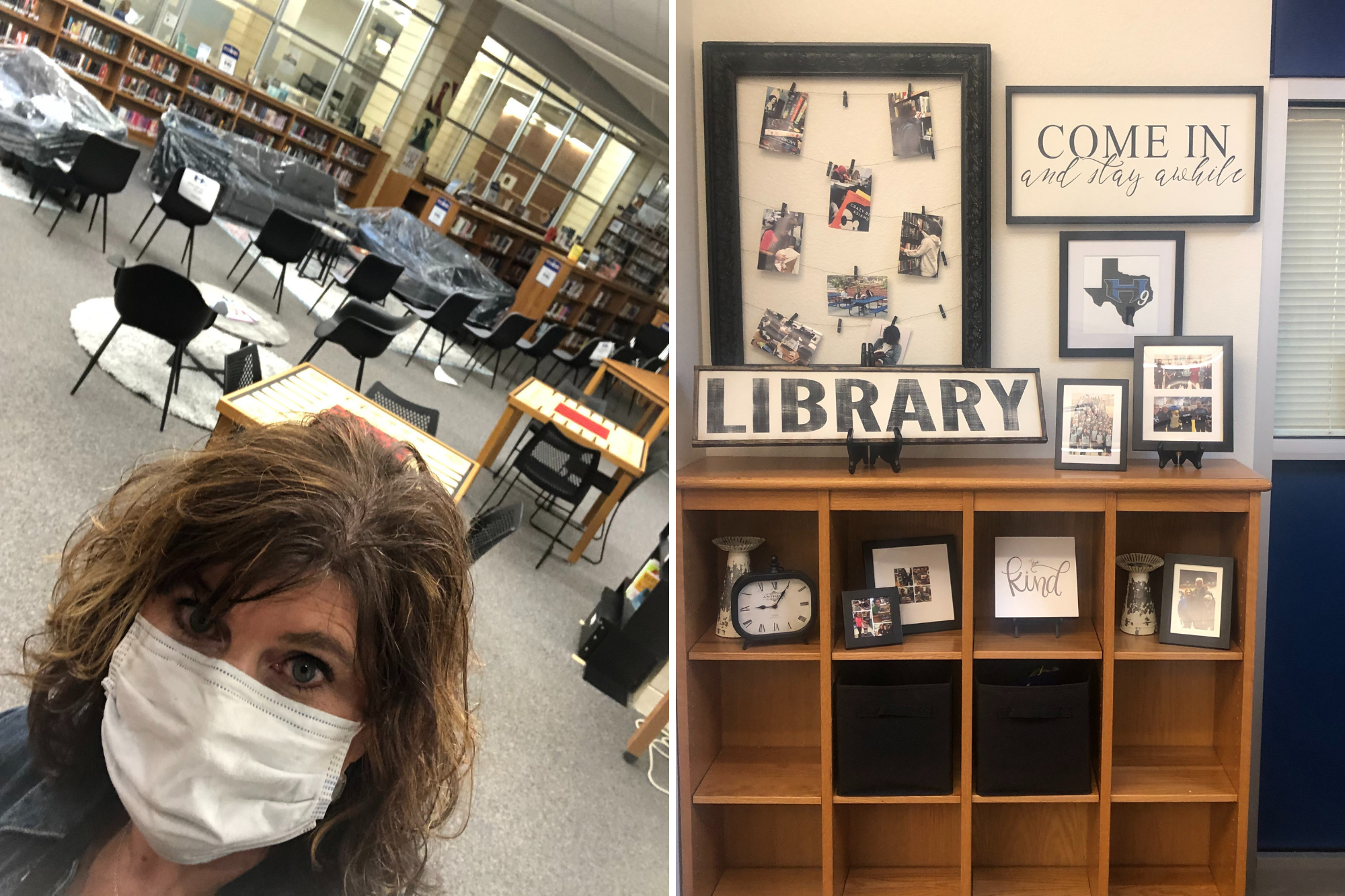 "When we learned that LISD was building a freshman campus as a sister school to Hebron Main, there was no doubt that I would be applying," Whiteley said. "I was teaching English in Coppell at the time, but because Hebron was the school my daughters would eventually attend and because we were already so involved in the Hebron community, we were hopeful that there would be a place for me at the new school."
Fortunately for Whiteley, the new school was seeking an English teacher and she quickly applied for the position.
"I polished off my resume, begged for an interview, and prayed that my teaching style and vision were a good match for this campus," Whiteley recalled.
Not long after applying, Whiteley's wishes came true and she was invited to join the original Hebron 9 staff when the campus opened in 2010. Throughout the next decade, Whiteley enthusiastically welcomed new freshman classes each year to the Hawk family, but she began thinking about working toward becoming a Library Media Specialist. At the time, Whitelely assumed she would eventually have to say goodbye to the place she called home.
"When I made the decision three years ago to pursue my master's degree and become a certified Library Media Specialist, I knew that meant I might have to eventually leave the Hebron family, but I also knew that being a librarian was my dream job," Whiteley said.
The stars aligned one more time this past spring for Whiteley. Within hours of finding out she had been accepted into the LISD Librarian hiring pool, longtime and first-ever Hebron 9 Library Media Specialist Melissa Hall announced her decision to retire, leaving open Whiteley's dream job.
"Once again, I dusted off my resume, begged for an interview, and prayed that my vision for librarianship matched the vision of the campus administration," she said. "Before I learned that the Hebron 9 Librarian position was a possibility, I had actually begun a mourning process because I thought I would be leaving a piece of my heart behind with my work family; now I am thankful every day that I was given the chance to both stay home at Hebron 9 and bring my library vision to life."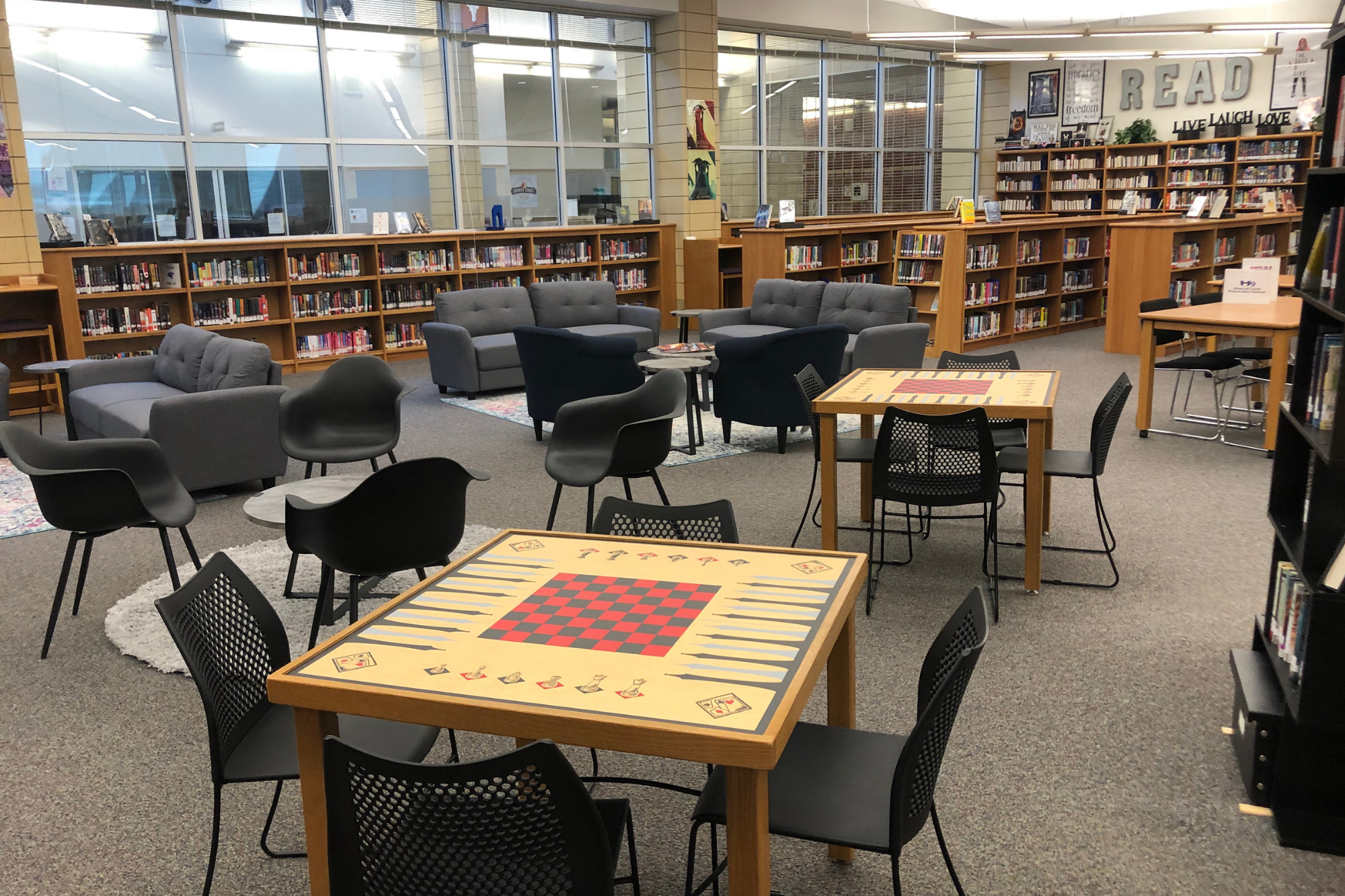 With her new role official, Whiteley immediately got to work, and she certainly had big plans for her new space and wanted to continue to build upon the foundation Hall laid. Whiteley first checked in with Hebron 9 Principal Amanda Werneke about transforming the library. Werneke was excited to see what Whiteley had in mind.
"Our former librarian Mrs. Hall also poured a decade of work into the library, and she worked with Mrs. Whiteley for weeks before retiring to ensure that there was a smooth transition of leadership there," Werneke said.
She continued, "The library is the heart of our campus – a place where students can go to read, learn and relax. For our staff, the library is a space where we can meet, learn, collaborate and gather. As we move through our eleventh year as a campus, we are excited for this new opportunity in the heart of our school."
Some of Whiteley's vision included creating spaces for combined classes for team-teaching both within departments and with Whiteley as an instructional partner; small group areas for students to spread out and work on projects and hold discussions; a central hub for literacy initiatives through book clubs, SSR time, reading challenges, book fair, tracking and advertising student book recommendations; community space to hold seminars and workshops, host PTSA meetings; display areas to highlight student work and achievements throughout the year; and more.
"I started imagining what my ideal library would look like," Whiteley said, "how would the space be organized and how I could make one room versatile enough to meet multiple needs. My vision was of a library space that was the learning hub of the school, and I wanted to create a flexible learning space that could easily adapt to any need."
When it came to physically redesigning the space, Whiteley's first priority was to open up the center of the room by removing the bulky laptop stations and relocating the floating bookshelves as she wanted to create the largest possible flexible learning space in the center of the room.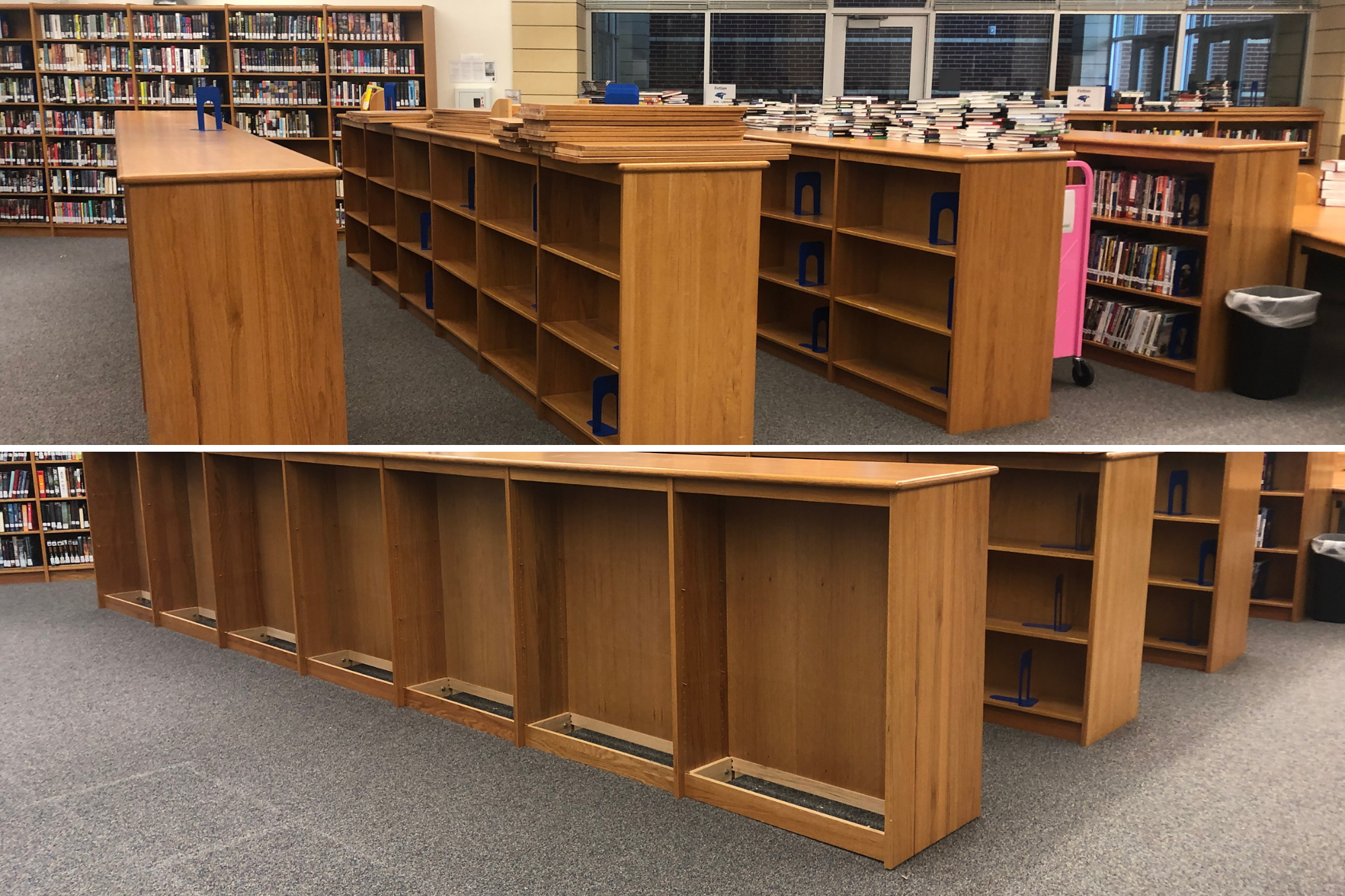 "My daughter and some awesome Hebron 9 friends helped get the ball rolling by spending two full days unpacking thousands of books from those floating shelves and then muscling the shelves themselves into their new locations," Whiteley said. "After that huge initial project, everything else started falling into place."As Whiteley reshelved, she organized the entire book collection and made designated areas based on categories so the space was more user friendly. Additionally, perhaps one of the most changes right off the bat, was new furniture. Whiteley updated the library's furniture and created casual seating areas for students to read in a more comfortable, inviting environment.
The transformation has not gone unnoticed by those at Hebron 9.
"Every time I walk by the library, it makes me smile because it feels like home," Hebron 9 English teacher Amy Wilson said. "Because books are a haven for so many people, it's very fitting for the library to provide a welcoming environment."
She added, "I work with the Hawk Speech and Debate team, and I brought a few varsity members to the library one day to help Mrs. Whiteley with an advisory lesson she was planning. They were amazed at the transformation and could not believe it was the same space that was there during their year at Hebron 9."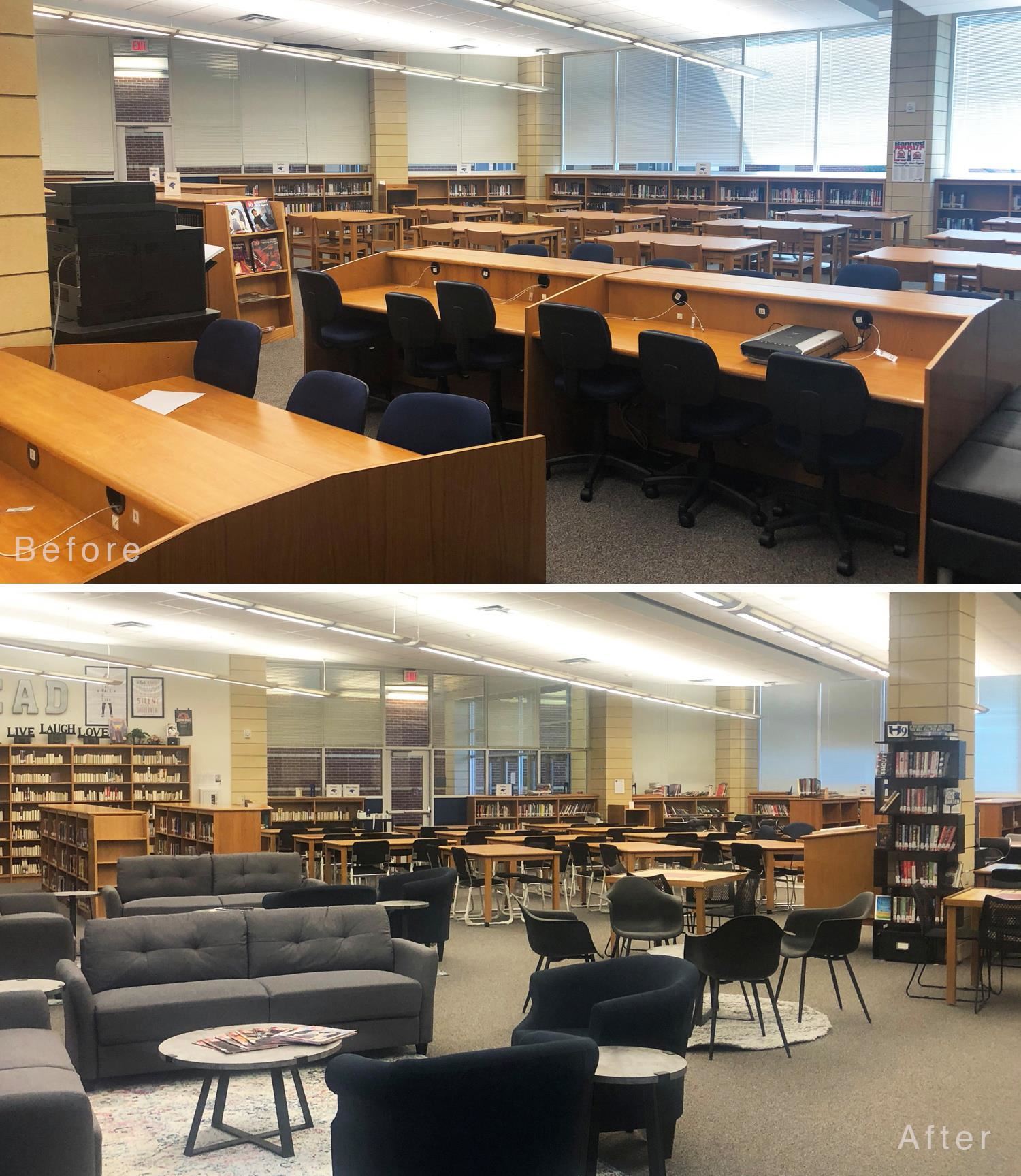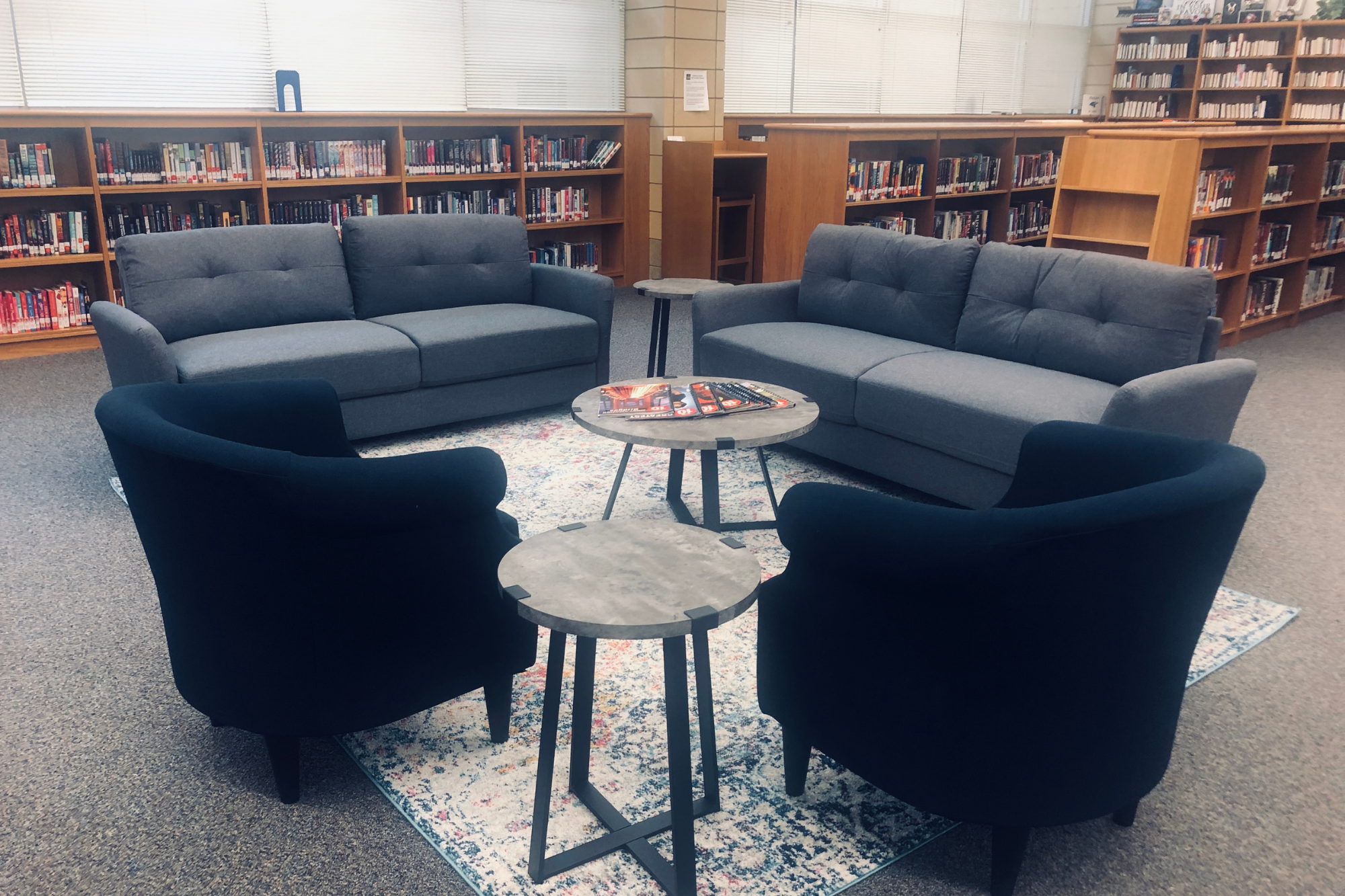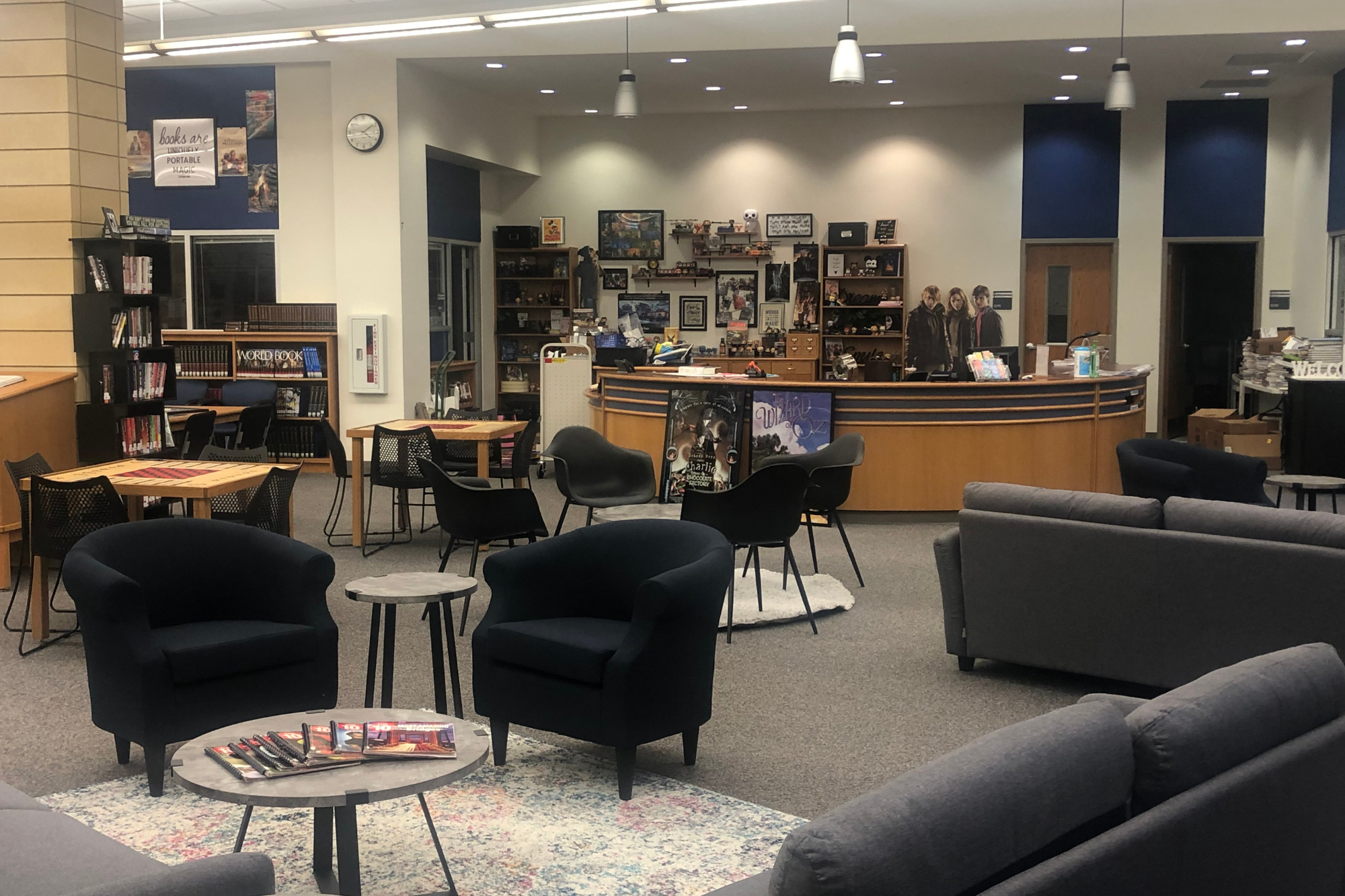 Wilson, who is teaching all virtual classes this school year, noted that Whiteley also helped her figure out ways to ensure her students weren't missing out on valuable learning opportunities by not being on campus. In previous years, Wilson would routinely take her classes to the library during their independent reading time and would meet with students about book recommendations.
"Mrs. Whiteley immediately suggested that she could routinely attend my live class sessions to talk to my virtual students about books," Wilson said. "She set up a way for virtual students to check out and pick up books through curbside checkout if they want to read a physical book, and she's also increased the e-books to better fill the need for those digital books."
Whiteley also set up a form for students to complete if they wanted her to suggest books for them to read.
"She emails them a list she curated specifically for each individual based on their likes and dislikes," Wilson said. "I can tell whenever one of my students receives book suggestions because they'll usually post in our WebEx class asking which one they should start with. Students don't have to be in my class in order to benefit from these resources; Mrs. Whiteley made them available to all students."
For Whiteley, as a now-former classroom teacher, she wants to serve as a resource for students and build relationships with them.
"When I dreamed of becoming a librarian, I dreamed of keeping those student relationships alive through shared stories in my new role," she said. "In fact, I hoped that I could reach even more students by personalizing book recommendations and hosting book clubs over new novels that relate to the struggles students face every day. I've always believed that students need to hear that they matter, so I wanted to use diverse literature as a way to show all of our students that they are not alone in their struggles and that after struggle can come beautiful success."
While the ongoing pandemic has put some things on hold, it hasn't stopped Whiteley from serving students and staff however she can.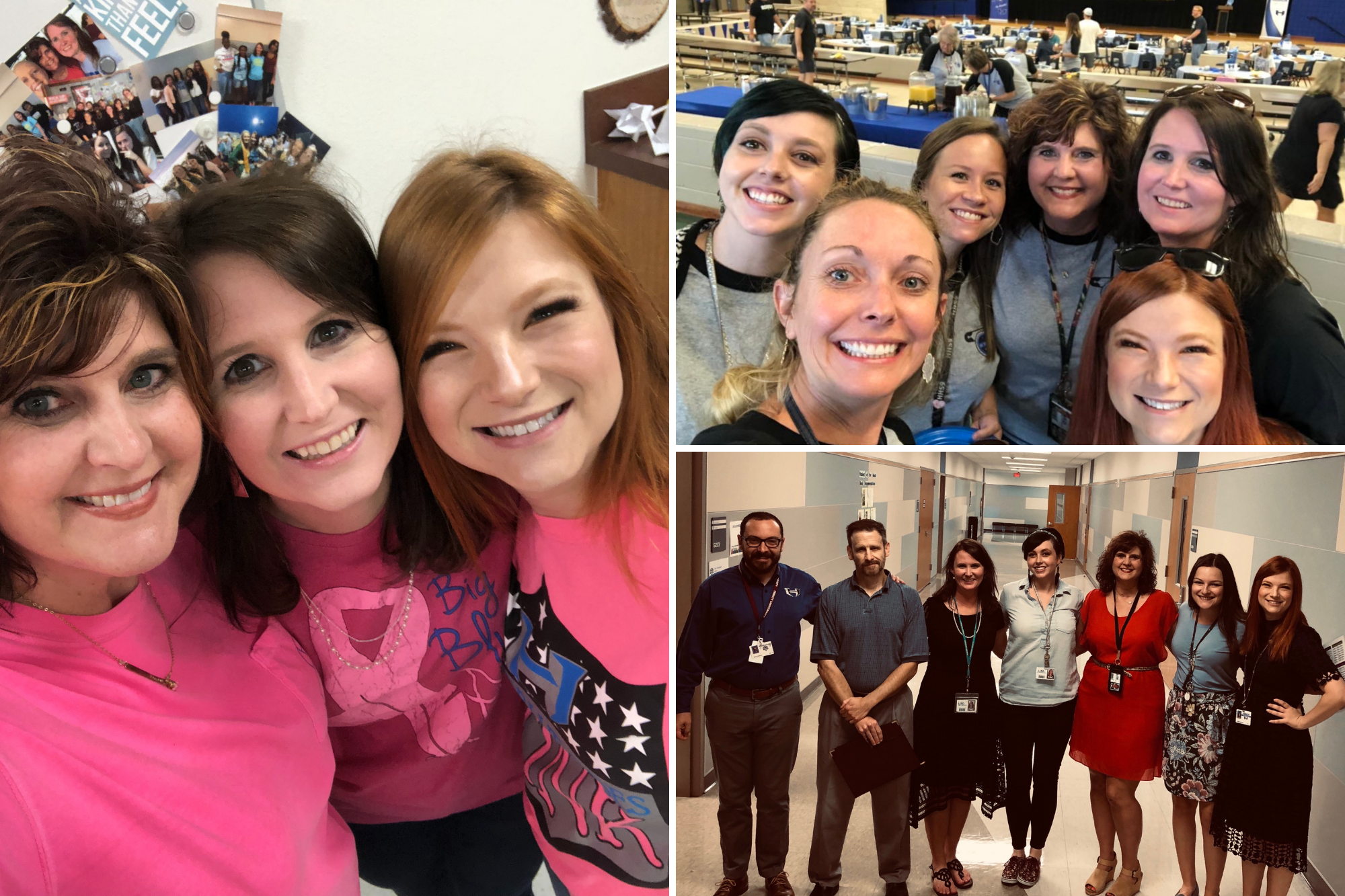 Hebron 9 Library Media Specialist with HH9 staff over the years.

"I've had chances to design lessons and send teachers online resources that they have turned around and used with their students," Whiteley said. "I have also been able to partner with administration to streamline our daily advisory programming with the needs of teachers in mind."
She continued, "I have an incredibly supportive administration that includes me in faculty meetings and department chair meetings so I can keep the lines of communication open with the Hebron 9 staff by offering services I know I have available and asking for new requests or ideas of ways I could support them further."
So far in her new role, Whiteley has created a new, interactive Library website linked to the Hebron 9 website homepage; curbside checkout for virtual students and checkout delivery for in-person students; visits with classes for library orientation and to introduce new programming both in-person and through WebEx; created 'Ask the H9 Librarian' where students fill out a Google Form with their reading likes and interests so Whiteley can email them personalized book recommendations; partnered with administration and counselors to create student advisory programming; hosted the first Hebron 9 book fair, which was virtual this year; and much more.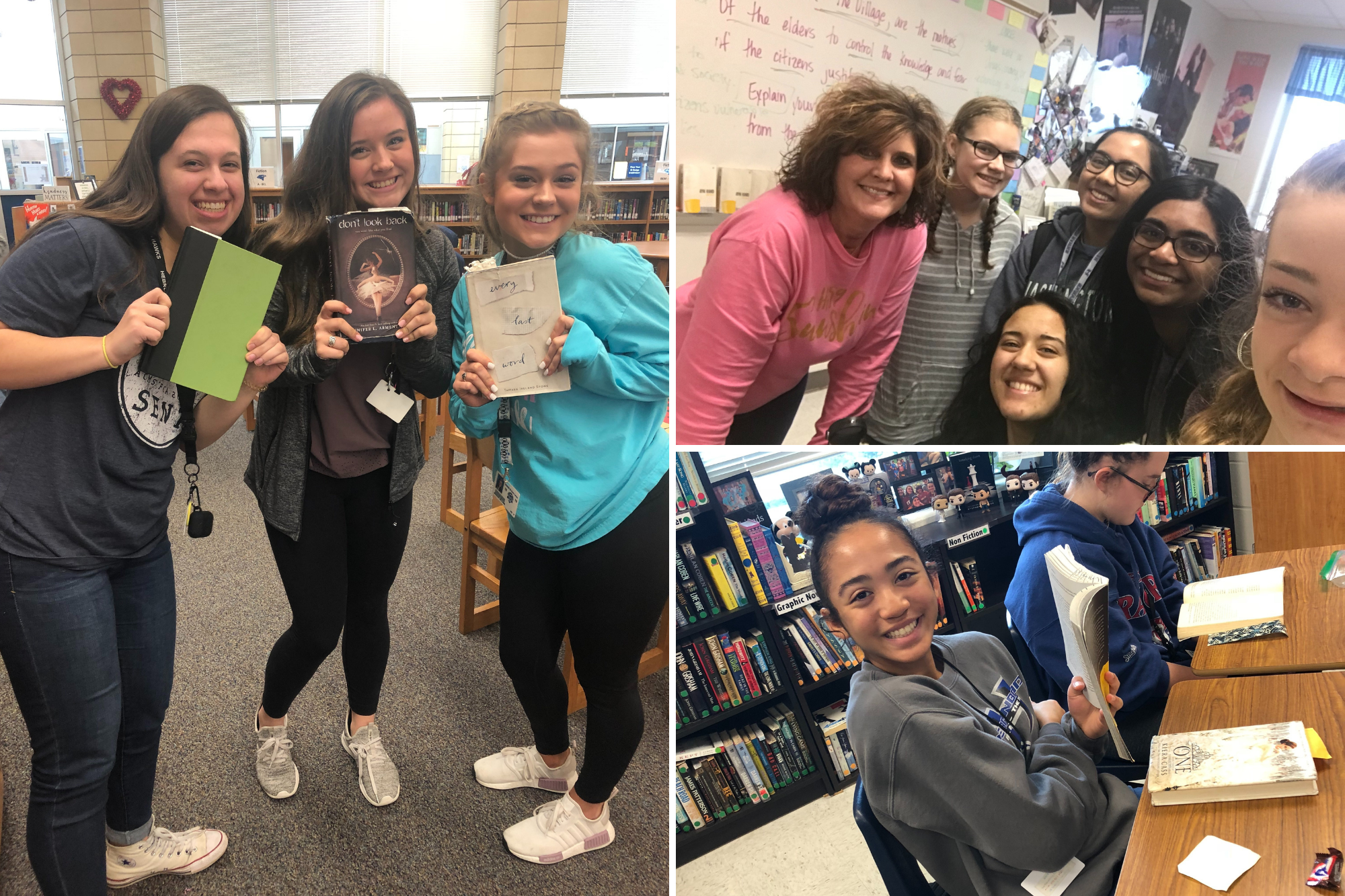 Hebron 9 Library Media Specialist with HH9 students over the years.

"I know the day will come when the library will once again be a place for students to come read and work, and I can't wait for those times because that is when I will be able to form those personal relationships with students again and feed that piece of my soul that thrives on learning through shared stories and experiences," Whiteley said, "but for the immediate future, I want to continue to grow as a support system for our teachers — as an academic partner, as a literacy specialist, as a sounding board for lesson design or innovation."
Principal Werneke said she's thrilled for the adventures ahead and looks forward to seeing what else the new librarian has up her sleeves.
"She knows and understands the power of reading, and she has made extensive efforts to connect our school community with these resources," Werneke said. "Mrs. Whiteley is thoughtful, collaborative and a lifelong learner. Much like her work with students in the classroom, she will work to engage our community in new ways. Reading offers a way for all of us to see and experience the world, and Mrs. Whiteley is determined to bring those experiences to our community."
And Whiteley herself can't wait to do just that.
"Hopefully in the not-too-distant future, this redesigned space will in fact become a home for all Hebron 9 students to grow in both literacy and learning," she said.