Return to Headlines
Flower Mound Chamber Awards | January 2023
Flower Mound 9th Grade Campus student Joslyn Wooten, teacher Chimene Tingue and school were all recognized by the Flower Mound Chamber of Commerce.

Student of the Month - Joslyn Wooten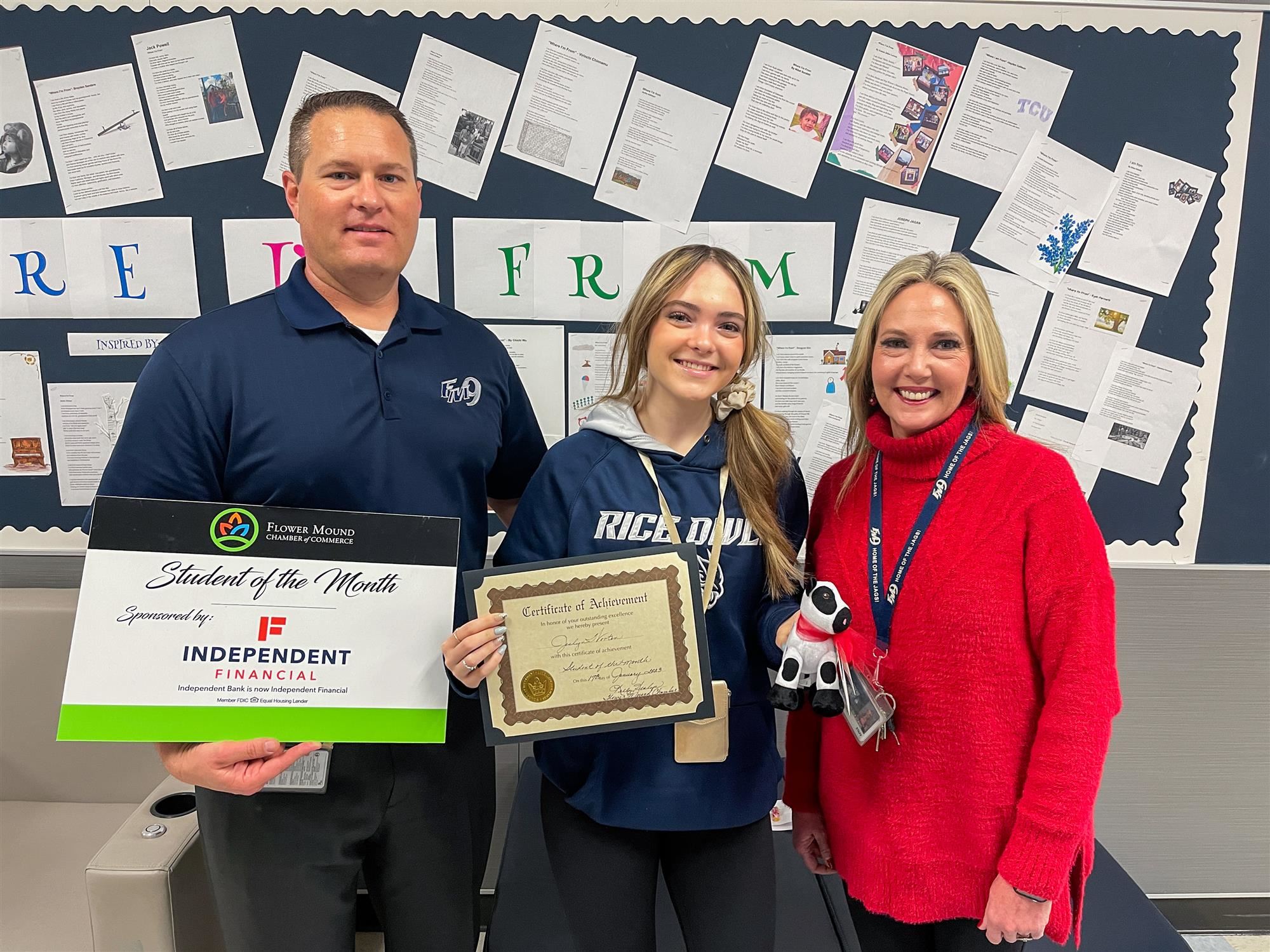 Flower Mound 9th Grade Campus student Joslyn Wooten was named the Flower Mound Chamber January Student of the Month. According to her teachers, Joslyn stands out amongst her peers because she takes extra time on all her assignments and gives her academic best. She sets goals for self-improvement beyond what is asked of her in the classroom. She is also passionate about making others feel good. Since she enjoys helping those in need, she participates in the school's P.E. Buddies program – a program fellow students to assist students with special needs during gym class. She also uses her artistic talent in painting as a stroke of kindness for others. During her free time, she loves painting and writing. She looks up to her parents because they are very inspirational and supportive. Her mother earned her doctorate degree in education while also working full time as a school principal, and her father started his own business and is always a positive and uplifting.

Teacher of the Month - Chimene Tingue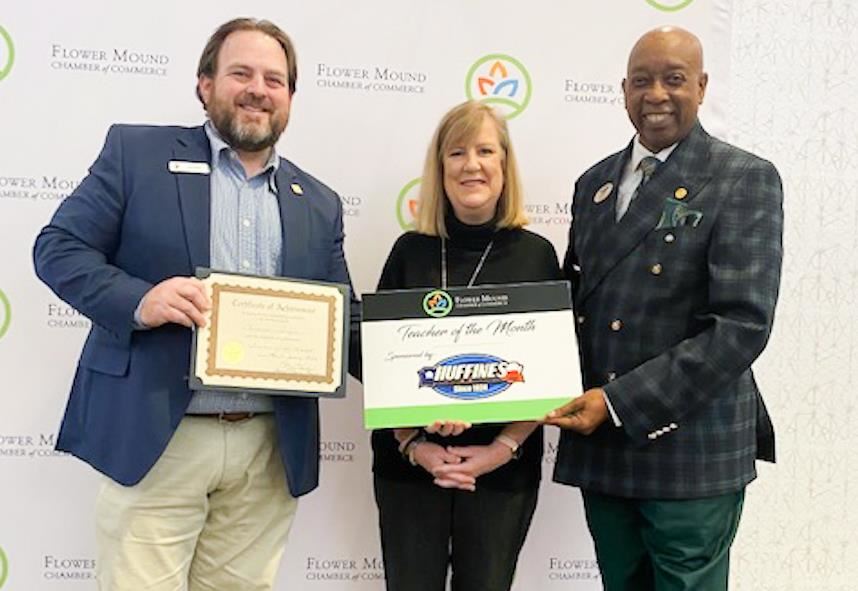 Flower Mound 9th Grade Campus World Geography teacher Chimene Tingue was named the Flower Mound Chamber January Teacher of the Month. Ms. Tingue entered the teaching world as her second career after leaving a successful career in the business field to do something that had a more positive impact. She has been teaching at FM9 for six years and feels blessed with the opportunity to do something she's passionate about. She has four children who are all products of the amazing LISD schools and are now forging their paths as young adults. In addition, she was recently named the school's teacher of the year. During her free time, she loves to read, cook, and do arts and crafts. She looks up to her parents. Her mother is the strongest person she's ever met, who is not only intelligent, but also exudes grace, kindness, and steadfast loyalty. She admires her father's curiosity and his constant pursuit of knowledge. Together, they built an exceptional foundation for their family.

School of the Month - Flower Mound 9th Grade Campus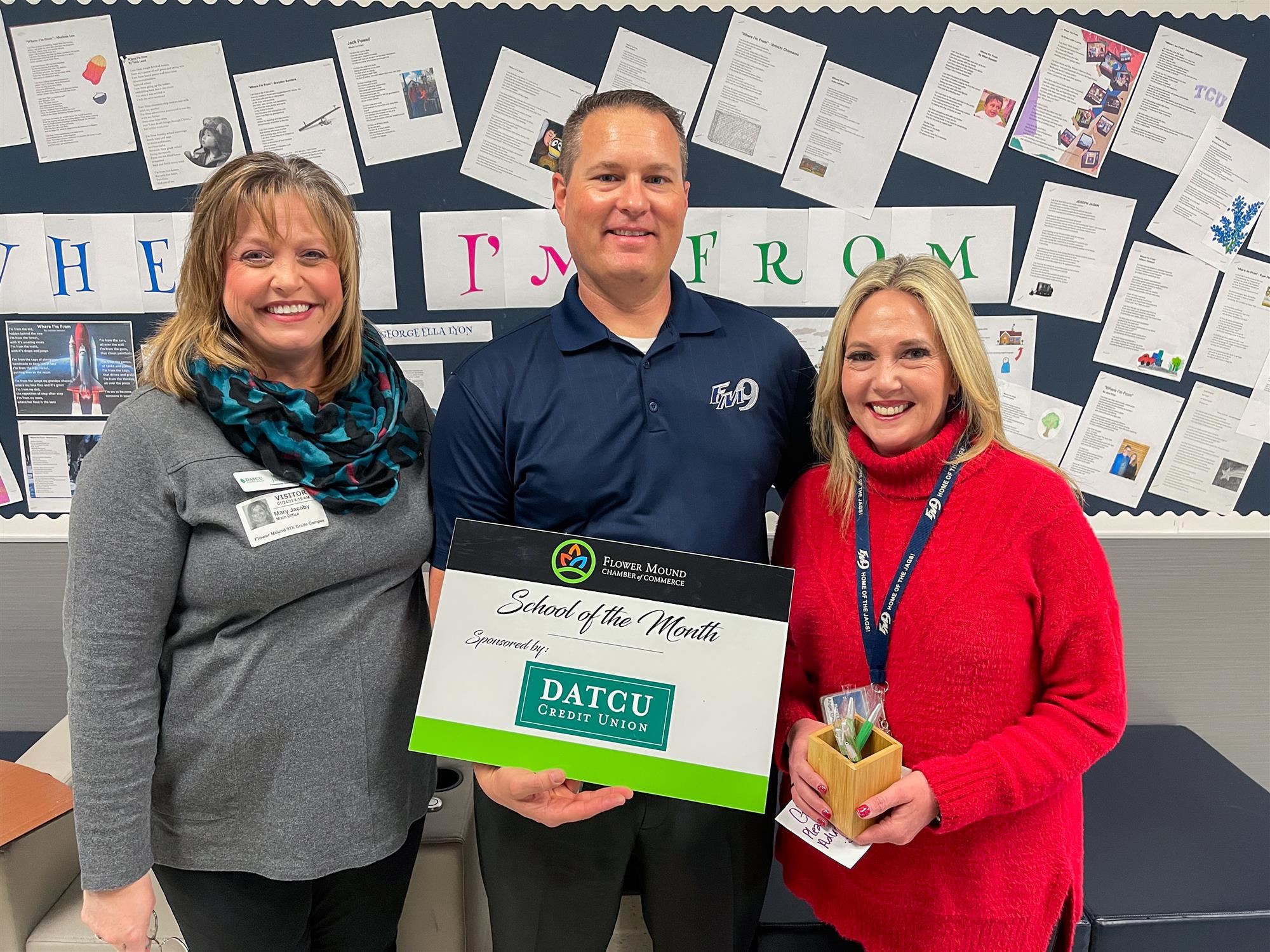 "What it's like at FM9," by Student Council President Audrey Bacallao.

"At FM9, the mornings are filled with students gathering around and chatting before the day starts. The mornings are enjoyable and very uplifting. When you walk into the Hub, the school's open-air flex space, you're greeted with laughter, conversations, and energizing music. If you're in need a morning boost, there's a cafe for students to enjoy morning coffee and snacks.
Pep rallies are one of the many gatherings students look forward to attending. They are an excellent source of inspiration that motivates team effort and spirit. These pep rallies have shown students that FM9 is a part of the FMHS community, boost morale and gets students excited for upcoming games.
Above all, student relationships with the FM9 staff are very impactful. Whether during tutoring or class instruction, teachers work hard to earn student trust and respect. The FM9 staff welcome students with open arms and are always looking for solutions to benefit students and make connections with them.
At FM9, students and staff always look forward to another day to shine together!"
---
Flower Mound 9th Grade Campus is a Lewisville Independent School District high school in Flower Mound, Texas, serving all Jaguars with engaging educational experiences, strong traditions, storied extracurriculars and future-ready opportunities. Follow FMHS on Facebook and Twitter to see more throughout the school year. Join the Lewisville ISD family by enrolling today, or visit Best Schools in Texas to learn more.