Return to Headlines
Flower Mound Chamber Awards | February 2021

STUDENT OF THE MONTH | JORDAN HOLT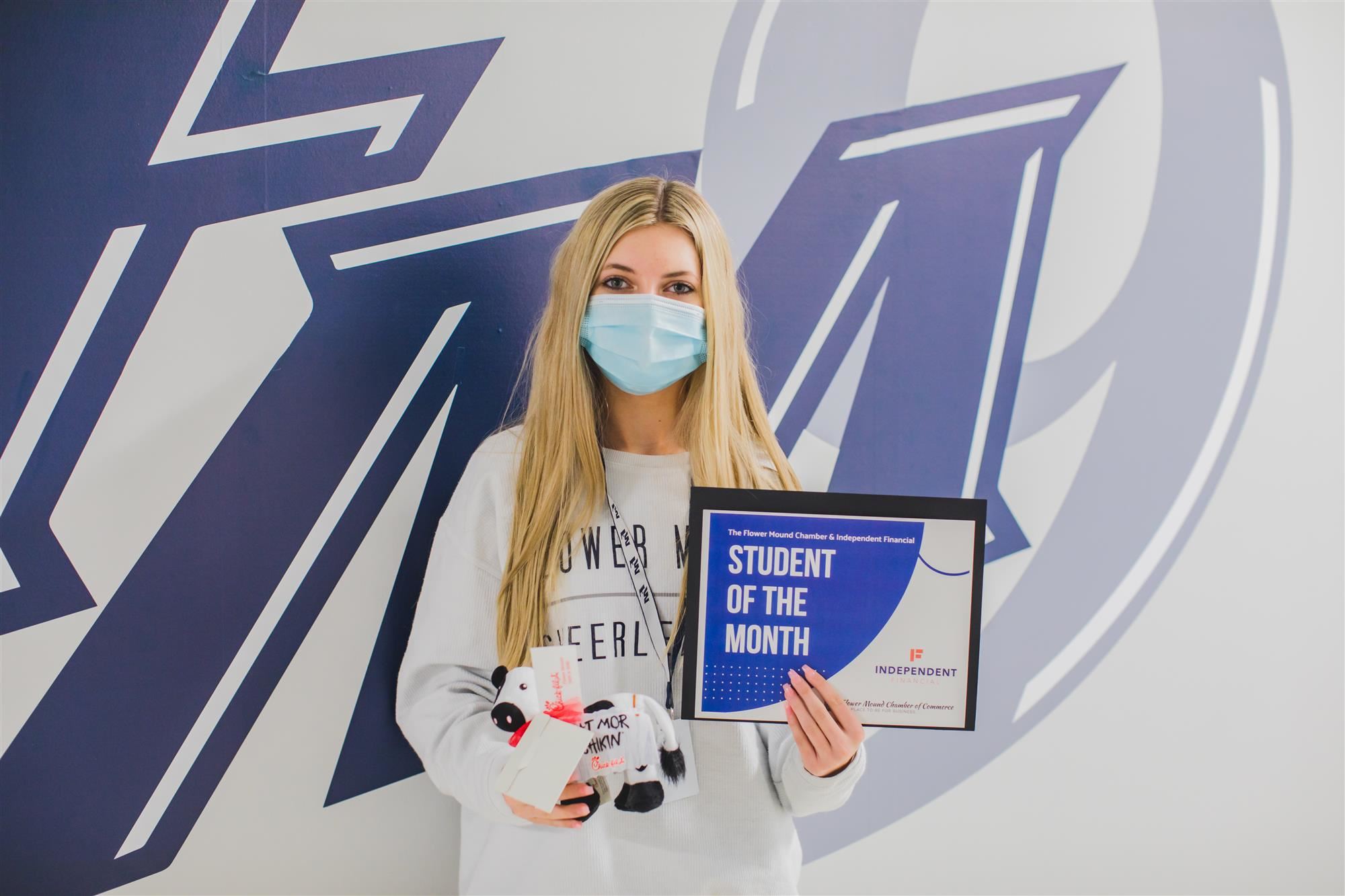 Flower Mound 9th Grade Campus freshman Jordan Holt was recognized as the Flower Mound Chamber/Independent Financial February Student of the Month. According to her teachers, one of the reasons Jordan was selected to receive this award is a result of a lesson she participated in about self-concept and self-esteem in her Lead Worthy class. Through this lesson, Jordan suggested the class participate in a project to enhance self-esteem across the student body at FM9 by posting positive affirmations strategically around campus. After pitching her idea to the class and receiving positive feedback, she went home and researched the effectiveness of such an idea, then shared the results with the class the next day. After getting the entire class onboard with her idea, she orchestrated the whole project, assigning each classmate a role.

To learn a little more about Jordan, we asked her the following questions:

Tell us about your hobbies, volunteer work, or sports teams you follow.

I love to cook and bake. My favorite thing to bake is lemon meringue pie and raspberry tarts. I am a Flower Mound Cheerleader, and I love supporting my school.

Who are your family members?

My parents are Katy Holt and Gary Holt. I also have a sister, Hannah Holt, and a brother, Clay Holt. I am very thankful to them for supporting me and inspiring me.

What makes your family special?

My family loves to have dinner together every night and talk about our days.

If your family had a motto to live by, what would it be?

If my family had a motto, it would be that honesty is the best policy because we think being truthful is the key to being happy and healthy.

What do you love about your school?

I love how much my school has to offer and it is really cool to talk to people about all the interesting classes they are taking.
TEACHER OF THE MONTH | CHIMENE TINGUE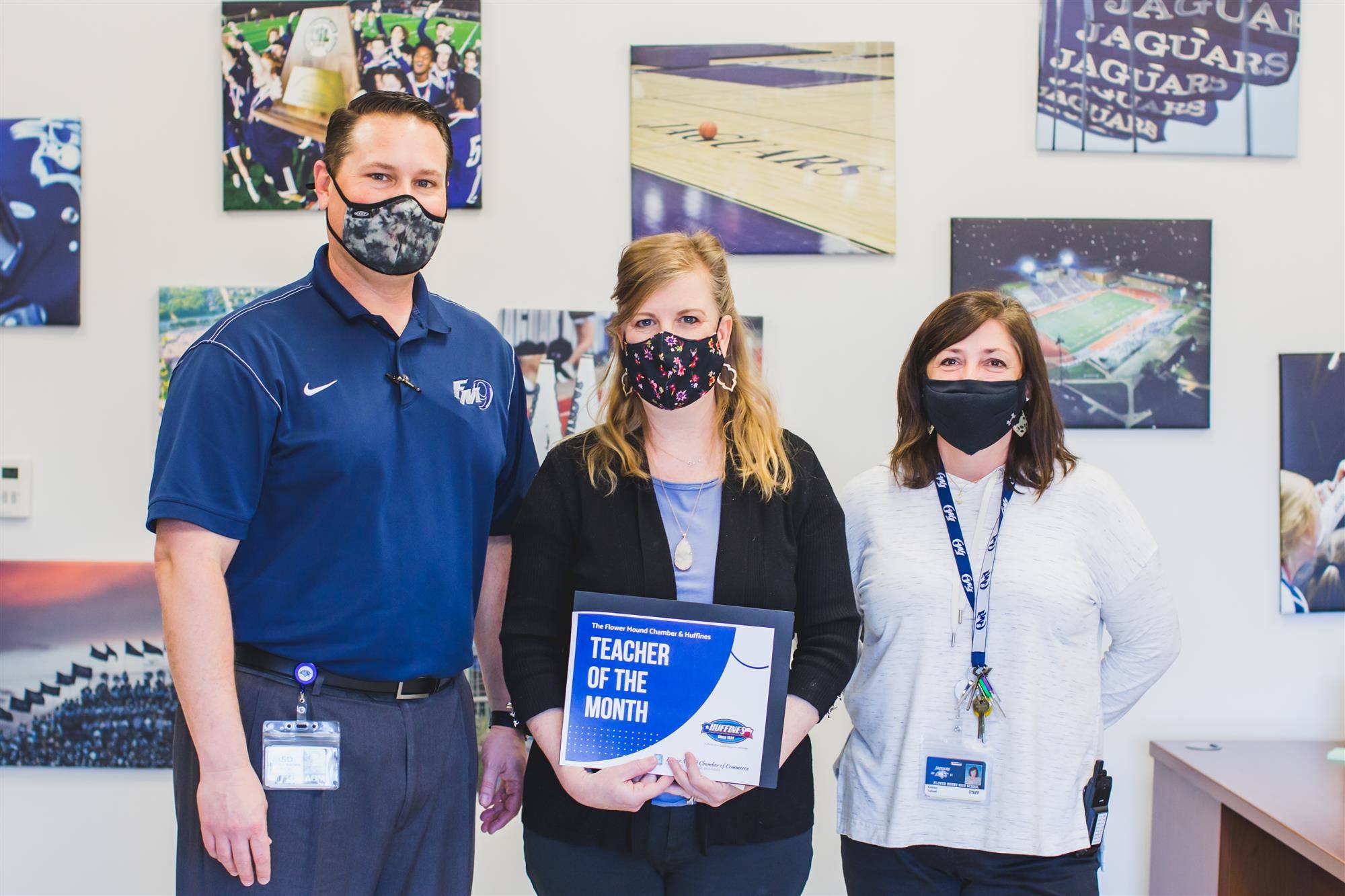 Flower Mound 9th Grade Campus World Geography teacher Chimene Tingue was recognized as the Flower Mound Chamber of Commerce/Huffines Auto Dealership of Lewisville February 2021 Teacher of the Month. According to FM9 Principal Jeff Brown, Ms. Tingue has only been teaching for about three years and this year, she was asked to teach virtual classes due to the pandemic. Initially, she was hesitant to teach virtually because she didn't want to miss out on the best part of teaching, seeing her students every day and building enduring relationships. However, she quickly embraced the opportunity and started to focus her energy on how to create student engagement in the virtual world.
As a rock star teacher does, Ms. Tingue set about learning new virtual platforms to entice students to attend her virtual sessions, collaborating with her peers on increasing student engagement, and asking her students how she could improve. Ms. Tingue's virtual classes are now full of engaged learners who are able to collaborate and increase their ability to have meaningful discussions with their peers.
During these uncertain times, students are having to isolate themselves for health reasons, and Ms. Tingue is a shining example of how hard our teachers work to meet students where they are and provide the best learning experience possible.

SCHOOL OF THE MONTH | FLOWER MOUND 9TH GRADE CAMPUS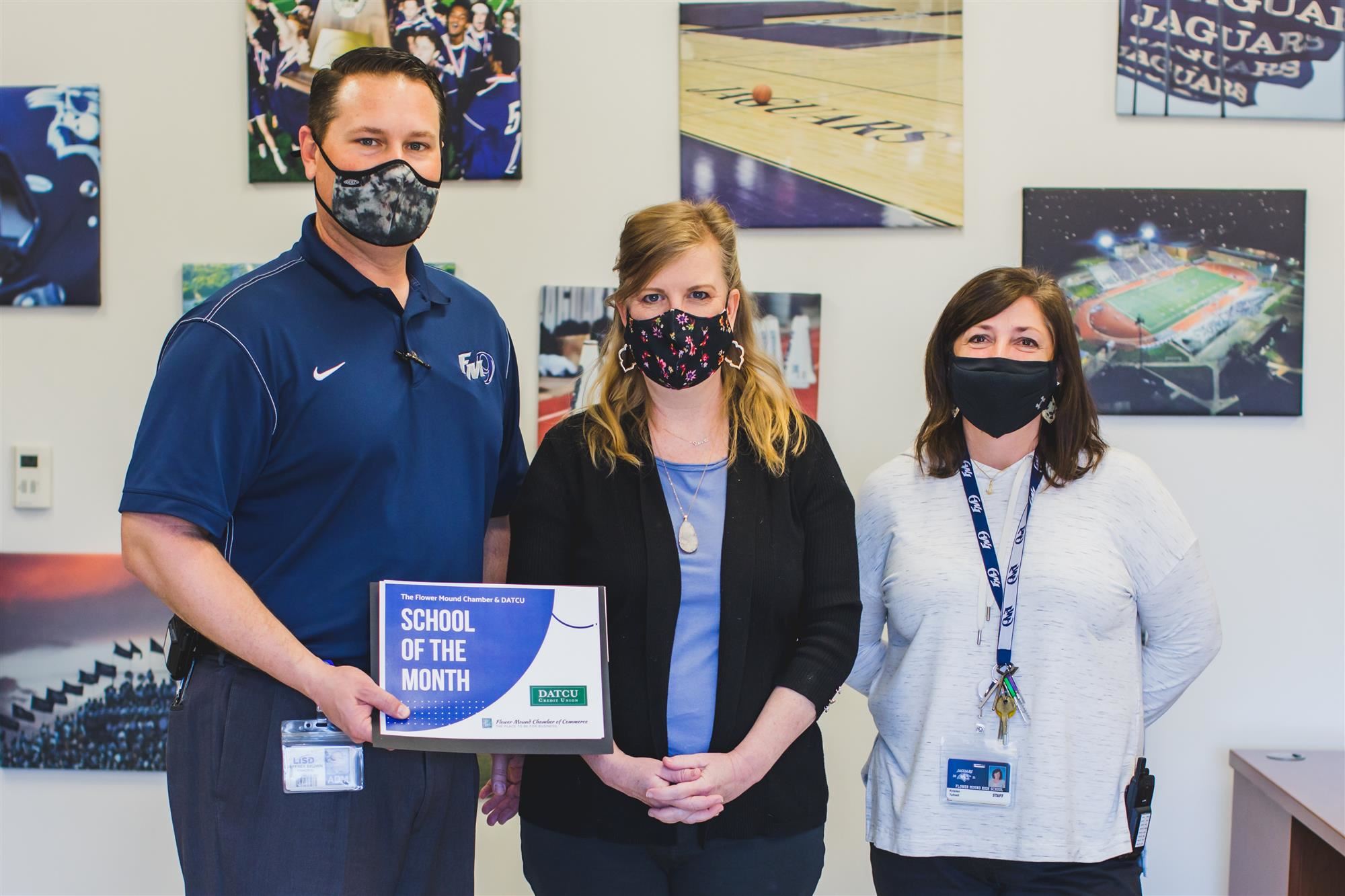 Flower Mound 9th Grade Campus was recognized as the Flower Mound Chamber and DATCU School of the Month for February 2021. At FM9, students have the unique opportunity to learn in a flexible environment where they can explore interests as we all work to connect the learning to their community and lives.
Students are able to attend core classes in a wonderful, engaging environment that is completely focused on supporting the transition to high school. At FM9, students are encouraged to embody the spirit of Jaguar Pride, and all students are invited to participate in the varied extracurricular activities, clubs, and courses that are available at both FM9 and Flower Mound High School.
FM9 teachers lead the way in implementing 21st-century learning skills into their classes, and they are committed to the continual professional learning that is a critical component of keeping the instruction at FM9 grounded in data-supported, research-based education practices. Every member of the FM9 learning community stands behind our common goal to be a lighthouse school for engagement in the 21st century.
---
| | | |
| --- | --- | --- |
| February | School | Flower Mound 9th Grade Campus |
| | Teacher | Chimene Tingue, World Geography |
| | Student | Jordan Holt, 9th Grader |
| January | School | LISD STEM Academy at Bridlewood Elementary |
| | Teacher | Joyce Kirk, Kindergarten |
| | Student | Caden Burrows, 5th Grader |
| November | School | Forest Vista ES |
| | Teacher | Forest Vista ES Virtual Pre-K Team |
| | Student | Gracie Shaw, 5th Grader |
| October | School | Heritage ES |
| | Teacher | Kelsi Kunz, Virtual 1st-Grade Teacher |
| | Student | Jackson Sasser, 5th Grader |
| September | School | McKamy MS |
| | Teacher | Brilliance Crayton, Science Teacher |
| | Student | Mia Kline, 8th Grader |
---
Flower Mound 9th Grade Campus is a Flower Mound, Texas high school in the Lewisville Independent School District. Follow FM9 on Facebook and Twitter to see more from Jag Nation throughout the school year or visit Best Schools in Texas for more information about joining the Lewisville ISD family.