Return to Headlines
Flower Mound High School Volleyball Program in National Spotlight
From the Winter 2020 edition of LISD's The Loop Magazine. Note: FMHS is in the UIL Class 6A state semifinal and will take on Klein on Tuesday, Dec. 8 at 6:30 p.m. at Leon High School in Jewett.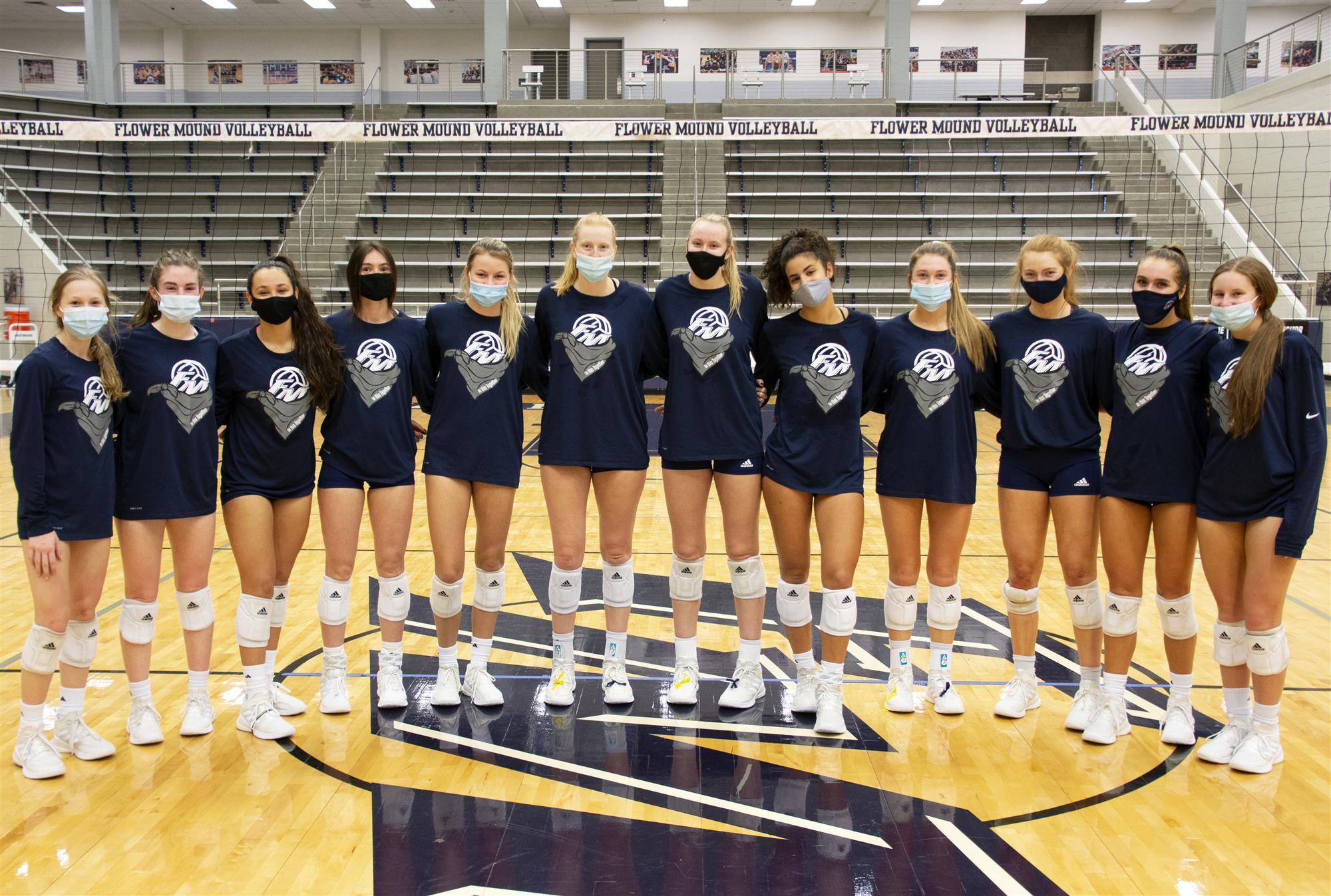 The Lady Jags' 8-0 start to the 2020 season earned them the No. 1 ranking in the country.
There are eight high school volleyball teams in University Interscholastic League's District 6-6A. There are 244 teams in UIL Class 6A. There are 1,176 teams across all of UIL's classes in Texas. How many teams are there in the entire United States? That would be more than 15,000.
If you look at a recent version of the American Volleyball Coaches Association/USA Today Super 25 national rankings, the No. 1 team out of all those squads is Lewisville ISD's Flower Mound High School. The Lady Jags, who won their first state championship in 2018 in head coach Jamie Siegel's first year, continue to elevate the program where people are noticing beyond Texas.
"I'm extremely proud of the young ladies for all the hard work they put in day in and day out," Siegel said. "They deserve the national recognition and continue to make me proud, as well as the entire Town of Flower Mound."

FMHS Principal Chad Russell agrees.
"Lady Jag volleyball is on a long list of FMHS programs that have received national recognition over the years," Russell said. "We are so proud of how this program represents our school and community. It is not by accident that the volleyball team is receiving such attention. It is a testament to the commitment of our student athletes, coaches and community."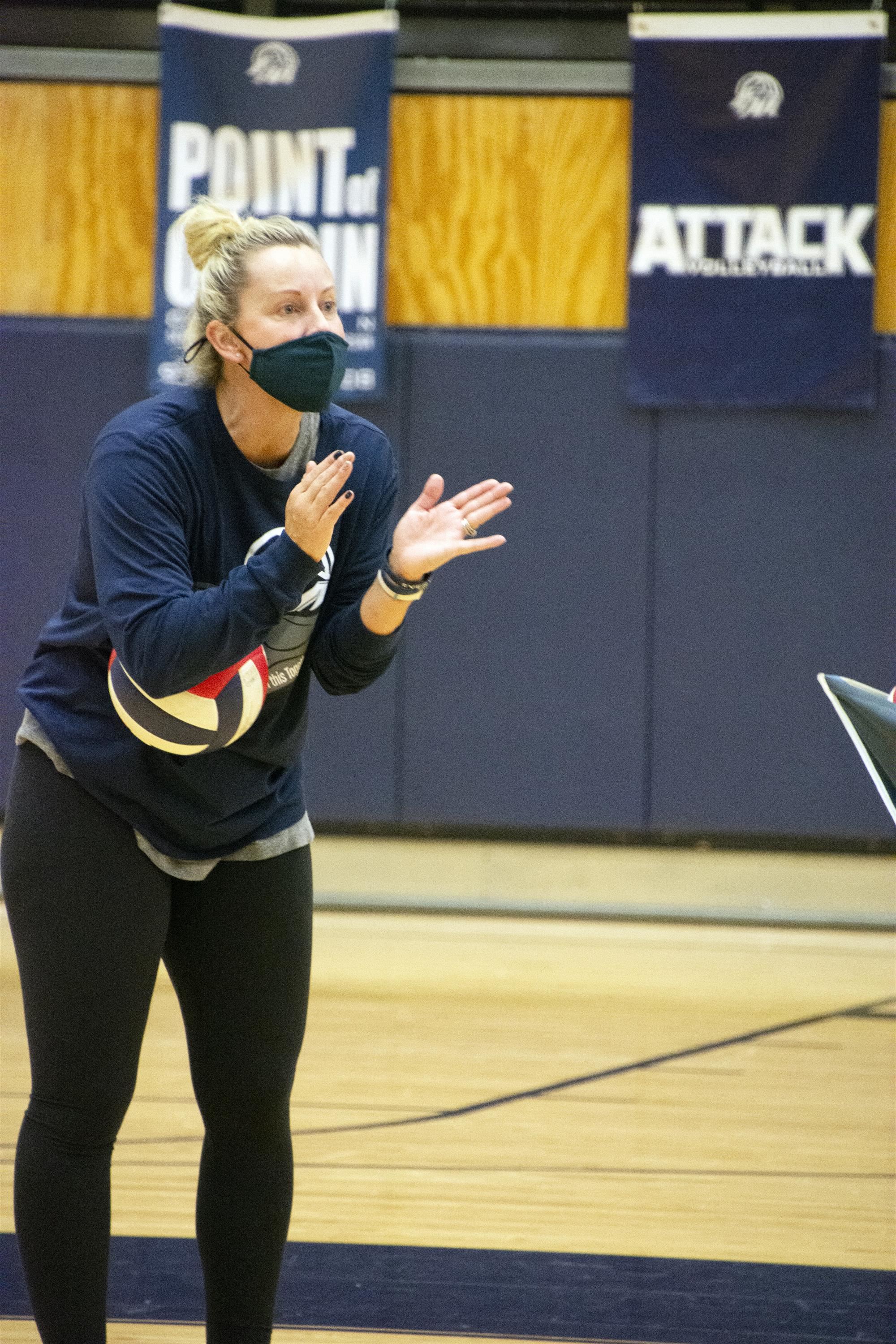 Jamie Siegel boasts a 93-12 record with a state title and two district championships since becoming FMHS head coach in 2018.
The squad of Elaina Amador, Kaylee Cox, Maddie Cox, Angelique Cyr, Frankie Davis, Meredith Doucet, Caroline Dykes, Lauren Holmes, Hailey Hutchings, Izabella Ortiz, Megan Farris, Gabby Walker, Brianna Watson and Catherine Young surged to an 8-0 start to the season to land in the national poll's top spot for Week 7, which published on Oct. 13. The team is happy about the national recognition, but tries not to focus on it too much.
"The national recognition shows how hard we've worked and what our program has accomplished the last couple of years, but we try not to pay much attention to it and focus on our goal of winning another state title," said senior outside hitter Kaylee Cox, who was on the 2018 championship team.
Added senior outside hitter Angelique Cyr, who was also on that 2018 squad: "The national ranking is exciting because it shows how we've taken the program to a whole new level, but we can't look at recognition and awards like that for very long because we have to play so many tough teams, especially in our own district."
All-state selections Kaylee Cox and Cyr are headed to the University of Missouri and Arizona State University, respectively, to play volleyball next fall. Seniors Caroline Dykes (East Tennessee State University) and Hailey Hutchings (Grand Canyon University) also plan to play beyond this year. Those four will make it nine student athletes advancing to the next level since Siegel took the helm.
Kaylee Cox and Cyr are both quick to point out their head coach has been instrumental in getting FMHS on the national volleyball map. Counting the hot start to the season, Siegel's overall record with the Lady Jags is 93-12 with district crowns each year. She is assisted by Eiji Davis, Susan Poffenroth, Lexi Walter and Rebecca Willett.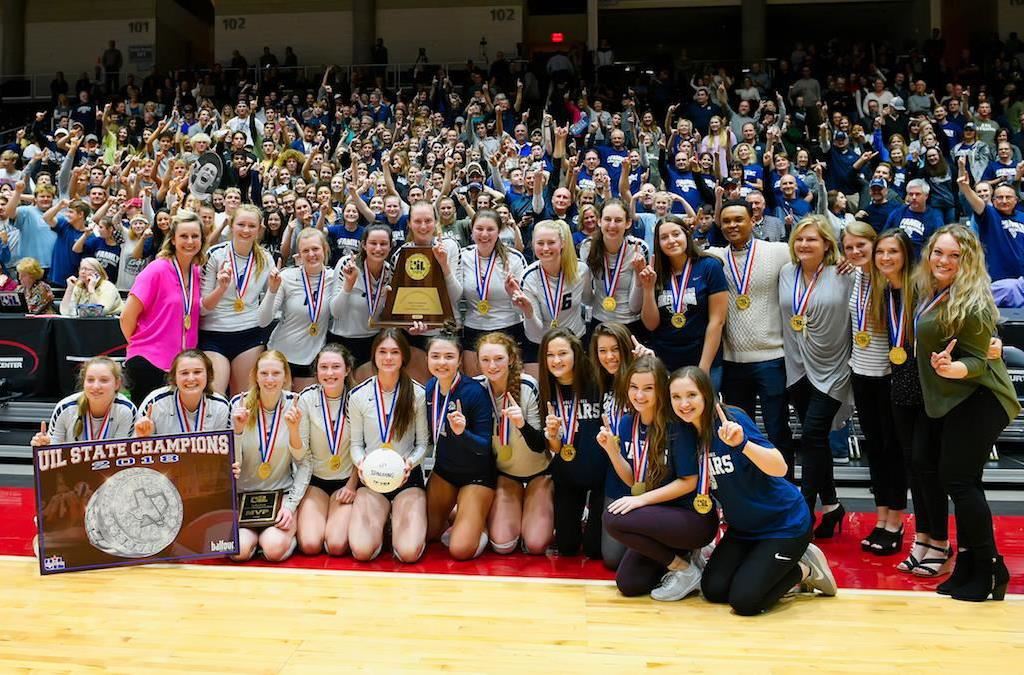 Flower Mound High School celebrates its first volleyball state championship in 2018.
"Coach Siegel's style is tough and she can be different than most coaches, but most importantly, she keeps us together as a family," Cox said. "We trust her. If she makes a mistake, she owns it."
Added Cyr: "Coach Siegel has definitely made a name for herself and helped our program tremendously. It's tough love, but she is like our second mom. She treats us like people, not just volleyball players. She cares about us."
Siegel gives the credit to her players for the program's rapid success.
"The young ladies have done it," Siegel said. "They bought in from the start, work hard and focus on enjoying the process – knowing there will be hard days with it."
Some days may be hard, but right now they are all the best days. The best out of all the teams in the nation.