Return to Headlines
Student Showcase: High School Art Show
Every year, the Lewisville Grand Theater spotlights artwork from every LISD school in the district in its main art gallery. The opening exhibition featured work by LISD high school students, showcasing the talents of these young artists. We recently sat down with distinguished participants and their art teachers to discuss their work, inspirations and future goals.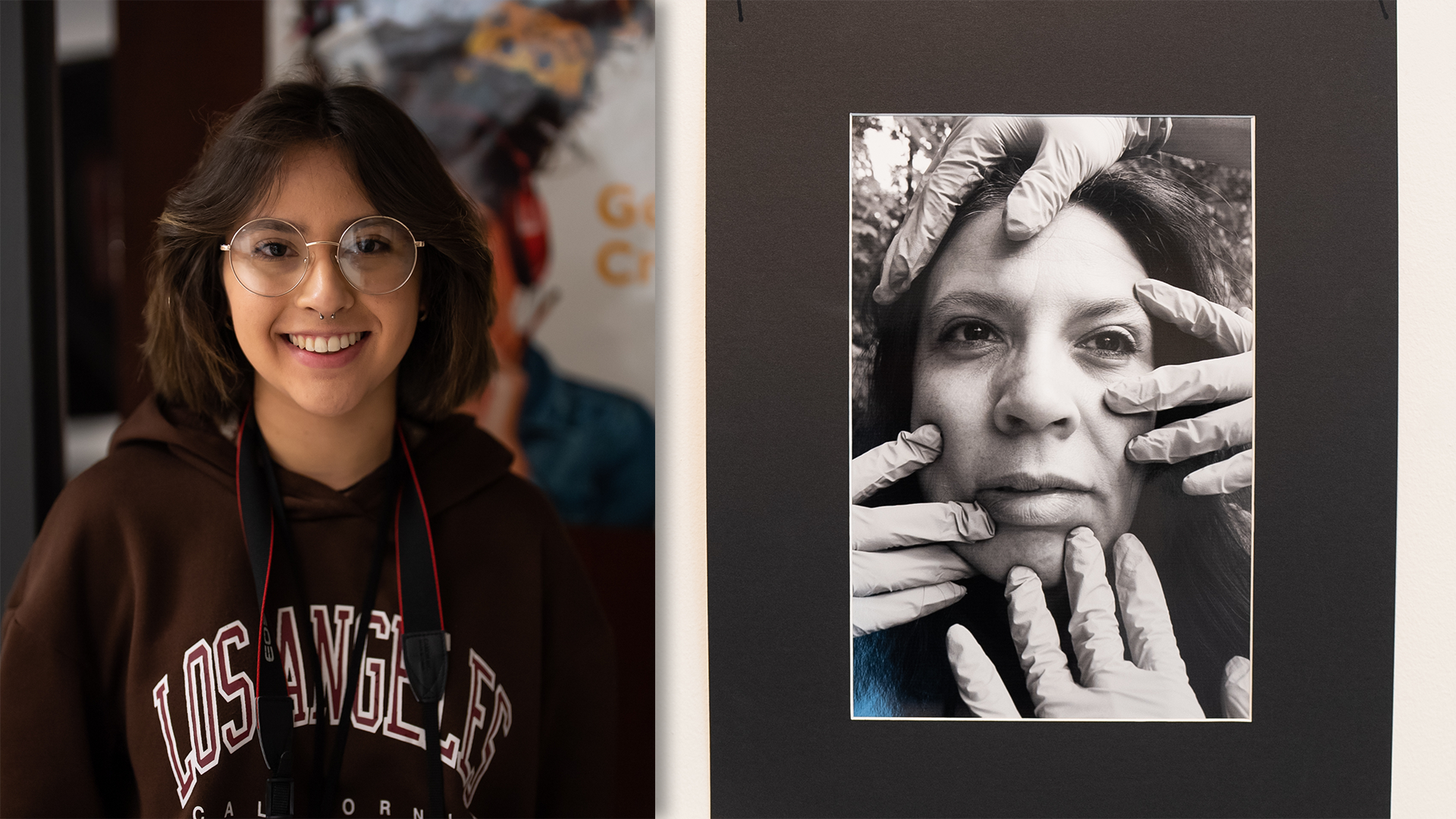 Regina Solis-Ramos
Junior at Marcus High School
Third Place Winner
On inspiration:
"I was trying to interpret being constantly examined all the time. I've gone through a lot of treatment for depression and anxiety. A lot of my high school experience has been going to doctor's appointments and going to group therapy and it always feels like you're being examined – you're being looked at even when there's nothing going on."
On showcasing her work:
"The piece about mental illness was really comforting because obviously it was kind of uncomfortable to photograph and it was also difficult because it was so personal. Trying to get that across to viewers is kind of challenging, but I'm really glad that people find it interesting to look at, even if they don't know the full story."
Kathy Toews
MHS Art Teacher
"When the students show up for the art show opening and they see their picture matted and hung on the wall, it becomes real for them and all of the sudden they see it as a real piece of art instead of just something they've been working on in the classroom or in the camera."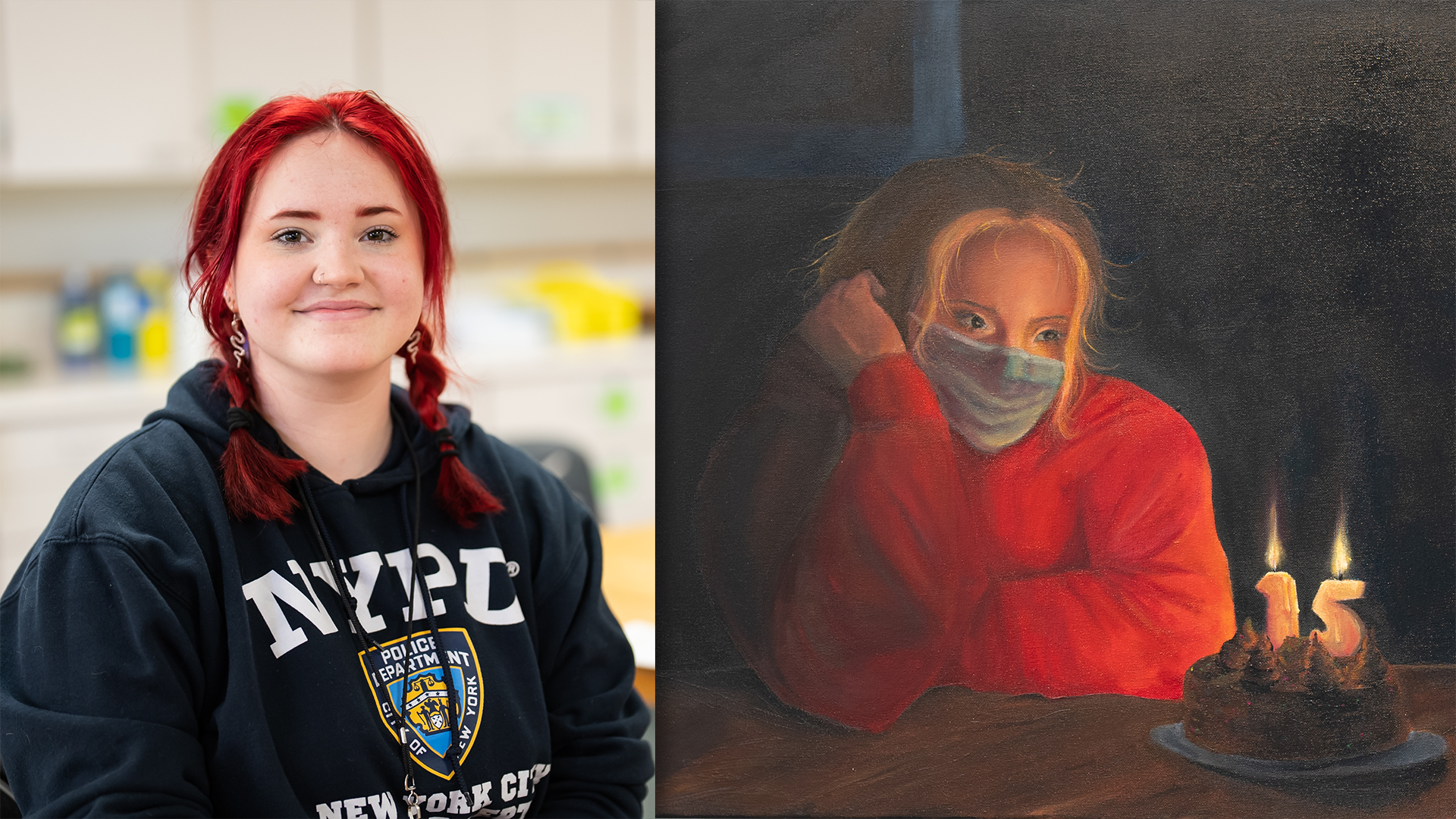 Ashtyn Baker
Senior at The Colony High School
Principal's Choice Award Winner
On inspiration:
"I entered a painting called '15.' It's about my 15th birthday during COVID. I thought that it was something that everybody could relate to and just bond over because it was such a long experience."
On showcasing her work:
"Being entered into the district art show was really nice. I felt like it's been a great accomplishment and getting the Principal Award made me feel a sense of school pride. It's freeing – I want to major in art in college and it's not always the best major for some, but I figure that having all of these awards and these shows under my belt will help me in the future."
Heather Jones
TCHS Art Teacher
"The district art show is always really hard to even get work into, so the fact that we got in quite a few pieces this year and had several students win awards, that was really exciting this year. [The art show] gives them a place to have people come to a real art gallery to see their work, so it's just like a real art gallery experience when they have their work in there."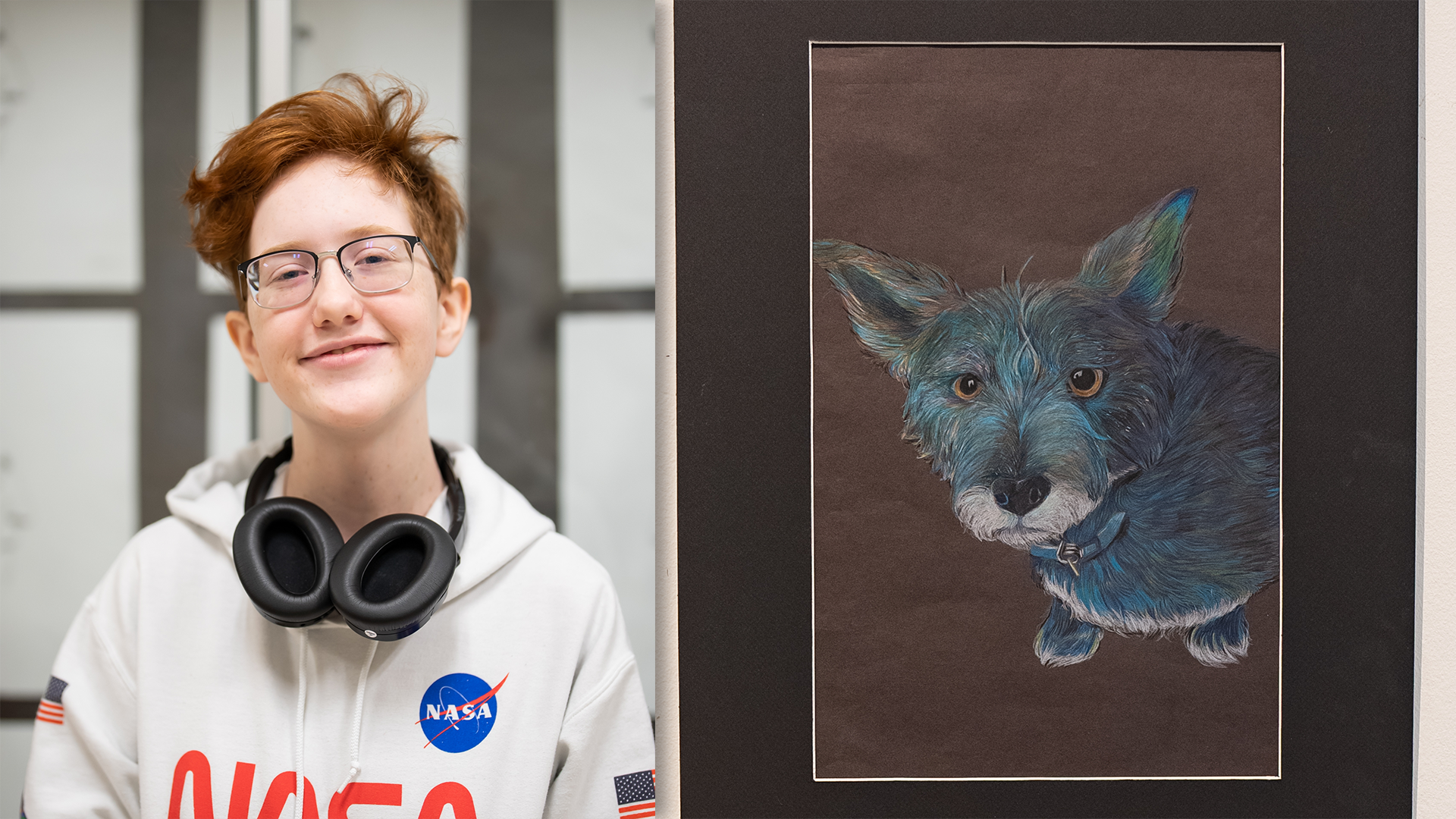 Elliot Wallace
Senior at Lewisville High School
Art Director's Award Winner
On inspiration:
"The [artwork] that won the award, it was in colored pencil and charcoal and It was a picture of my dog. Because it was on a black sheet of paper, I had to do it in blue because I was trying to lighten him up, and he started looking rainbow and at some point, I was just like 'whatever man, we'll go weird with colors!'"
On practicing with different media:
"I almost exclusively do digital art and I've known for awhile that I need to practice doing traditional art. So while the portrait piece was just practicing proportions, I like the 'Blue Dog' more because it allowed me to experiment with colors and use a medium that I don't typically use."
Eric Champion
LHS Art Teacher
"Art is a lonely hobby. You sit in a room and you hunch over a piece of paper or in front of a canvas and it's just you and a pair of headphones. And when you finish it, you hope somebody will see it. Maybe they will, maybe you post it online and someone will see it. But having your work hang in a gallery and have everyone be able to see it – athletes take that for granted, someone's watching; performers, choirs, bands, somebody's watching – but art is a lonely pursuit. So when a gallery show happens and everybody's there and they're seeing it, not all artists get that and it's a huge thing to introduce them to at this stage. The little spark of how an artist begins? It begins when you have a piece in the LISD Art Show."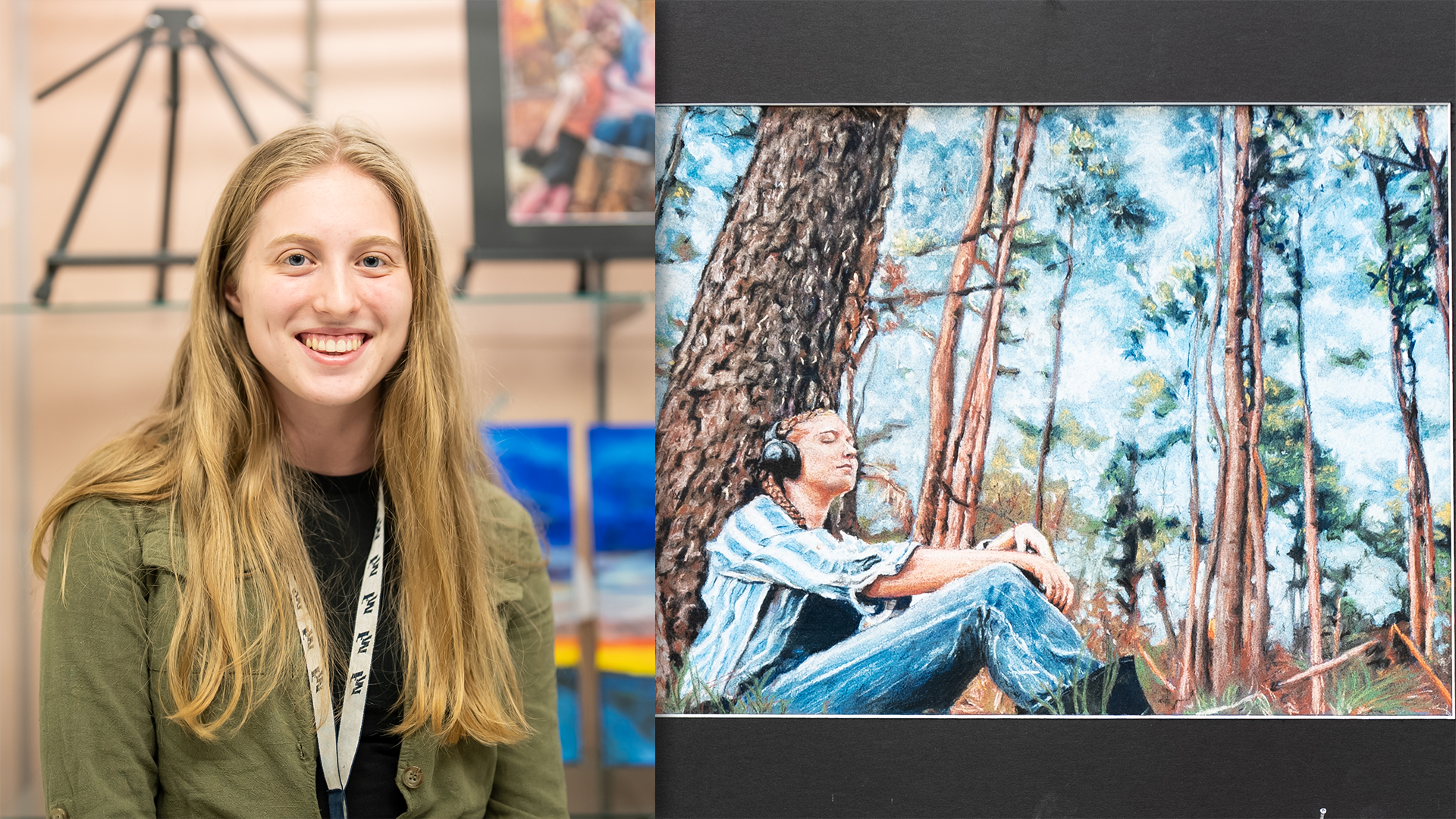 Annabelle Thomas
Senior at Flower Mound High School
First Place Winner
On inspiration:
"A lot of my pieces are inspired by nature and stuff like that. There's a lot of nature in my art because I grew up going behind my house in the creek and at my grandparents' farm and it just makes me really happy. I've entered a ton of shows in the past year and you win some, you lose some, but I'm really happy that people are liking these pieces because my goal is to just want people to be happy and calm when they look at my art because that's the feelings that I'm feeling that I want to portray."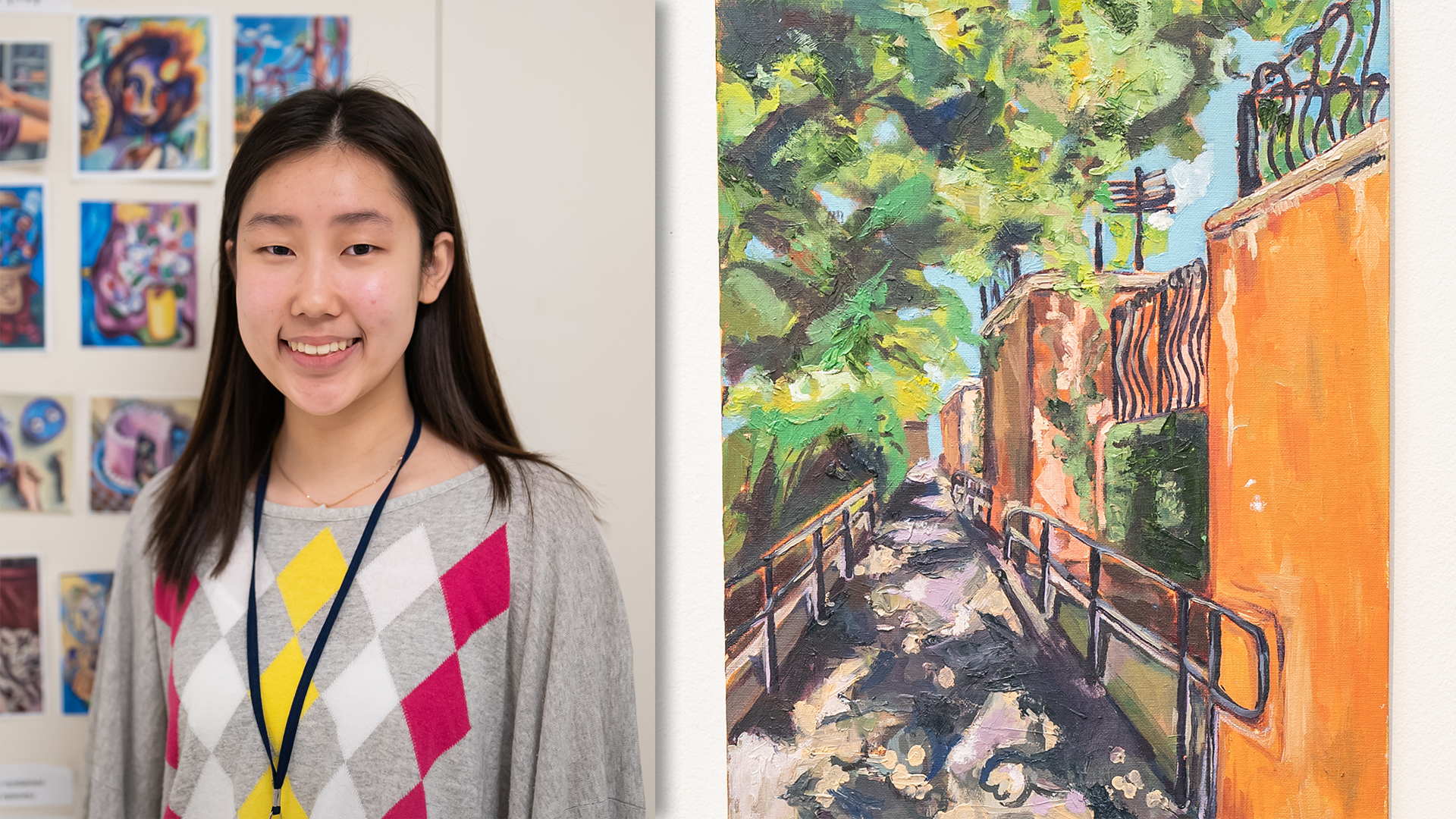 Alice Won
Junior at Flower Mound High School
First Place Winner
On inspiration:
"I went to a cabin with my grandparents over the summer and there were a lot of trees and grass and a lot of textured plants. So I wanted to draw those and paint those in my interpretation with a lot of different colors like purple and orange and greens that aren't normally seen on trees. It was a beautiful scene and I wanted to make it kind of whimsical."
Michelle Soto
FMHS Art Teacher
"They're phenomenal students. They have so many more opportunities to display their art now versus what we had [at Marcus High School] decades ago. It's really wonderful to be able to showcase what they do. I get to see their stuff all the time, and I always have feedback from people who walk the halls and see their stuff and to get it out into the public and show parents and the community, it's a real joy. It's really nice."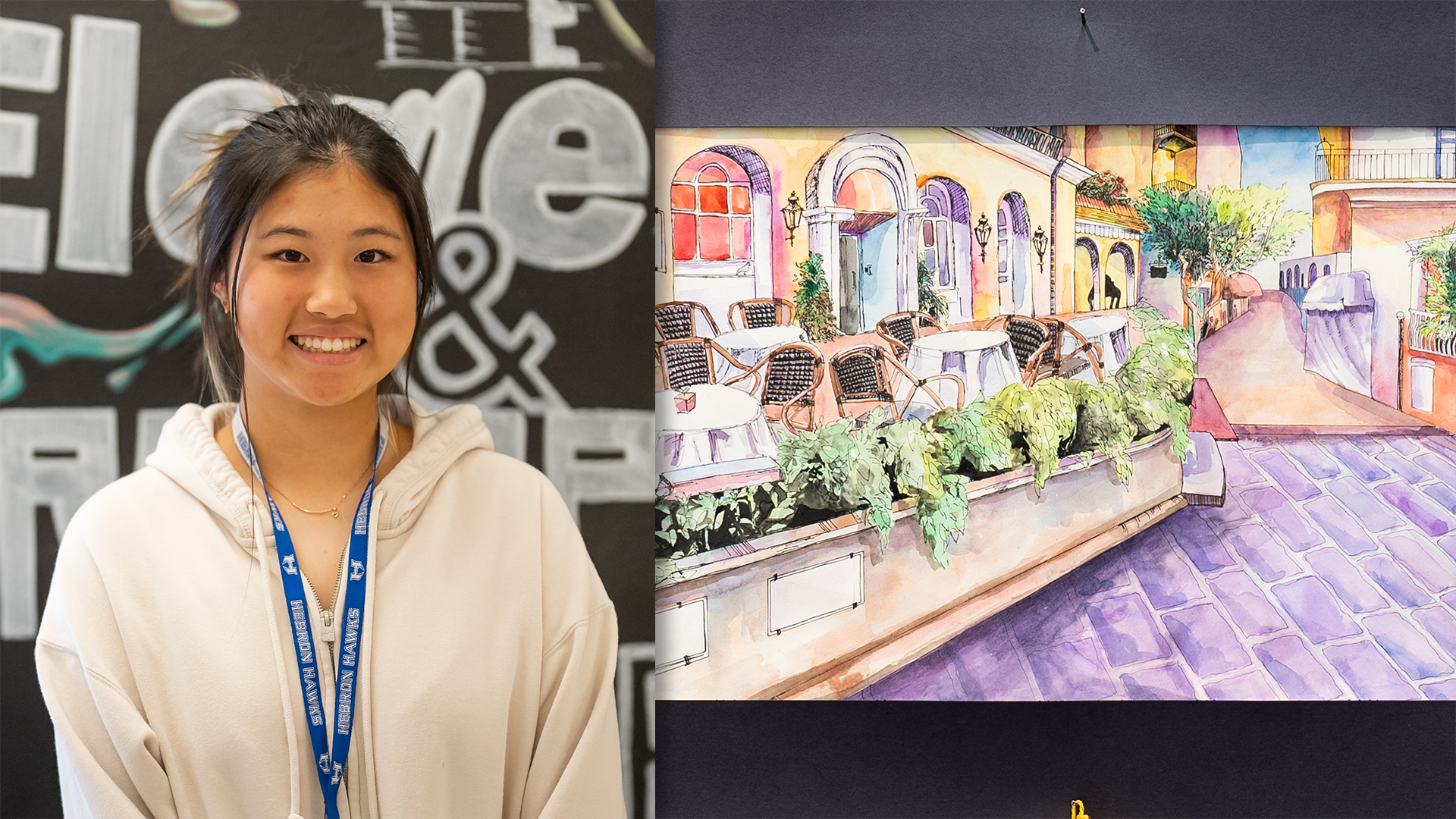 Karen Chen
Sophomore at Hebron High School
Superintendent's Award Winner
On inspiration:
"My piece was a watercolor piece of a landscape. I painted it because I thought the photo was really nice and had really vibrant colors, so I wanted to emulate that in my piece. [Watercolor] is something that I really wanted to try on, because I'm not the strongest in this medium. I really wanted to challenge myself and do something out of my comfort zone."
Caleb Jacks
HHS Art Teacher
"A lot of the kids that are in the art show, I've taught in middle school, and now to see them winning awards as upperclassmen and to see that growth is probably the coolest part for me. I don't know that students realize how large LISD is, and I think to win something like the Superintendent's Award, it can be hard to really grasp how amazing that is."
---
The Lewisville Grand Theater Art Gallery is open Tuesday – Saturday, 10 a.m. – 5 p.m., as well as during public events at The Grand. The gallery will feature the works of LISD middle school students from March 24 - April 8 before closing out the season with two elementary school showcases, beginning April 14.

Click here to visit the Lewisville Grand Theater website to learn more about the venue and art galleries.