Return to Headlines
The Colony Chamber Awards | May 2021
MAY STUDENT OF THE MONTH | FRANKLIN CORONA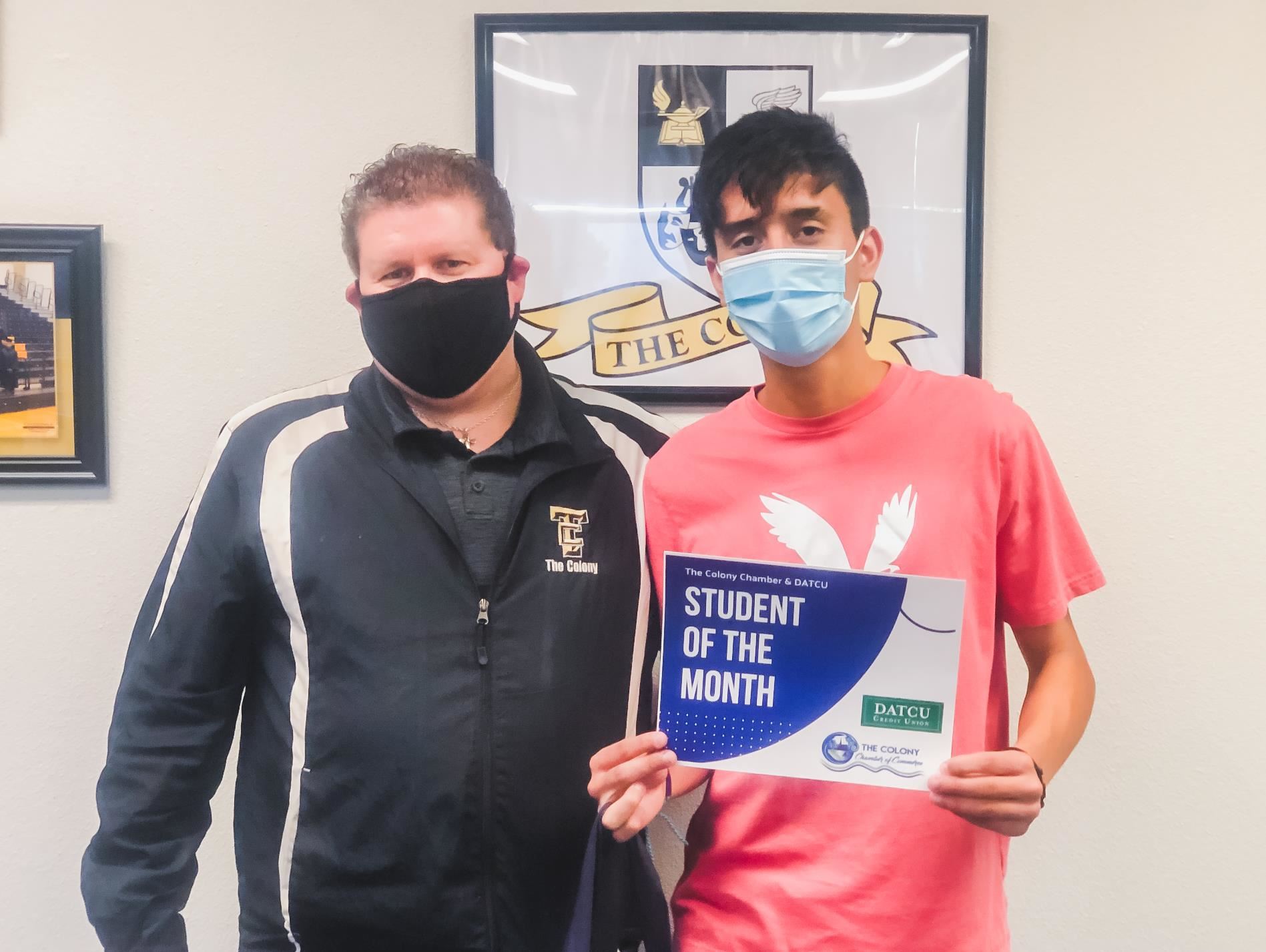 The Colony High School senior Franklin Corona was recognized as The Colony Chamber/DATCU May Student of the Month. Franklin is a member of the varsity soccer team. While in soccer for his senior season, Franklin was named to the District 10-5A All-District Team, and he was also named the Fort Worth Star-Telegram Boys Player of the Week in late March. Franklin is the type of student others want to get to know and be around. He cares about everyone he meets with genuine compassion that makes a difference. Franklin is a leader among his peers and he will be successful in whatever he determines for the next step in his life.

To learn more about Franklin, we asked him the following questions:
What are your hobbies and/or do you like to do in your free time?
Play soccer and be with family members a lot.
What is your favorite subject in school and why?
English as a Second Language (ESL). I arrived in America four years ago from Venezuela and did not speak any English. ESL has changed my life and I now speak English fluently and am ready for college.

What do you love most about your school and why?
I get to see my friends, do homework with them, and socialize. I love to talk to my teachers and get to know them, which is something they do not do in Venezuela, and it made a difference for me.
What are you looking forward to next year after high school?
I look forward to playing soccer in college, I received a scholarship for it, and earn my degree. I want to be an electrical engineer.

Who do you look up to and why?
I look up to my dad because he worked hard to bring my family to America, which was not easy at all. There were many struggles, and I learned a lot from that and I really look up to him.
MAY TEACHER OF THE MONTH | JAMIE MCCARTY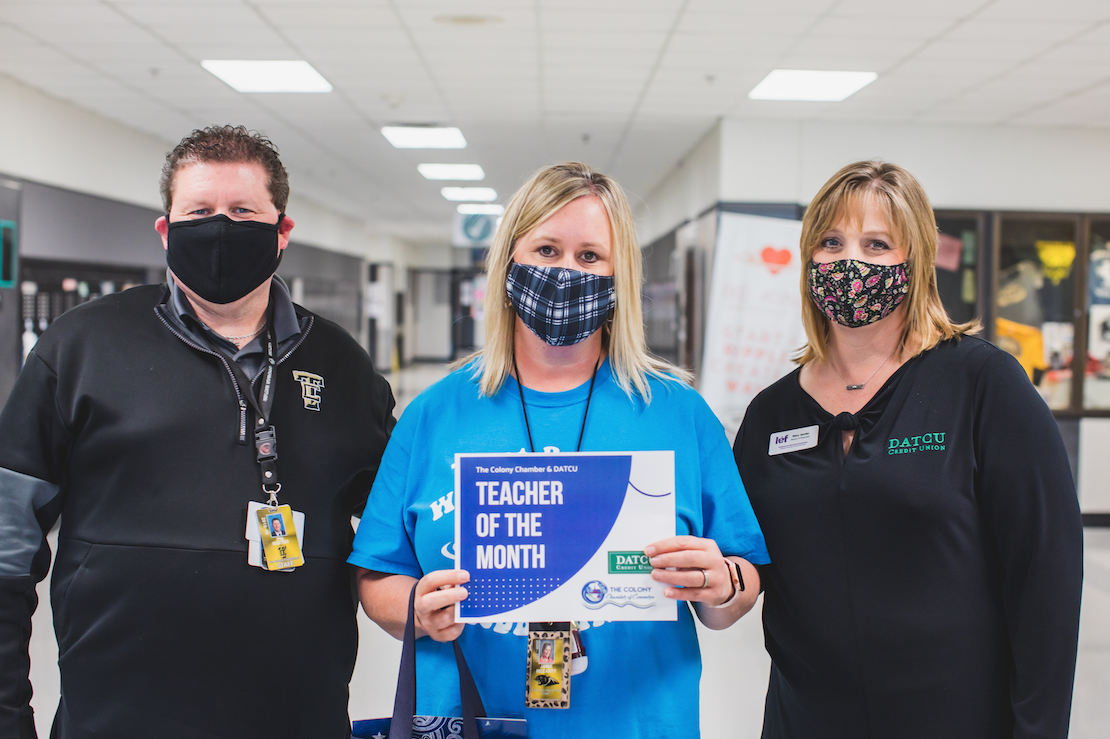 The Colony High School Student Council Sponsor Jamie McCarty was recognized as The Colony Chamber/DATCU May Teacher of the Month. McCarty is a great leader on campus and makes a huge difference for every student and faculty member. Through events such as organizing teacher recognition week, hosting blood drives, organizing mobile food pantry opportunities, coordinating and carrying out all aspects of Homecoming each year, Ms. McCarty and STUCO are an important hub of TCHS and are involved in every aspect of the campus. While doing all this, Ms. McCarty cares for others, works hard, and makes others feel included.


---
| | | |
| --- | --- | --- |
| May | Student | Franklin Corona |
| | Teacher | Jamie McCarty |
| April | Student | Maximiliano Arellano, Peters Colony 5th-Grader |
| | Teacher | Laura Resendiz, Peters Colony 3rd-Grade Teacher |
| March | Student | Liam Chau, Morningside 5th-Grader |
| | Teacher | Christy Jarrett, Morningside Librarian |
| February | Student | Olivia Reed, Stewart's Creek 5th-Grader |
| | Teacher | Marissa Macchiaroli, Stewart's Creek 2nd-Grade Teacher |
| January | Student | Julia Niciura, Ethridge 5th-Grader |
| | Teacher | Dani Ewing, Ethridge Elementary Teacher |
| December | Student | Emma Wissinger, Griffin MS 8th-Grader |
| | Teacher | Guario Robles, Griffin MS Advanced Spanish Teacher |
| November | Student | Braley Arnold, Lakeview MS 8th-Grader |
| | Teacher | Melissa Myers, Lakeview MS Virtual Lifeskills Teacher |
| October | Student | Peyton Nisonger, B.B. Owen Elementary 5th-Grader |
| | Teacher | Laurie Hyman, B.B. Owen Elementary 4th-Grade Teacher |
---
The Colony High School is located in The Colony, Texas, serving 9th - 12th grade, in the Lewisville Independent School District. Follow TCHS on Facebook and Twitter to see more student experiences throughout the school year or visit Best Schools in Texas for more information about joining the Lewisville ISD family.