Return to Headlines
Memorable Scholarship Surprise for The Colony High School Senior
The short blips of the sirens can be heard and the flashing lights seen as three The Colony Police Department vehicles slowly creep down a quiet street not too far from North Colony Boulevard. As they come to a stop in front of one of the homes, their destination, an officer comes over his PA system.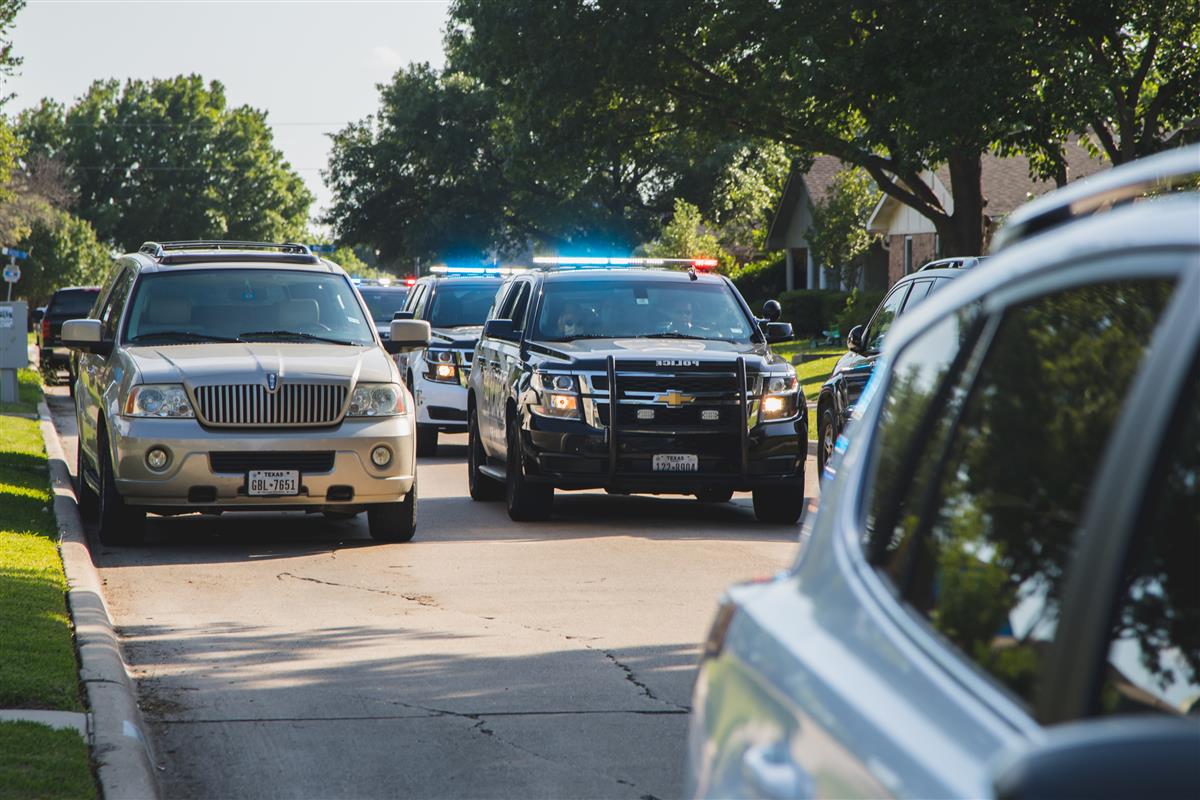 "Attention," he calls out. "Attention. The Colony Police Department is requesting the presence of Elizabeth." He pauses. "To come out of her house as soon as possible."

It's not what you think.

The officer concludes his message, "…for a special surprise."

A visibly stunned Elizabeth Harris, a senior at The Colony High School, walks out of her home and sees a group has gathered in her front yard. By her reaction, it's evident she knows most of these people, but is confused. Someone calls out, "go ask your dad what's going on!" Elizabeth runs back inside, only to run back out moments later, still unsure of what exactly is taking place.

What Elizabeth doesn't know is that only 45 minutes earlier, the reason why her family took a trip to Braum's was so TCHS teacher Jennifer Shaw, staff member Tasha Martin and a few others could decorate the Harris' yard. The group quickly adorned the yard with yellow balloons and "congratulations" signs before leaving to meet TCPD in the Lakeview Middle School parking lot for the next phase of their plan.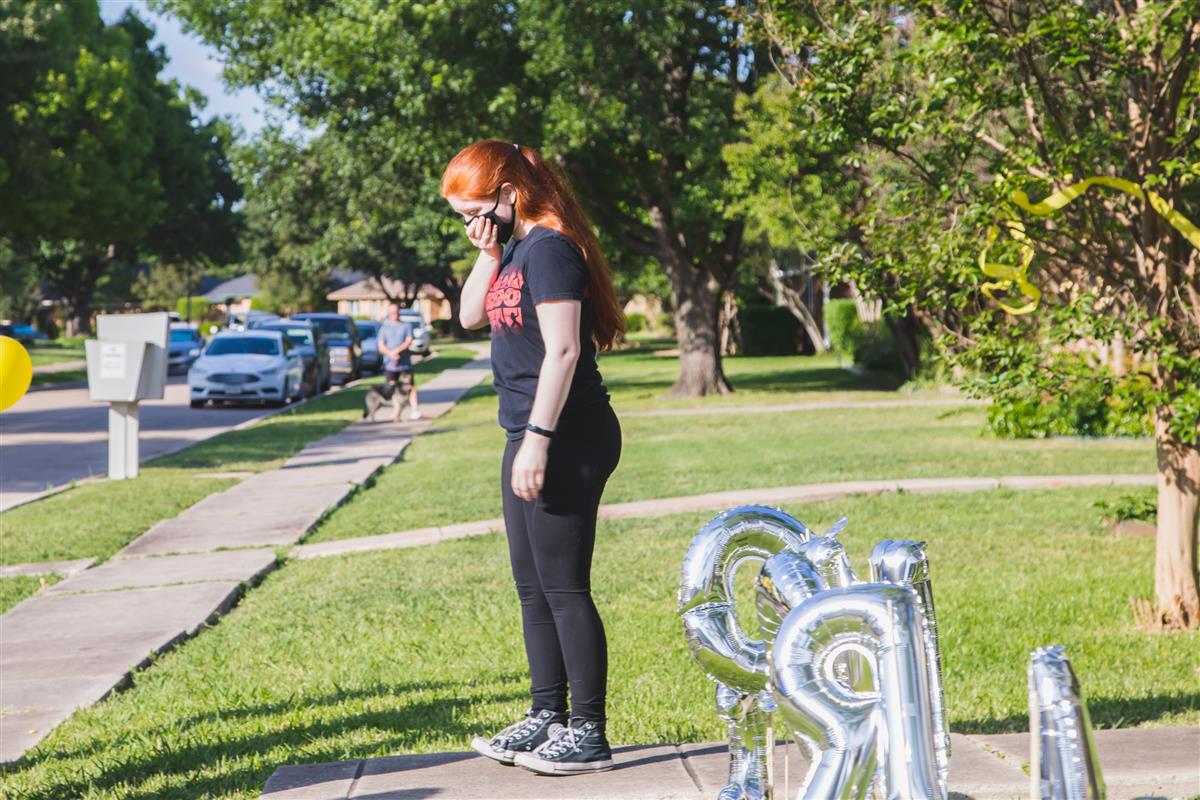 Elizabeth again asks, "what's going on?" Martin holds up an iPhone so Elizabeth can see what's on the screen. Her principal, Dr. Tim Baxter, is live on a video call. He shares with Elizabeth that he's about to introduce Mark Casale, the CEO of Essent Guaranty, Inc. and the sponsor of the Jessica Martinet Memorial Scholarship, an award given through the Lewisville ISD Education Foundation (LEF). Although she's wearing a mask, Elizabeth instinctively covers her mouth. Tears roll down her face as Casale begins to speak.

She realizes she is the scholarship's recipient.

Jessica
Jessica Martinet was a student at The Colony High School. She was in Life Skills at TCHS, and although her vocabulary was limited, it didn't stop her from spreading joy to those she met. She had a close bond with her twin sister, Ashley, who stood by her side and championed for her every step of the way. Jessica was loving and humorous, and those who knew her best say that she had a bit of a stubborn streak, too, which helped her persevere through any challenge that came her way.

"She also had a very tender heart," Shaw, an Academic and Vocational Life Skills teacher, said. "She didn't like if anyone was upset. Often she would console any of her friends by patting them on the back and saying 'K' [it's OK]."

Jessica passed away unexpectedly in early 2019.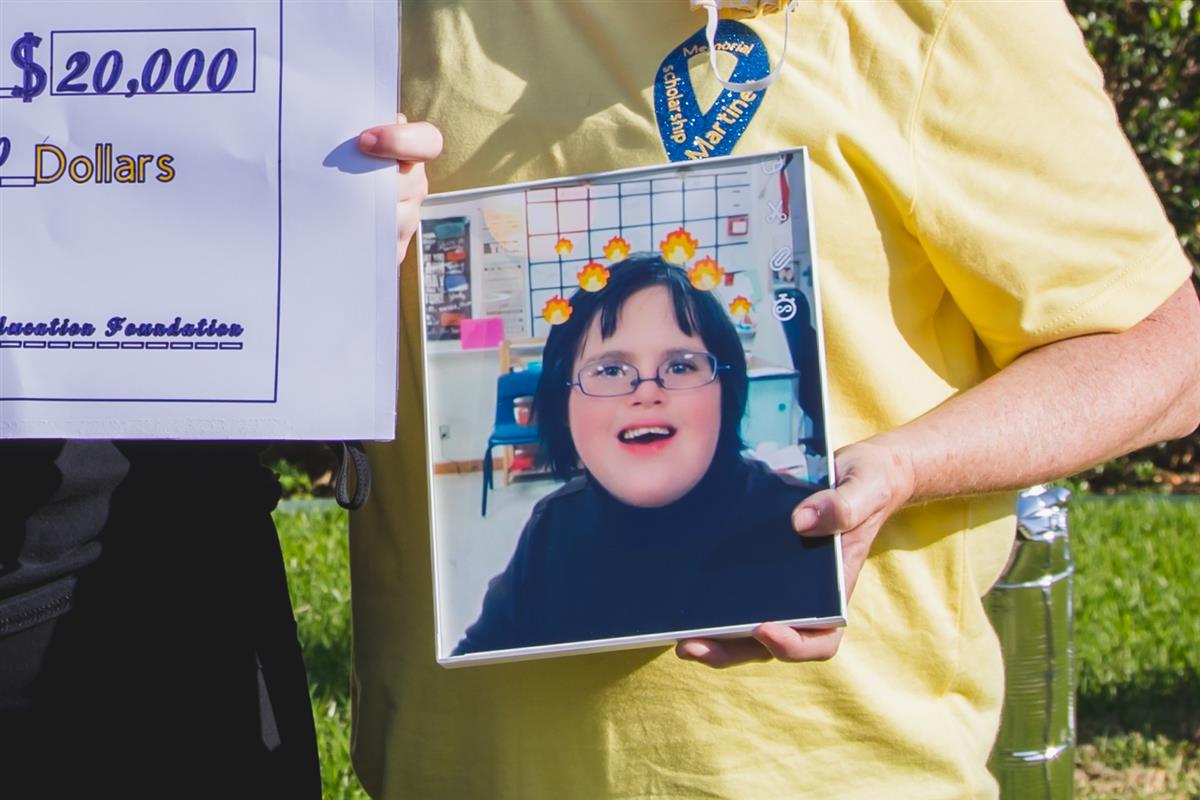 "Jessica touched so many lives in her short 18 years," her mother, Karla Martinet, said. "More than most do in a lifetime. She was courageous, happy, kind, loving, funny, never met a stranger and always had a smile. She had a way about her that you could look past her disabilities and see a girl who just wanted to be your friend."

"She was our sunshine," her mother said.

Shaw, who first met Jessica when Jessica was in the sixth grade said Jess, as she was affectionately called, loved coming to school.

"She would sit by the front window of her house and anxiously wait for the bus," Shaw said. "As soon as Jess arrived at school, she was ready to get busy working. She not only had a deep bond with me, but she also connected with all the staff and students. She adored Mr. [Larry] Rymer and thoroughly enjoyed playing jokes on him."

The Scholarship
Not long after Jessica passed away, TCHS held a celebration of life in the school's library. Secretly, Shaw had started a scholarship and endowment in Jessica's memory and unveiled a sign revealing the scholarship's name to the family — the Jessica Martinet Memorial Scholarship. Wanting their daughter to continue to impact the lives of others, the Martinet family then dedicated their time raising money for the fund. It grew quickly.

The scholarship, a tribute to Jessica's memory and the life she lived, is to be awarded to a TCHS senior who has supported the school's special needs programs and is continuing their education in areas such as special education, physical/occupational therapy and special needs ministry, or to a student with special needs who is advancing their education in a trade. Casale asked Karla Martinet how he and his company could help, and he decided to sponsor the scholarship.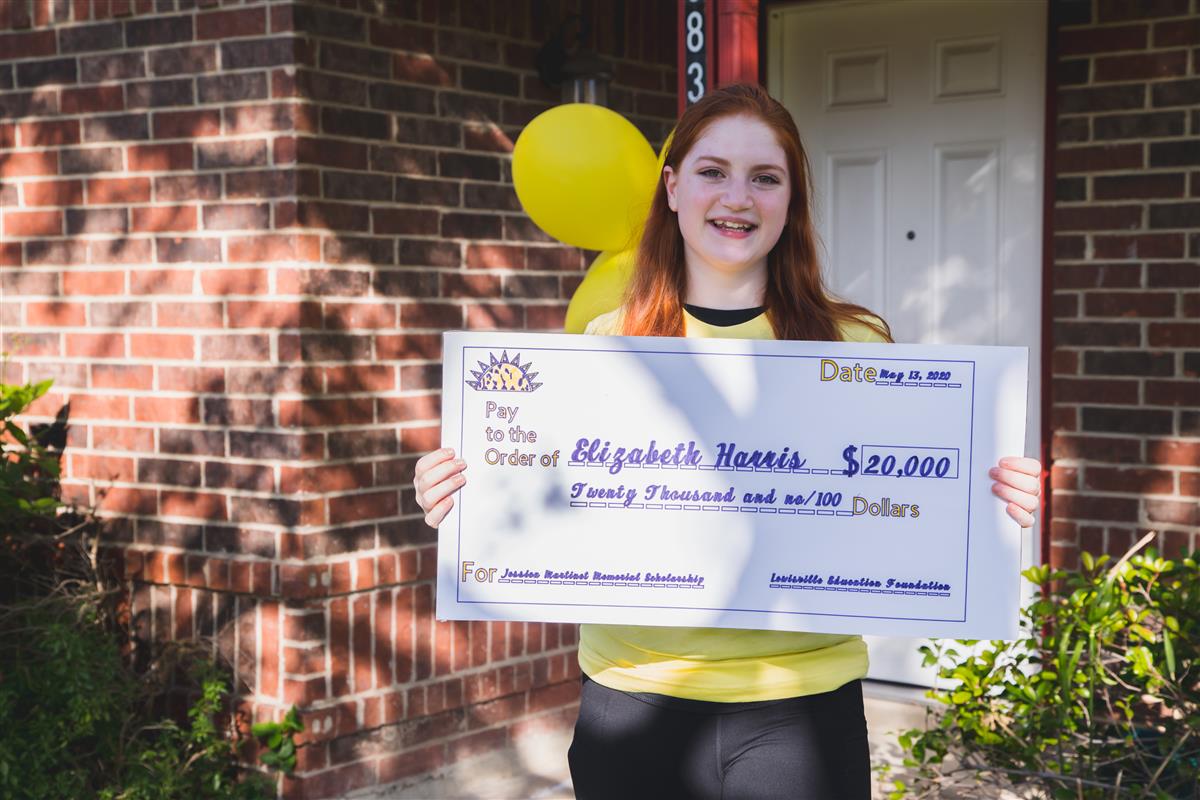 At $20,000, it is LEF's largest scholarship. In the eyes of the Martinet family and those closest to Jessica, Elizabeth is the perfect first recipient. She will attend Texas Woman's University in the fall and is pursuing a degree in music education. A member of the TCHS choir and Theatre at The Colony, Elizabeth's passion is for music and for helping others. She and Jessica were friends, bonding over common interests like music.

"Getting to dance around and spend time with Jessica was so special, and she herself was so special," Elizabeth said. "Even before I knew Jess, I already knew she was incredible because my other friends had spoken about her so positively, and everything they said was true. And, she loved music just like me. She was so special and getting to be her friend was truly incredible."

When Shaw met Elizabeth, she noticed Elizabeth is one of those people who doesn't hesitate at the opportunity to serve others, especially the students in TCHS' Life Skills.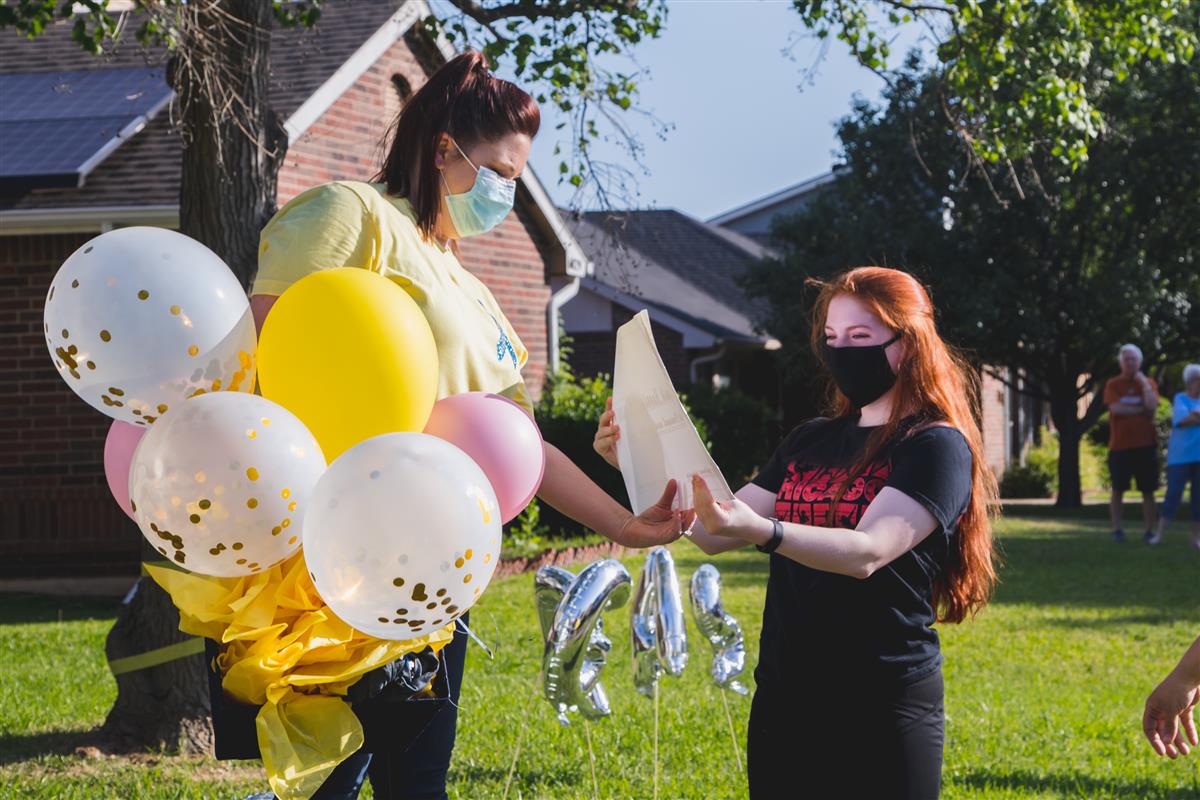 "One evening we stayed late to work on flowers for the Grand Ball," Shaw said. "Elizabeth came in and said, 'I only have 15 minutes to help, but please let me know what I can do.' She utilized the 15 minutes like no one I have ever seen before. She leads with a gentle spirit and demonstrates strong character in everything that she does."

The Surprise
Before in-person classes came to a halt due to the global pandemic, Elizabeth was going to be notified of her LEF scholarship award through a surprise celebration at TCHS. With the original plans no longer possible, Shaw, the Martinet family, and Jessica's best friend Erica Walker brainstormed ideas. Their creativity led to the participation of TCPD and the socially-distanced gathering outside Elizabeth's home.

"I was overwhelmed at the announcement," Elizabeth said. "When Mrs. Shaw told me that I was receiving the scholarship because I was able to bring music into the Life Skills classroom, I can't explain how that felt because music is my greatest passion and knowing that it is felt by many people in a way that helps to continue Jess' memory is something I can't put words to."

In addition to Shaw and Tasha Martin, the Martinet family, including Karla, Ashley and Jessica's father George, were in attendance, as was Sherry Alvarez, Jessica's aunt. Elizabeth's family, Erica Walker, two of Ashley's friends and Shaw's daughter also attended the event. A large group attended via the video call as well.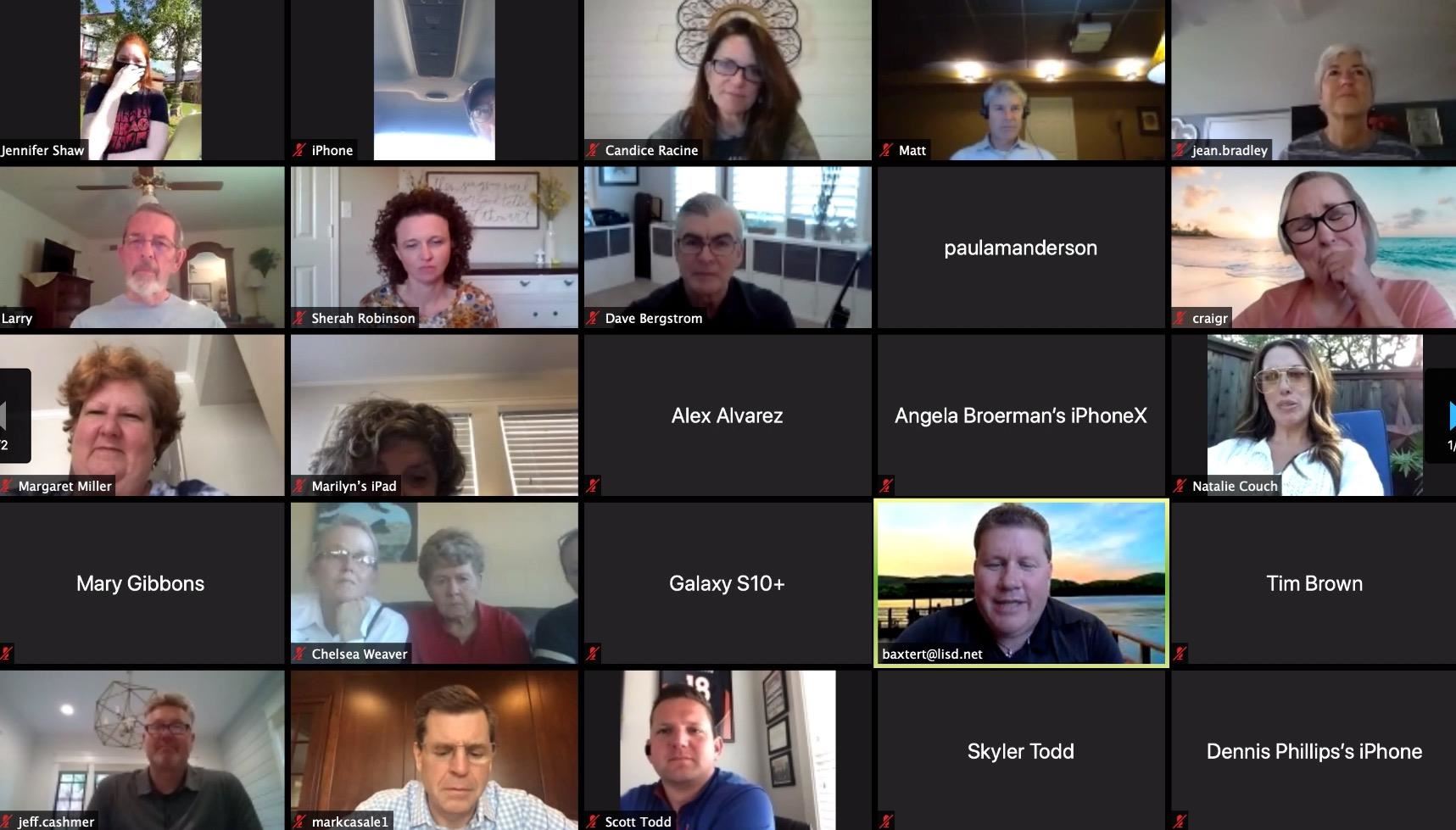 "Seeing everyone outside my house and being told that I was given the award was incredible," Elizabeth said. "Everyone who loved Jess was there, and I am so proud that I get to carry a scholarship in her name and continue bringing her love to new people. Jess was incredible, and I love her so much, so being given this award is the most incredible thing I could imagine."

After hearing from Dr. Baxter and Casale, Elizabeth was presented with a basket of gifts, which included a framed photograph of Jessica. More tears came.

"I was a mess," Elizabeth said. "Her picture is in my living room now, for the whole house to see, because even though my family didn't get to meet her, she was a gift. We get to be reminded every day that her light continues to shine in our house because of this."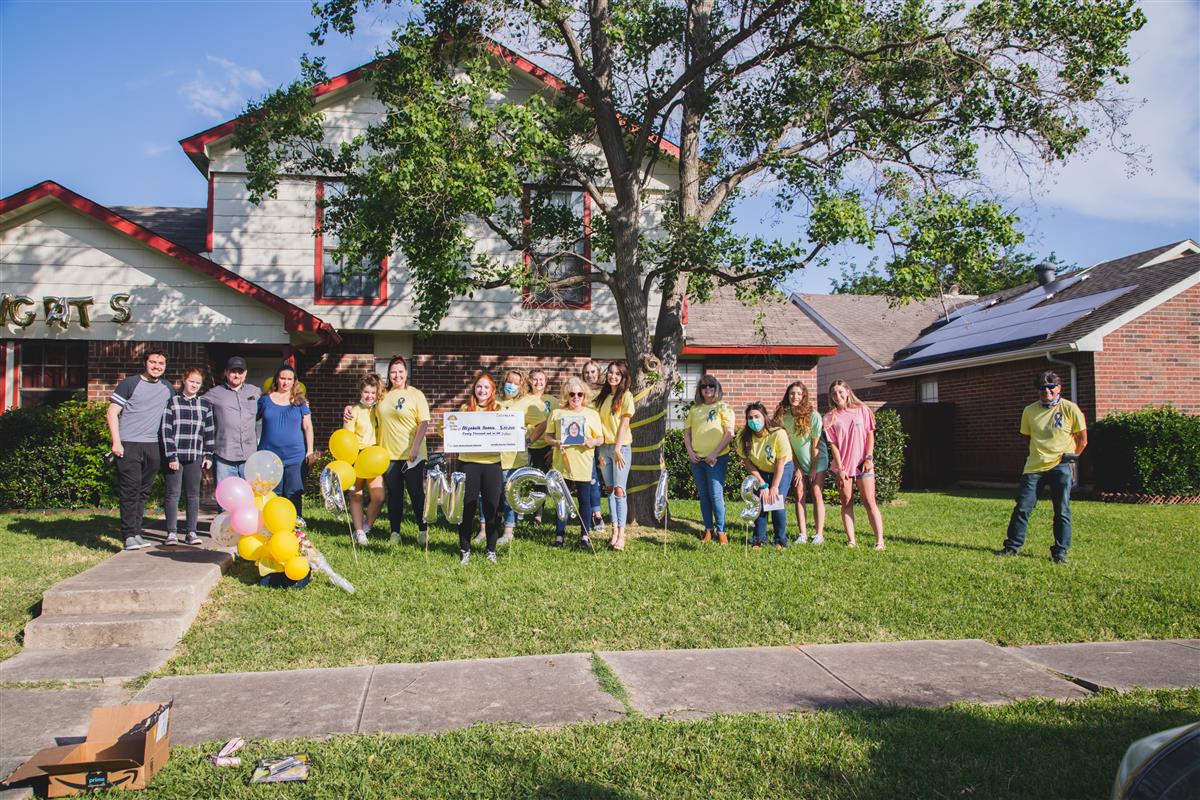 While shocked, Elizabeth is grateful she was selected as the first-ever recipient. The award is life-changing.

"I was able to experience that moment with the most important people in Jess' life and my own," she said. "I am so happy that I get this honor and I get to carry out Jess' love each and every day because of this incredible gift. I am so proud to be the recipient of this award and will do everything I can to ensure that more and more people get to have music in their lives, regardless of any other restrictions or labels, because music is the universal language and everyone deserves it."

For the Martinet family, they are thrilled their daughter's legacy lives on. They are working to present another Jessica Martinet Memorial Scholarship in 2021.

"We thank everyone," Karla Martinet said. "Essent, family, Mrs. Shaw, LISD, LEF, Dr. Baxter, and friends who turned an idea into a reality. It was a special day for everyone and our family."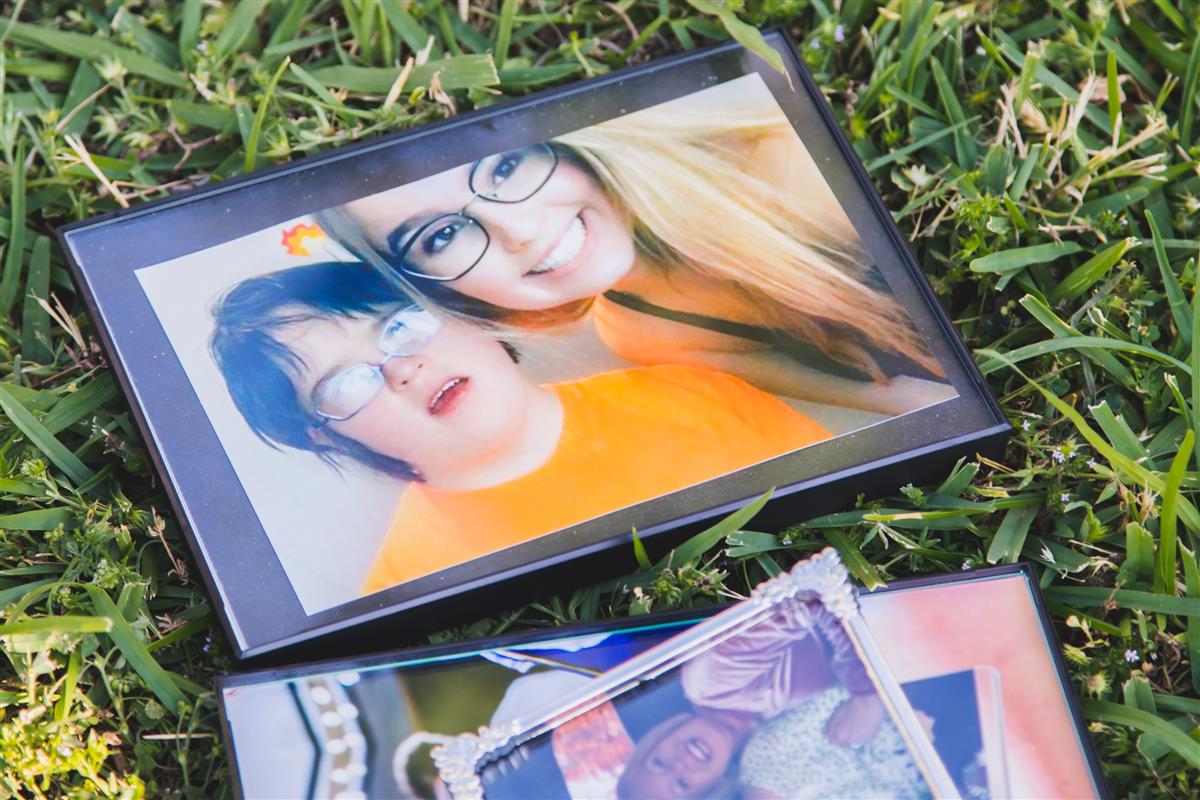 In a year regrettably filled with missed moments for many high school seniors, the surprise Elizabeth received May 13 wasn't a moment she expected nor anticipated. But the moment was a welcomed bright spot in the midst of uncertainty and a moment to celebrate Jessica's life. It is a moment Elizabeth and the Martinet family will never forget.

"I love Jess and I am so happy that her light continues to shine and bless those who love her in so many ways," Elizabeth said. "She will always be in my heart and I will continue spreading her love everywhere I can."


---
The Lewisville ISD Education Foundation awarded nearly $260,000 in scholarships to 315 students in the 2019-20 school year. To donate to scholarships like the Jessica Martinet Memorial Scholarship, visit lisdef.com/donate.