Return to Headlines
Flower Mound Chamber Awards | April 2021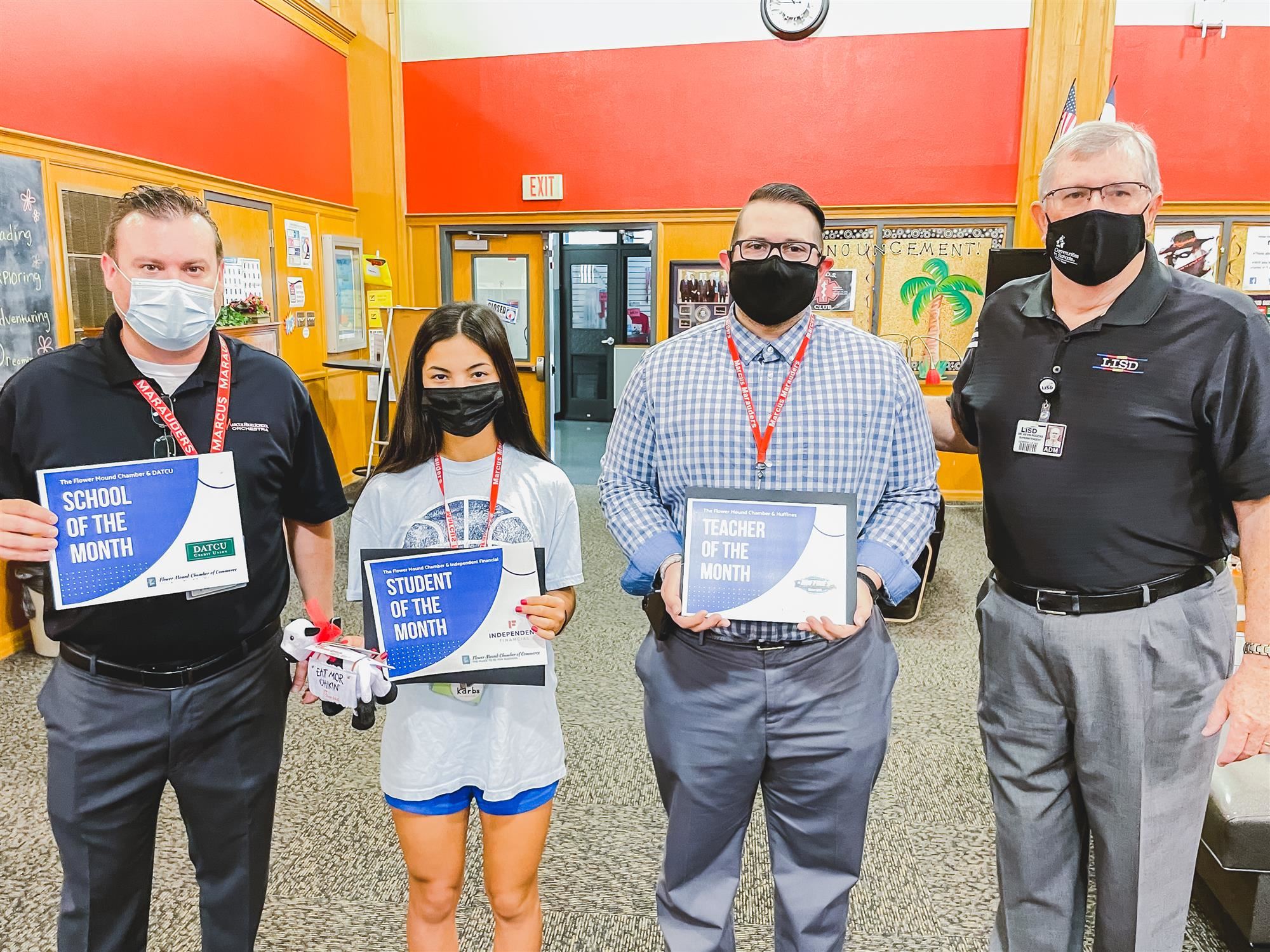 STUDENT OF THE MONTH | ALLIE HERRERA
Marcus High School senior Allie Herrera was recognized as the Flower Mound Chamber April 2021 Student of the Month. Allie currently serves as MHS's Senior Class Secretary and is also a member of the school's Varsity Softball team. According to Allie's teachers and MHS administrations, she has represented Marcus High School very well this entire school year by coming to so many of the games to support our teams. She is a positive example to all of her classmates. She manages many responsibilities, including a job outside of school, and MHS could not be prouder of the job she has done this school year!
What are your hobbies and/or do you like to do in your free time?
When I'm not doing softball or working at a Cyclebar, I enjoy spending time with my friends and family!
What is your favorite subject in school and why?
My favorite subject in school has always been English because I really enjoy writing and expressing myself and my opinions through my work.
What do you love most about your school and why?
I love Marcus because it really is such a great community that has built me up and encouraged me to achieve more than I thought I was capable of. Marcus has given me leadership tools that I will carry with me for the rest of my life!

What are you looking forward to after graduation?
I am really looking forward to furthering my education at the University of Arkansas and majoring in business marketing. I am excited to build onto a new community and new friendships.
Who do you look up to and why?
I look up to my parents as strong role models in my life. They have always taught me how to lead and love others and they're constantly encouraging me to give my greatest efforts.
TEACHER OF THE MONTH | DR. DOMINIC POLLONE
Marcus High School teacher Dr. Dominic Pollone was recognized as the Flower Mound Chamber April 2021 Teacher of the Month. This year, Dr. Dominic Pollone was chosen by his colleagues to represent MHS as Teacher of the Year. According to MHS administration, Dr. Pollone represents all of the qualities the campus hopes to see in all staff members. He cares about his students and their success, not only in his classroom, but in life as well. He is innovative in his teaching style and always looks for new ways to engage students in the content, as well as tremendous at relationship building/interpersonal skills that are necessary to reach kids. Dr. Pollone also serves as the campus' Instructional Coach, which is a new position created this year. In this role, he helps his colleagues increase their knowledge and capacity in the classroom. His example and positive influence make the MHS team stronger and they are very proud to have Dominic Pollone as the 2020-2021 Marcus High School Teacher of the Year.

SCHOOL OF THE MONTH | MARCUS HIGH SCHOOL
Marcus High School was recognized as the Flower Mound Chamber April 2021 School of the Month. According to MHS Principal Will Skelton, although the past year has been the most challenging in many of our lives and careers, the students and staff of MHS have persevered and supported each other through it all. Our first highlight of the year came in the fall with the amazing football season. Our team was undefeated in the regular season, claiming the district championship for the second year in a row. It was a great lift to our student body and staff as we watched our team win game after game. The second highlight came in February with Black History Month. MHS had another very strong showing in both participation and award winners for the 28th Annual MLK Celebration, and our Black History Club provided a wonderful experience for our campus by highlighting the history of African Americans in our country as well as a tremendous service project in which they collected African American books, which we distributed to many LISD elementary and middle school libraries. The most recent highlight has been our Marquette's Spring Show. This year, we hosted the Spring Show in the MAC (Marauder Activity Center/Gymnasium) for the first time, and it opened up so many new possibilities. The lighting and staging innovations were incredible, and we believe we will use the MAC from now on for this production. The pandemic has brought unprecedented challenges, but our campus' community has answered the call every time, finding ways to adapt, grow, overcome, and even improve our students' experience here at Marcus High School this year and in the years to come.


---
| | | |
| --- | --- | --- |
| April | School | Marcus High School |
| | Teacher | Dr. Dominic Pollone |
| | Student | Allie Herrera |
| March | School | Garden Ridge Elementary |
| | Teacher | Melanie Stetzer |
| | Student | Lynh Dam |
| February | School | Flower Mound 9th Grade Campus |
| | Teacher | Chimene Tingue, World Geography |
| | Student | Jordan Holt, 9th Grader |
| January | School | LISD STEM Academy at Bridlewood Elementary |
| | Teacher | Joyce Kirk, Kindergarten |
| | Student | Caden Burrows, 5th Grader |
| November | School | Forest Vista ES |
| | Teacher | Forest Vista ES Virtual Pre-K Team |
| | Student | Gracie Shaw, 5th Grader |
| October | School | Heritage ES |
| | Teacher | Kelsi Kunz, Virtual 1st-Grade Teacher |
| | Student | Jackson Sasser, 5th Grader |
| September | School | McKamy MS |
| | Teacher | Brilliance Crayton, Science Teacher |
| | Student | Mia Kline, 8th Grader |
---

Marcus High School is a high school located in Flower Mound, Texas in the Lewisville Independent School District. Follow Marcus High School on Facebook and Twitter, to see more student experiences throughout the school year or visit Best Schools in Texas for more information about joining the Lewisville ISD family.