Return to Headlines
SENIORS - RSVP TO PARTICIPATE IN GRADUATION AND ORDER GUEST TICKETS HERE!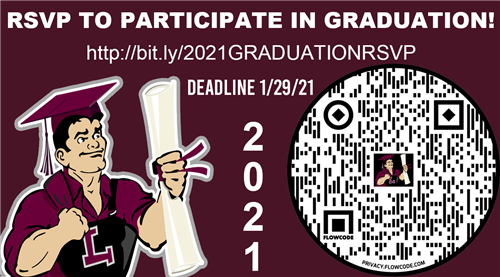 SENORS! CONGRATULATIONS on being a candidate for graduation with the Lewisville High School Class of 2021. Lewisville High School's Graduation will be at The University of North Texas in their Coliseum on May 30, 2021 at 12:00 p.m.
We want to make sure you are ready for your big day by making you aware of two important things.
Make sure every senior orders the Cap and Gown Unit from Jostens. The color of the gown has changed and all graduates will be required to order a gown if they are walking in graduation. You can still order online at http://jostens.com or you can order when they come to LHS for the last date to order on Friday, December 11, 2020. The only items you must have are the Cap and Gown Unit (comes with a tassel) that runs $30 plus handling and taxes tha tis located on the website under Graduation and then Individual orders.
Make sure you RSVP for graduation with your parents/guardians. The University of North Texas has informed us tickets are necessary for entry into the graduation ceremony. Our 2021 Senior class is nearing 1,200 students, and Lewisville High School wants to ensure that all graduates and their families have a wonderful experience on this day. Each senior will receive anywhere from 8-12 tickets or more depending on the number of seniors participating. You will need to request tickets when you RSVP and list names. The tickets are free of charge. The names can change. Link is http://bit.ly/2021GRADUATIONRSVP
We are sharing this information with you early to allow you the necessary time to plan and organize for this year's graduation. Our goal is to accommodate our students and their families and still abide by the rules, regulations, safety and security policies of UNT.
The RSVP link below and above will serve as your Senior's RSVP to participate in the ceremony as well as identify the potential number of guests on this special day. We will do our best to accommodate your request for tickets, but at this time we cannot guarantee how many tickets each student will receive. In the past we have had from 8-11 tickets for each graduate and it depends on the numbers of RSVPs we receive.
http://bit.ly/2021GRADUATIONRSVP
The deadline to complete the necessary information on the RSVP is January 29, 2021 at 11:59 P.M.
On or before February 19, 2021, you will be notified the number of guest tickets you will receive for the LHS Graduation ceremony.
As always, all LISD Graduations are streamed live online at the LISD website.