Return to Headlines
JOSTENS CLASS RING ORDERING - OCT. 1 AND 2 FOR JUNIORS AND SENIORS!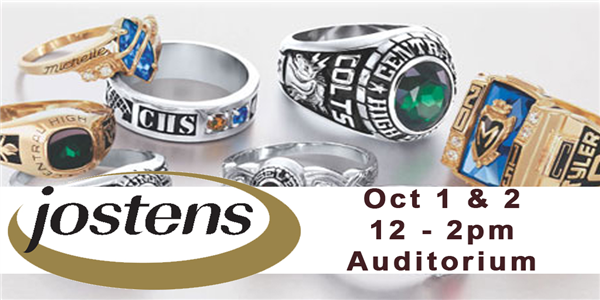 Farmer Families:
Today Junior students and some seniors that requested, received a packet of information about Class Rings and Jewelry from Jostens. Virtual students, we have placed the Ring Packets in the bin outside of Door 5 (Auditorium) for you to pick up at any time day or night. Please look over the packet and be prepared to order. They will be here Oct. 1 and 2 from 12 – 2pm in the Auditorium taking orders for Class Rings and Jewelry, Caps and Gowns for Seniors, and answering any questions about ordering a letter jacket. Virtual students and any parents that want to come will need to come to Door #5 outside of the Auditorium to place your orders. In Person students will go to the auditorium from the school. Don't forget the payment plans that Jostens offers so anyone can purchase a ring or graduation regalia. Please see the message from Jostens below with a link to their video showing their Class Rings and other jewelry.
If you have any questions, you can contact Allison Stamey, LHS Student Activities Director, at stameya@lisd.net, 469-948-3120 – LHS Direct Line, or Cell 214-543-6717.
---
FROM JOSTENS:
Hello LHS Students and Families:
We're very much looking forward to visiting with you in person 10/1 & 10/2, and we're excited to share the gameplan for ordering your class rings in the video clip link above. Also, please be sure to visit the http://Jostens.com link to gain additional information and to place your order online if you prefer. We'll also be happy to help you in person on campus in the auditorium foyer during lunches on the 1st and 2nd. We will also be available to take senior orders for graduation caps, gowns, and other items during our time at LHS.
Congratulations on earning the right to wear your Fighting Farmer Class Ring!
We are here for you – Your Jostens Family