Return to Headlines
Lewisville High School's Hniang Named Lewisville Area Chamber of Commerce/TIAA January Student of the Month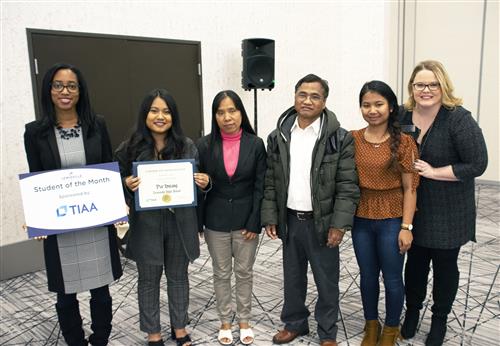 Jan. 22, 2019 — Lewisville High School senior Par Hniang has been selected as Lewisville Area Chamber of Commerce's January Student of the Month — the fifth honoree of the 2018-2019 school year.
Those who know Hniang best said she is known as a perfect role model for all students. She works hard to keep excellent grades and is a leader who gets things accomplished. She is kind to all students and brightens every room she enters with her smile. If she sees a student alone, she makes a point to introduce herself.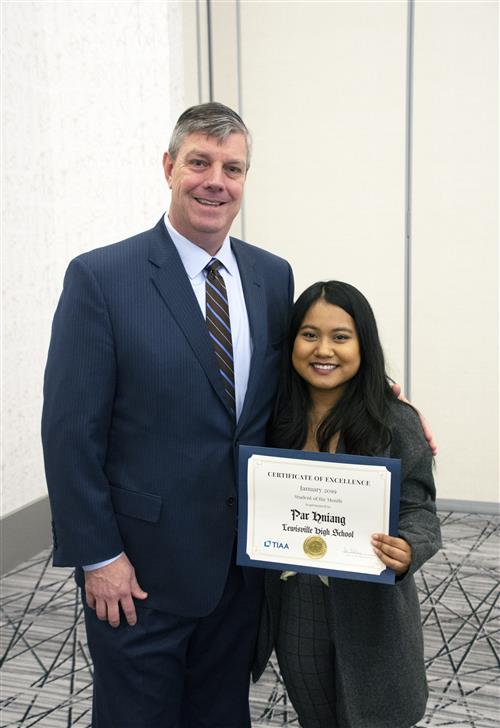 Hniang is the LHS Student Body Multicultural Officer, National Honor Society President, Rotary Club's Interact Vice President and has made a huge impact on the Chin Club – helping bring the school and community together with the Chin population. She excels in all her AP classes. Hniang was also heavily involved in the successful LISD Angel Tree and was a Texas Youth Leadership Salute nominee.
In college, Hniang plans on majoring in Pre-Med and becoming a pediatrician.
"It is such an honor to be named Student of the Month," Hniang said. "I feel blessed to receive this award among thousands of outstanding students in Lewisville ISD. Also, I would like to thank everyone in the Lewisville Area Chamber of Commerce for making such a positive impact on our community."
Hniang accepted the award, which is sponsored by TIAA, on Jan. 22 at the Chamber's partnership luncheon held at Courtyard by Marriott. TIAA's Antoinette Nevils and Chamber Board Vice Chair Ann Pape made the presentation. Hniang was joined at the event by her parents, Chum Kar and Phiar Iang, sister, Elizabeth Par, LISD Assistant Chief of Schools Andy Plunkett, LHS Principal Jeffrey Kajs and LHS Student Activities Director Allison Stamey.

Lewisville Area Chamber of Commerce/TIAA
2018-2019 Students of the Month
Sept. Pedro Caballero, Degan Elementary
Oct. Jeslyn Diaz, College Street Elementary
Nov. Elisha Lopez, Hedrick Middle School
Dec. Ethan Salvador, Lewisville Elementary
Jan. Par Hniang, Lewisville High School
Feb.
March
April
May