Return to Headlines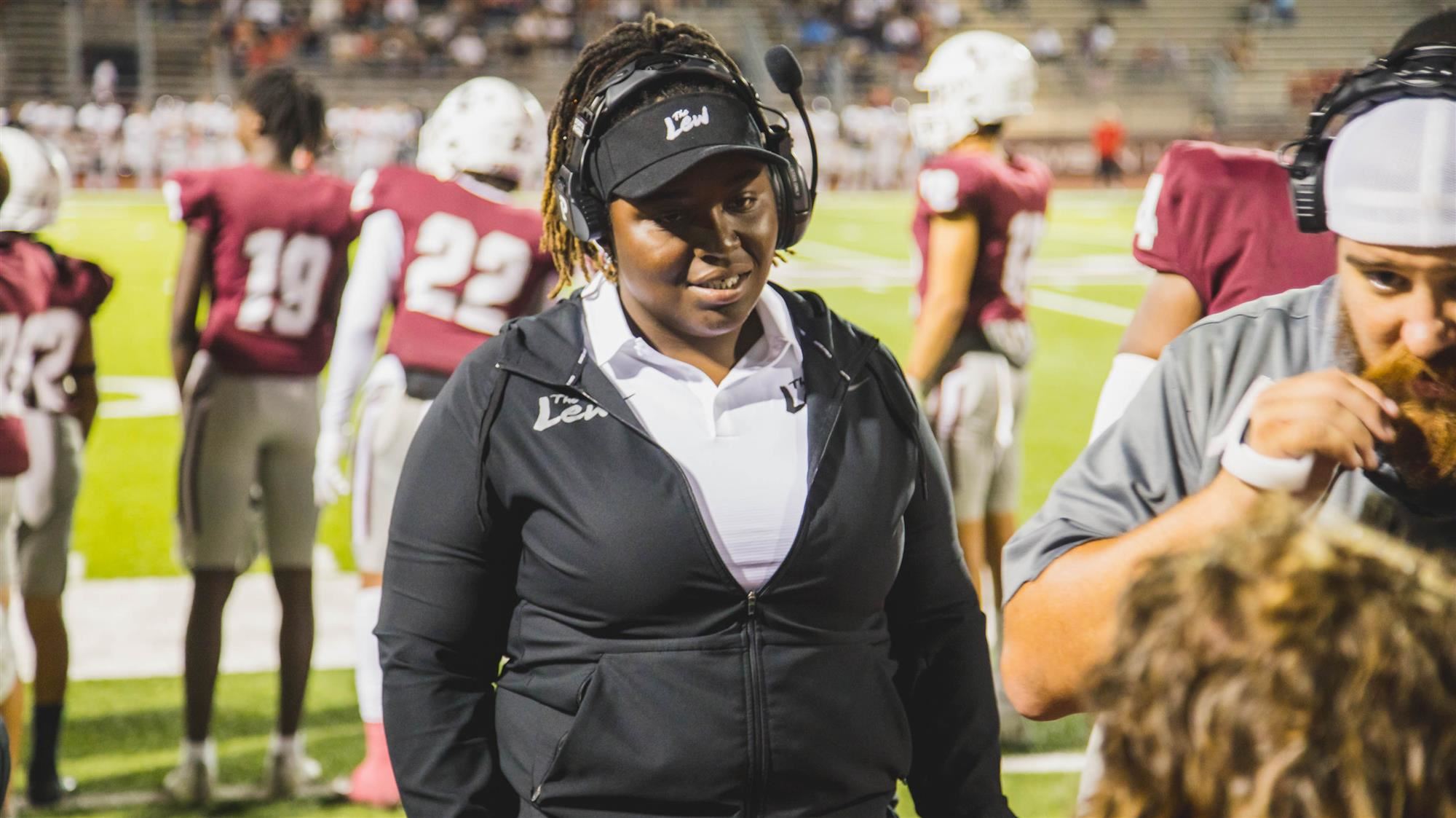 History is nothing new for the Lewisville High School football program. In over 100 seasons of competition, the Fighting Farmers have amassed nearly 600 wins, more than 20 district titles and will soon make their 33rd playoff appearance after finishing the regular season with nine wins for the first time in 20 years. One of the driving forces behind this season's achievements? A three-time national champion, All-American and All-Pro offensive line veteran and LHS assistant coach Tammie Moore.
Moore, the first female coach in program history, is no stranger to on-field success. In 2017 the Missouri native joined the St. Louis Slam, part of the Women's Football Alliance professional football league. The Slam would go on to claim the WFA championship in 2017 and again in 2019. Moore's success in St. Louis drew the attention of Odessa Jenkins, owner and head coach of the Texas Elite Spartans of the Women's National Football Conference.
"[Jenkins] reached out to me and talked about playing on the highest of high levels," said Moore. "So I came out here and went to tryouts and tried out for literally the best women's football team in the world."
Moore and Texas Elite proceeded to go undefeated in 2021, claiming the WNFC championship in August. While training for the 2021 WNFC championship game Moore came into contact with Lewisville High School.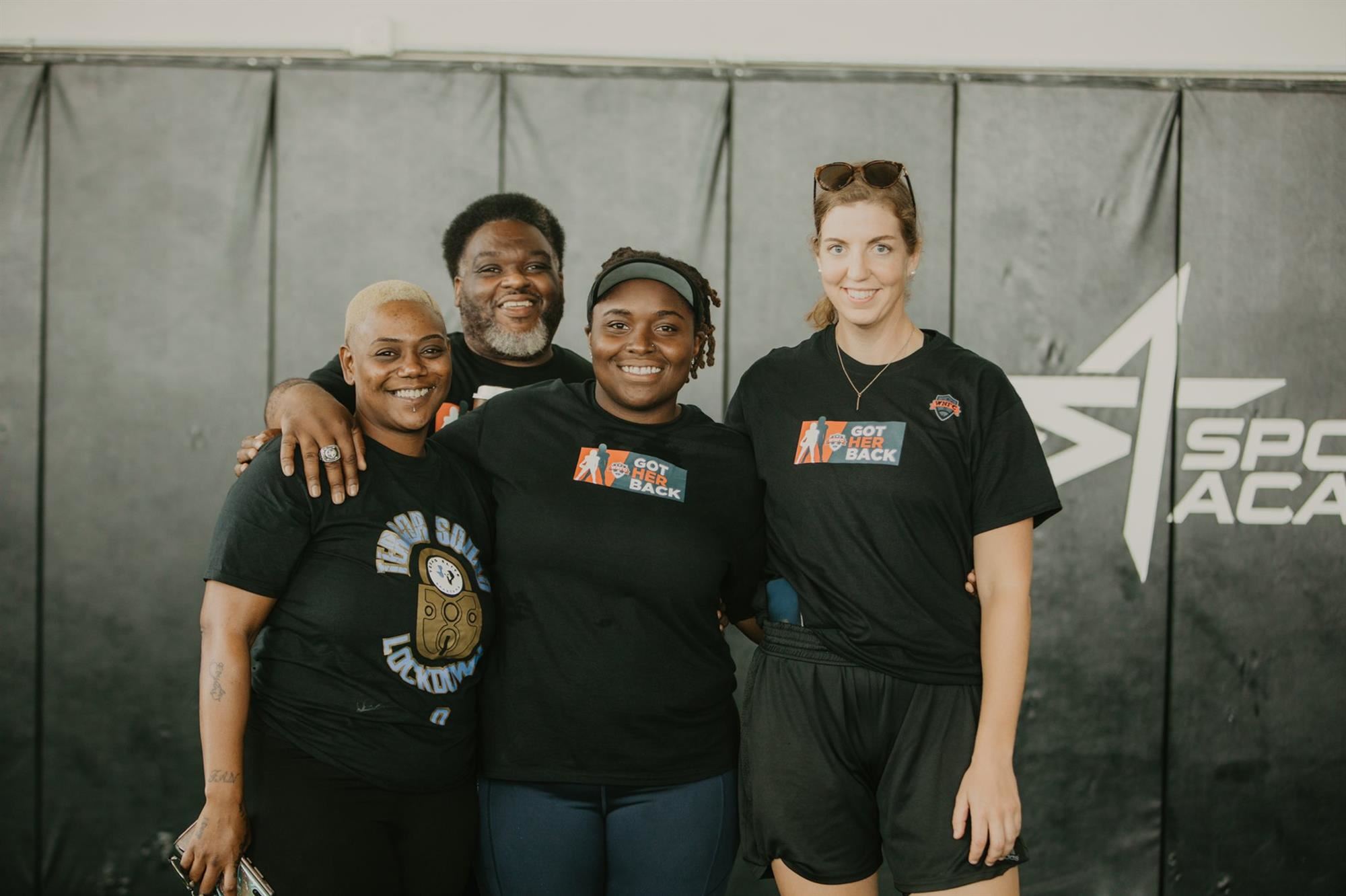 Photo courtesy of Zack Turner
"During this season I started focusing more on technique and I started working on o-line specific training," said Moore. "I was doing that on the side and it introduced me to Lewisville High School. The [assistant offensive line coach] position was open, so I applied for it and they actually liked me."
Head LHS football coach Michale Odle knew that Moore was a lock for the role when he first met with her.
"Her personality was infectious," Odle said. "She started talking football and it was clear she knows the game. She plays at a high level, and she has a background with understanding and dealing with kids and knows how to get the best out of them, whether it's on the field or off the field. Once I met her it was just 'hey, you can be a part our staff anytime, anywhere.'"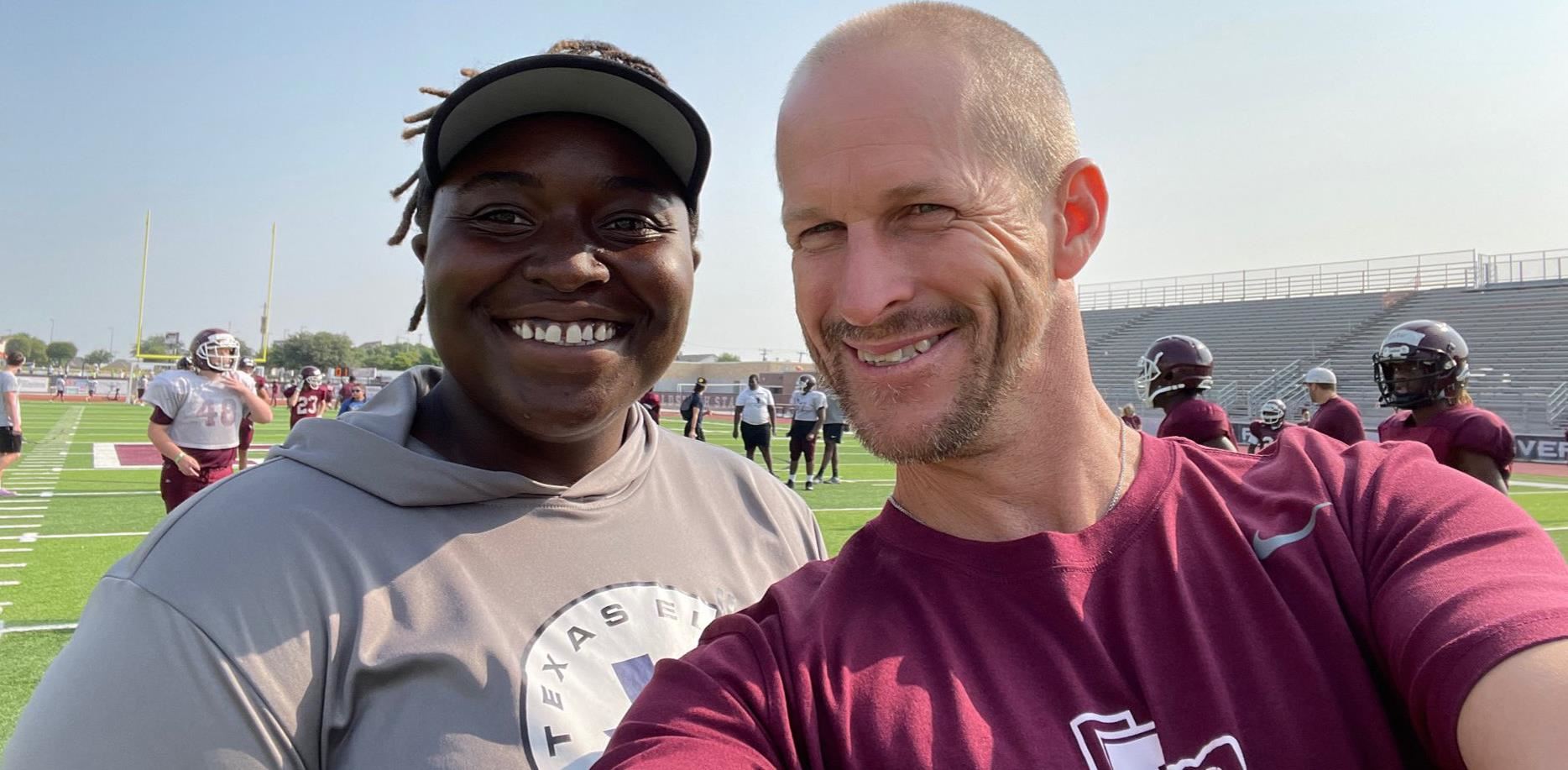 Coaching seemed to be a perfect fit for Moore's blend of talents. While her on-field accolades speak for themselves, her background in social service and child development are the true motivators for her work.
After graduating in 2017 with a degree in sports management and double minors in business administration and recreation from Southeast Missouri State University, Moore began working with children in the St. Louis area.
"I started off with Marygrove Children's Home working with juvenile delinquents. Those in there had committed crimes, but we were giving them a second opportunity," explained Moore. "Then I moved to the state where I was working for the Division of Youth Services. I dealt with kids who had committed multiple crimes, and at that point they were being tried as adults. This was their last opportunity to get right."
"It was treated more as a rehabilitation program for six to nine to twelve months, depending on the severity of the crime. I would go in to advocate for them, teach them life skills, life lessons and how to come out and not become a statistic in a sense – just assuring that they don't recidivate."
Moore believes that this experience is what pointed her towards the importance of coaching.
"Working in social services made me realize social workers in sports are needed. You get these kids that come from marginalized communities where this is their one ticket out. This is where I get to use some of my social work skills, instead of just being a typical 'yelly' coach. I always try to find the 'why' behind it."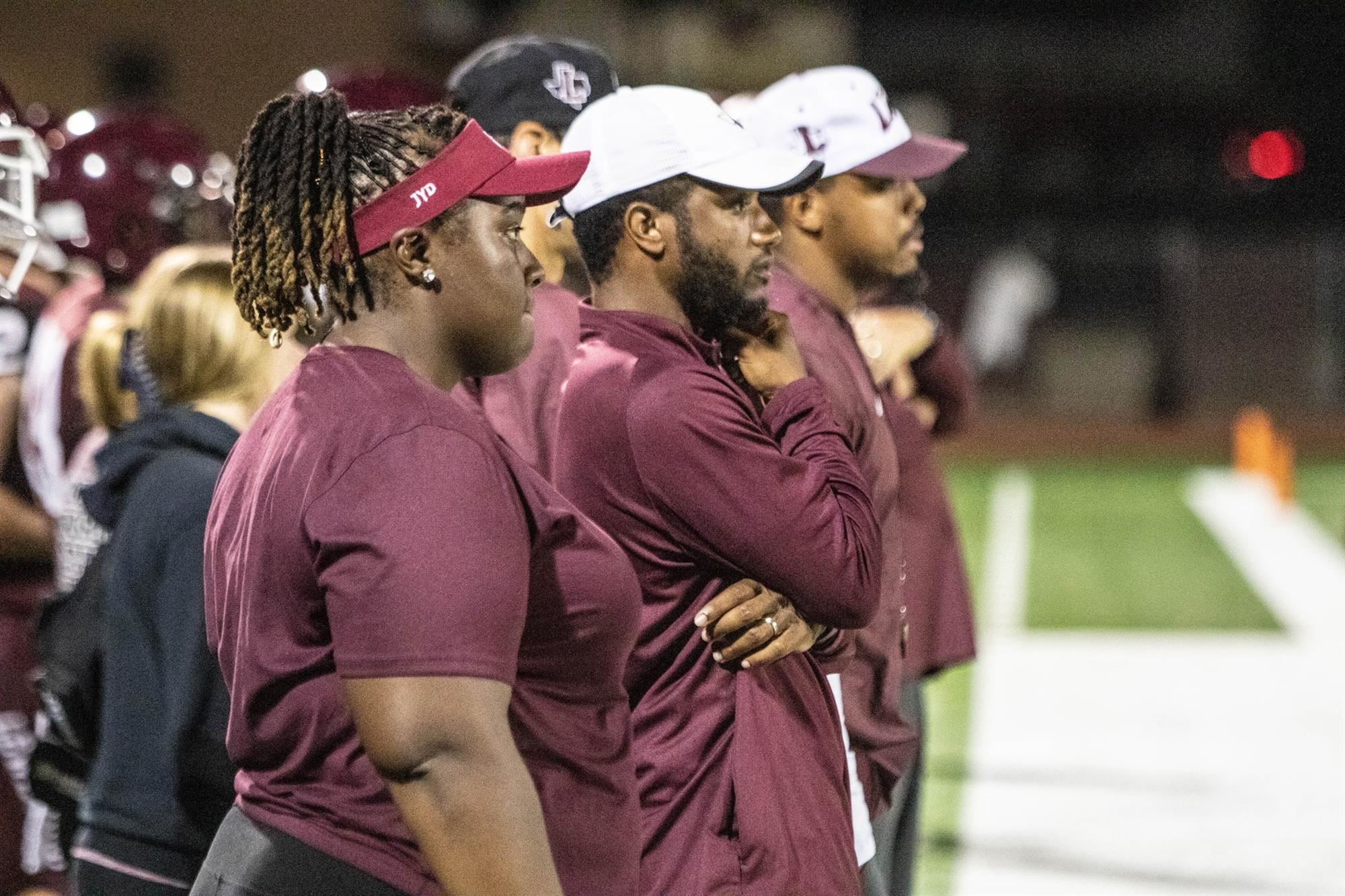 Coach Odle agrees that Moore's ability to connect with the student-athletes is part of what makes her so impactful.
"She just has a great relationship with them. She knows when to cut up with them, and she knows when to get serious and get after them. And then again, she knows what she's talking about, so when she talks technique and scheming, they listen and they know that she's been there, done it as a player and then a coach as well."
Odle also reflected on the implications of Coach Moore breaking down the gender barrier on the sidelines for LHS.
"Once the season's over and I can really reflect, it's pretty special what she's doing. I've got a young daughter and it's really awesome to see women succeeding in roles that have predominantly been dominated by men."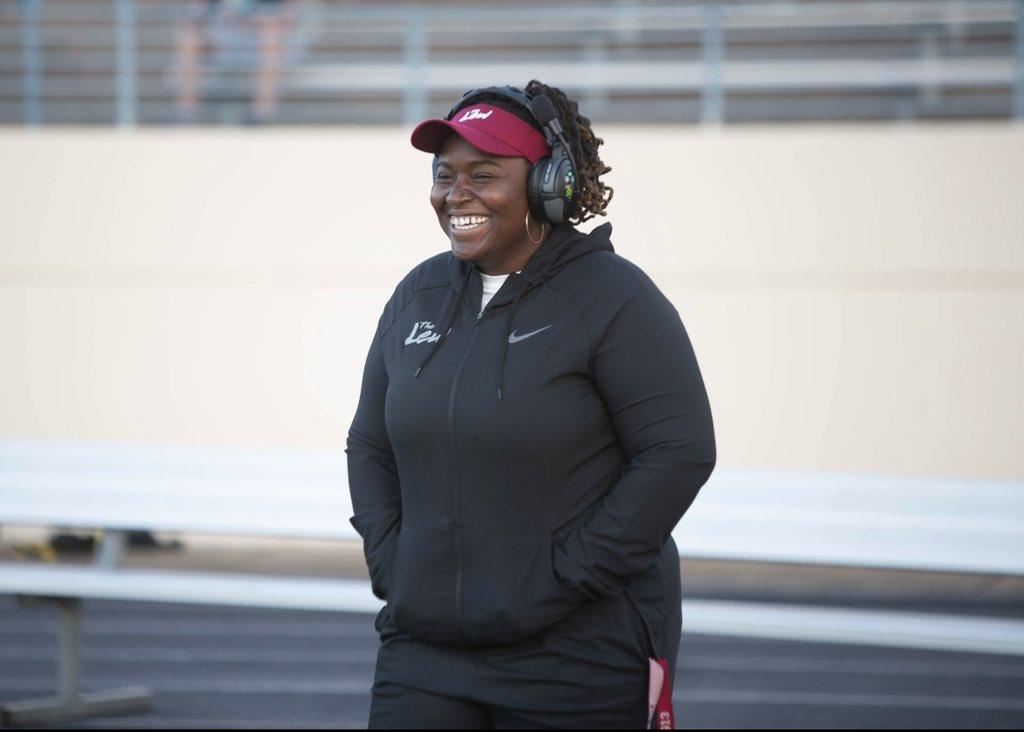 Moore sees it as a significant step for the future of women in sports.
"It's slowly happening, but it's happening a lot faster than what it used to. The future is bright as long as the world is willing to open up and really see it for what it truly is. Let go of gender bias and we will get to where we need to go."
As the season draws to a close and Moore considers her experience so far with LISD, she is all smiles.
"I never thought about working at a high school, but I wouldn't trade it for the world. Like, this is the best thing that's ever happened to me. [LISD] just makes you happy to work every day, so it doesn't feel like work. It just feels like being part of the community, just trying to help out the youth to become productive adults."
---
Lewisville High School is a Lewisville Independent School District high school in Lewisville, Texas, serving all Farmers with engaging educational experiences, strong traditions, storied extracurriculars and future-ready opportunities. Follow LHS on Facebook and Twitter to see more throughout the school year. Join the Lewisville ISD family by enrolling today, or visit Best Schools in Texas to learn more.