Return to Headlines
Lewisville High School Fashion Design Class Taps Into Students' Interests
Communication, creativity, math, money management, professionalism and of course, sewing and sketching, students are learning a number of transferable skills in Christina Barrientos' Fashion Design I class. Barrientos, a teacher at Lewisville High School, said students are learning a wide-range of real-life skills and having fun while doing so.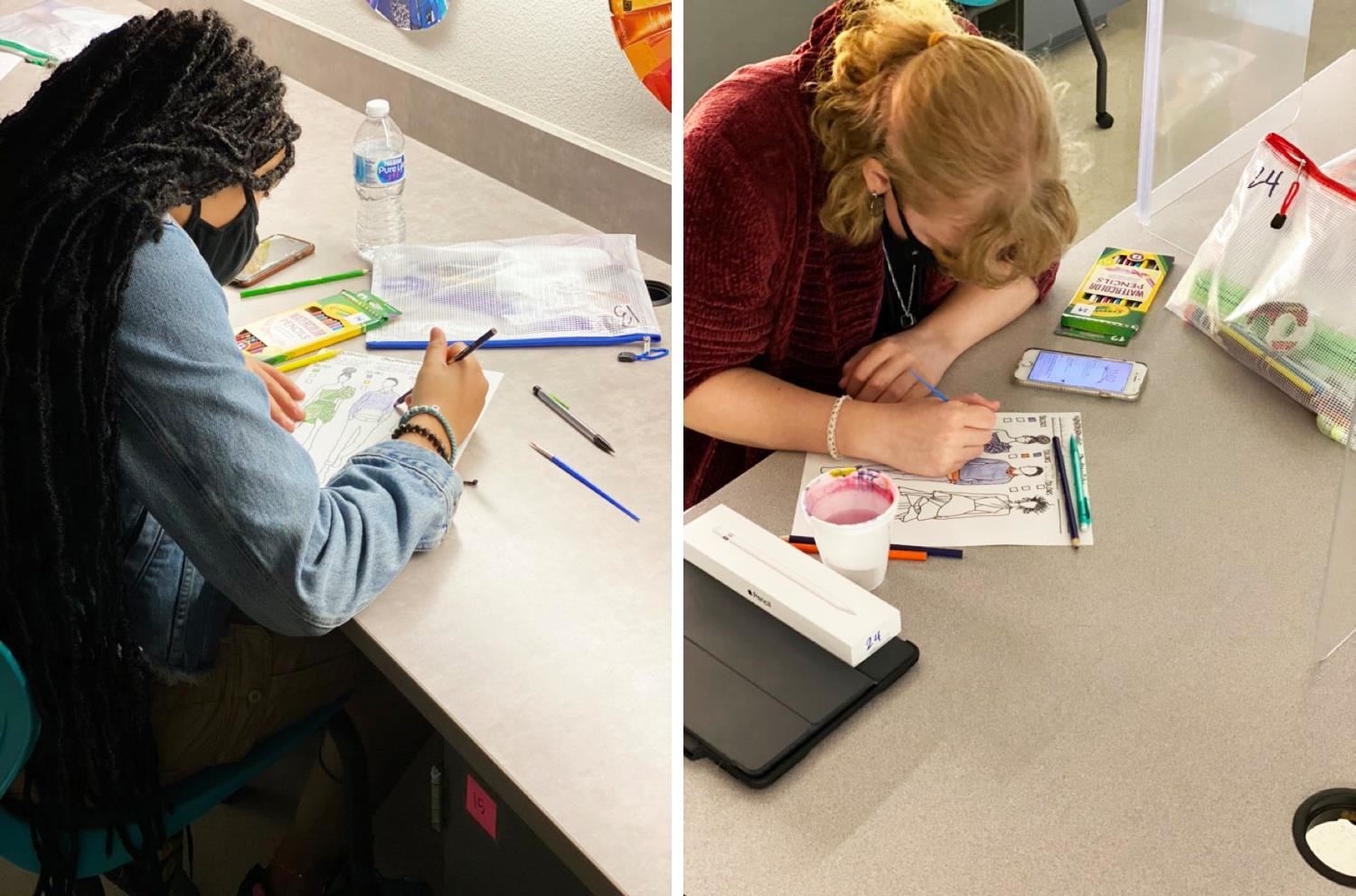 Photo courtesy of Christina Barrientos (@BarrientoscaLHS)
"This class is built to push students' creativity and imagination," Barrientos said. "Some students come in thinking they are not creative at all but we are all creative in some way. So, students learn how to really think outside of the box and come up with different ideas and designs that they have never seen or created before."
The project-based course also presents the different opportunities available in the fashion industry, such as merchandising, designing and retail buying.

"The beauty of this course is, because it is a beginner level class, we cover a lot of different topics in fashion design," Barrientos said. "There is something that hits their interest somewhere throughout the semester."

So far this semester, students have studied color theory and color harmonies and have completed assignments like making tie-dye and bleach-dye shirts, creating color schemes on fashion models using watercolors, and countless other projects.




Photo courtesy of Christina Barrientos (@BarrientoscaLHS)
"My favorite project so far has been the tie-dye and bleach-dye project because it was fun and the results were unpredictable," LHS junior Alyric Polk said.

Like Polk, senior Karina Landon enjoyed the tie-dye project and said it was her first time tie-dyeing a shirt.
"My hands were blue for days after washing the dye out but it was very worth it," she said.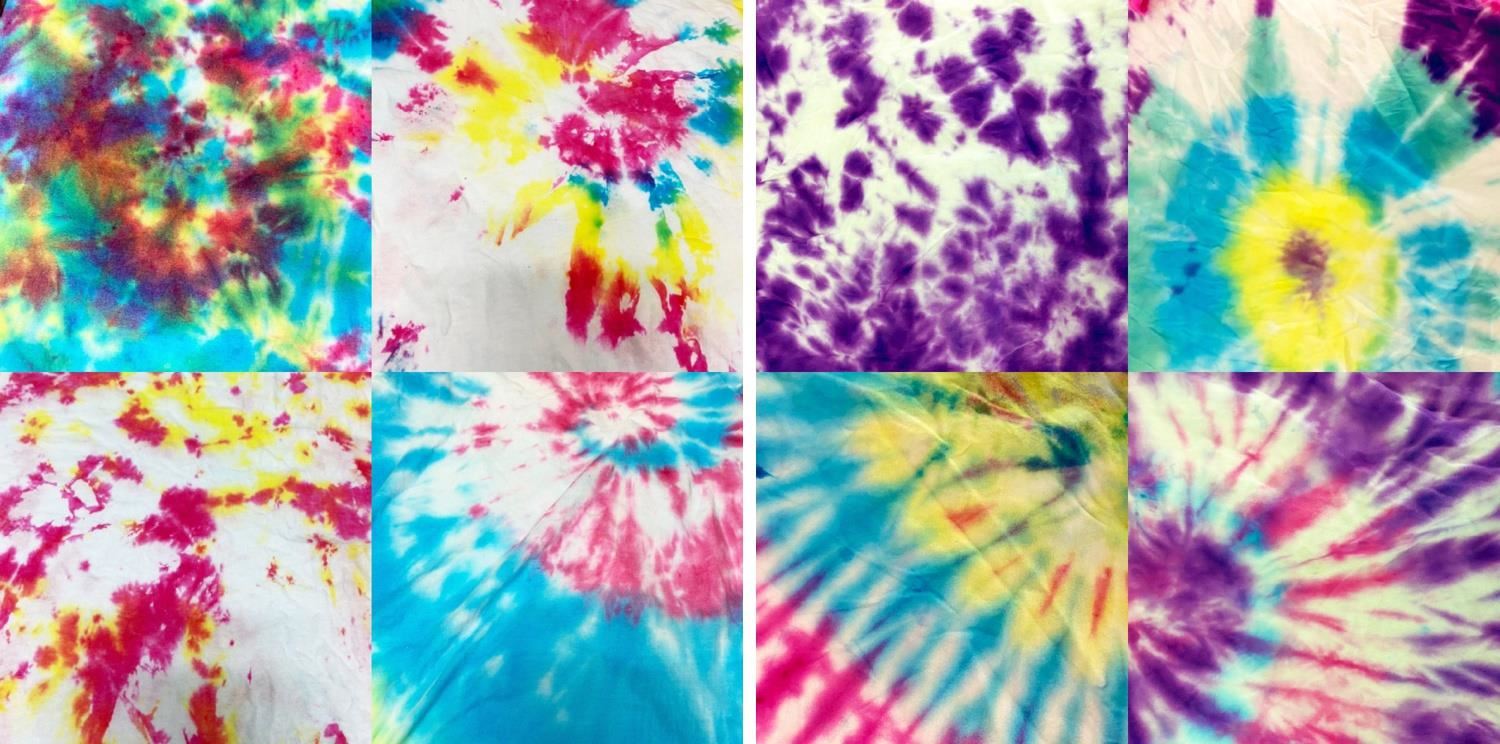 Photo courtesy of Christina Barrientos (@BarrientoscaLHS)

Senior Aracely Sanchez preferred an assignment about texture.

"My favorite assignment was the texture activity because I got to view different structural, tactile textures and draw visual textures," she said.

Each week, students also complete an inspiration sketch on their iPad using Adobe Illustrator, which Barrientos said is now considered industry standard.

"I give them a random prompt each week that really kind of stretches their imagination and they have to create an outfit using that prompt," she said. "There are never two designs that look alike. It is really neat to see what they come up with."

One student said she loves the weekly sketches as it gives her another way to express herself.

"I enjoy having a theme to base my drawings on and that I can create something unique within that theme," senior Hannah Johnson said. "I feel like I can really express myself and my interests through these fashion sketches."

The ongoing health crisis required Barrientos to make a few adjustments to ensure the well-being and safety of her students, but they aren't missing out on any learning. While some projects are more technology-based now, Barrientos said she and her students have gotten creative in order to still complete hands-on projects.

"I usually have students build newspaper garments following our shape and form lesson where they build a garment on a student model," Barrientos said. "This year that could not happen so I was able to brainstorm with administration to come up with a safe alternative. Instead of building a life-size garment, each student was able to construct their own on a wooden model. This eliminated too many hands touching and sharing. Each student had their own model, paper, and tape to use so there was no sharing supplies involved."

She added, "I was able to use the models from one of the art teachers, Mr. Champion. Super grateful for that!"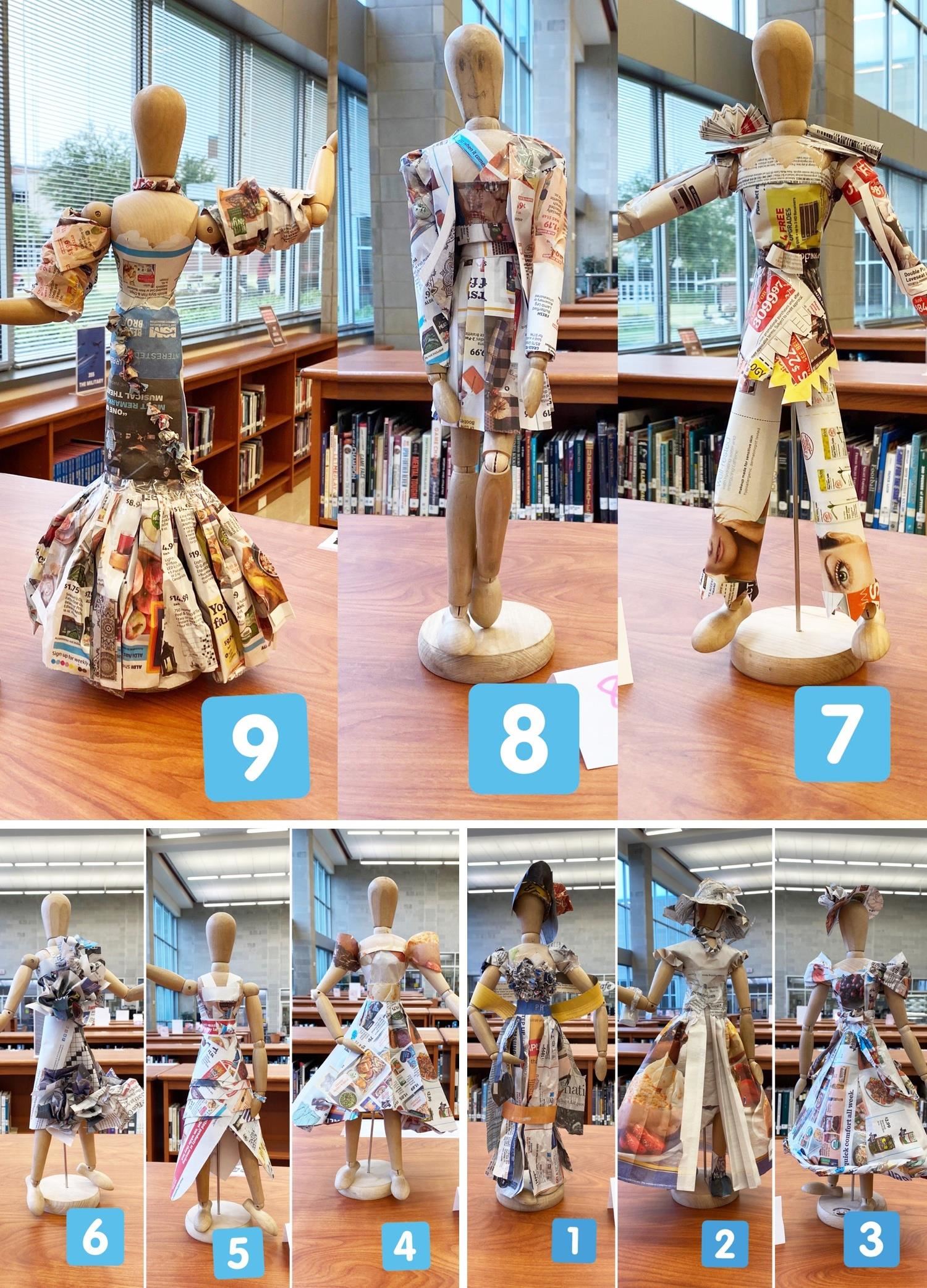 Photo courtesy of Christina Barrientos (@BarrientoscaLHS)
There are several projects on the horizon for Barrientos' class including hand-sewing felt Mexican sugar skull sachets, machine-sewing tote bags and an upcycling assignment where students create something new out of an old garment.
At the end of the semester, as part of a comprehensive project, the students will submit a digital collection of all their work, which can be used as a portfolio piece if they elect to attend a design program.

"We are also planning to do some screen printing and hand embroidering when we discuss branding," Barrientos said. "There is also a fun project where we do a fashion version of an episode of 'Chopped' where each student is given random items [paper clips, salt/pepper packets, pipe cleaners] and they have to create a garment out of it."

Beyond the projects and the skills learned, Barrientos, who is in her fourth year at LHS, wants her students to know her class is a safe space for students to express their own styles, thoughts and designs.

"I think sometimes students can be shy about who they really are or how they really would like to dress or look," Barrientos said. "In the very beginning of the semester we do a MyStyle project where students are encouraged to find pictures of clothing, colors, accessories, and hair that they feel represents them. It could be stuff that they wish they could wear or currently wear today. Once we are done we showcase these projects in their portfolio, and I feel like this kind of breaks the ice."

She added, "This class celebrates each individual and how they desire to be seen!"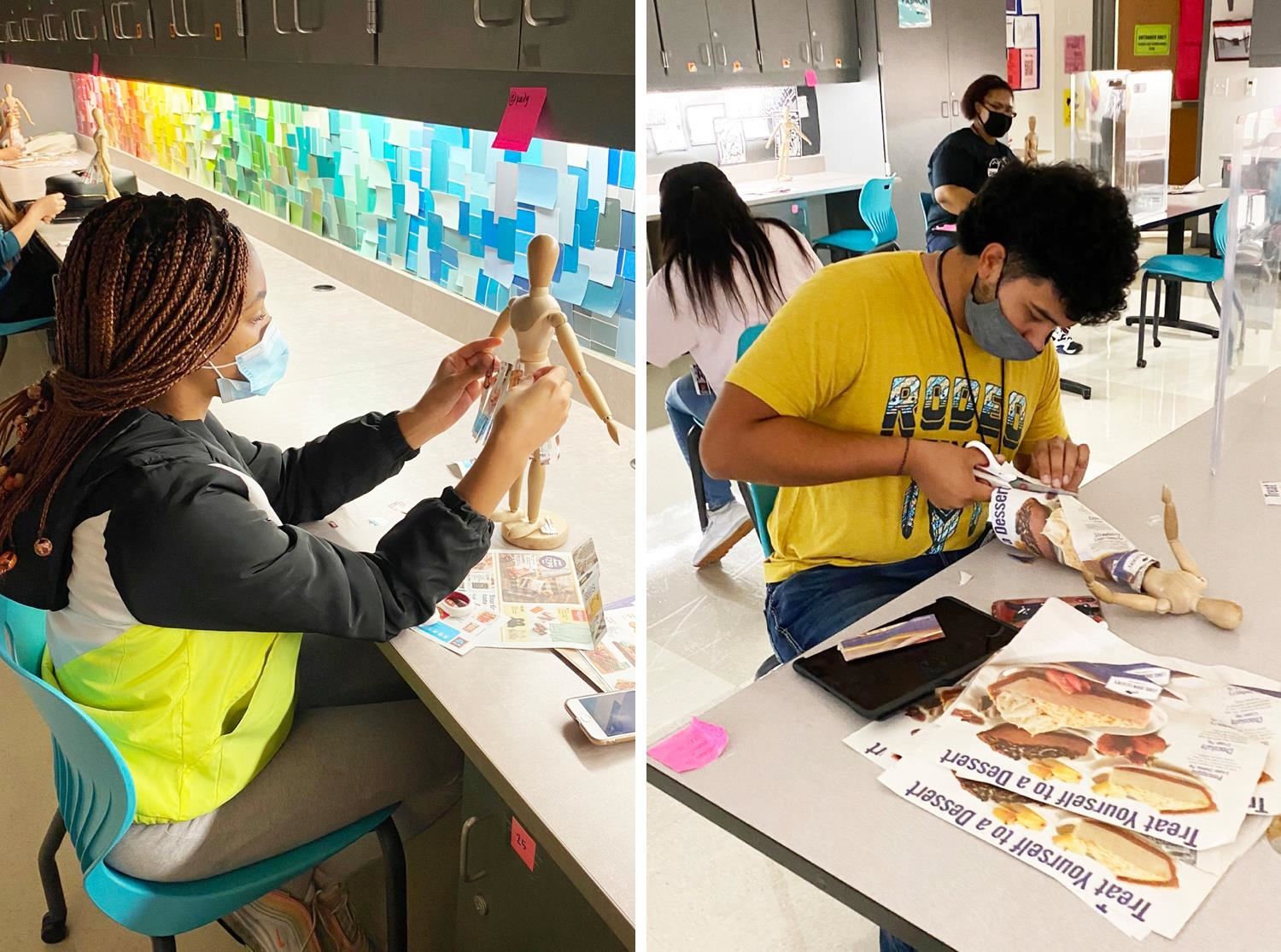 Photo courtesy of Christina Barrientos (@BarrientoscaLHS)
Barrientos strives to make the learning relative to her students. She said she involves them as often as she can and tailors lessons around what piques their interests while still meeting state standards. She also loves to show off their work at LHS and on social media.
"I usually post their projects on Twitter, I call it the digital refrigerator," she said. "They like to see their stuff online or pictures of them working."

Barrientos' students seem to appreciate what they are learning and the opportunities they have had to express themselves in her class.

"I love fashion and style in general, so learning more about it makes me happy," Johnson said. "I've never really been into fashion design, but this class made me realize how much I actually love it. Sketching new styles and having the chance to express myself through clothes is really helping me improve my confidence and creativity."

Barrientos, who is an LHS graduate herself, said she wants her students to know their work is valued and she is proud of them and all they do in class.

"I realize that some of my students will never go into the fashion industry but what I can hope for is that they have fun while they're here and walk away from my class feeling valued, heard, and seen," she said. "It is an absolute honor and privilege to be a part of their story. They are a big part of mine!"