Return to Headlines
Middle & High School Campuses
A Look Inside Level Orange: Secondary campuses
As families prepare for the first day of In-Person Learning, Sept. 8, Lewisville ISD would like to give families a glimpse of what middle and high school students can expect to see and experience when they return to campus. In In-Person Learning, students return to campus full-time with additional safety precautions and procedures in place. Under the district's Disease Activity Level guidelines, campuses will begin the 2020-21 school year in Level Orange status.
The following details are meant to serve as an example of what students might see when returning to campus. Specific signage and protocols, such as hallway movement, will vary depending on the campus.
AT HOME | ARRIVAL | CLASSROOMS | IN THE HALLS & AROUND CAMPUS
SANITIZATION & HYGIENE | CAFETERIA & MEALS | DISMISSAL
AT HOME
Before leaving for school, families are asked to conduct daily health self-screenings for each student. If a student has any new or increasing symptoms, they should stay home.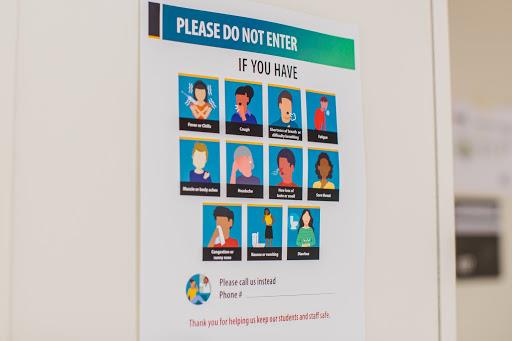 If a student has any of the following new or increasing symptoms, they should stay home:
Fever (100.4+) or chills

Cough

Shortness of breath or difficulty breathing

Fatigue

Muscle or body aches

Headache

Loss of taste or smell

Sore throat

Congestion or runny nose

Nausea or vomiting

Diarrhea
If a student has been lab-confirmed positive for COVID-19 or had close contact with someone who has been lab-confirmed positive for COVID-19, they should stay home. "Close contact" is defined as being within 6 feet for a cumulative duration of 15 minutes. However additional factors like case or contact masking, where both the individual and the close contact have been consistently and properly masked; proper ventilation; presence of dividers; and case symptomatology may affect this determination.
Campuses will be communicating with families the protocols they should follow should a student test positive for COVID-19. If families have questions about any of these symptoms or scenarios, they should contact the school nurse. In addition, the district is currently working to establish a COVID-19 Call Center to field questions/concerns about symptoms or specific scenarios from LISD families. More information will be available soon and families will be notified when the call center is open to receive inquiries.
For more information, review the district's positive protocol map.
SCHOOL ARRIVAL
Upon entry to the building, students will be required to use hand sanitizer or wash their hands with soap and water, wear face coverings and practice social distancing. Arrival will be designed to promote physical distancing and minimize the touching of door handles. Depending on the student's campus, there may be specific entrances to use or staggered entry. However, at all campuses, students can expect staff to conduct general screenings and ensure students are wearing proper ID and face coverings.
Once inside the building, students may pick up breakfast in the cafeteria, or wait in designated areas until class begins. When the bell rings, students will be dismissed in small groups to report to their first-period classrooms. This dismissal procedure will keep the hallways from overcrowding to ensure a healthy walking distance between student groups. For more, what this short video:
CLASSROOMS
Classrooms will look a bit different than what students are used to. Desks and tables will be 3-6 feet apart and will face the same direction. In order to best utilize classroom space and maximize physical distancing opportunities, classrooms will be cleared of unnecessary items, such as couches. Collaboration inside the classroom will be limited by the assigning of individual/partner work with virtual collaboration encouraged.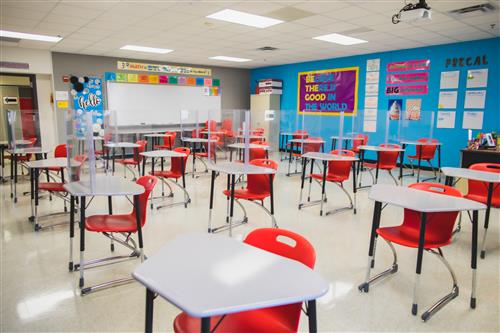 Students should not share school supplies or technology with their peers. Students must refrain from passing around cell phones or iPads to friends. If a student needs supplies, they should ask a teacher who may be able to help them get what they need for the class.
IN THE HALLS AND AROUND CAMPUS
Campuses will coordinate staggered student releases from class to limit traffic in the hallway, and specific hallway traffic flow patterns will be followed. Students will be asked to adhere to the one-way expectations throughout the building. In many cases, students will only be able to go one-way and may be required to take a specific stairway to help increase safety when transitioning from class to class.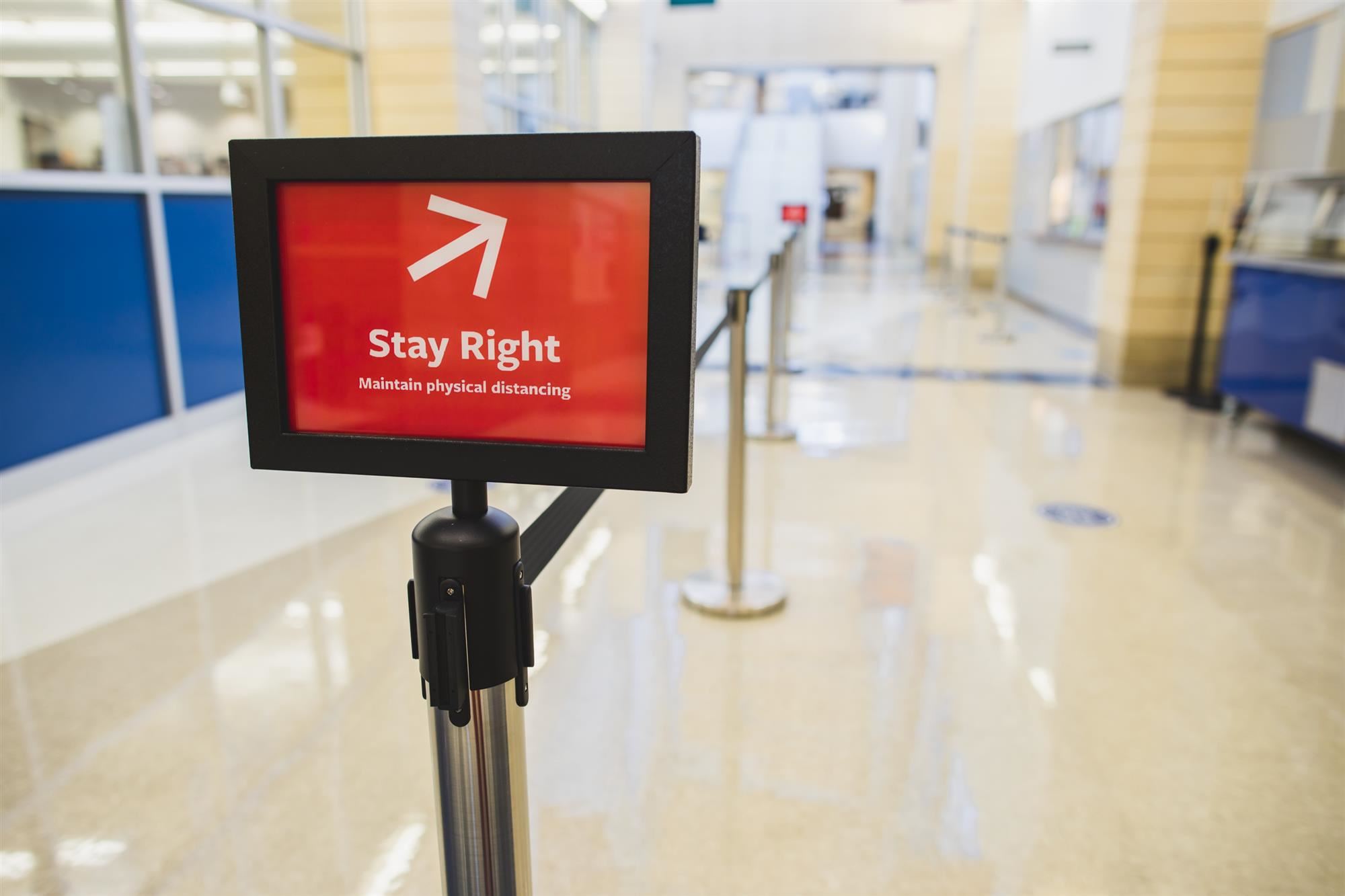 There will be directional signage such as floor clings and posters to help guide and remind students.
Restrooms and water fountains will be restricted during passing periods, and restrooms will also have limited/restricted capacity to avoid overcrowding.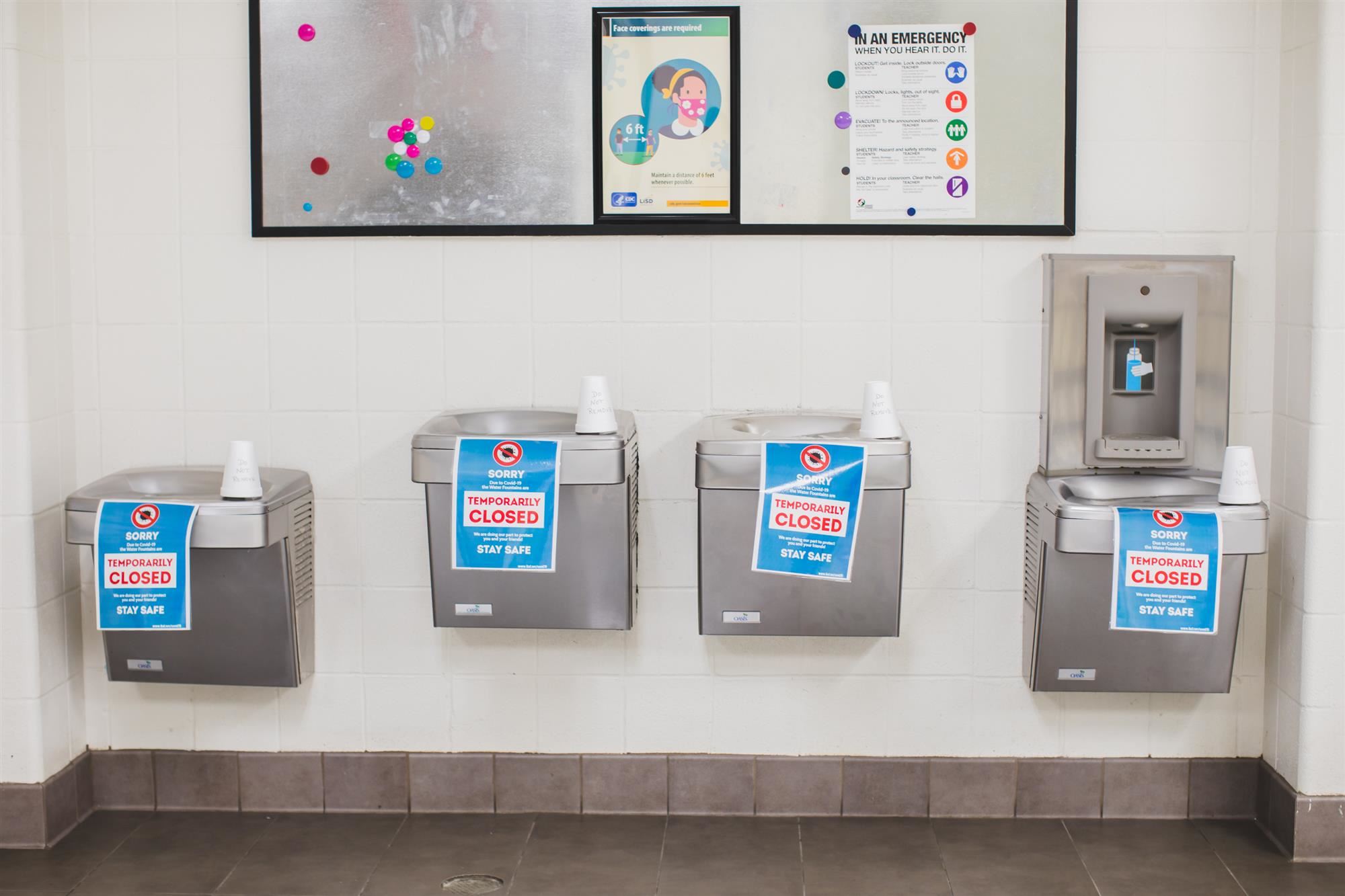 Students will also be expected to physically distance throughout the school day. Students will not be allowed to gather in groups in common areas or in the classroom. For safety purposes, many common areas and flex spaces will not be in use. Lockers will also not be used this school year and students should plan to use a sturdy backpack to carry all personal items and supplies. Exception: Extra-curricular lockers and storage will be discussed by respective coaches and sponsors. For more, watch this short video:
CAFETERIA & MEALS
This school year, cafeterias will offer Grab-and-Go breakfast and lunch options. These individual meals will assist in minimizing contact with food trays, plastic ware, cups, and increase safety and sanitization for each student eating at school.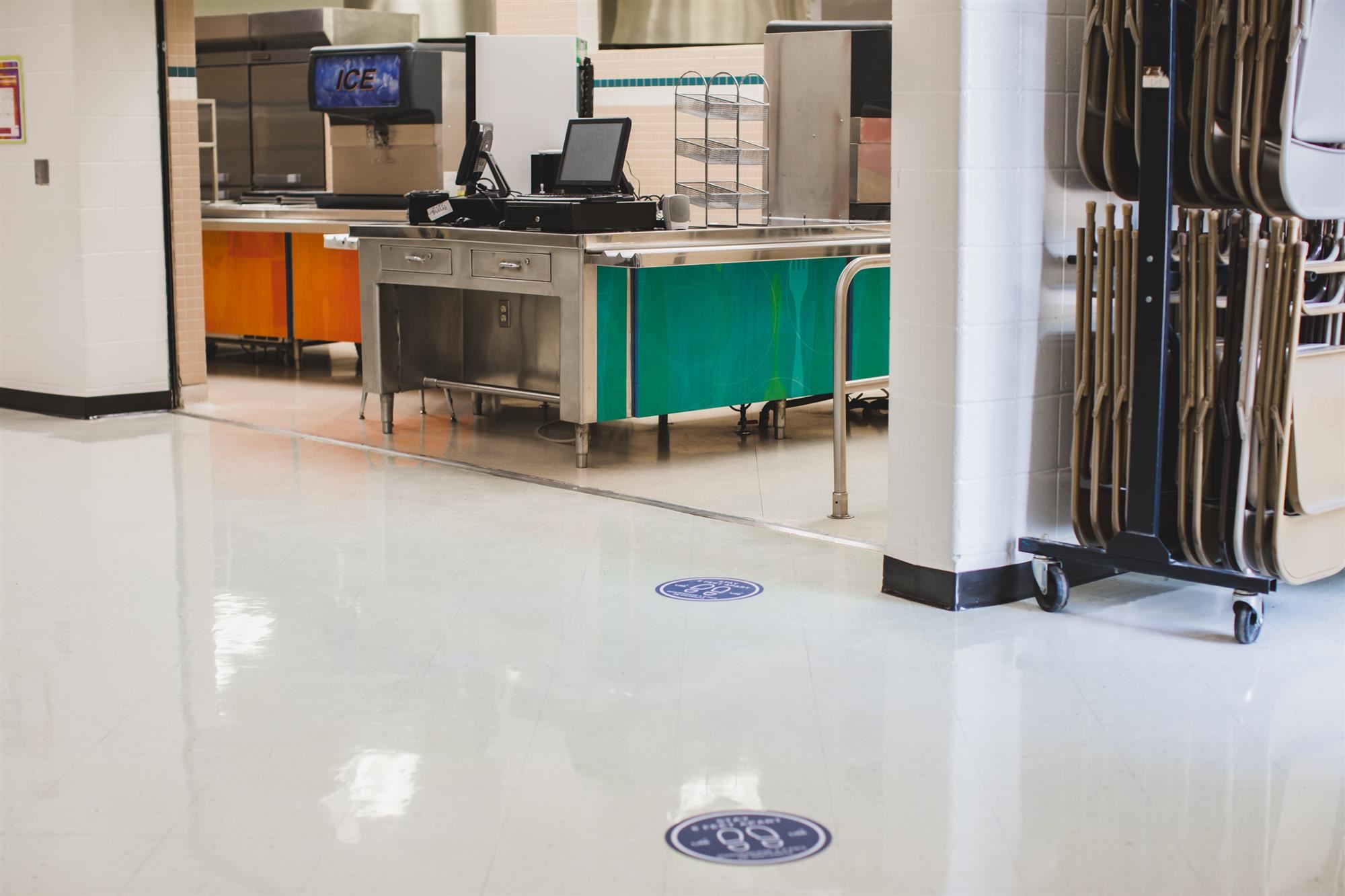 When standing in line, students must follow the floor clings directing them to remain 6 feet away from their peers. There will be limited seating in the cafeteria, so some students may eat in classrooms on a rotating basis.
No lunch visitors will be allowed and no food drop-off will be accepted. Students will need to bring their own lunch to school when they arrive on campus, or they will need to purchase a Grab-and-Go lunch at school.
Also, as a way to make transactions as safe and easy as possible, families are encouraged to pre-load funds onto their children's Rev-trak accounts. However, cashiers will accept cash for meal payment.
All Child Nutrition employees and managers have completed trainings on updated safety practices, and visual aids have been placed in cafeterias to reinforce these daily procedures. Face coverings and social distancing will be required for child nutrition staff. For more, watch this short video:
SANITIZATION & HYGIENE
Increased sanitizing and handwashing is very important this school year. As mentioned in the arrival section, students will be asked to sanitize or wash their hands upon entering the school building. In addition, prior to entering a new classroom, students will be asked to sanitize to help prevent the transfer of germs or bacteria.
Students can expect to sanitize their hands multiple times a day. Each school will provide sanitization stations and hand sanitizer for students and staff to use while on campus. For more, what this short video:
SCHOOL DISMISSAL
At the end of the school day, students will remain in their classrooms until an administrator dismisses their class over the PA system. This procedure will help students maintain physical distancing when school lets out each day.
Campuses will have several exits and categories of dismissal, such as bus riders, walkers, those with vehicles or parent pick up. This will allow for a staggered dismissal, the minimization of large groups and proper social and physical distancing. For more, watch this short video:
---
Families will be notified of any adjustments in protocols. LISD appreciates the help and cooperation from students, staff and families in keeping everyone safe and looks forward to welcoming students back to campus.
Be on the lookout the week of Aug. 31 for a detailed presentation of procedures and protocols families should be aware of before returning to campuses on Sept. 8.
For more information about what returning to campuses looks like, visit LISD.net/orange.
---
For more information about what returning to campuses looks like, visit: