Return to Headlines
LISD Bands Excel in UIL 6A State Marching Band Contest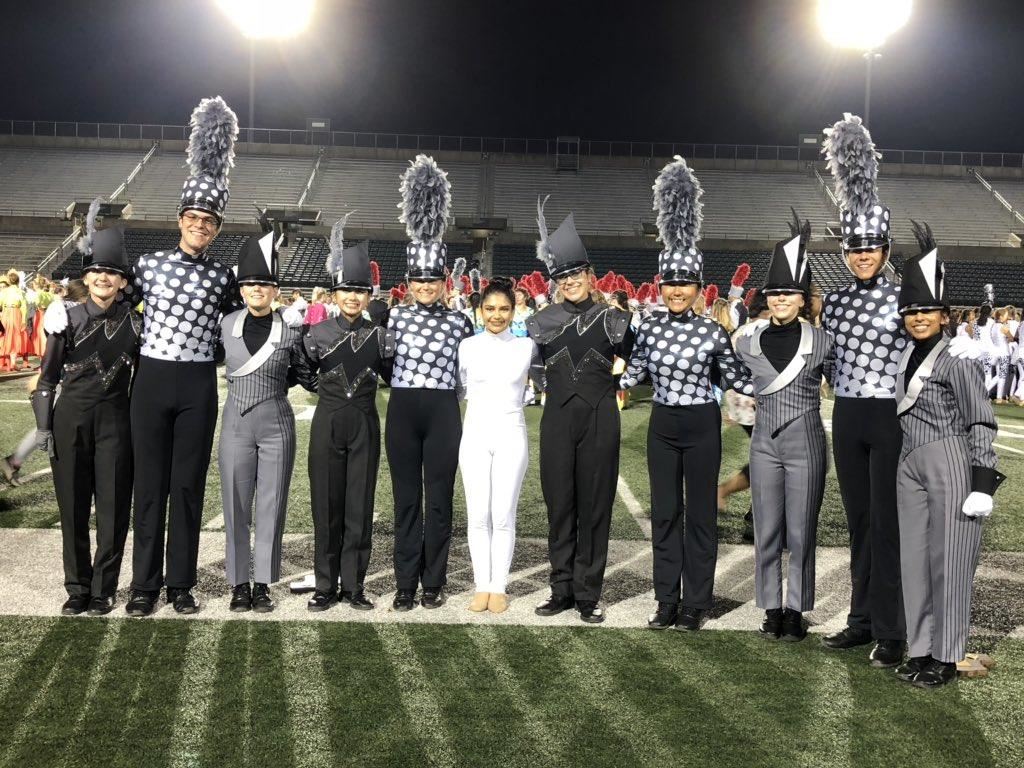 Nov. 9, 2018—The toughest competition Flower Mound High School (FMHS), Hebron High School (HHS) and Marcus High School (MHS) Marching Bands face is within the 127-square miles of Lewisville ISD (LISD), as schools across the district have continually placed in the University Interscholastic League (UIL)'s Marching Band Contest since 2012.

"Our collection of LISD Band communities is widely recognized as the nation's strongest assembly of band programs in the country," LISD Fine Arts Director Amanda Drinkwater said. "The fielding of these spectacular marching band productions has become something of an expectation by our communities and fans, but the work involved to put forth such high-quality productions year after year within all five high school programs cannot be overstated. The development of these creative productions requires year-round planning and strategic process implementation by truly devoted staff members. The activity requires exceptional dedication and commitment by the band's members and families, the basis of which begins in our instrumental music education programs within all LISD middle schools."
This year, FMHS, HHS and MHS marching bands excelled at the 2018 UIL State Marching Band Contest Conference 6A Finals, earning 2nd, 4th and 10th-place respectively.

All three programs have previously earned notable distinctions at the UIL State Marching Band Contest, an event that is held bi-annually at the San Antonio Alamodome. Advancement to the state level competition requires three levels of advancement through the Region, Area Prelims, and Area Finals competitions. The Flower Mound Band's previous appearances have included 2014 (9th place) and 2016, where they earned the UIL 6A State championship title.
The Hebron Band advanced to the 4A UIL marching contest in 2003 (17th place), and earned advancement in the 5A/6A contest in 2006 (22nd), followed by a series of finalist placements in the classifications in 2008 (10th place), 2010 (6th place), 2012 (2nd place), 2014 (2nd place) and 2016 (2nd place). The Hebron Band earned 2nd place overall and the UIL Silver medal in three consecutive state marching contests, in 2012, 2014 and 2016.
The Marcus Band has appeared at every 5A/6A UIL State Marching Band Contest since 2004 (13th place), during which time they earned a record five consecutive first-place finishes and the 5A/6A UIL State Championship titles in 2006, 2008, 2010, 2012 and 2014. The Marcus Band placed 3rd at the 2016 contest, earning the UIL Bronze medal.

In addition, all three bands competed in the Bands of America 2018 San Antonio Super Regional Championship on Saturday, Nov. 3. Results: FMHS, 1st place; HHS, 3rd place; and MHS, 11th place.

Visit the UIL's website for official results and additional information.

Visit the Music for All website to learn more about Bands of America Marching Championships here.

*Photo courtesy Flower Mound Band Twitter