Return to Headlines
2016-2017 LISD Employee of the Year Award Finalists Announced
April 11, 2017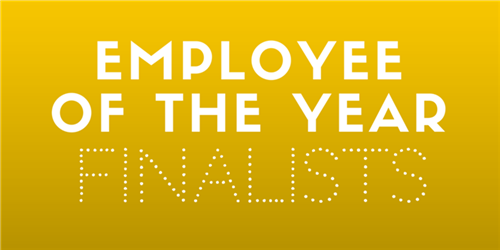 The nominations are all in, the scores have been tabulated, and we are excited to announce our 2016-2017 Lewisville ISD Employee of the Year Award Finalists listed below.
Also, see a complete list of LISD's 2016-2017 Teacher of the Year Finalists
here
.
If you know any of these awesome employees, please help us congratulate them.
Child Nutrition Services
Finalist
Anna Ferrell
Lillie J. Jackson Early Childhood Center
Finalist
Caren Ruppert
Marcus High School
Finalist
Maria Tapia
McKamy Middle School
Clerical/Secretarial/Technical
Finalist
Kim Teamer
Degan Elementary
Finalist
Jaclyn Lopez
Polser Elementary
Finalist
Evelyn Rubio
Vickery Elementary
Counselor
Finalist
Shelly Blevins
Degan Elementary
Finalist
Jennae Bradley
Griffin Middle School
Finalist
Natalie Melton
Marcus 9th Grade Campus
Custodial Services
Finalist
Nacario Mendez
Forest Vista Elementary
Finalist
Jose Orellana
Hebron High School
Finalist
Joe Salas
Lewisville High School
Facilities
Finalist
Connie Clary
LISD Service Response Center Clerk
Finalist
Tammy Burns
LISD Rental Coordinator
Finalist
Adrian Rivera
East Zone HVAC Lead
Instructional Aide
Finalist
Christy Beck
LHS Killough
Finalist
Tamra Lambert
Lillie J. Jackson Early Childhood Center
Finalist
Rebecca Pilgrim
Rockbrook Elementary School
Instructional/Tech Support
Finalist
Jayne Germany
Learning and Teaching
Finalist
Cathy Fields
Learning and Teaching
Finalist
Kimberly Estrada
Learning and Teaching
Librarian
Finalist
Katie Delamarter
Central Elementary
Finalist
Whitney Jones
Old Settlers Elementary
Finalist
Liz Fisanick
Peters Colony Elementary
Nurse
Finalist
Margot Ell
Marcus High School
Finalist
Mary Harned
Highland Village Elementary
Finalist
Erica Rollins
Creekside Elementary
Transportation Services
Finalist
Janelle Nailing
Castle Hills Elementary & Killian Middle School
Finalist
Crystal Doshier
Field Trips
Finalist
Fred Veazey
Liberty Elementary
Administrator
Finalist
Kathy Haule
Learning and Teaching
Finalist
Robin Fry
Learning and Teaching
Finalist
Karla Stastny
Senior Accountant
Assistant Principal
Elementary
Finalist
Lindsey McDaniel
Peters Colony Elementary
Finalist
Lisa Phelps
Prairie Trail Elementary
Finalist
Kellee Stephens
Rockbrook Elementary
Secondary
Finalist
Linda Cragin
Griffin Middle School
Finalist
Tina Krol
Killian Middle School
Finalist
Jeff Lahey
Lakeview Middle School
Principal
Elementary
Finalist
Jennifer Spitzer
B.B. Owen Elementary
Finalist
Susan Heintzman
College Street Elementary
Finalist
Michelle Wooten
Donald Elementary
Secondary
Finalist
Nicole Jund
Creek Valley Middle School
Finalist
Deanne Angonia
Killian Middle School
Finalist
Jeffrey Kajs
Lewisville High School
First-Year Teacher
Elementary
Finalist
Haley Dooley
B.B. Owen Elementary
Finalist
Emily Satterla
Lewisville Elementary
Finalist
Brooke Wilson
Prairie Trail Elementary
Secondary
Finalist
Steve Harbula
DeLay Middle School
Finalist
Jennifer Andrews
Killian Middle School
Finalist
Hannah Morrison
Lamar Middle School