Return to Headlines
Life on the LPGA Tour with The Colony and Hebron HS
With the Ladies Professional Golf Association (LPGA) in town, students at The Colony and Hebron High Schools got a day-in-the-life experience of what it's like on Tour this week.
The Ascendant LPGA Benefiting Volunteers of America is hosting its annual tournament that's taking place Sept. 29 – Oct. 2 at Golf Clubs at The Tribute in The Colony.
In partnership with Atmos Energy, 85 female student-athletes from The Colony High School made their way on Monday morning to The Tribute to learn about careers in professional sports and receive a golf clinic from LPGA professionals.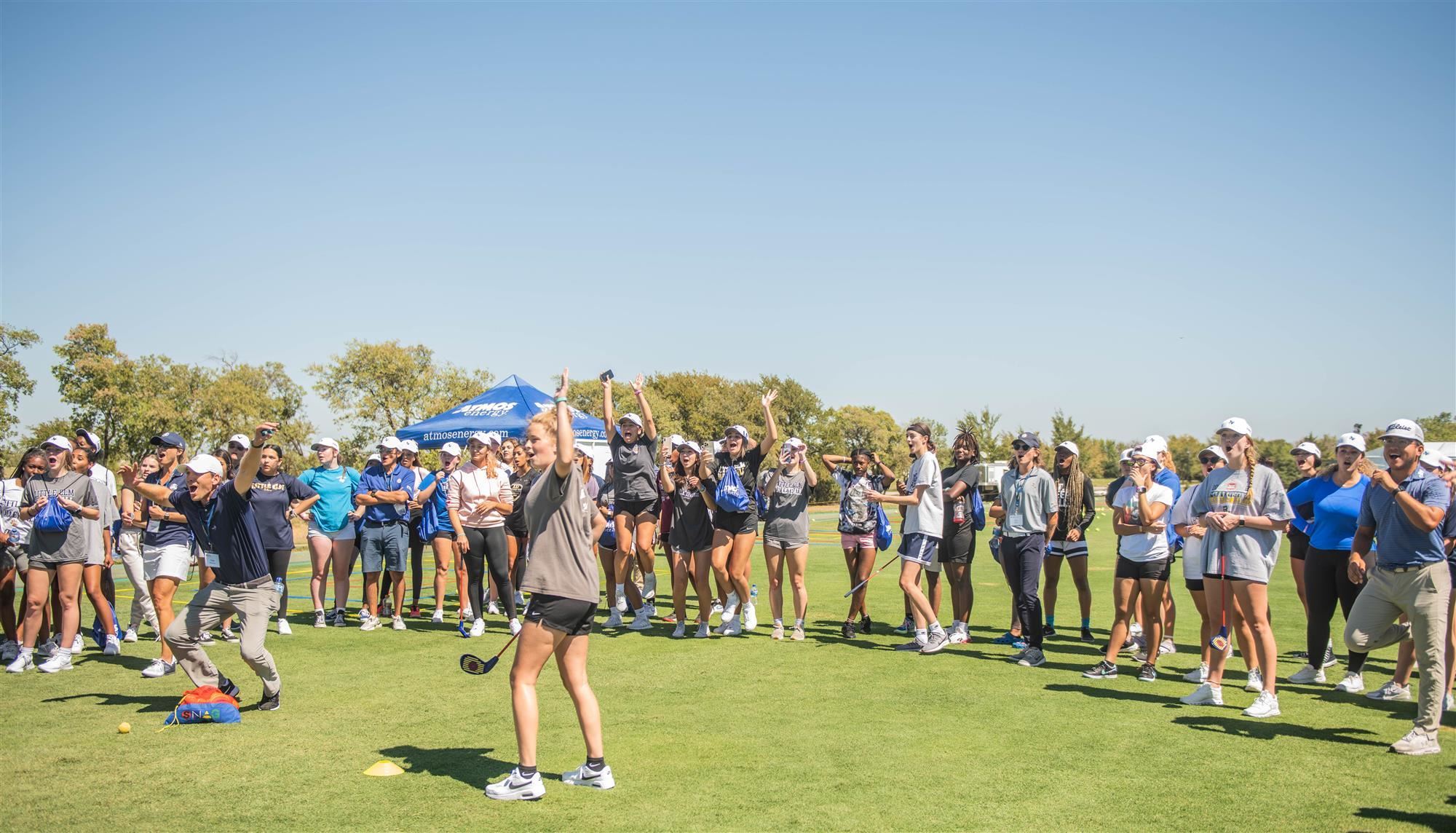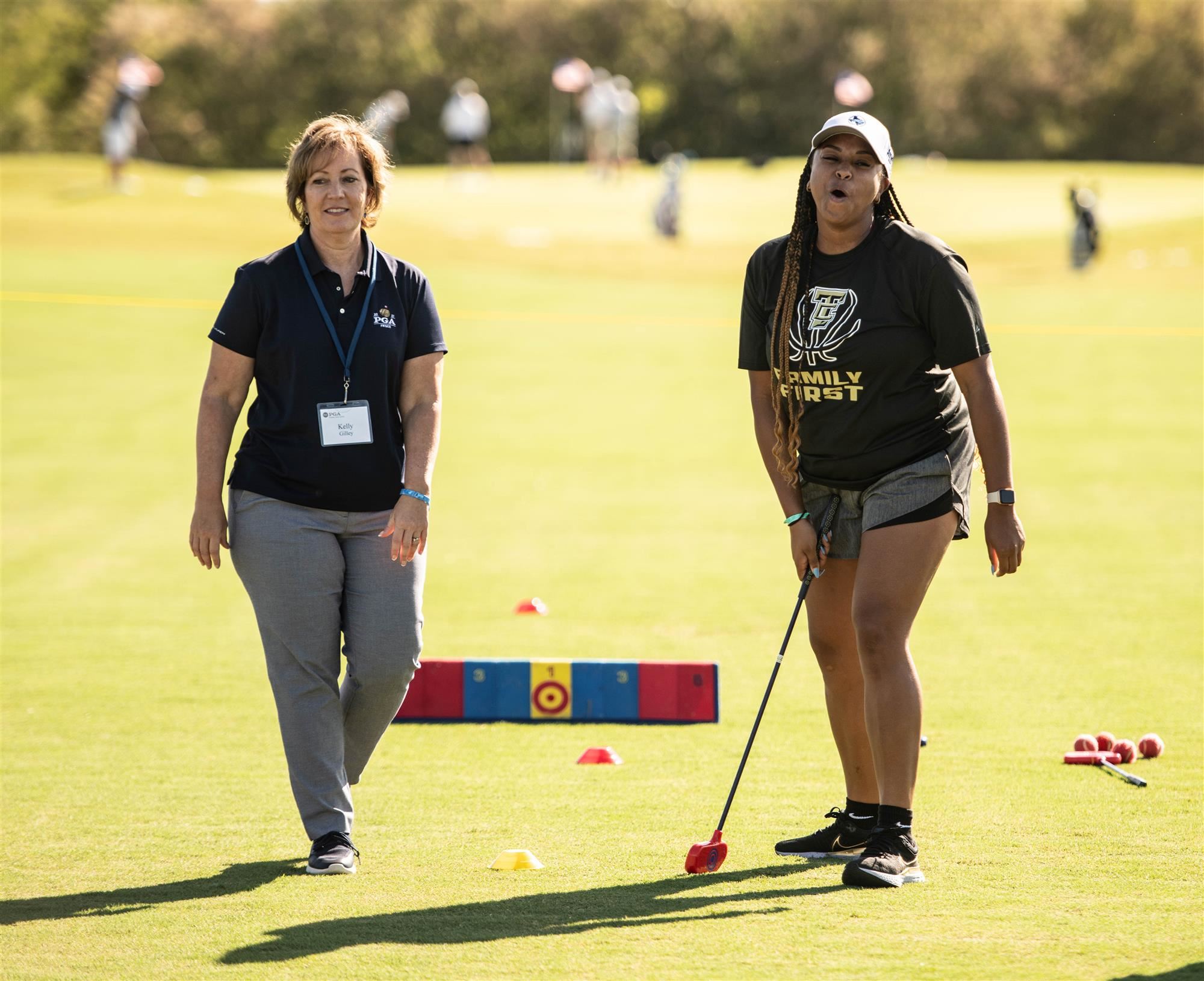 "In terms of this event itself, not just The Colony, but the whole community in the area, everyone has been so supportive of the Ascendant LPGA Benefiting Volunteers of America," Payton Walker, Marketing Coordinator with Outlyr in conjunction with the LPGA, said. "It's important to us to give back and we want this relationship to grow year after year. We want to bring students and community members out to this event and be involved other than just spectators. Whether it's volunteers, golf clinics or getting a behind-the-scenes tour of media and operations, we want as much involvement from the community as possible."
TCHS had members from the girls' golf, basketball and soccer teams attend the sponsored event. They opened the morning hearing from professional golfer Janie Jackson and then split into groups to receive golf lessons from the pros.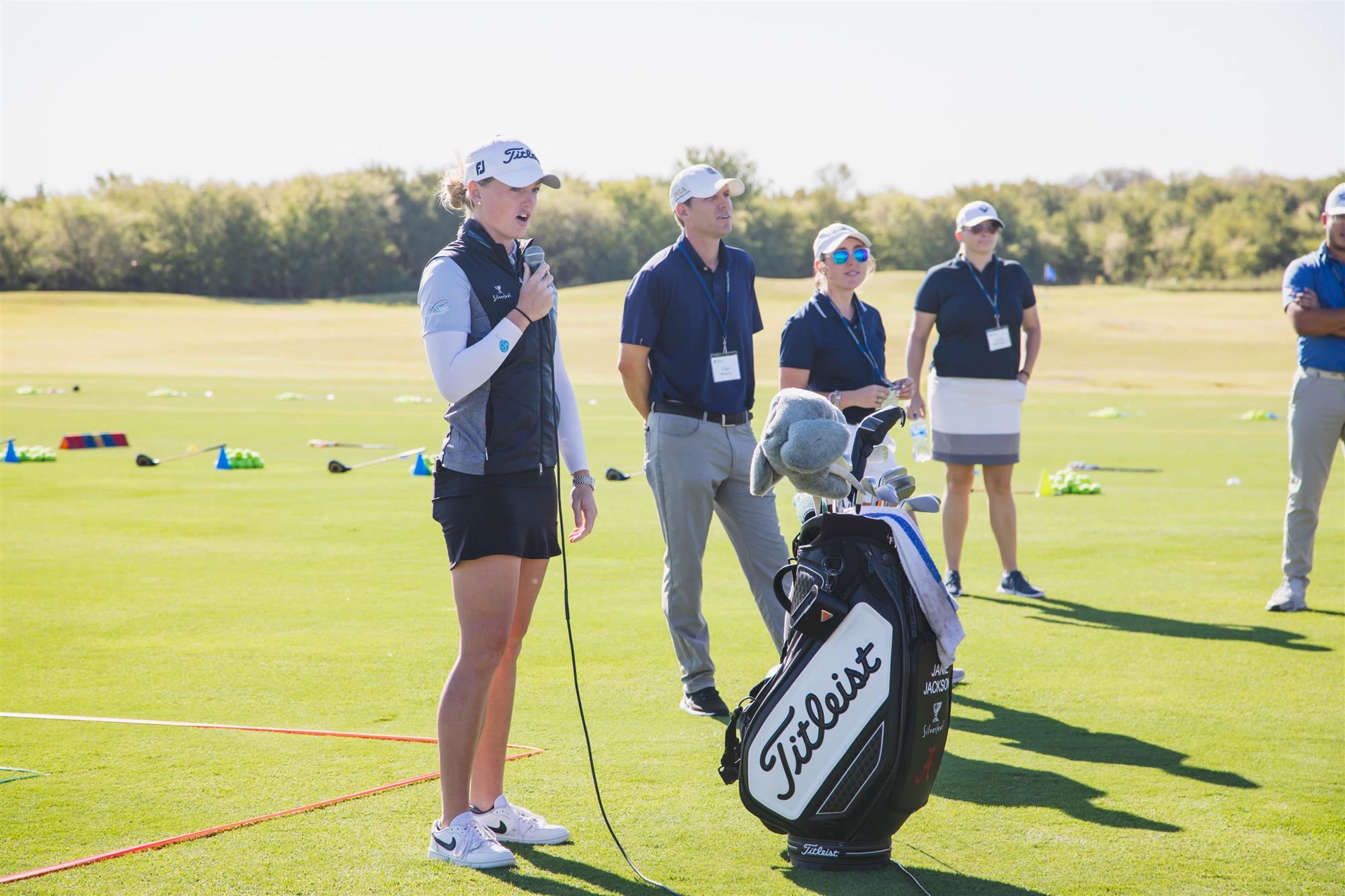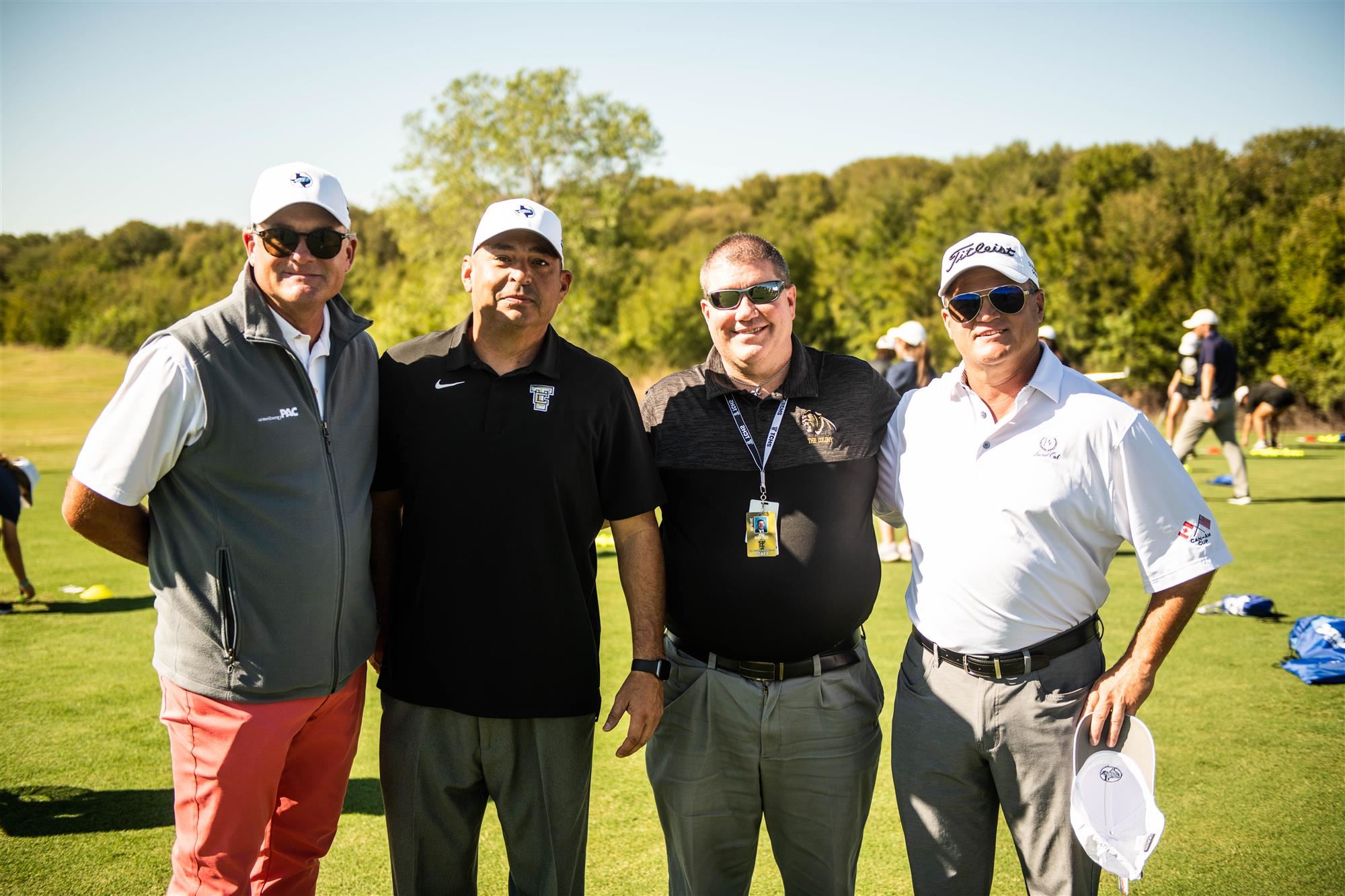 Although most of the student-athletes outside of TCHS's golf team said they had never played golf before, they were all eager to get involved with the sport after the lessons and practice they had. They also learned about careers in sports, whether it be marketing, sports media, television, or photography/videography, there are ways to have a career in sports even if you aren't playing.
"In Career and Technical Education, hands-on learning and student experience is paramount to helping students see themselves in these roles in the future," Dr. Kristin Petrunin, LISD's CTE Administrator said. "The roles and jobs we have now are evolving and we are preparing for jobs that might not even exist today. We want to help our students learn about what work looks like now but also in the future so they can see the day-to-day life and talk to professionals and create networking opportunities."
On Wednesday, 30 Sports Entertainment Marketing students from Hebron High School got to experience a day in the sports world and get a backstage view of working in sports media. In Sports Entertainment Marketing class, Hebron teacher Ellery Smith said, "Students learn how the entertainment and marketing field plays a big role in all areas of sports. If students love sports, it's a class where they can learn and see all the different job opportunities you can have working in sports."
Hebron students began the day in the media workroom at The Tribute and got to sit in on an official post-round press conference with professional golfer and DFW-native Cheyenne Knight, who won the Volunteers of America Classic in 2019.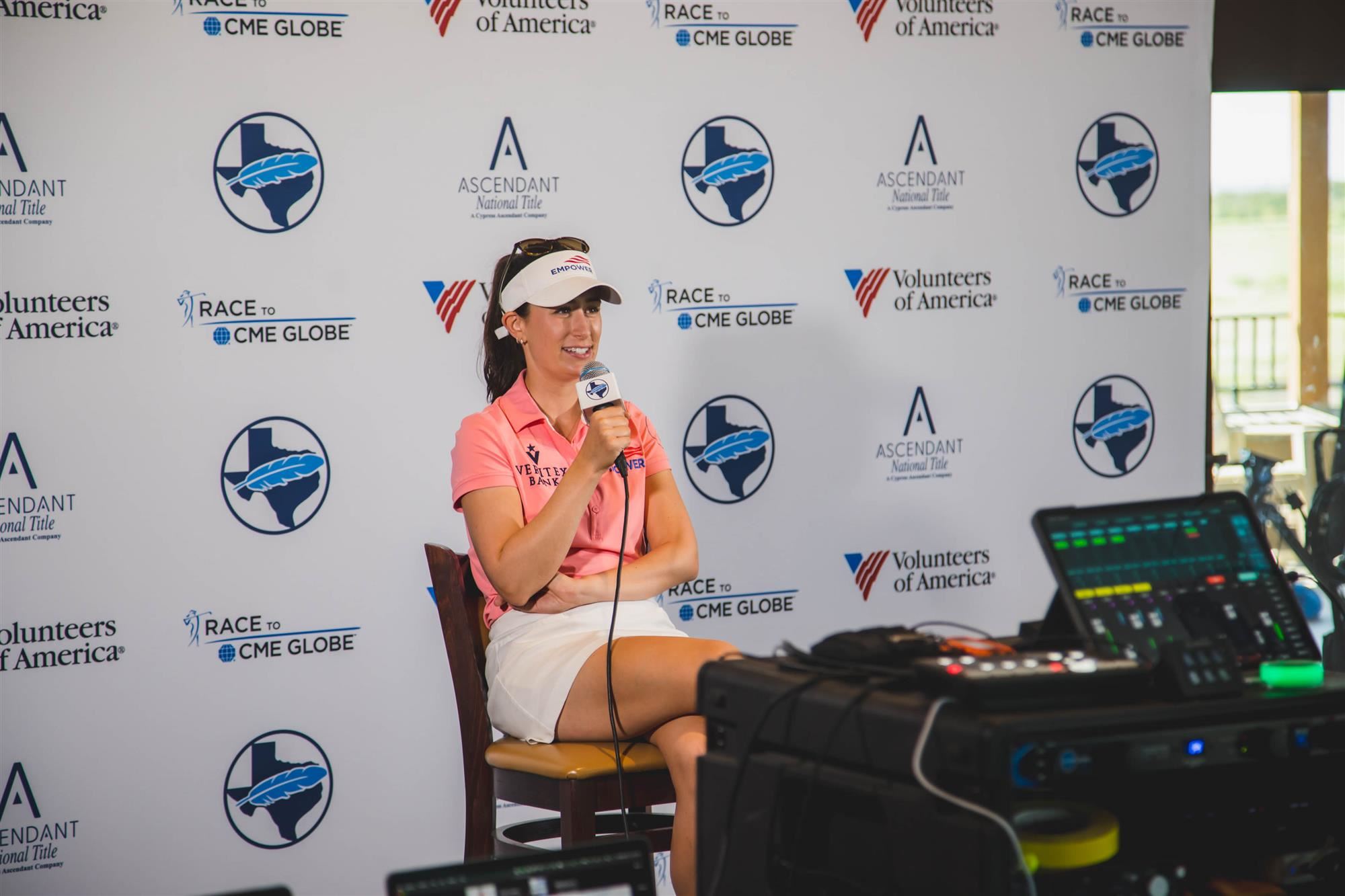 Hebron senior Olivia Howard was one of the students who got to ask Knight a question at the press conference and she later said she wants to have a career working in sports, so the Sports Entertainment Marketing class was a perfect opportunity for her.
"I'm interested in sports media and sports law," Howard, who has committed to play soccer at The University of California Santa Barbara, said. "Sports is my big thing, so any class that I can take that allows me to be involved with sports was something I was interested in. This class, along with getting a behind-the-scenes look with the LPGA today, will definitely help me in my future."
After the press conference, students made their way over to the television side of the tournament and got to tour NBC Sports and Golf Channel's production and graphic trucks since the tournament is on national television. The students heard from the producer and graphic developers for the tournament and explained the process of television production.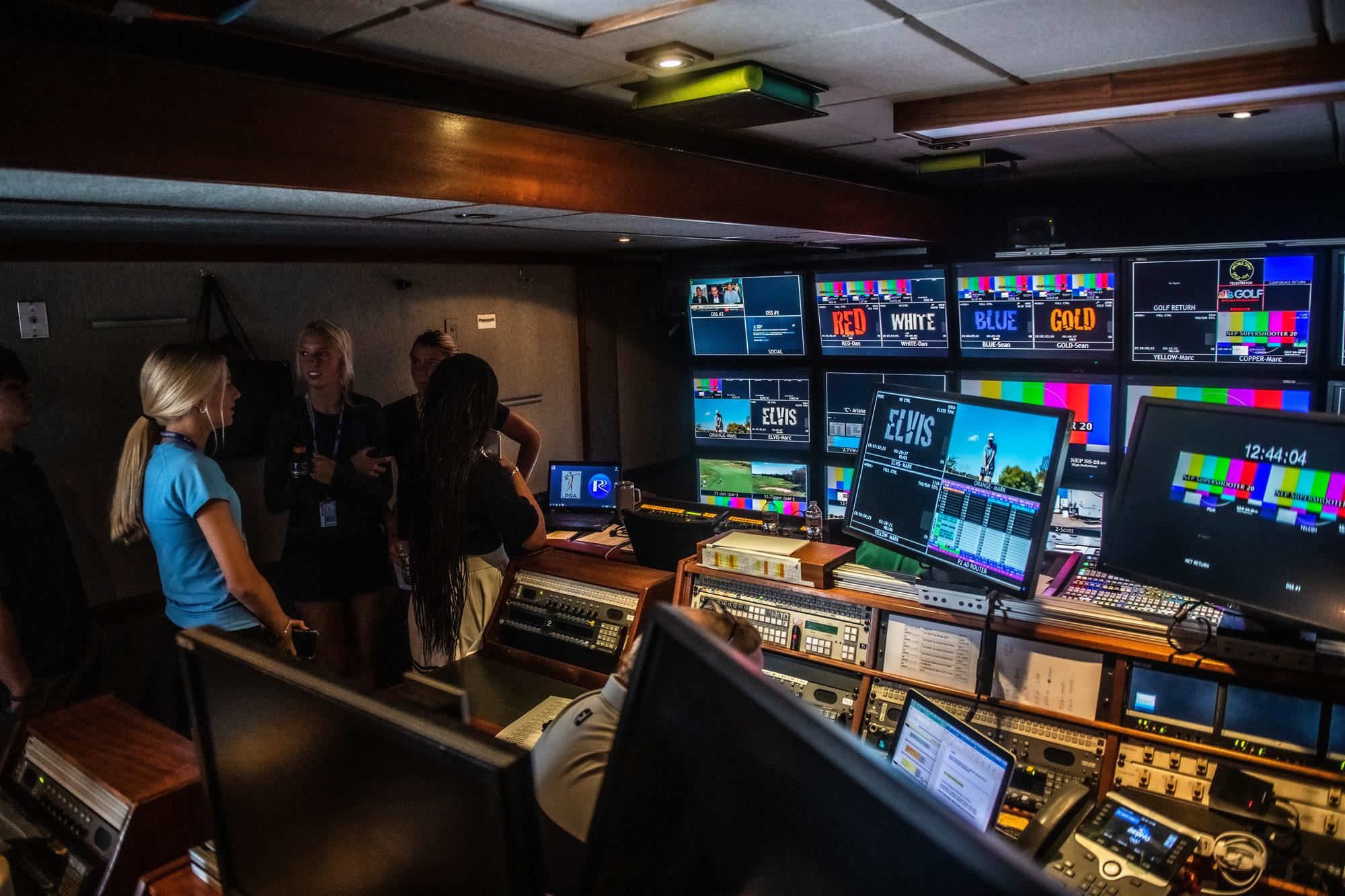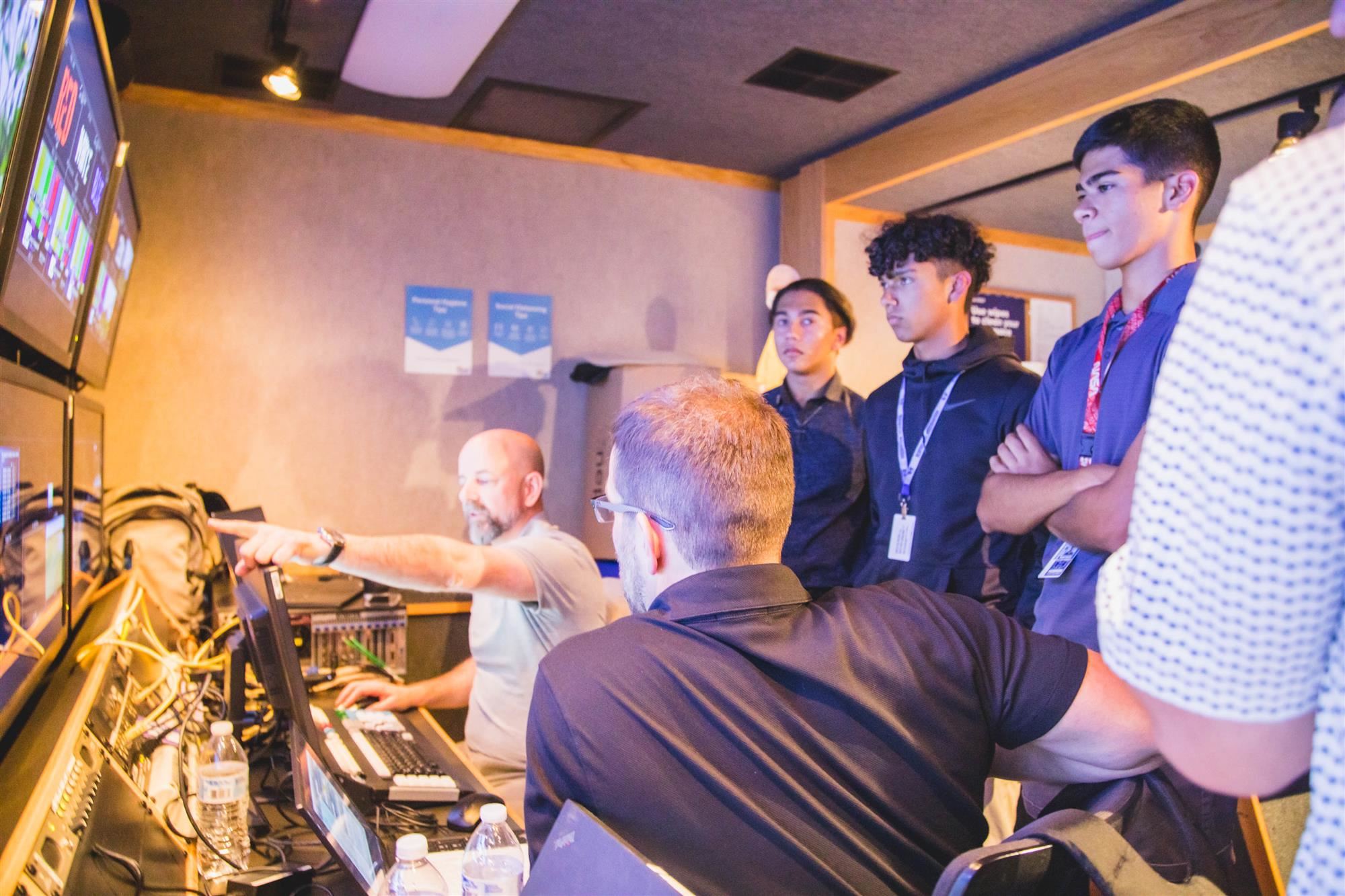 Each year, Lewisville ISD continues to provide unique learning opportunities and experiences for students and this event was no different. Lindsay Ayers, LISD's Director of Strategic Partnerships, orchestrated these events and said, "Being out on the course for both events and seeing learning come to life for these students was priceless. A huge thank you to the Outlyr team, Atmos Energy, and everyone else who made these events possible for our students."
Walker said he hopes the students take this opportunity to see and learn about careers in professional sports and turn it into a career themselves.
"I hope the students gained experience they wouldn't have had otherwise," Walker said. "Sports itself, a lot of people strive to work in the industry, so seeing all the opportunities they have, and despite all the work that goes into it, it's a fun career to have. I think these students can now say, 'Hey, this is what it could be like if I really wanted to pursue this field' and now they have a jumpstart on that career path."
Walker also had one last piece of advice for the 100+ LISD high school students this week that got to experience life on Tour: "Make connections and gain experience. Jump on these internships, even if it's unpaid or minimum wage. It's the hours you put in and making these connections with people in the field that's going to get you to where you want to be."
---
From the beginning, Lewisville Independent School District has committed to ensuring all students—your children—have the resources they need and want to ultimately thrive in a future they create. Follow Lewisville ISD on Facebook, Instagram and Twitter to see more student experiences throughout the school year or visit Best Schools in Texas for more information about joining the LISD family.