Return to Headlines
SCHEELS Friday Night Lights at Hebron HS
In partnership with SCHEELS in The Colony, Lewisville ISD kicked off its Friday Night Lights campaign at Hebron High School's varsity football homecoming game against Marcus High School on Friday, Sept. 23. To promote teamwork, leadership, discipline and highlight student-athletes of all ages, three students were announced as SCHEELS Athletes of the Week during the game.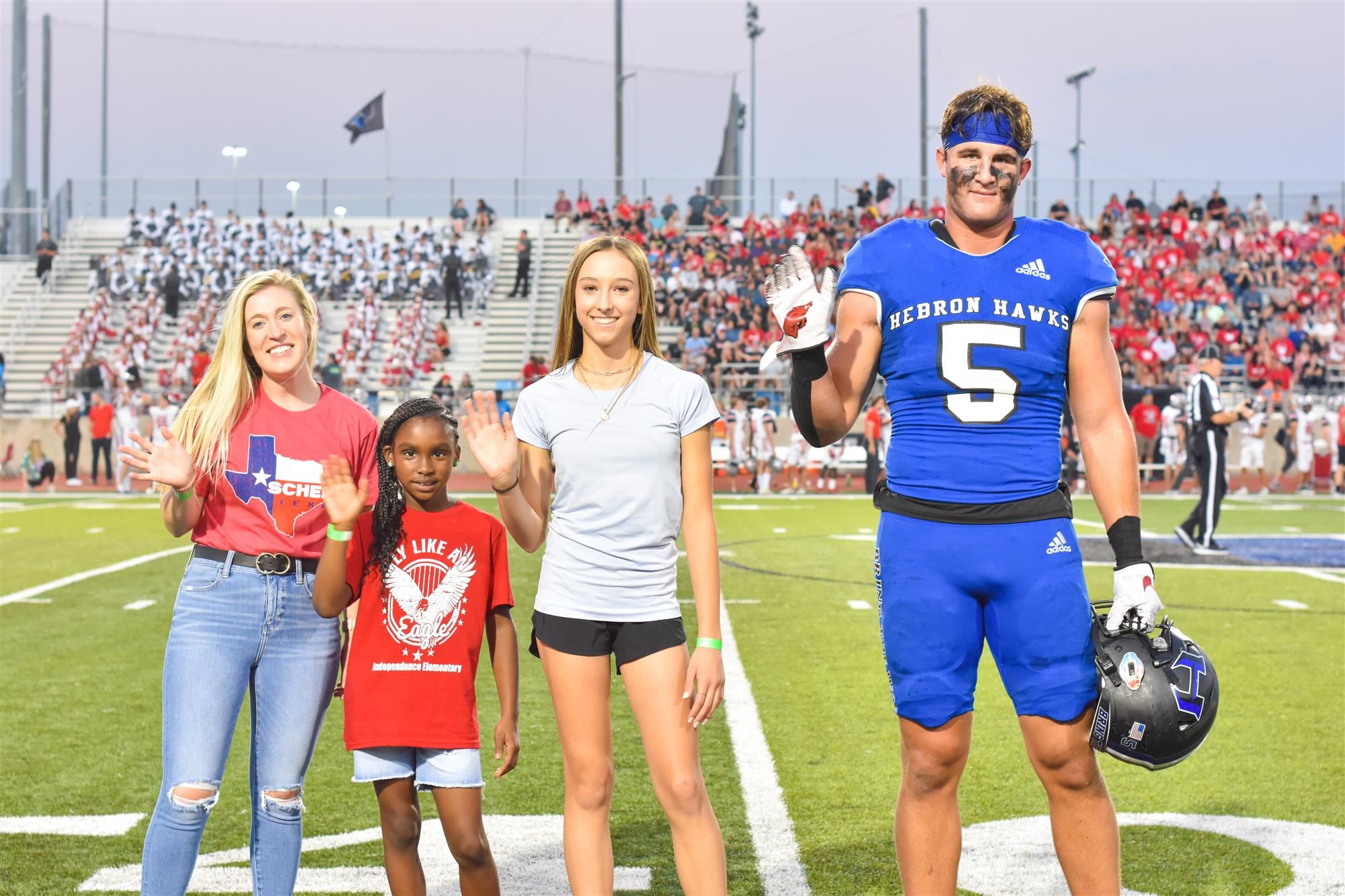 Congratulations to the following athletes, who were nominated by their schools, for their dedication, integrity and sportsmanship:
SCHEELS HIGH SCHOOL ATHLETE OF THE WEEK
Hebron High School senior Carson Dean is a member of the Varsity Football Team at Hebron High School. Carson is a starting linebacker for the Hawks and has committed to play college football for the University of Arkansas. He was a first team 6-6A all-district selection last year as a junior and was among the leading tacklers. He is rated by Rivals as a 4-star athlete and has over 15 Division I scholarship offers.
"Carson has a dynamic workman personality that shows through his work ethic and his desire to succeed," Hebron Defensive Coordinator Quincy Stewart said. "You see his drive and tremendous attention to detail in his play on the field. Carson is a huge contributor to the team with his lead-by-example attitude. Throughout the school community, Carson participates in school functions and is an ultimate team player."
SCHEELS MIDDLE SCHOOL ATHLETE OF THE WEEK
Kate Mason is an eighth grader at Arbor Creek Middle School and plays five sports: Volleyball, Basketball, Cross Country, Track and Soccer. Kate was a major contributor to the school's track championship and runner-up finish in soccer.
"Kate is an incredibly hard worker in every sport she plays," Arbor Creek Coach Leslie Moncrief said. "She is a leader on and off the court/field. Kate is an exemplary teammate and peer and treats everyone with kindness and courtesy. Our program is made better with Kate in it."
SCHEELS ELEMENTARY SCHOOL ATHLETE OF THE WEEK
Leiya Glenn is a second grader at Independence Elementary where she runs track. Leiya started running track in 2021 and she made it to the State Summer Games of Texas in the 100m dash and captured second place. Leiya also made it to state this year in the 50m and 200m. She placed 12th in the 50m out of 42 girls and placed 14th in the 200m out of 43 girls. She runs for 5&1 Track Club. Leiya also has a twin sister who is her best friend and who she says is her teammate for life!
"Leiya is always ready to go, has a can-do attitude and is super respectful," Independence Coach Jennifer Wickes said. "This young lady is super helpful, not only to her peers, but to her teachers, making good choices and representing leadership! She really resembles what it means to be an Eagle at Independence Elementary."
---
From the beginning, Lewisville Independent School District has committed to ensuring all students—your children—have the resources they need and want to ultimately thrive in a future they create. Follow Lewisville ISD on Facebook, Instagram and Twitter to see more student experiences throughout the school year or visit Best Schools in Texas for more information about joining the LISD family.